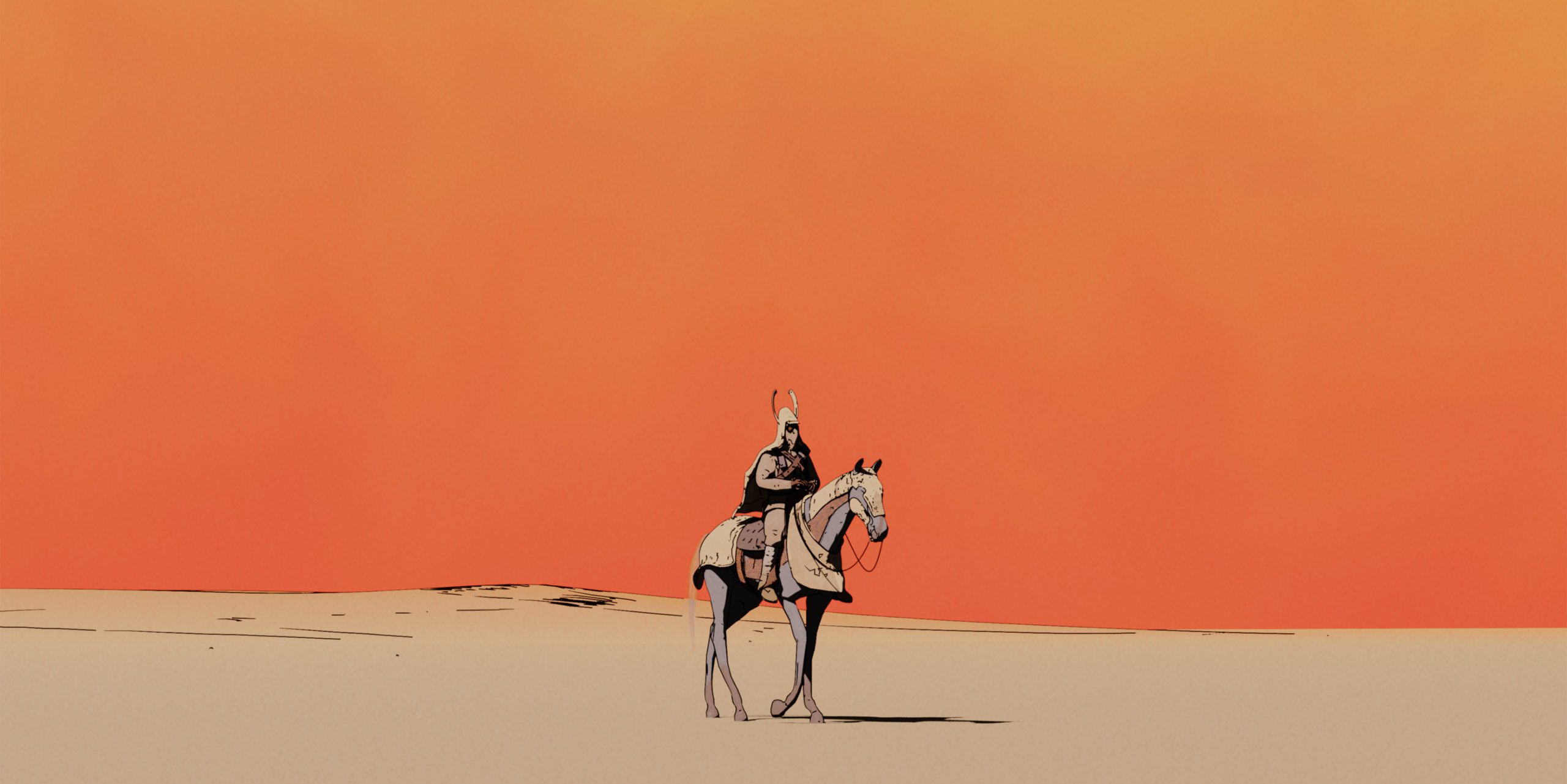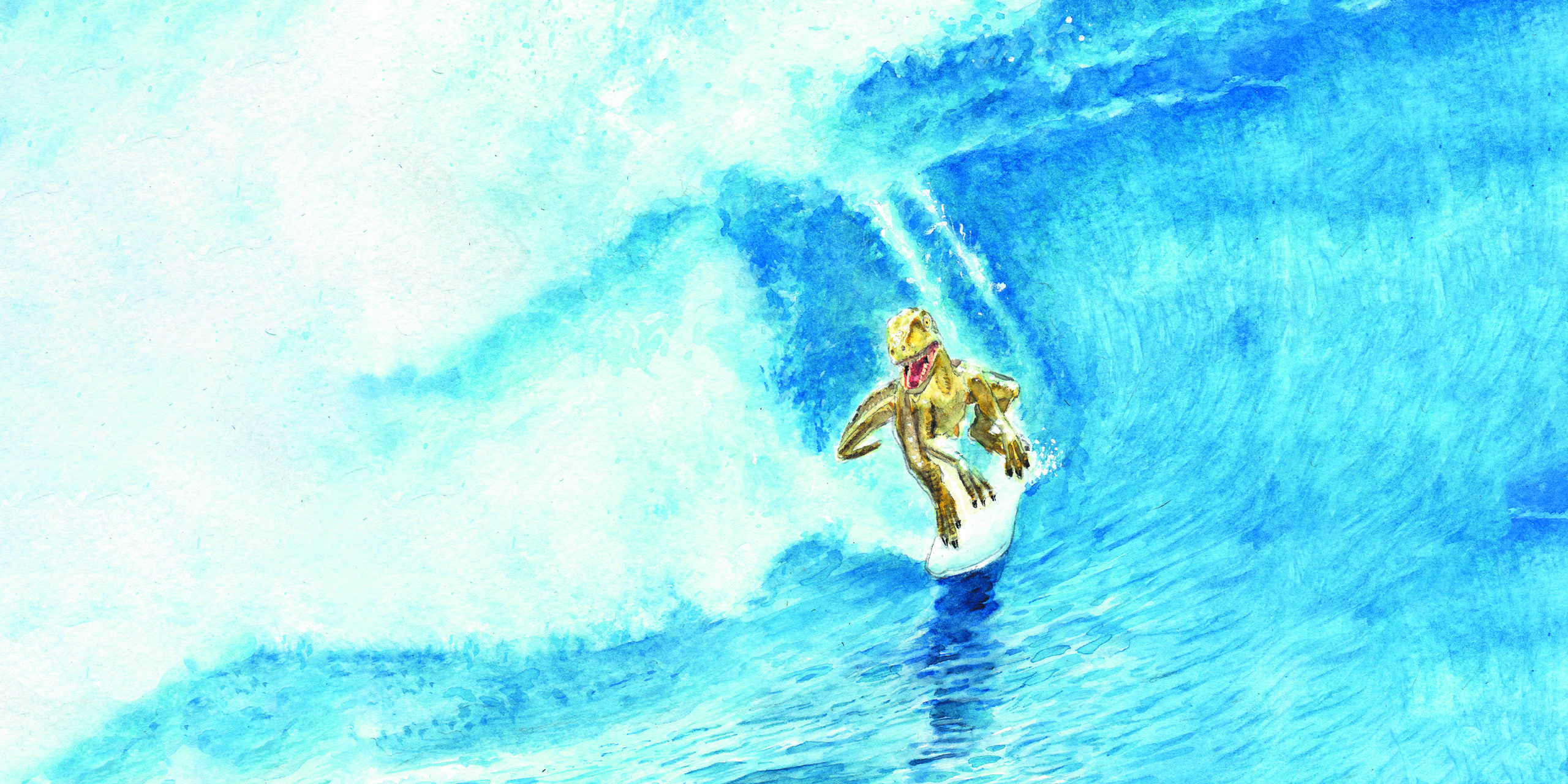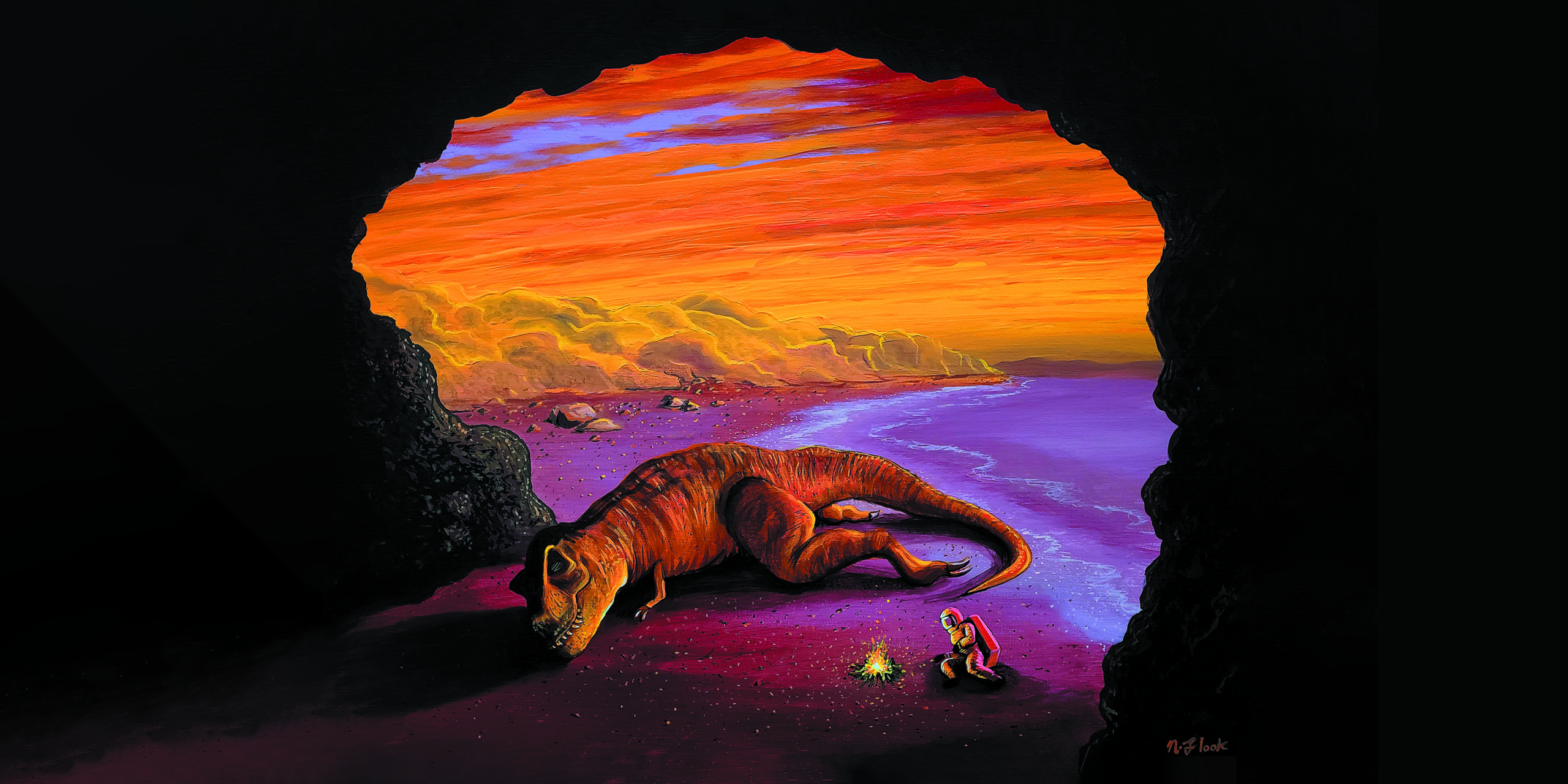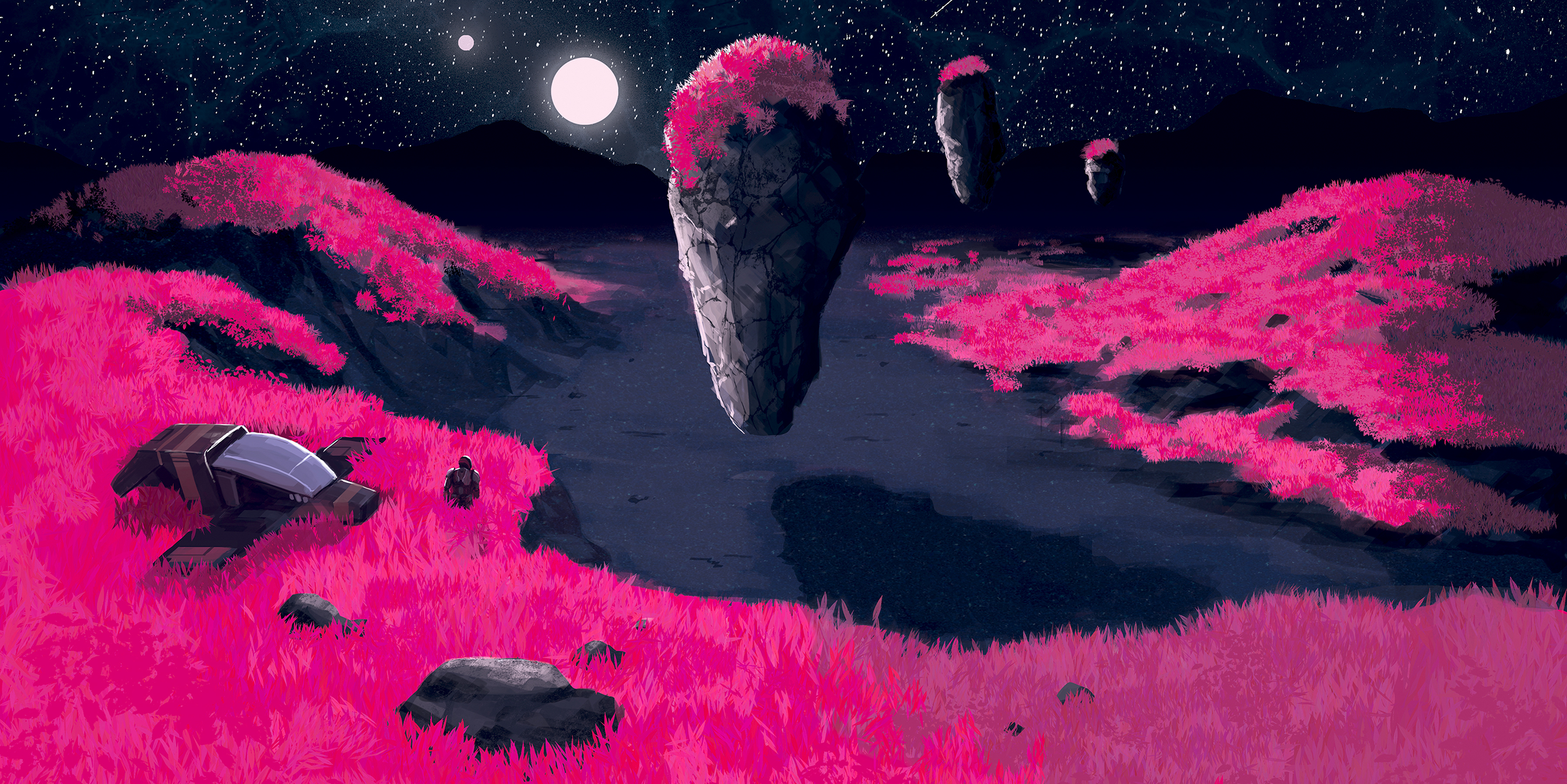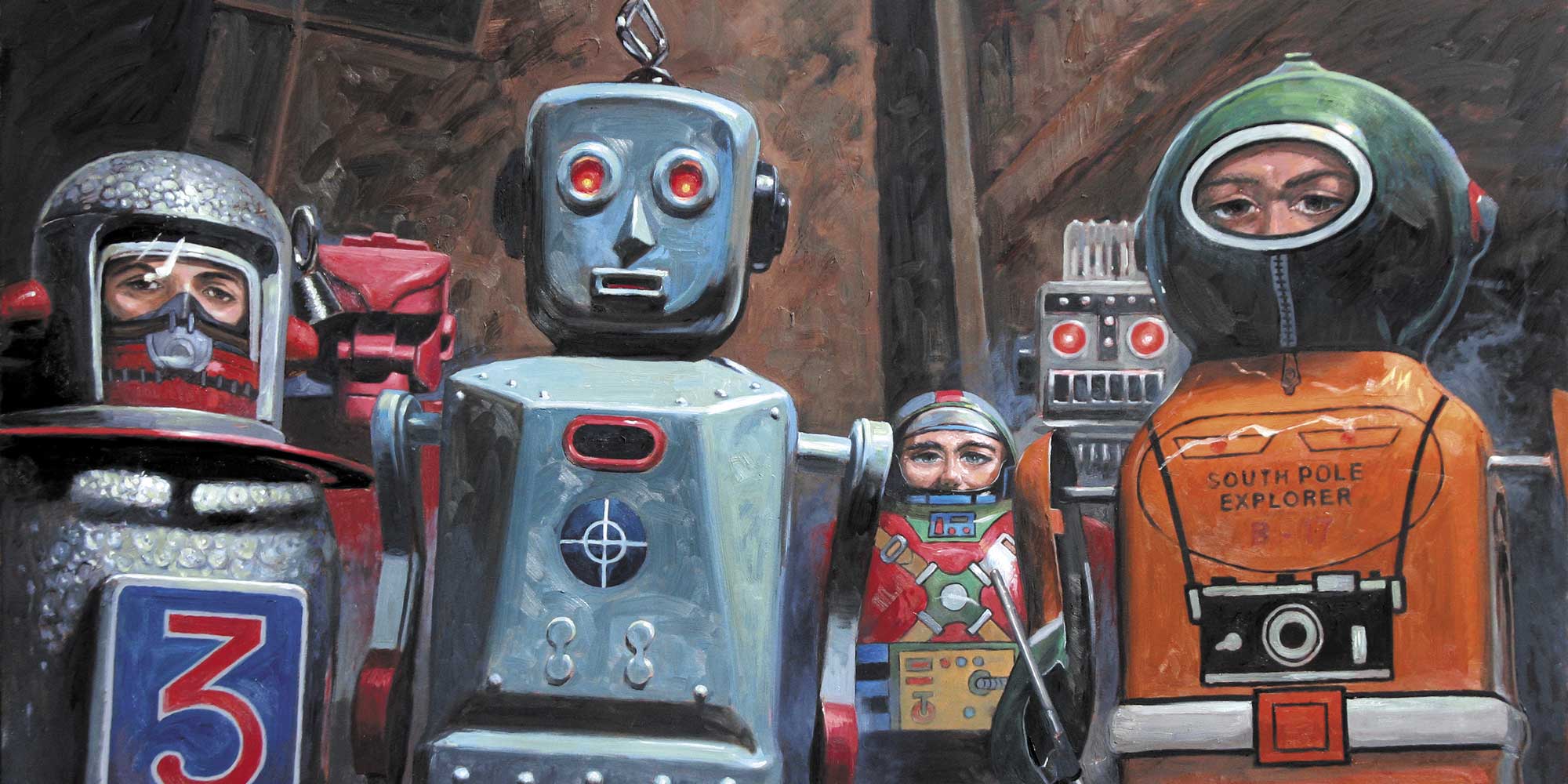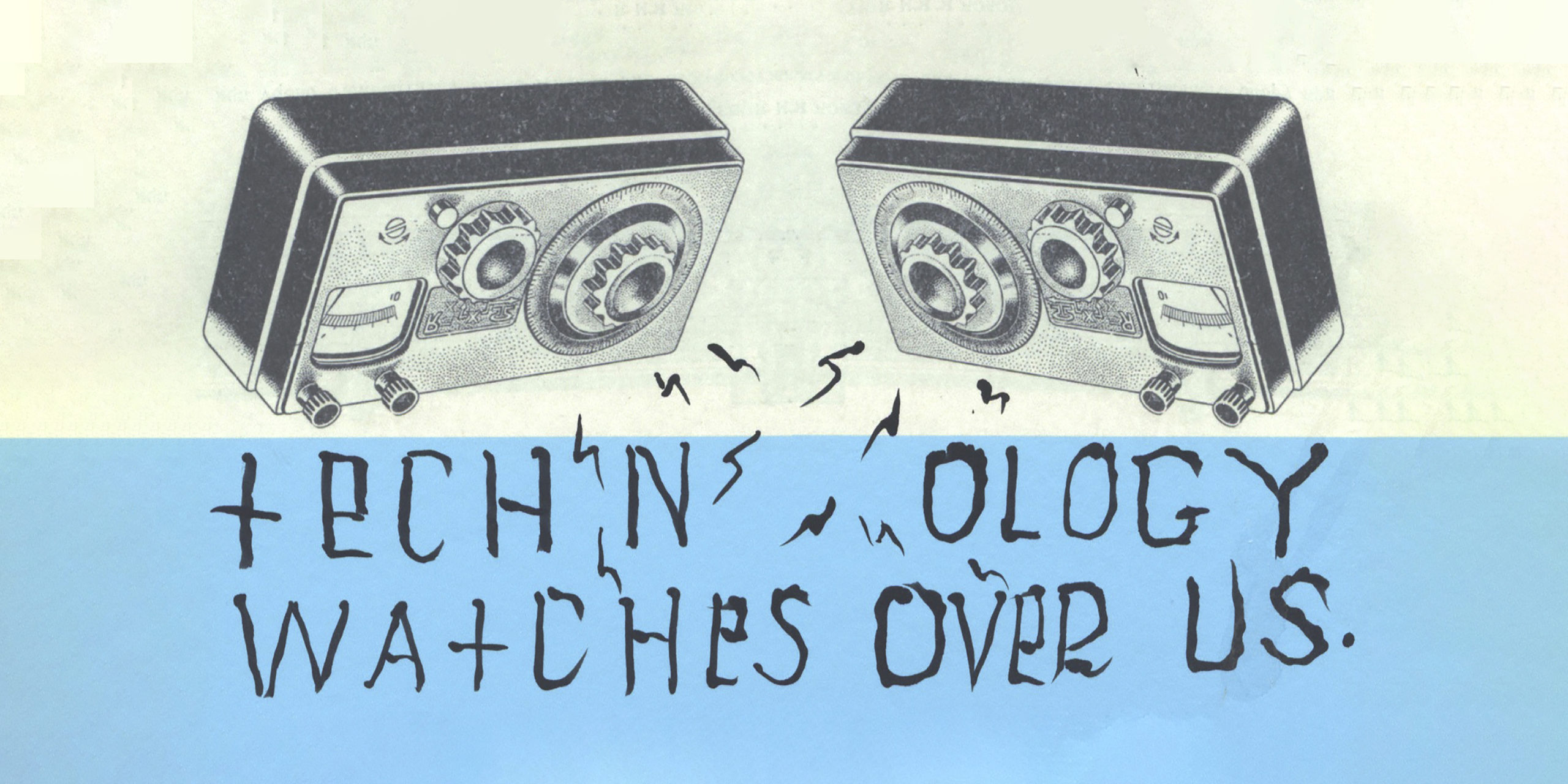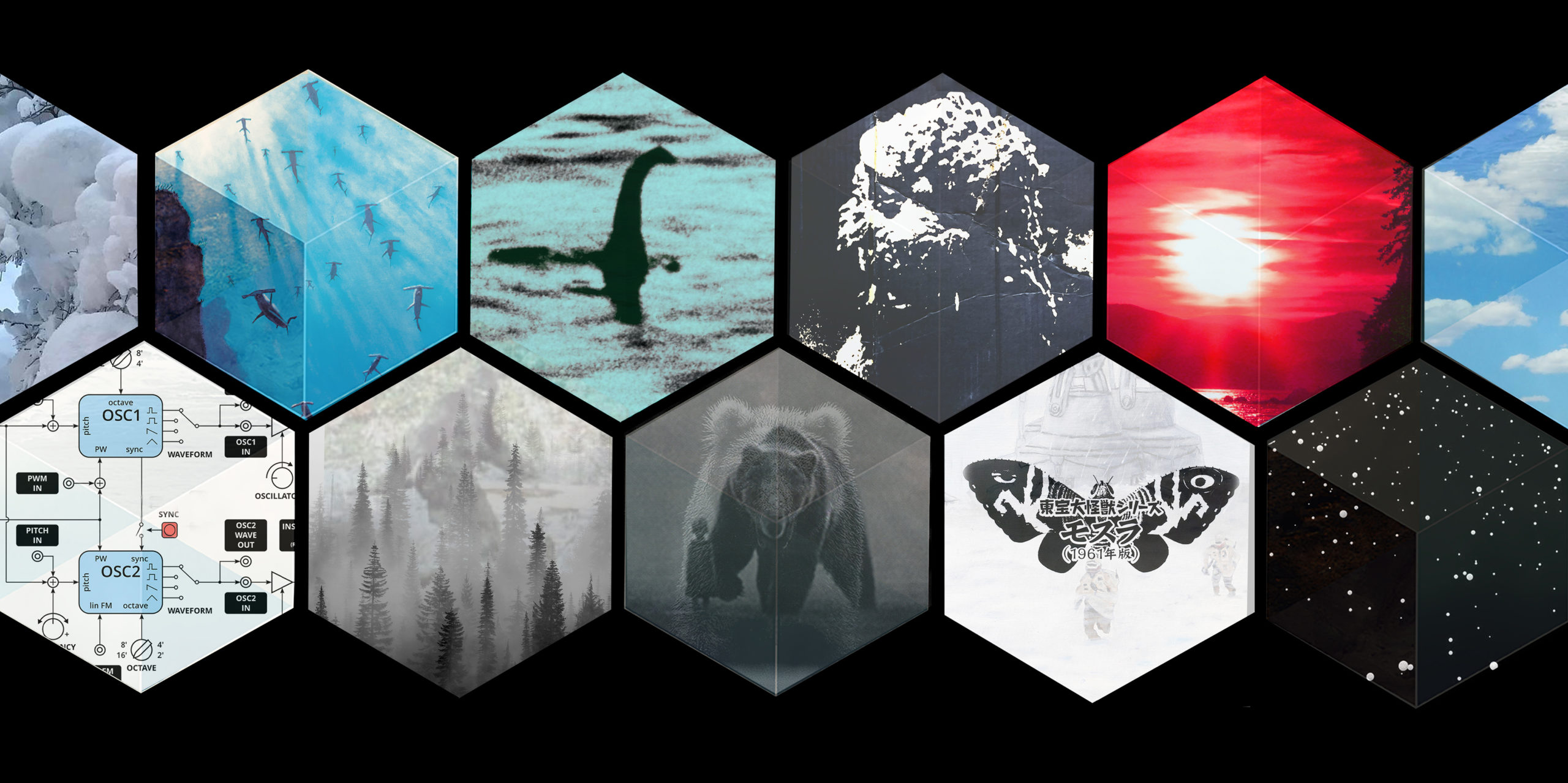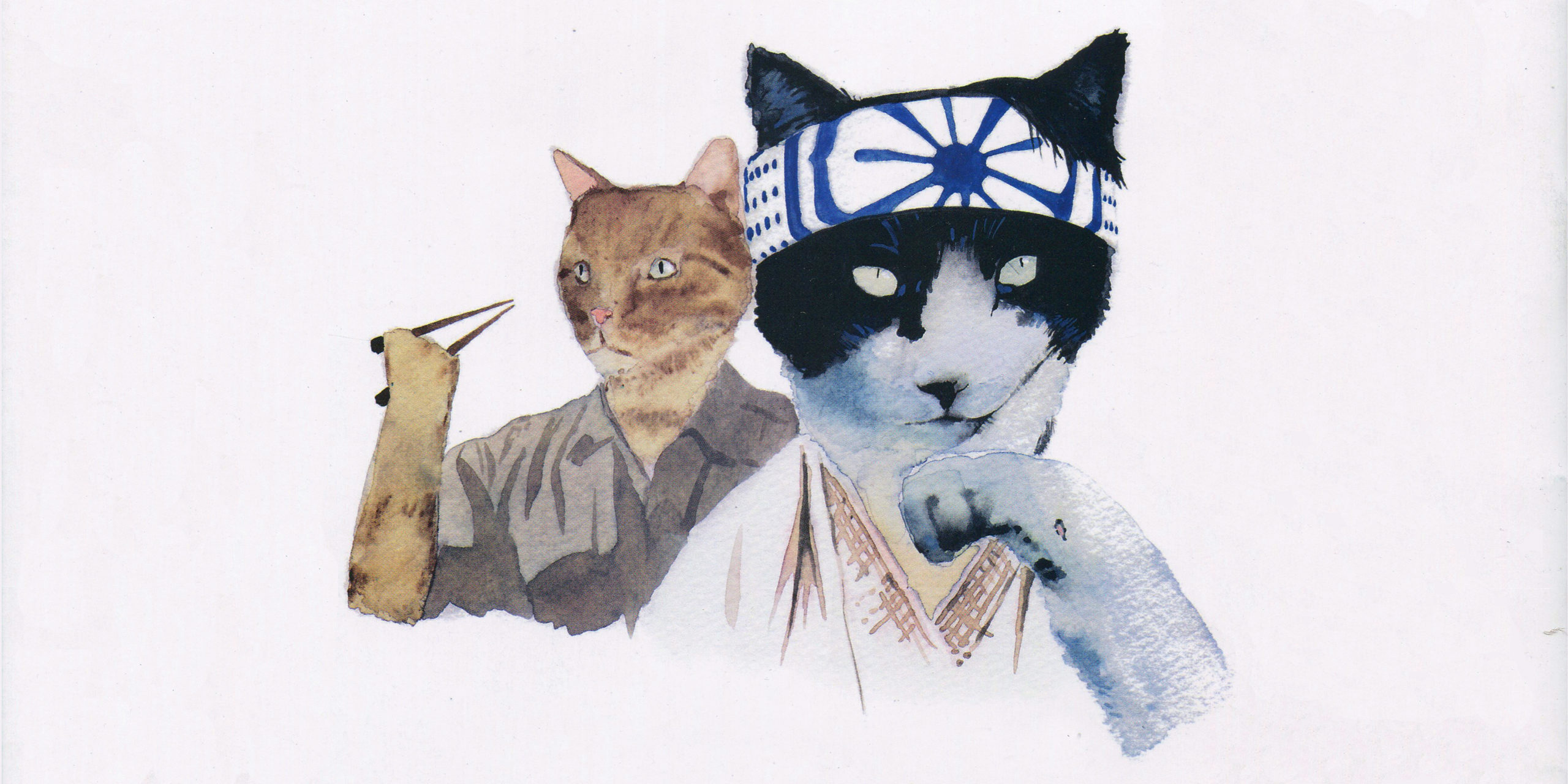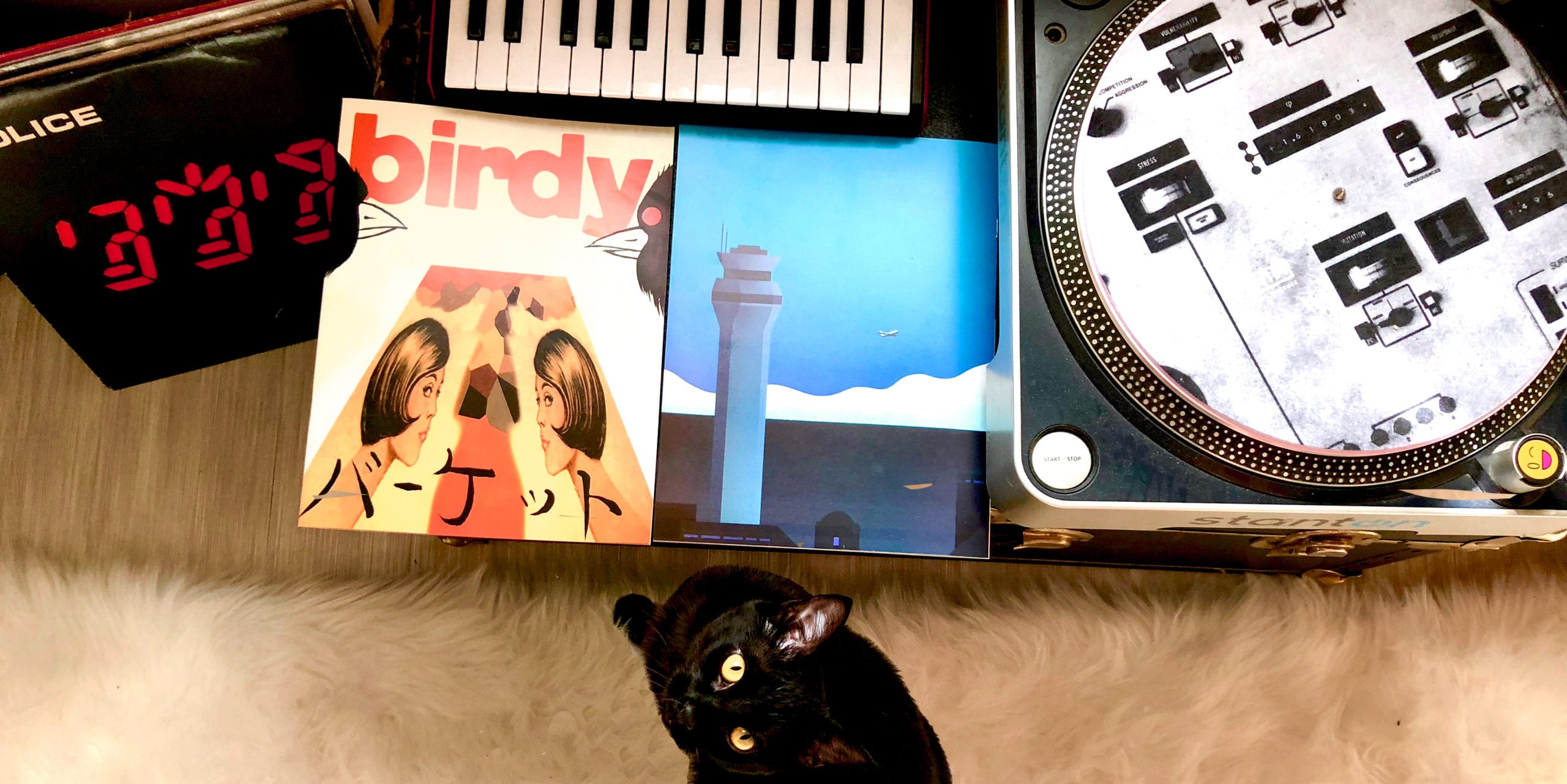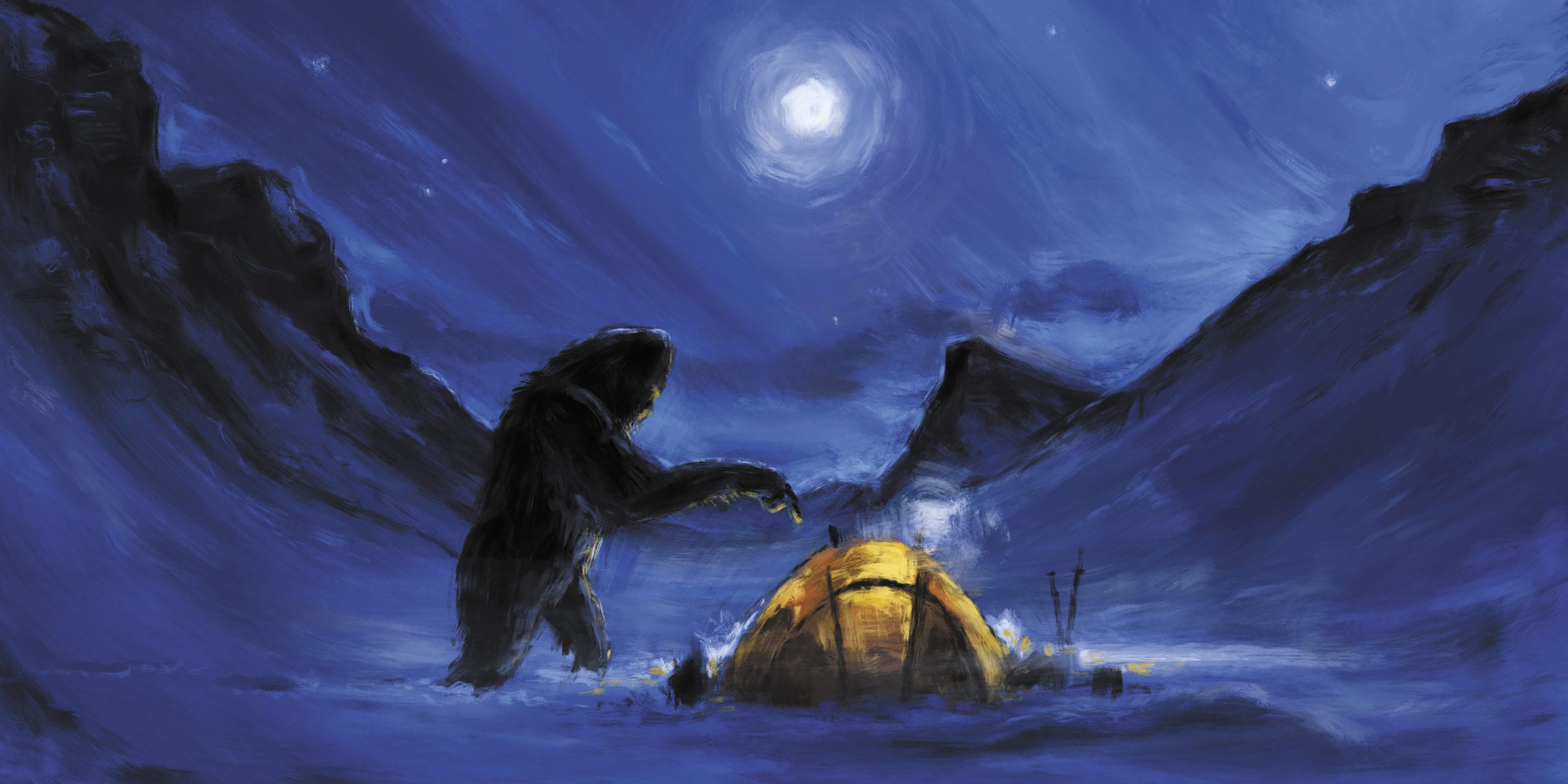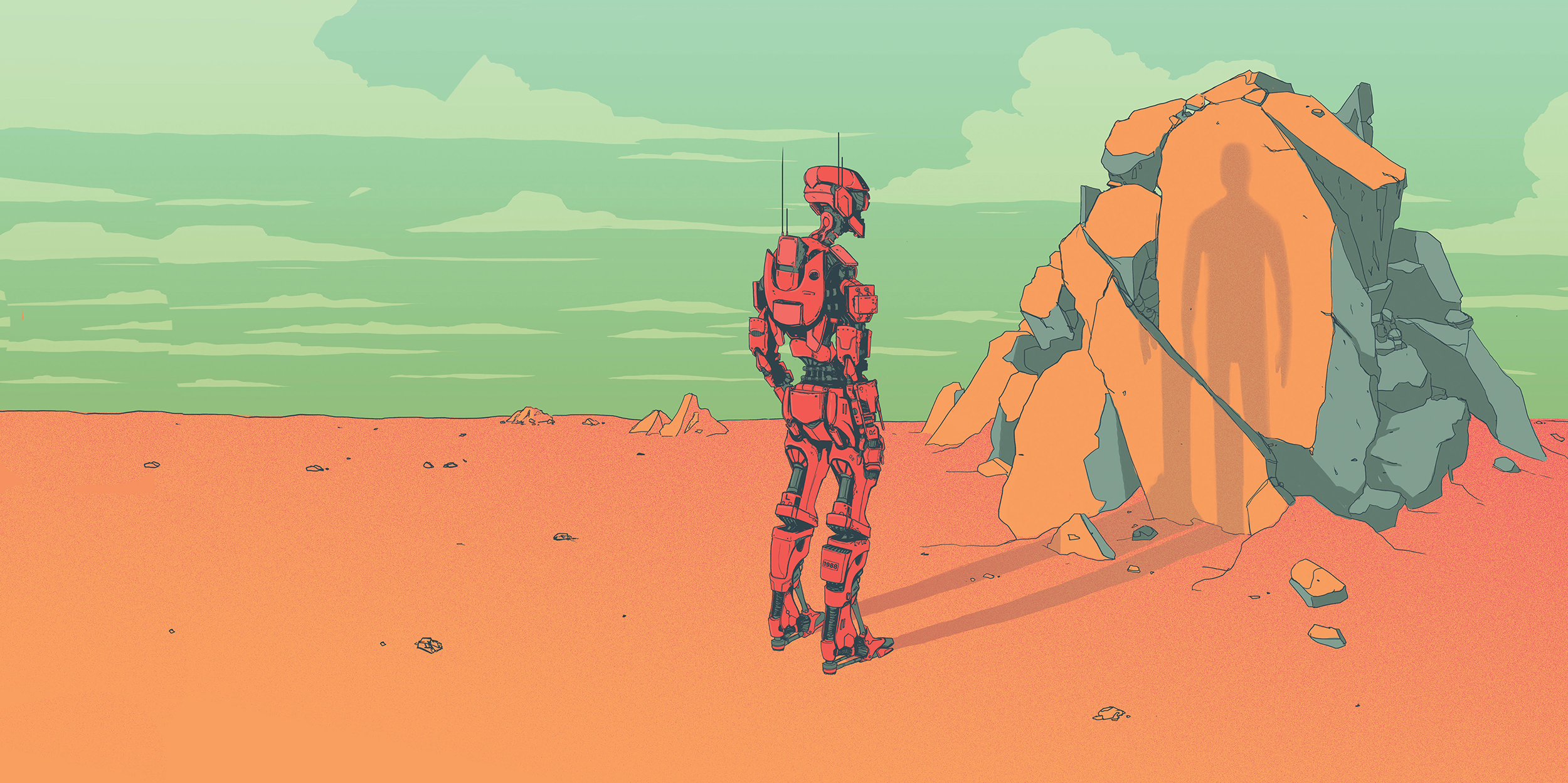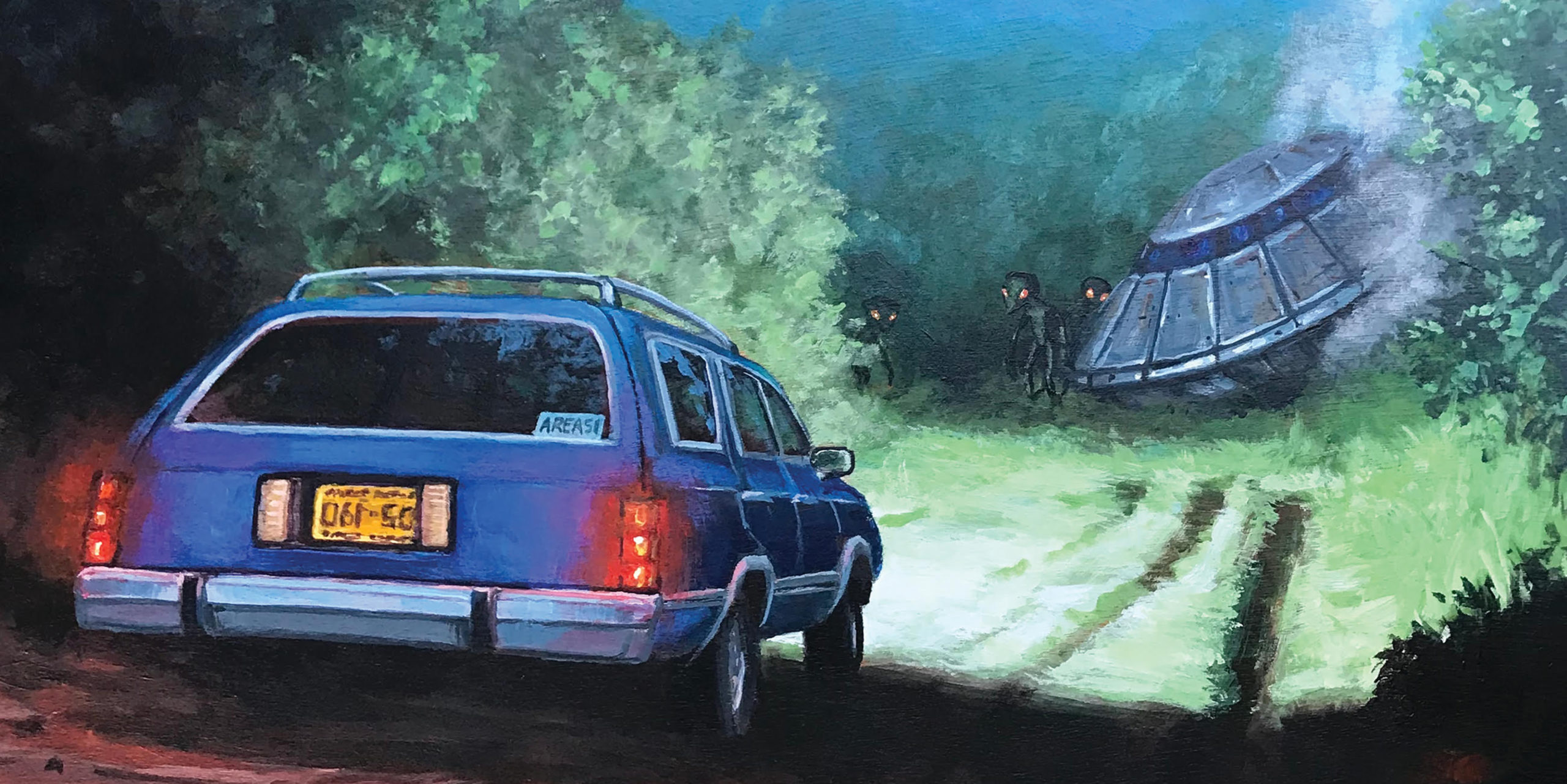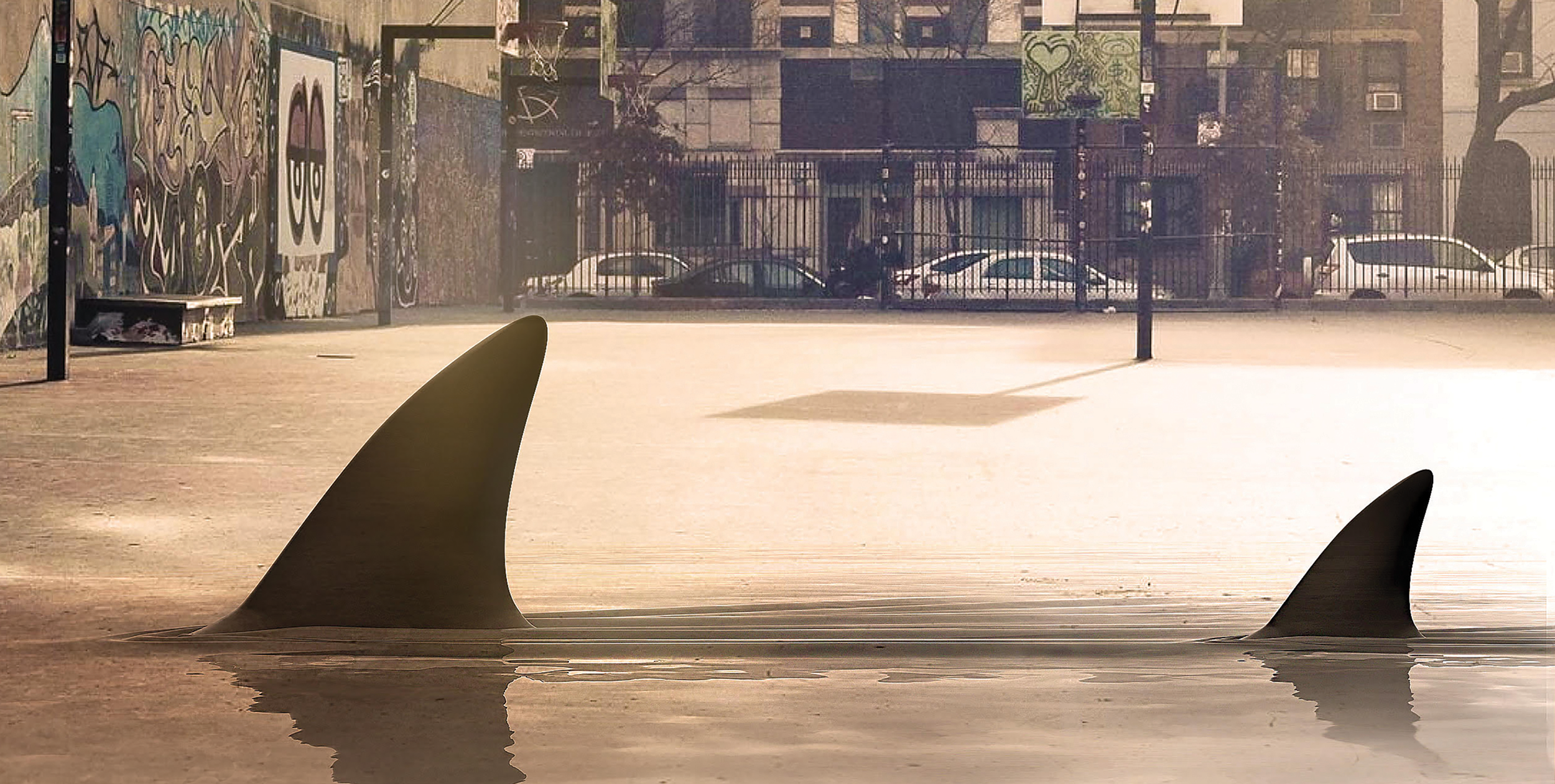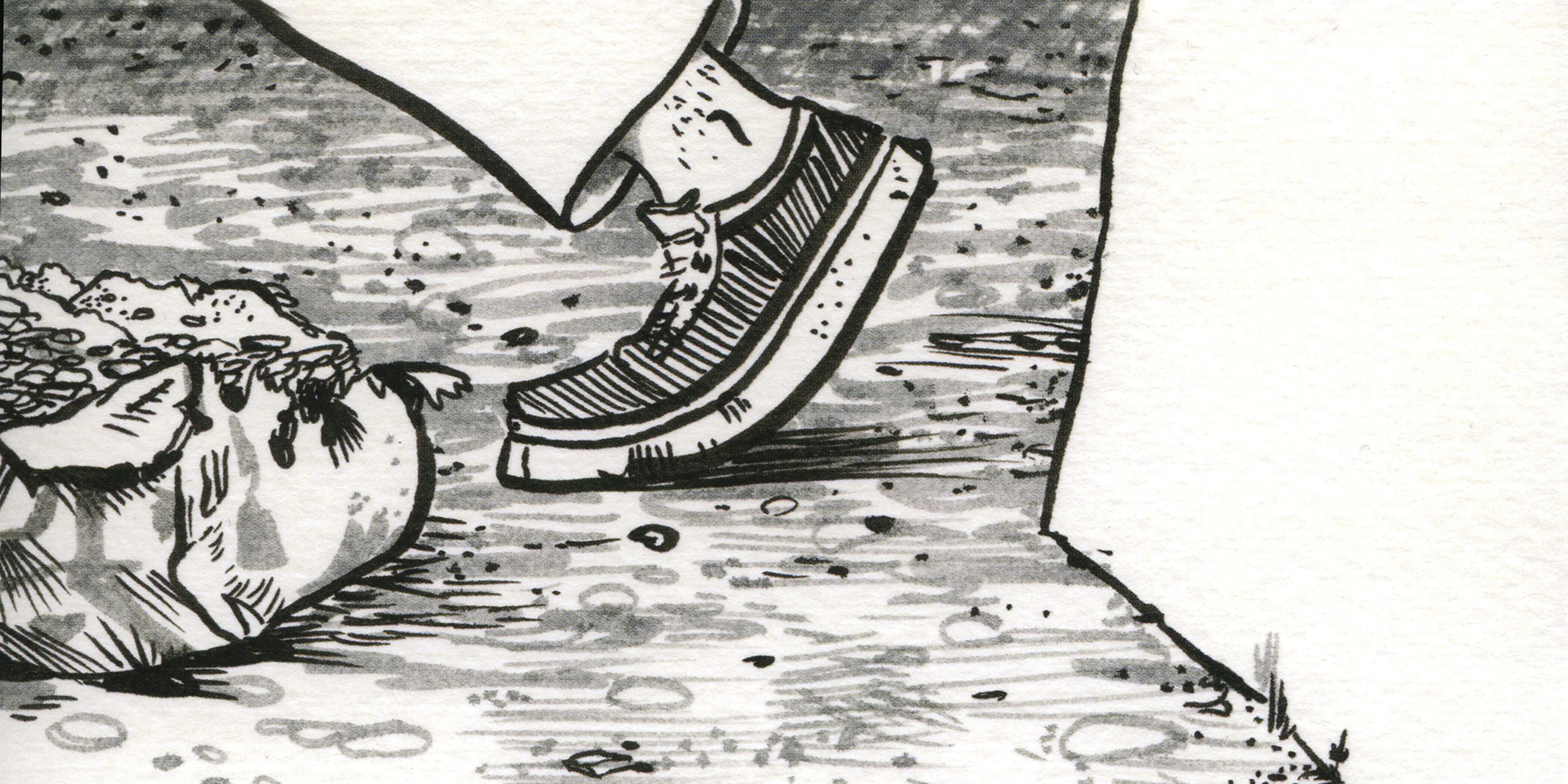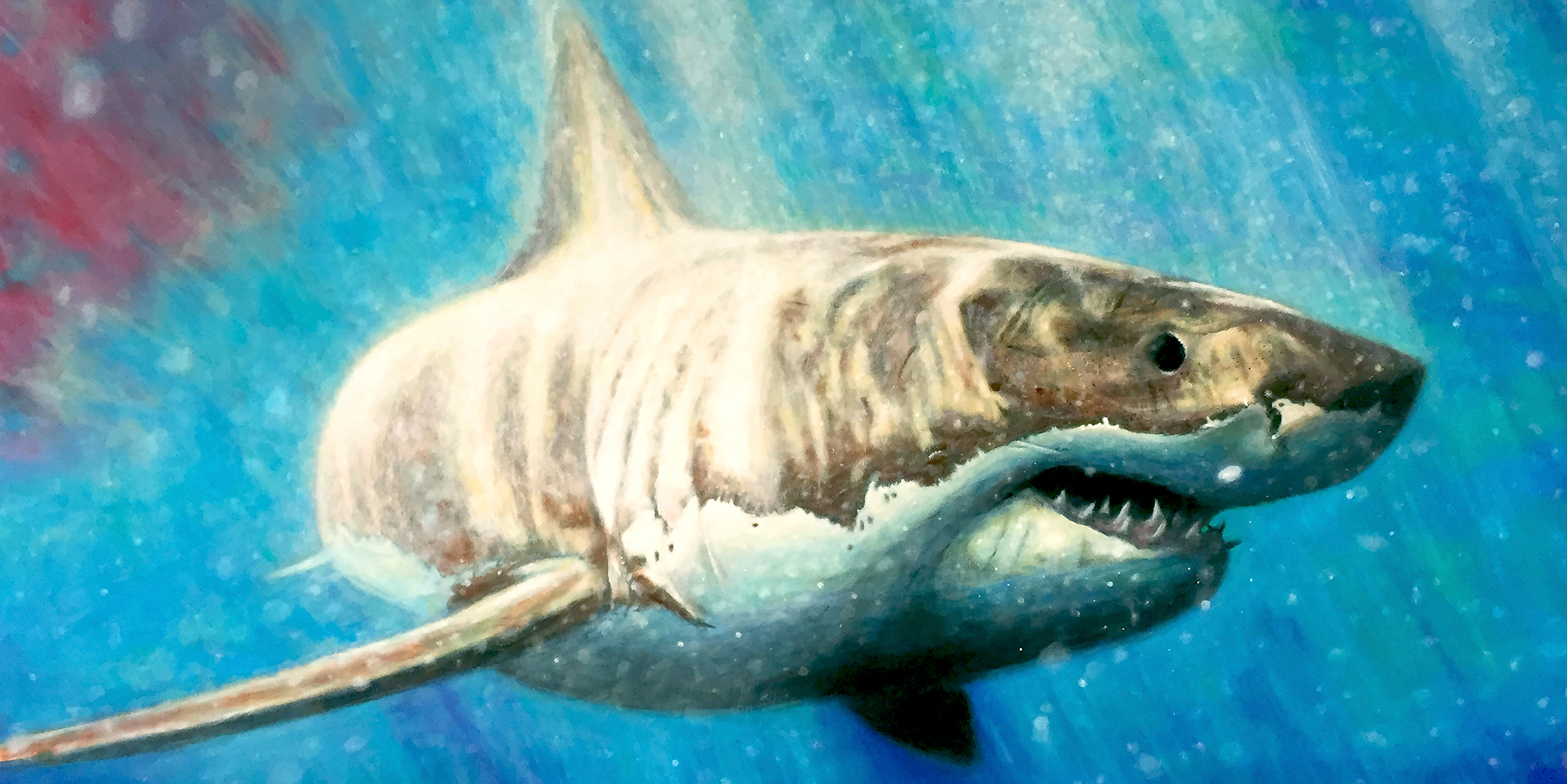 #1b_SmallSurfingRaptor_RayYoungChu
#1c_NickFlook_Rex and Relaxation_087
#2_DerekKnierim_PlanetALandscape_2
#4_TechnologyWatchesOverUs_Mark Mothersbaugh_097
#5_LandSeaSkyBirdies_JonnyDeStefano
#8JonathanDodd_Poke_carousel
#9_Groundhog-1988-Anaconda_DerekKnierim
#10_PeterKornowski_CrashLanding_087
#11_JashTracey_SharkInTheCity_077_May2020
#12_MarkMothersbaugh_FromThePostCardDiaries_Untitled_015
#13_VividCrimson_JonnyDeStefano
SURF'S UP AT APOCALYPSE BEACH
BY JOEL TAGERT W/ART BY CAITLYN GRABENTSTEIN
It's the hottest day ever in LA, which is whack because it's not even sunny out. Sky's gray as a suit and the air smells like a trash fire. I take one look and say, "Foo, you got to get to the ocean," and Jay Bee agrees. So it's wetsuits in the bag, boards in the van, the music swells, and …
Turntable scratch. Traffic's frozen like an ice cube. Or come to think of it, more like a lava tube. While we're sitting there we smoke a joint. "Probably cool off if it'd just rain," Jay says.
"I know, right? It's like the whole city needs to pee, but you're in your car and can't get out." 
"You're quite handy with the metaphors."
"Thanks, dude. I'm like a dumpster that's always got fresh stuff in it."
"Dumpster O'Plenty."
"Dumpstercopia."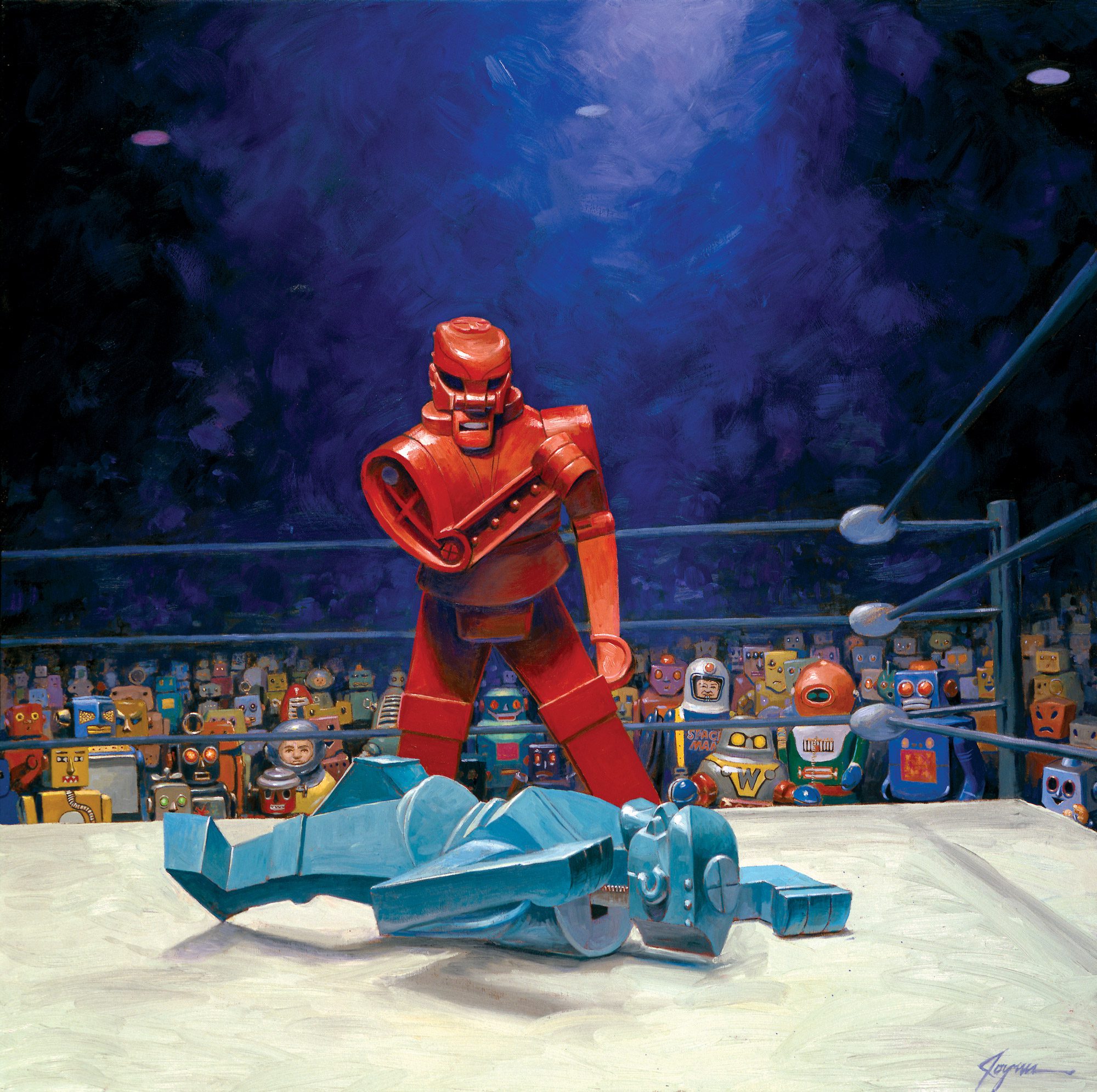 The genie that granted me the wish was probably aware of my folly when I told him I would like to go back to the year 2001, but he didn't correct me or offer any sort of guidance. In retrospect, I should have said, "I want to go back to 2001 and be 21 again." Instead, he sent me back to the year I became old enough to drink as a 42-year-old. Sure, all the classic bars were there — like the original 404, Gabor's, and the 15th Street Tavern — but when I went out, I got tired and had to go home at like 10:30. Likewise, all my old friends were there, but they mistook me for my uncle and made fun of me for going home early.

READ MORE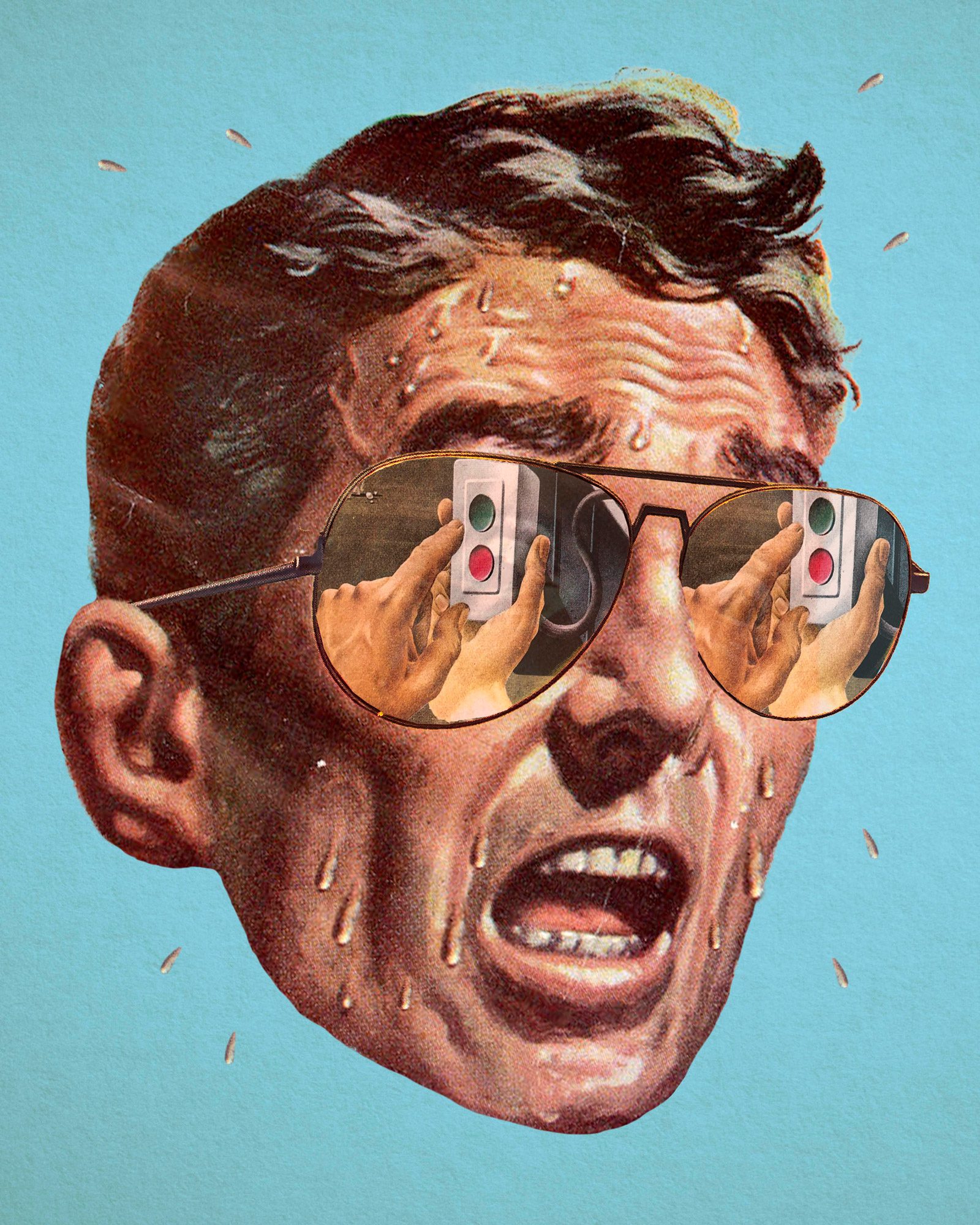 You wake up on a jungle floor, swallowed by a canopy of leaves. Vines constrict like a boa around you as you push yourself to your feet. Your heart thuds as you tear the vines from your skin, hands slick with sweat. You look down, groping at your body as if felt for the first time, feeling at the torn threads of a checkered gown that clings to your skin. Red marks pock your arms. You can't remember how they got there.

READ MORE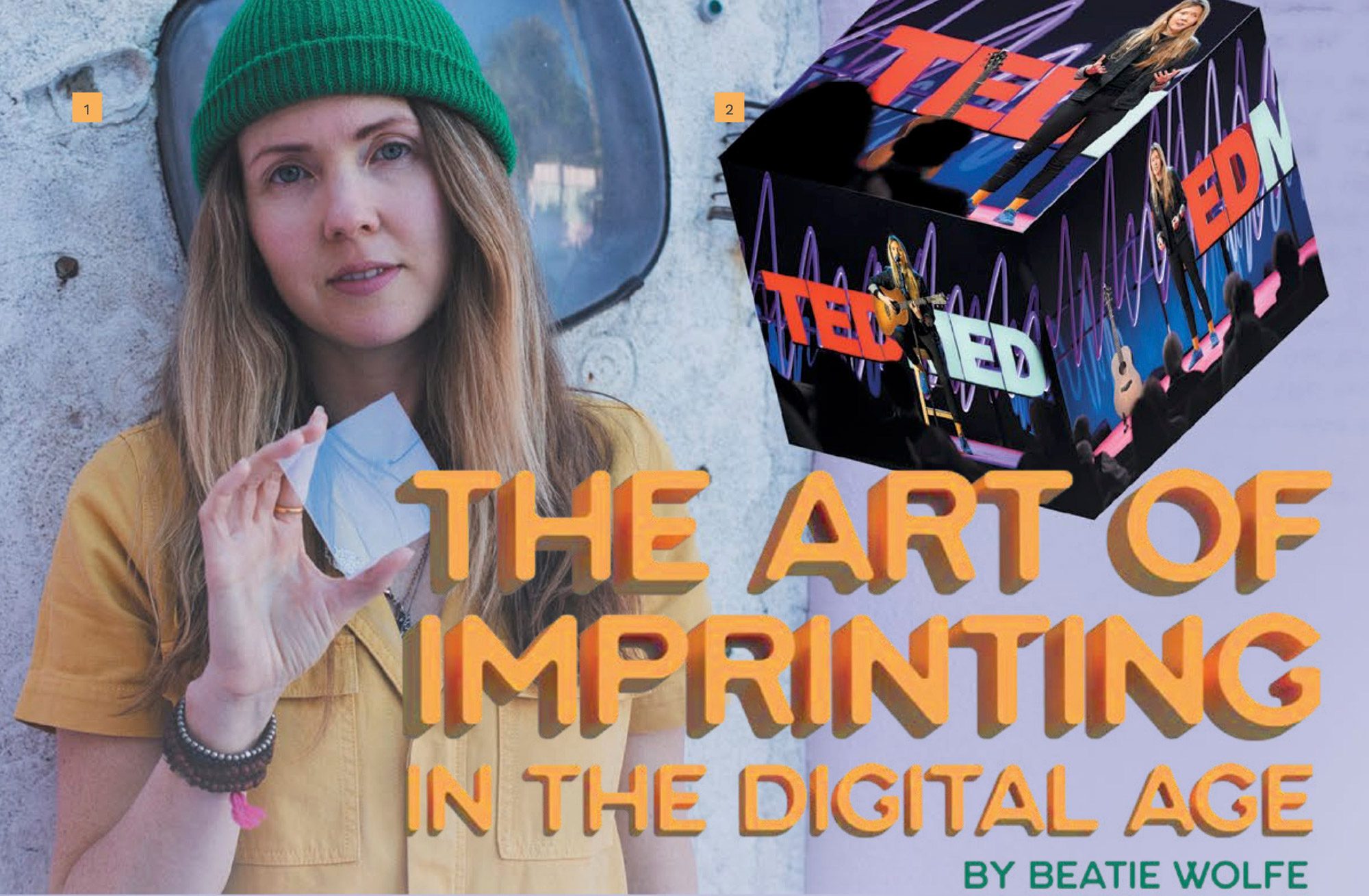 I've always loved the stories of albums, the tangibility of records and the ceremony of listening. From the time I started writing songs (age 7) and discovered my parents' vinyl collection, I saw records as musical books, with the artwork providing the perfect backdrop for the music, and I loved opening them up and entering into the world of the album. There was also a ritual to the occasion. From that age I started imagining what my album could look like, what it could feel like, what worlds I could create. When it was time for my first album to be released, it was a very different era with the digital replacing the physical. So I thought about how to connect the two and that's what my work became centered around. Reimagining the vinyl experience but for today.

Why was this so important to me? Because music is core to our humanity. We are a musical species more than anything else and music imprints on the brain deeper than any other human experience.

I believe that there are three things that allow something to go deep, to stay with us and forever change us. These are: tangibility, storytelling and ceremony.

READ MORE
WHAT KIND OF BIRDY ARE YOU?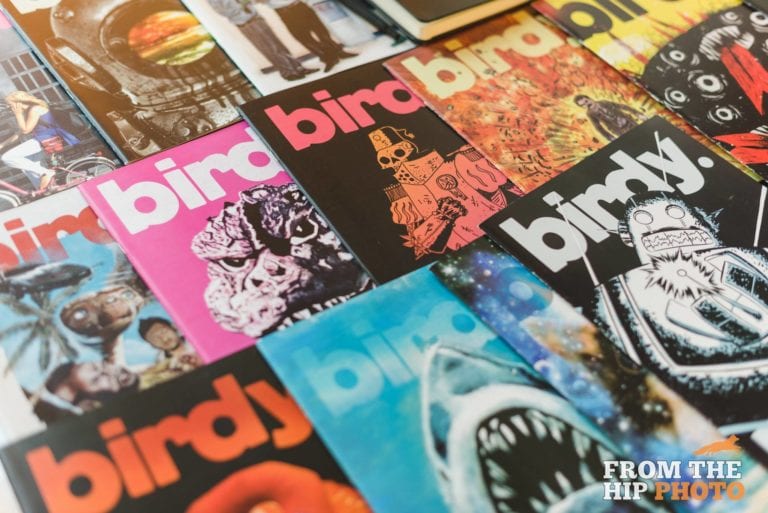 Birdy Magazine is independent work produced by independent artists and writers. Submitted and served up fresh for you. We produce a beautiful, highly-collectible printed book every month as a love letter to this classic medium and to the creators whose works we feature.
CAROUSEL ARTIST CREDITS:
Ali Hoff, untitled | Issue 104, August 2022 //  Ray Young Chu, Small Surfing Raptor | Issue 042, June 2017  //  Nick Flook, Rex and Relaxation | Issue 087, March 2021  //  Derek Knierim, Planet A Landscape | Issue 067, July 2019 // Eric Joyner, Escapees | Issue 101,  May 2022  //  Mark Mothersbaugh, Technology Watches Over Us | Issue 097, January 2022  //  Jonny DeStefano, Land Sea Sky | Issue 063, March 2019  //  Ray Young Chu, Karate Kat | Issue 007, July 2014  //  Krysti Joméi photo  //  Jonathan Dodd, Poke | Issue 086, February 2021  // Derek Knierim, Groundhog 1988 Anaconda | Issue 066, June 2019  //  Peter Kornowski, Crash Landing | Issue 087, March 2021  //  Jash Tracey, Shark In The City | Issue 077, May 2020  // Mark Mothersbaugh, From the Postcard Diaries Untitled | Issue 015, March 2015. //  Jonny DeStefano, Vivid Crimson | Issue 047, November 2017