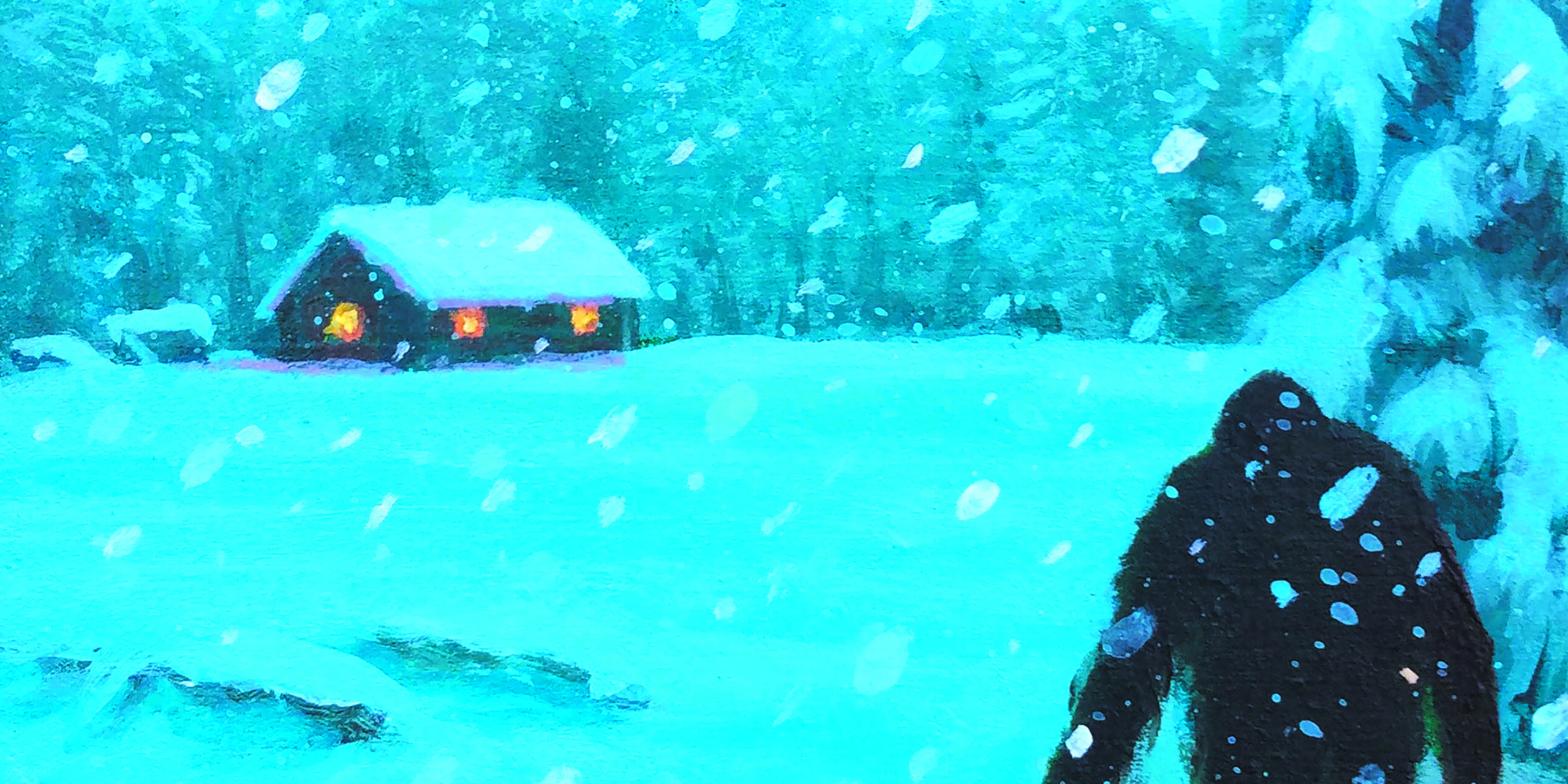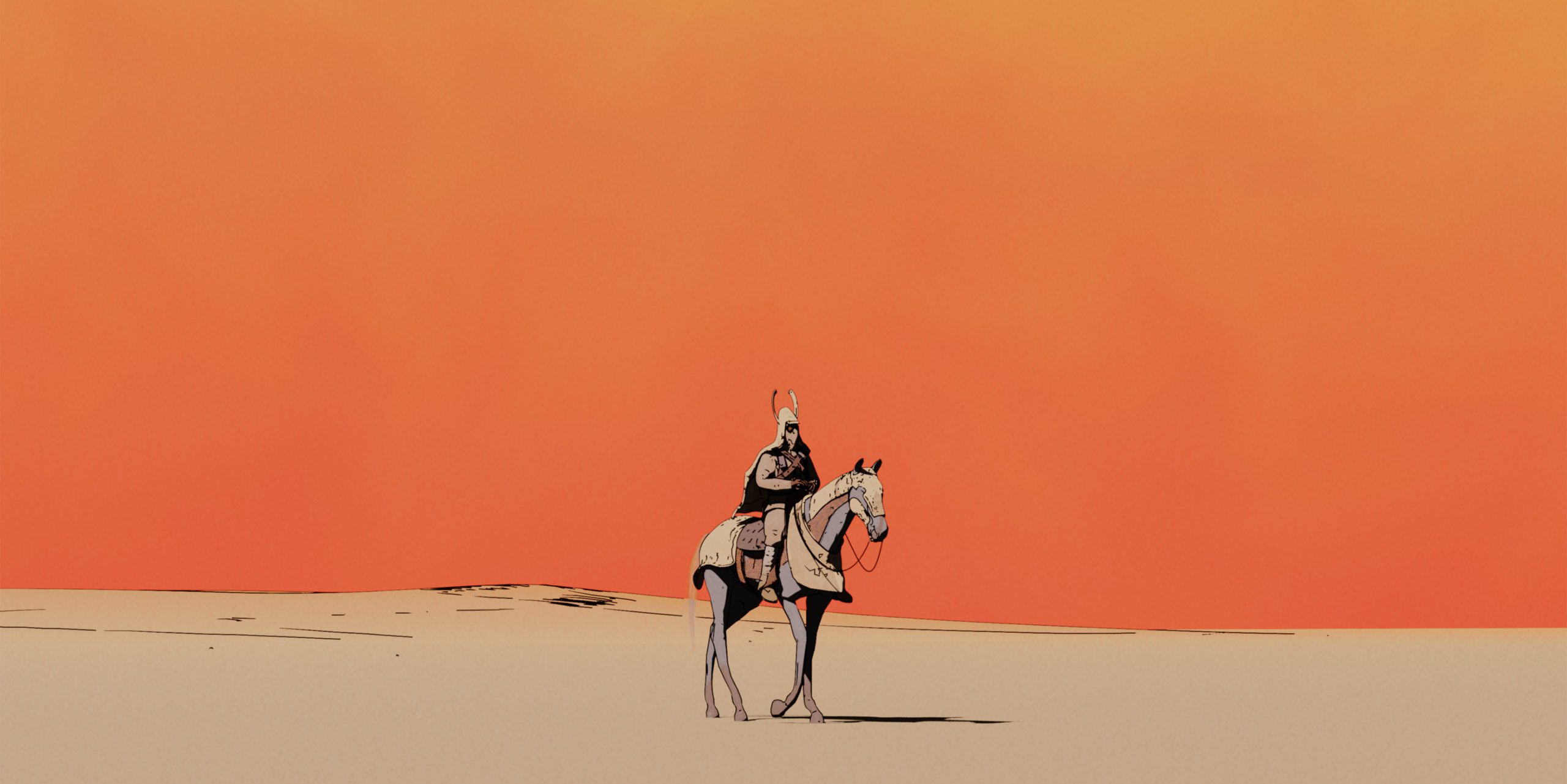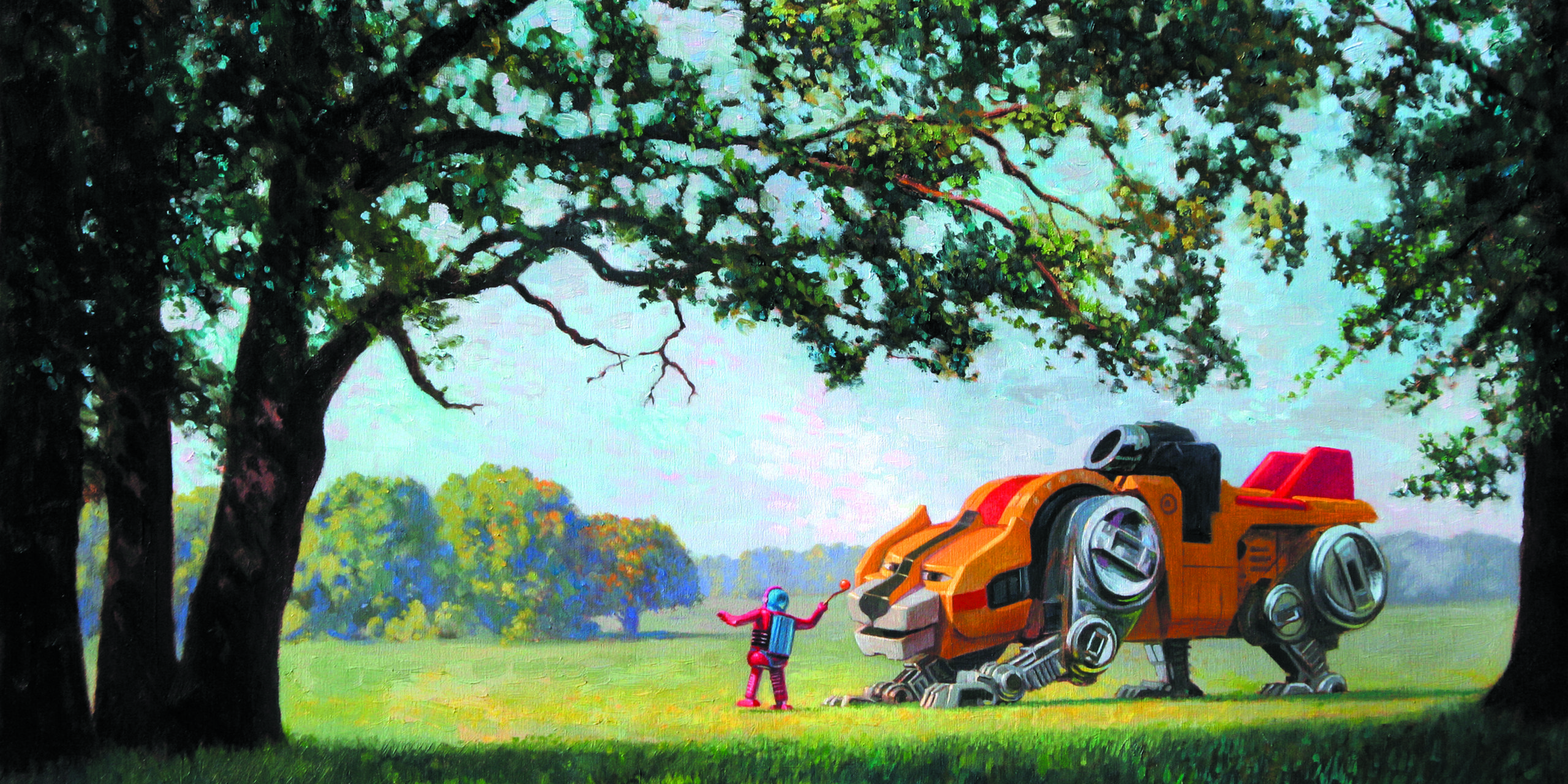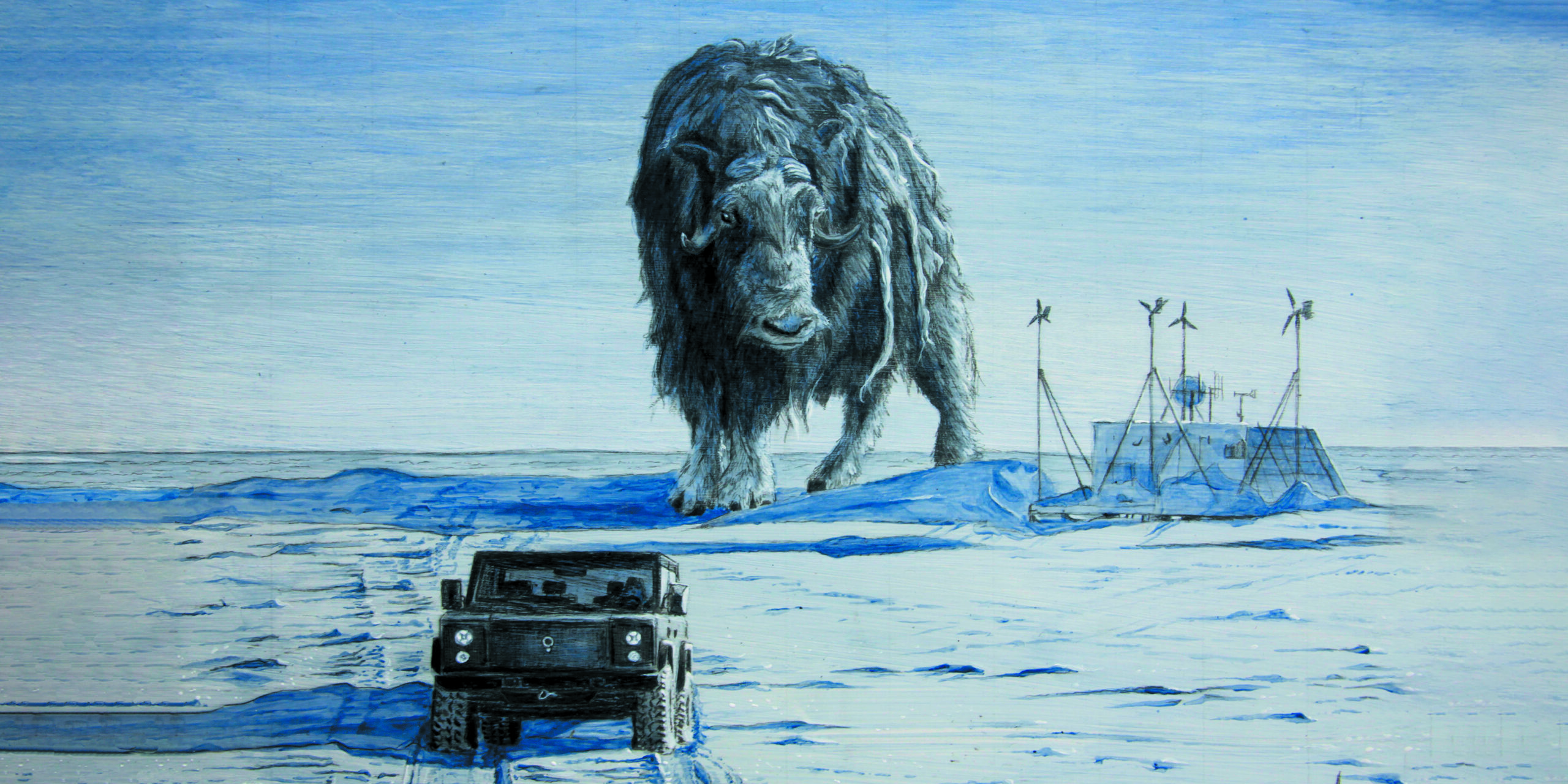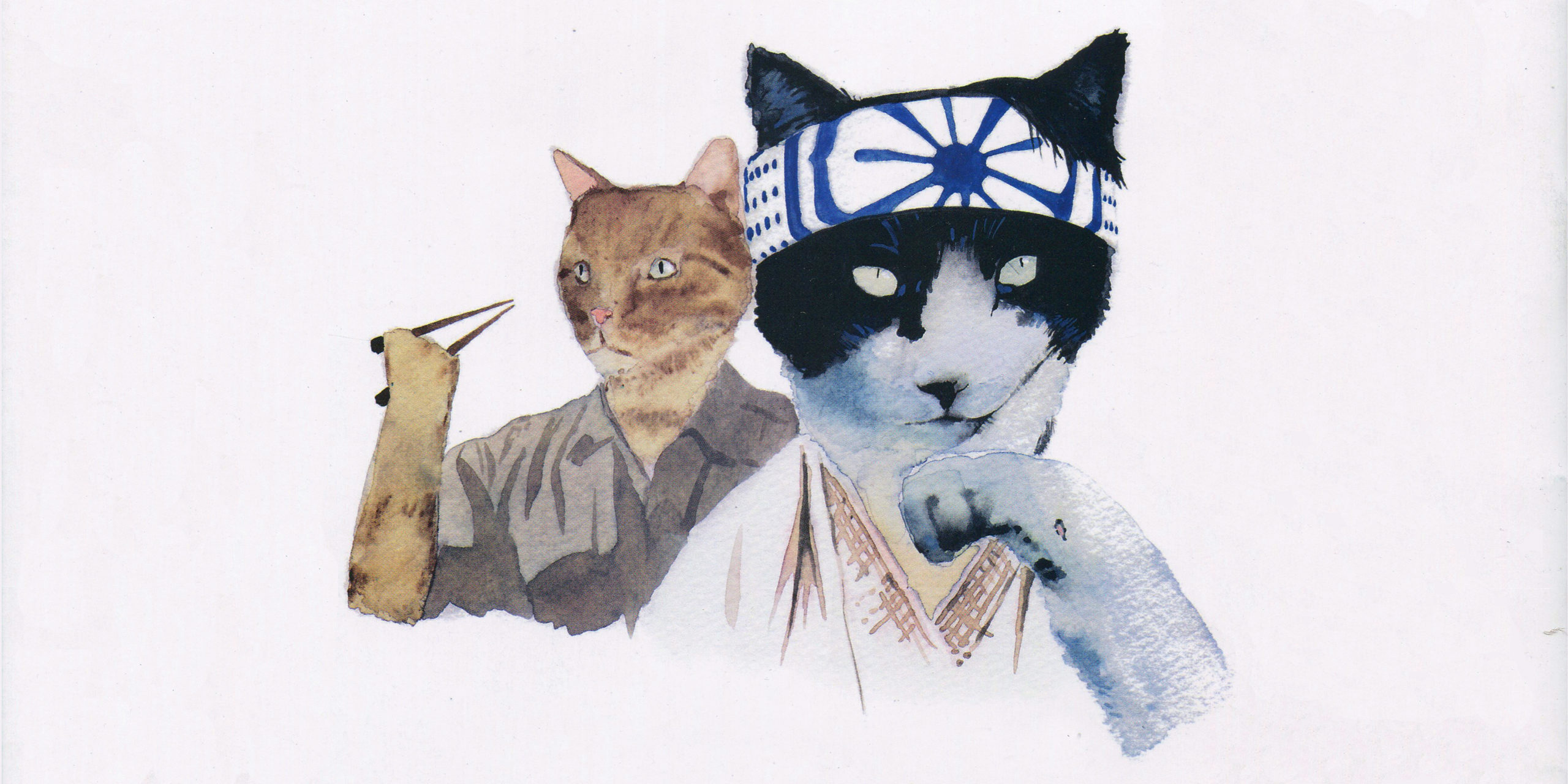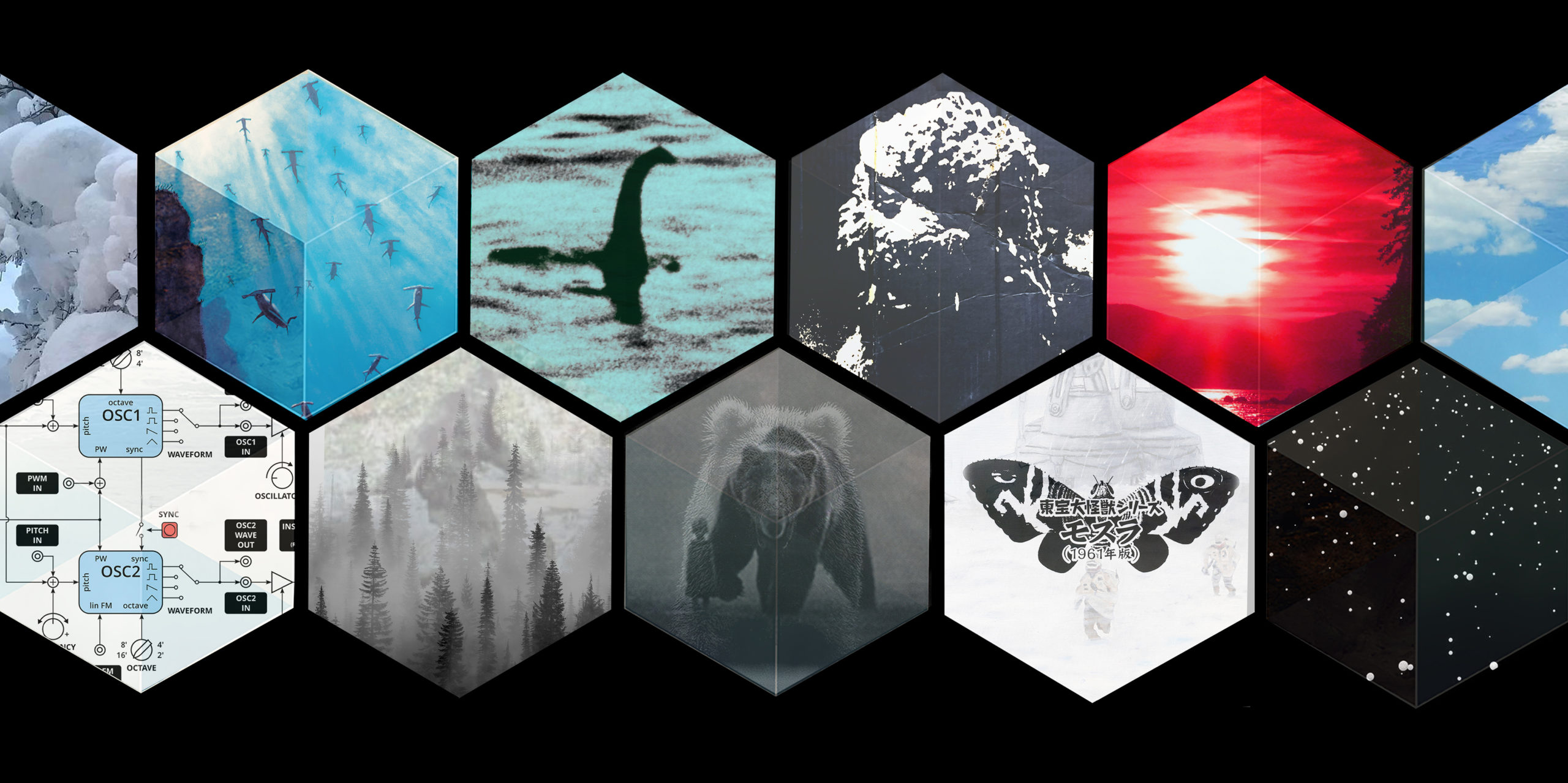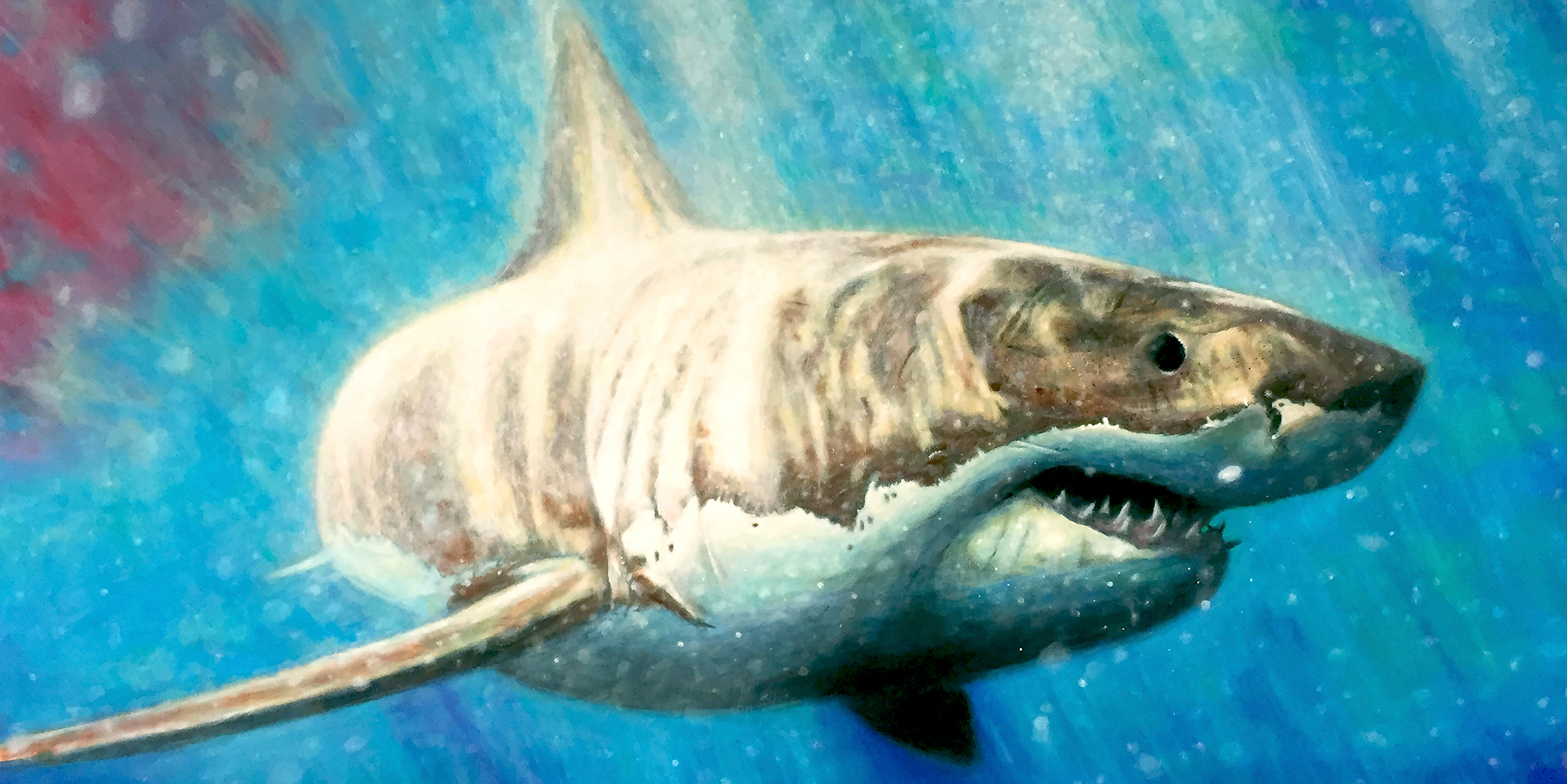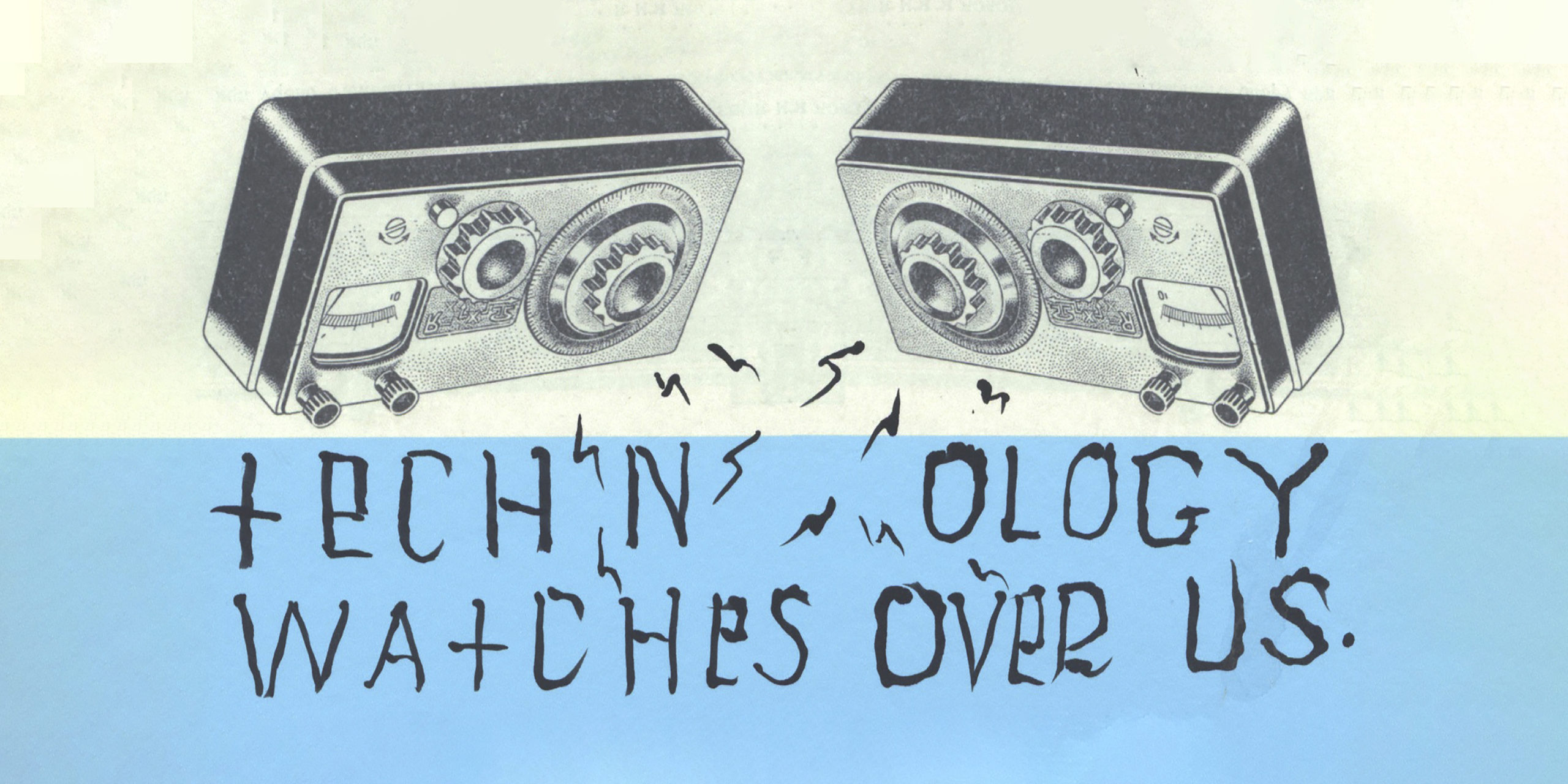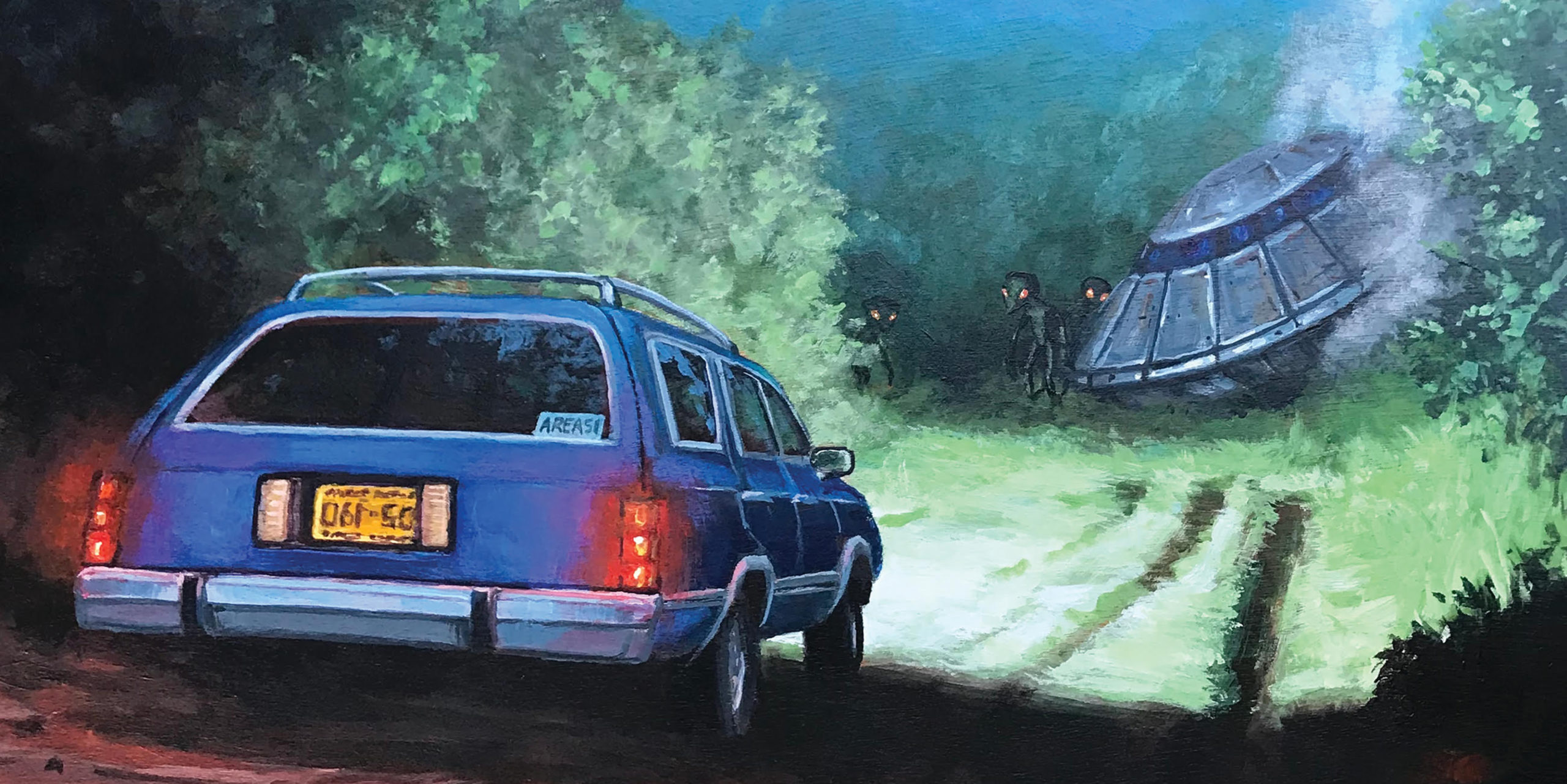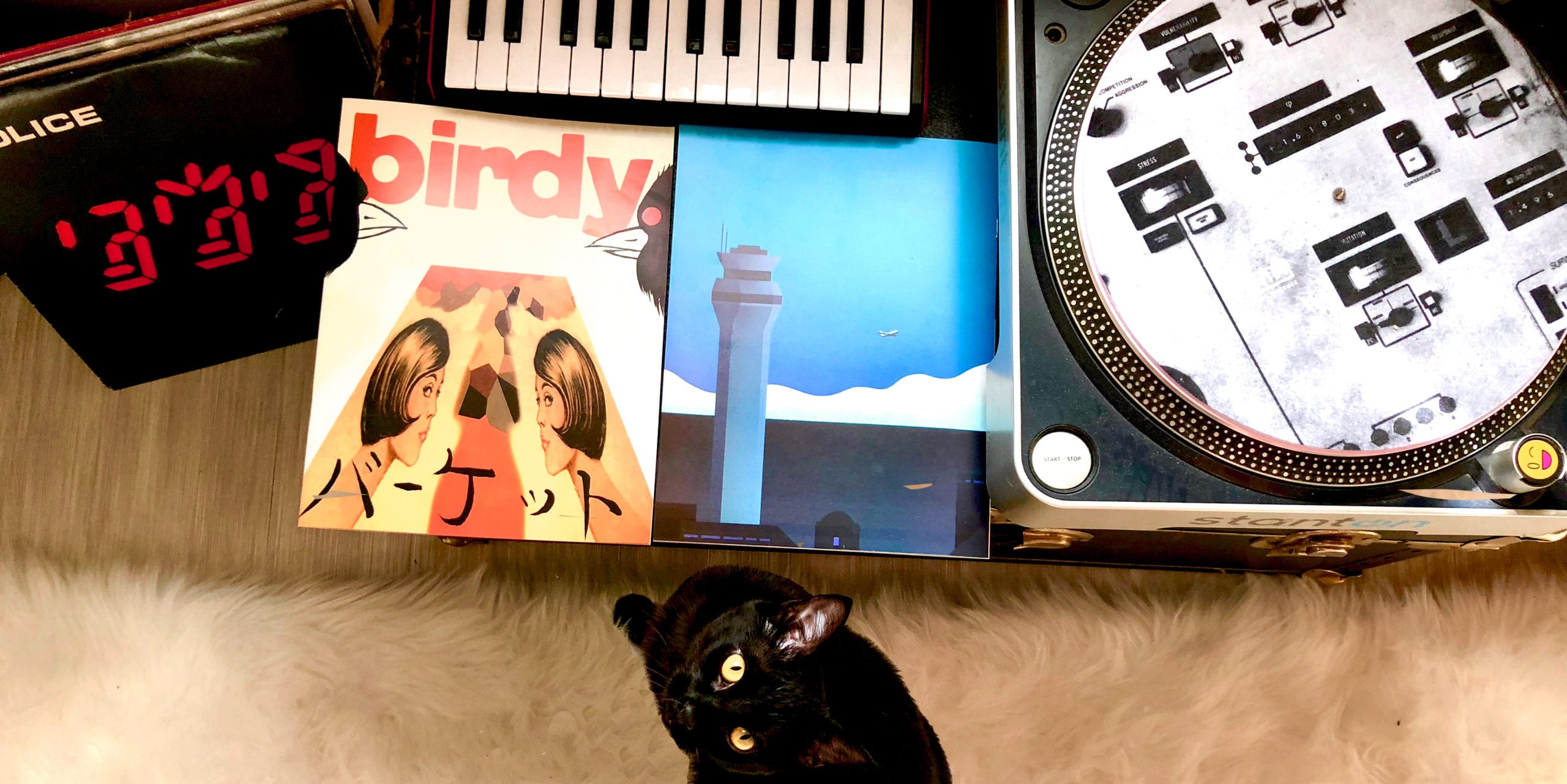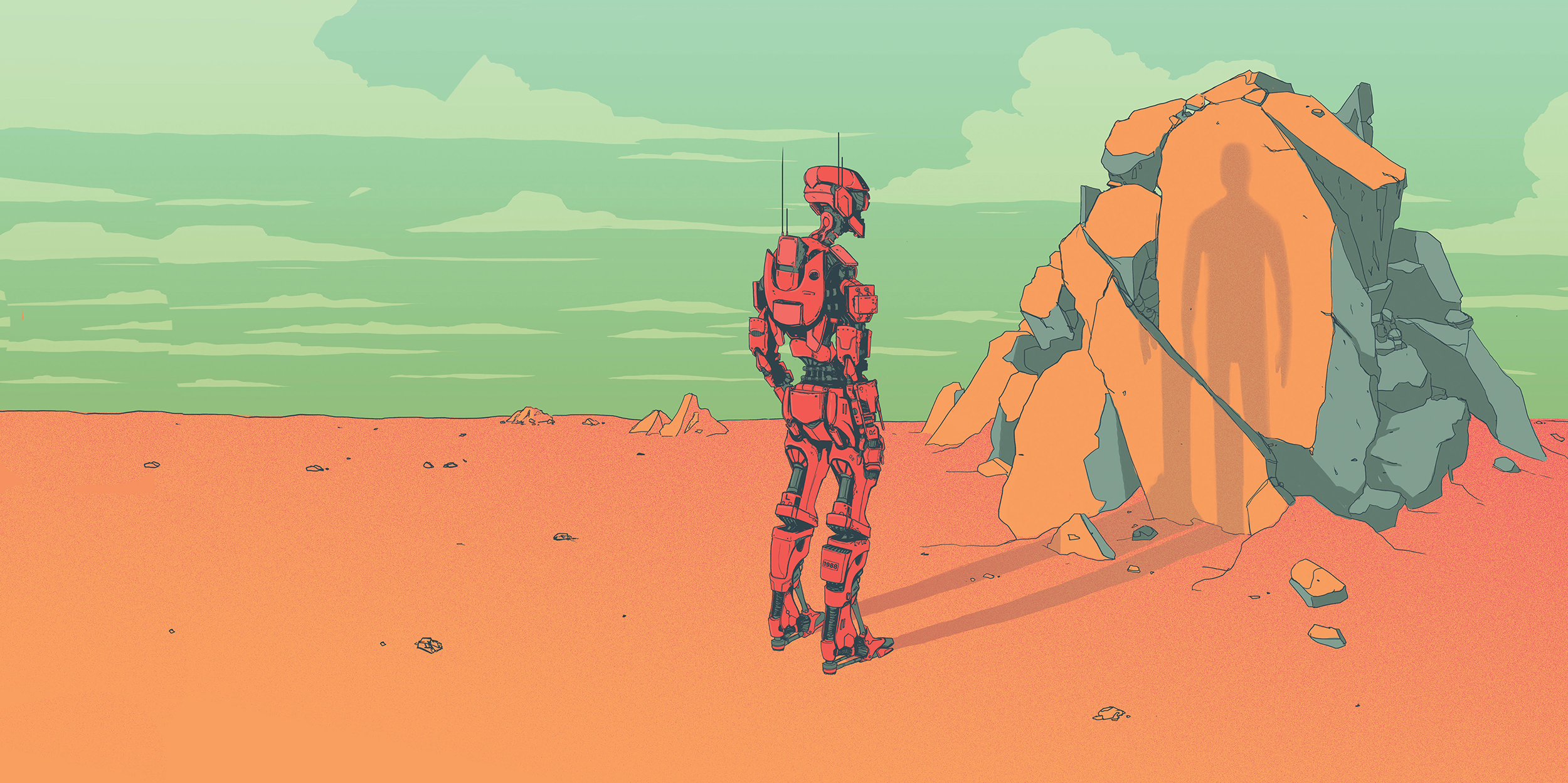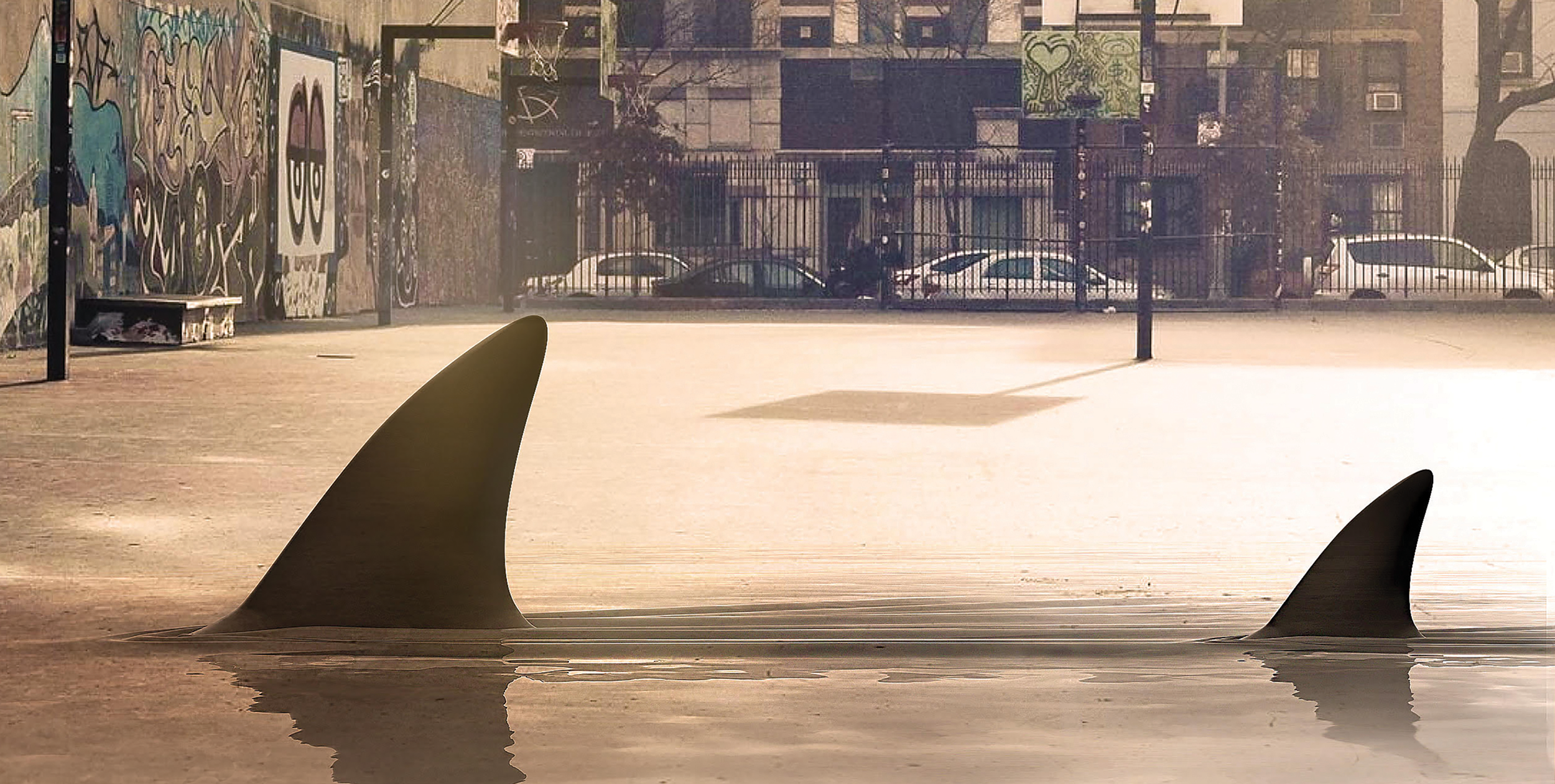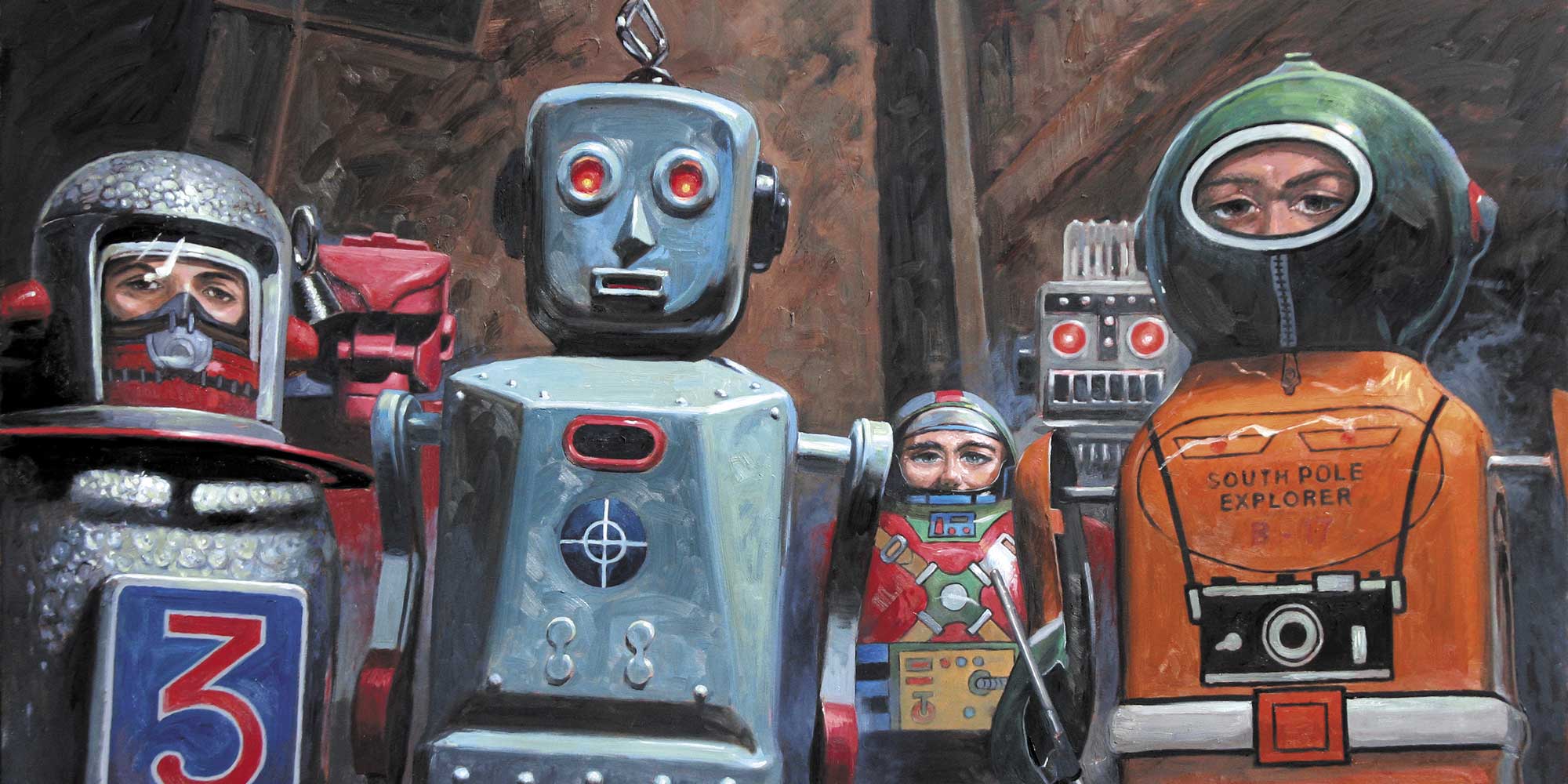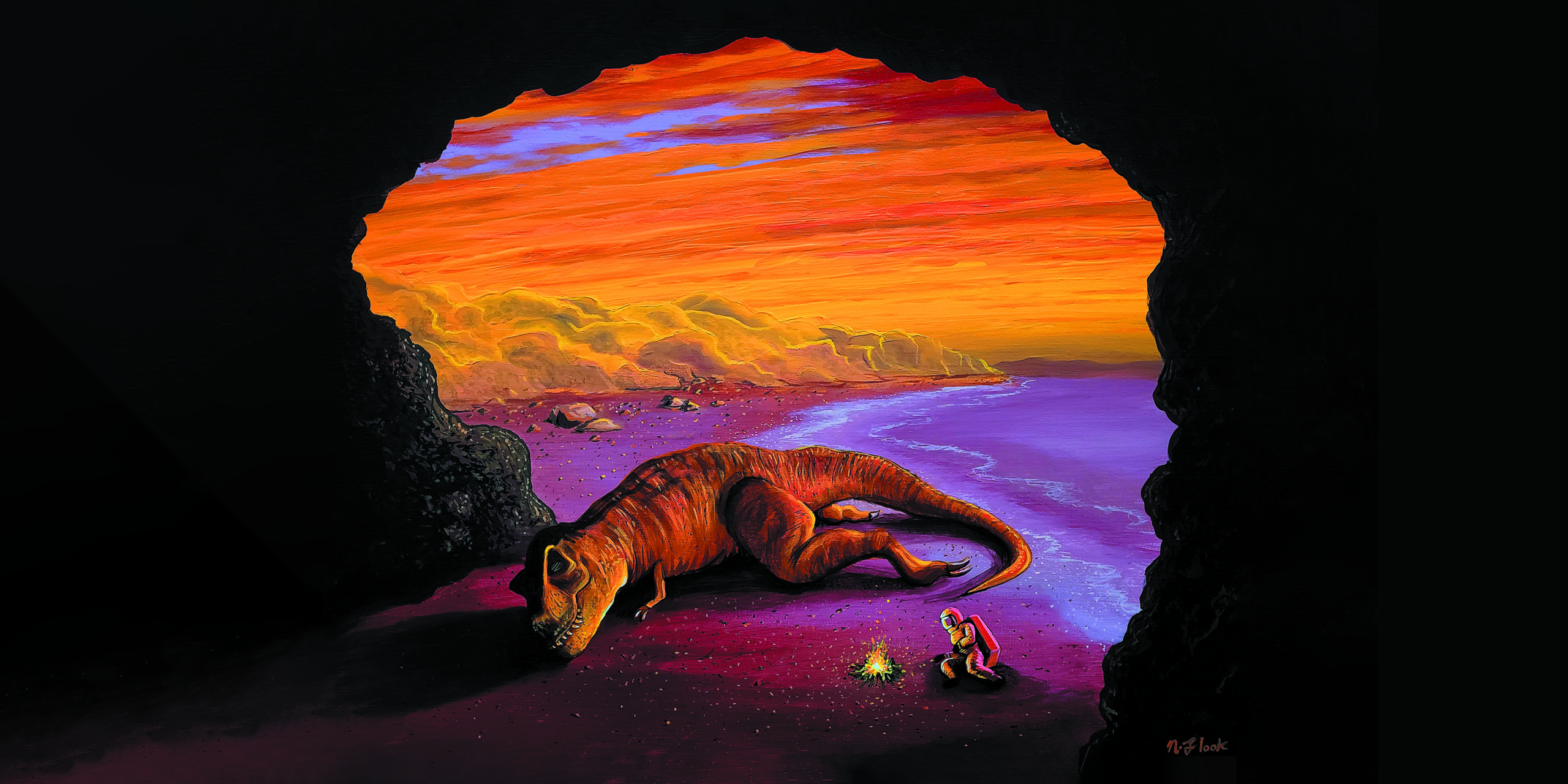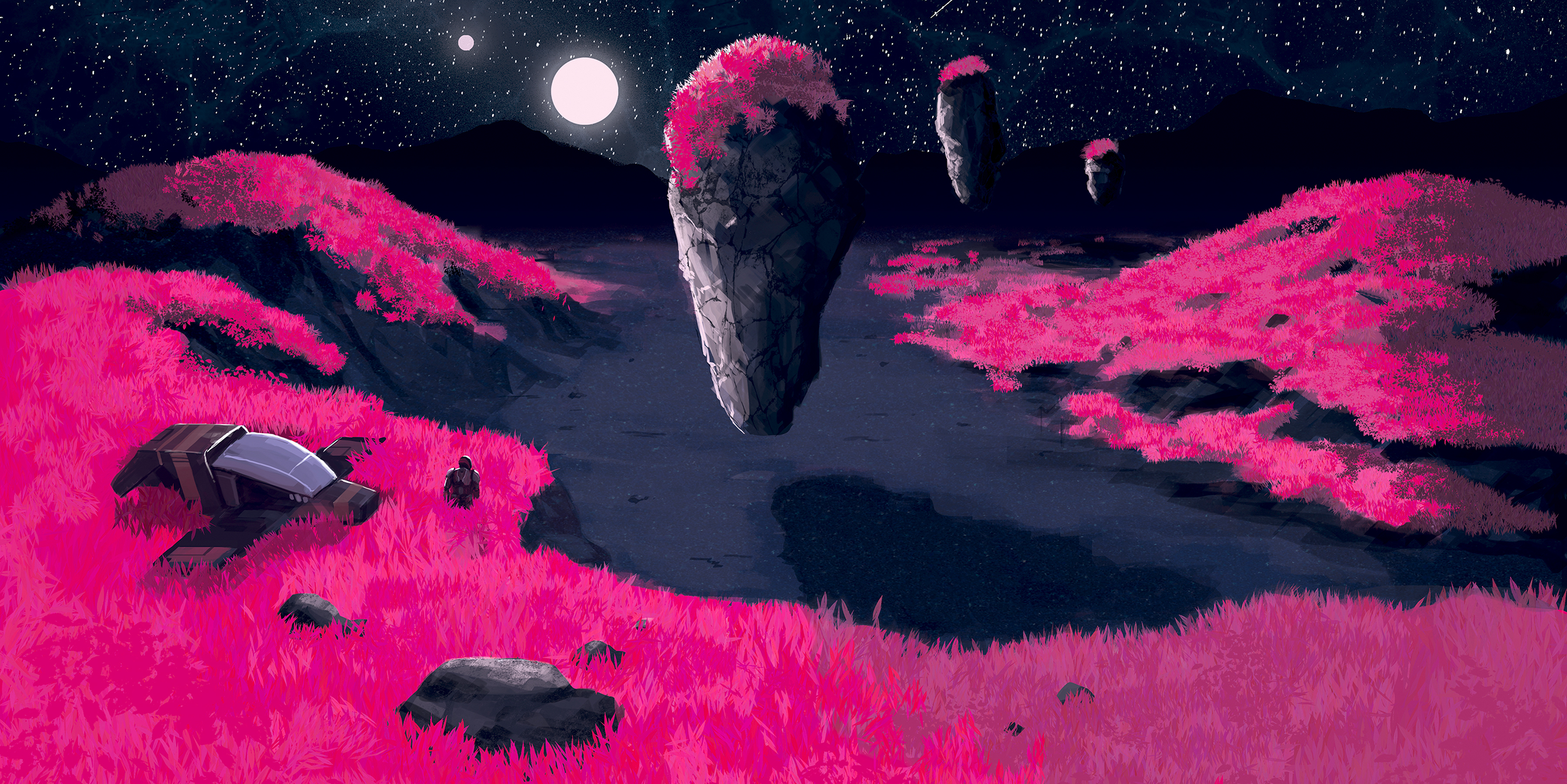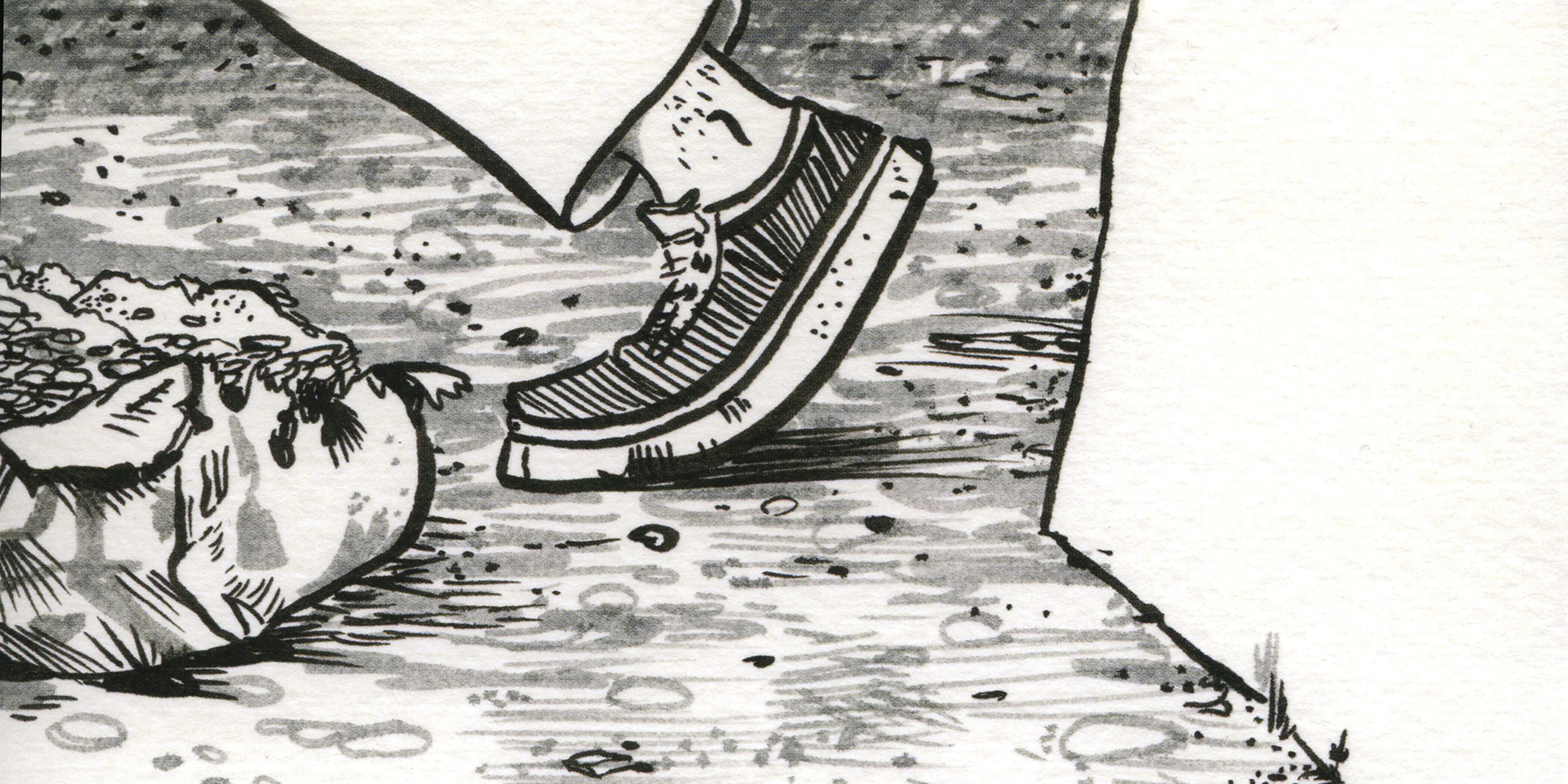 #1_PeterKornowski_CabinVist_Bestof096
#1a_carousel_EricJoyner_Fetch_107
#1_Carousel_AustinParkHill_PolarSolar_109
#1d_KarateKat_RayYoungChu
#1e_LandSeaSkyBirdies_JonnyDeStefano
#1f_VividCrimson_JonnyDeStefano
#1g_TechnologyWatchesOverUs_Mark Mothersbaugh_097
#1c_PeterKornowski_CrashLanding_087
#4_Groundhog-1988-Anaconda_DerekKnierim
#5_JashTracey_SharkInTheCity_077_May2020
#7_NickFlook_Rex and Relaxation_087
#8_DerekKnierim_PlanetALandscape_2
#9_MarkMothersbaugh_FromThePostCardDiaries_Untitled_015
EXPOSURE THERAPY
BY GRAY WINSLER W/ART BY AUSTIN PARKHILL
"We're dead," Nervil said, looking through a window etched with frost to a blinding expanse of white.
"Easy, Nervil. It's just a blizzard. It'll pass," Avery said as their shelter groaned under the unrelenting force of the wind.
"And then what?" Nervil shivered. "You saw the radio tower for this place. We've no way to let anyone know we're here."
"We'll figure something out," Avery bent down to rub his hands in front of the tiny gas-powered heater they'd found. It was already half empty.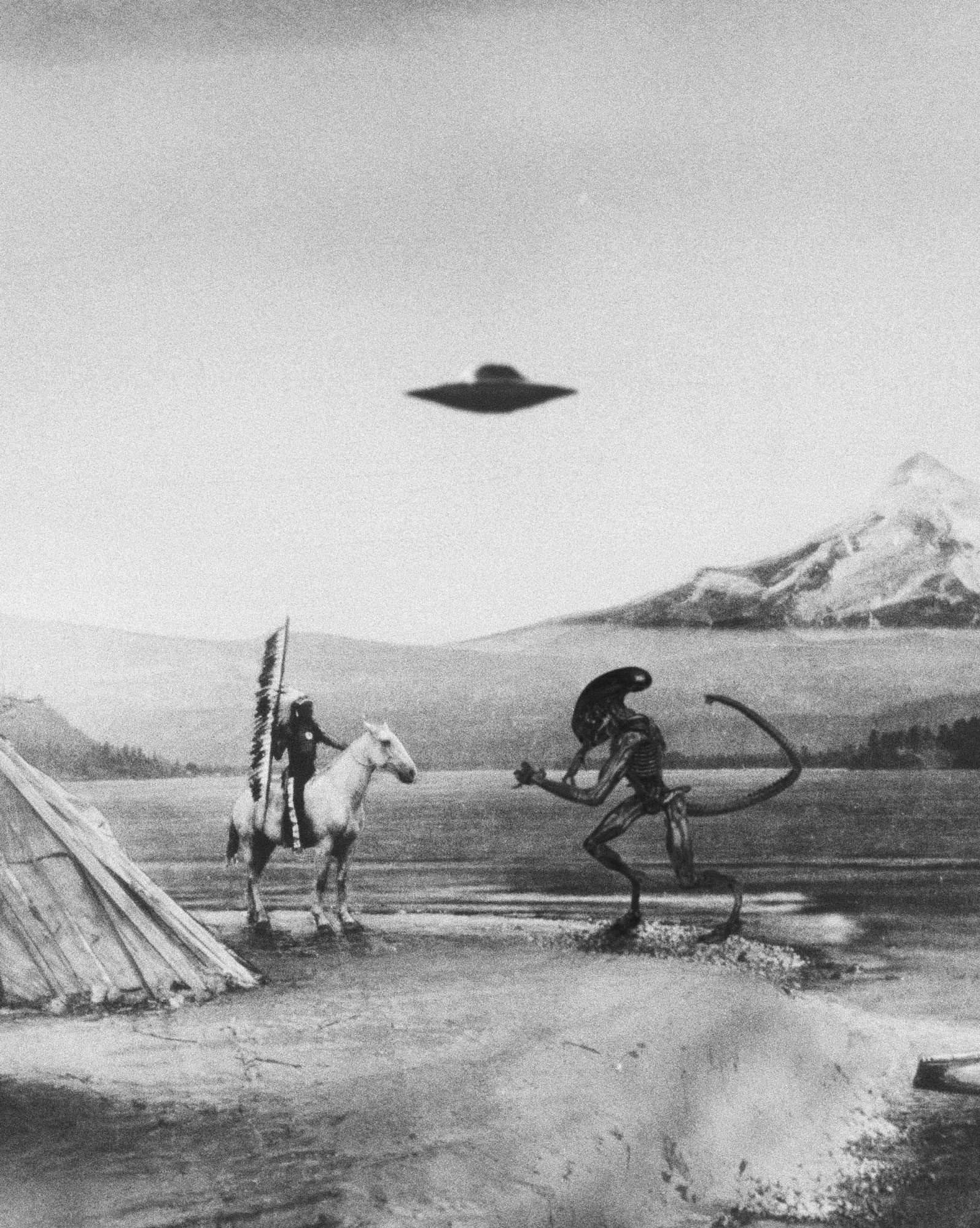 The Men in Black continue to harass our agents in the field, trying to hide the alien truths with brute force. Despite cinematic representation they are neither oddly paternal nor anachronistically Fresh. By all indications they typically stand over 6 feet tall in skinny, pale bodies with features heavily manicured by lipstick. Most of the encounters were not Robert Smith. Research into their origin in the hopes that we might find a vulnerability continues without concrete development.

CHECK IT OUT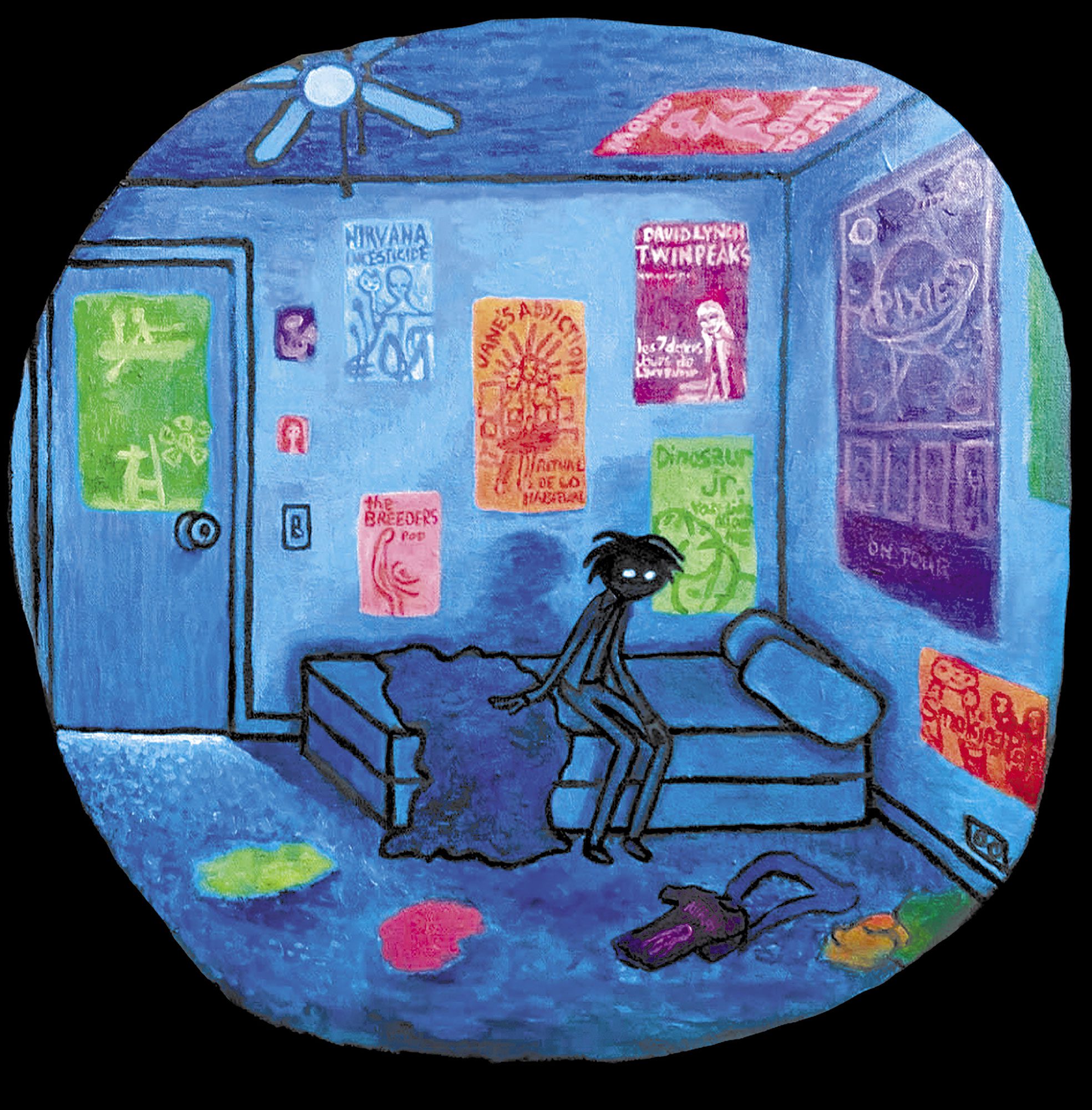 People who don't shovel the snow off their sidewalks in the winter really anger me. As a pedestrian, I'm often incredulous that anyone could be so callous. I mean, what, do they not care about my safety? Do they want the elderly and folks with disabilities to slip and injure themselves? HAVE THEY NO DECENCY! I MEAN, WE LIVE IN A SOCIETY, GOD DAMNIT! DO THEY THINK THEY CAN JUST COAST ALONG AND JUST NOT CARE ABOUT ANYONE BUT THEMSELVES? IT TAKES SIX MINUTES TO SHOVEL A SIDEWALK! SIX MINUTES! HOW DAMMED PRECIOUS IS THEIR TIME ANYWAY!?!

CHECK IT OUT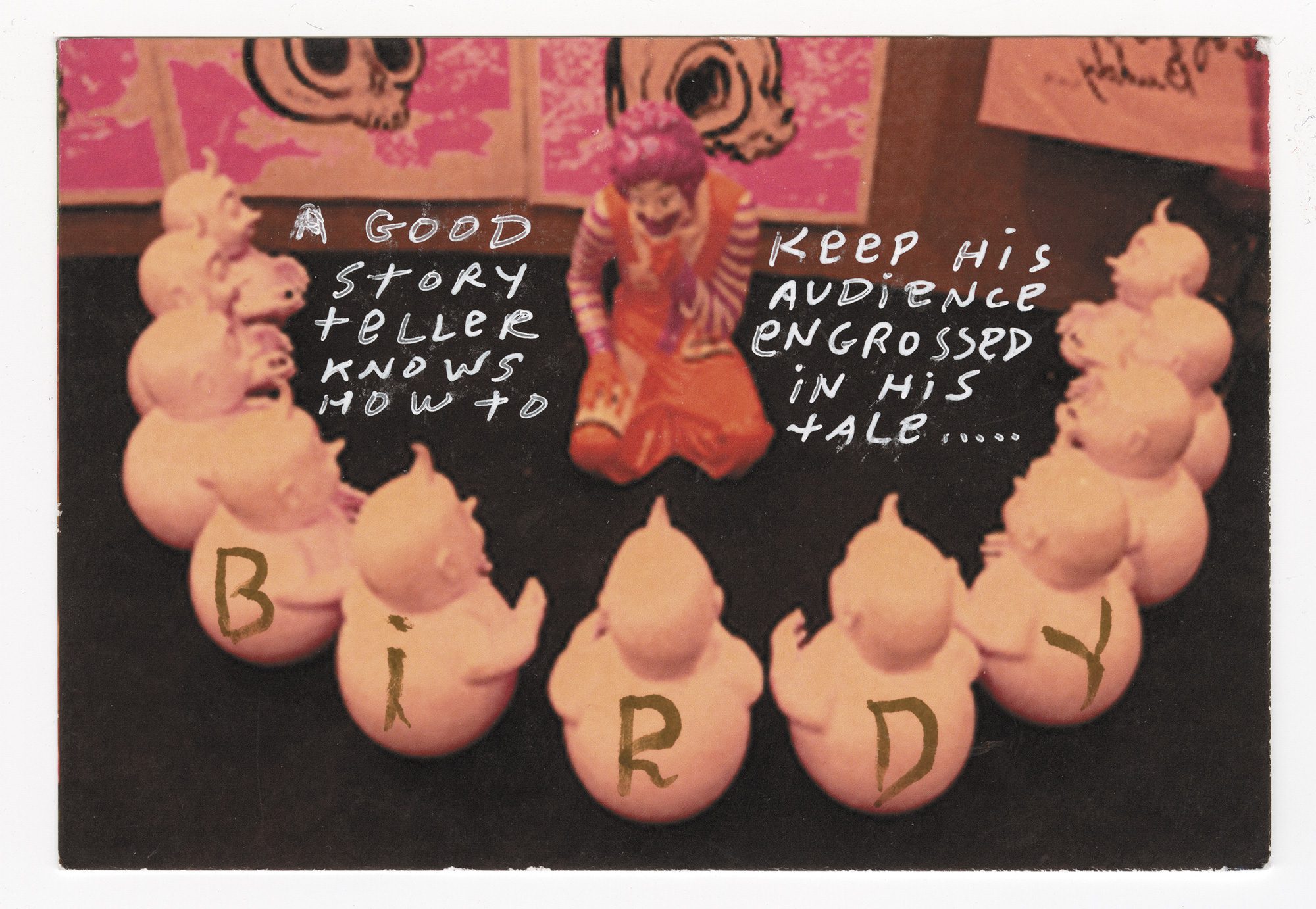 Mark Mothersbaugh is one of this era's most unique and prolific composers. Deeply aware of the ability of precise, multi-faceted artistic expression to deliver vital social commentary, he has perpetually challenged and redefined musical and visual boundaries. Mothersbaugh co-founded influential rock group DEVO, and then parlayed his avant-garde musical background into a leading role in the world of scoring for filmed and animated entertainment, interactive media and commercials.

CHECK IT OUT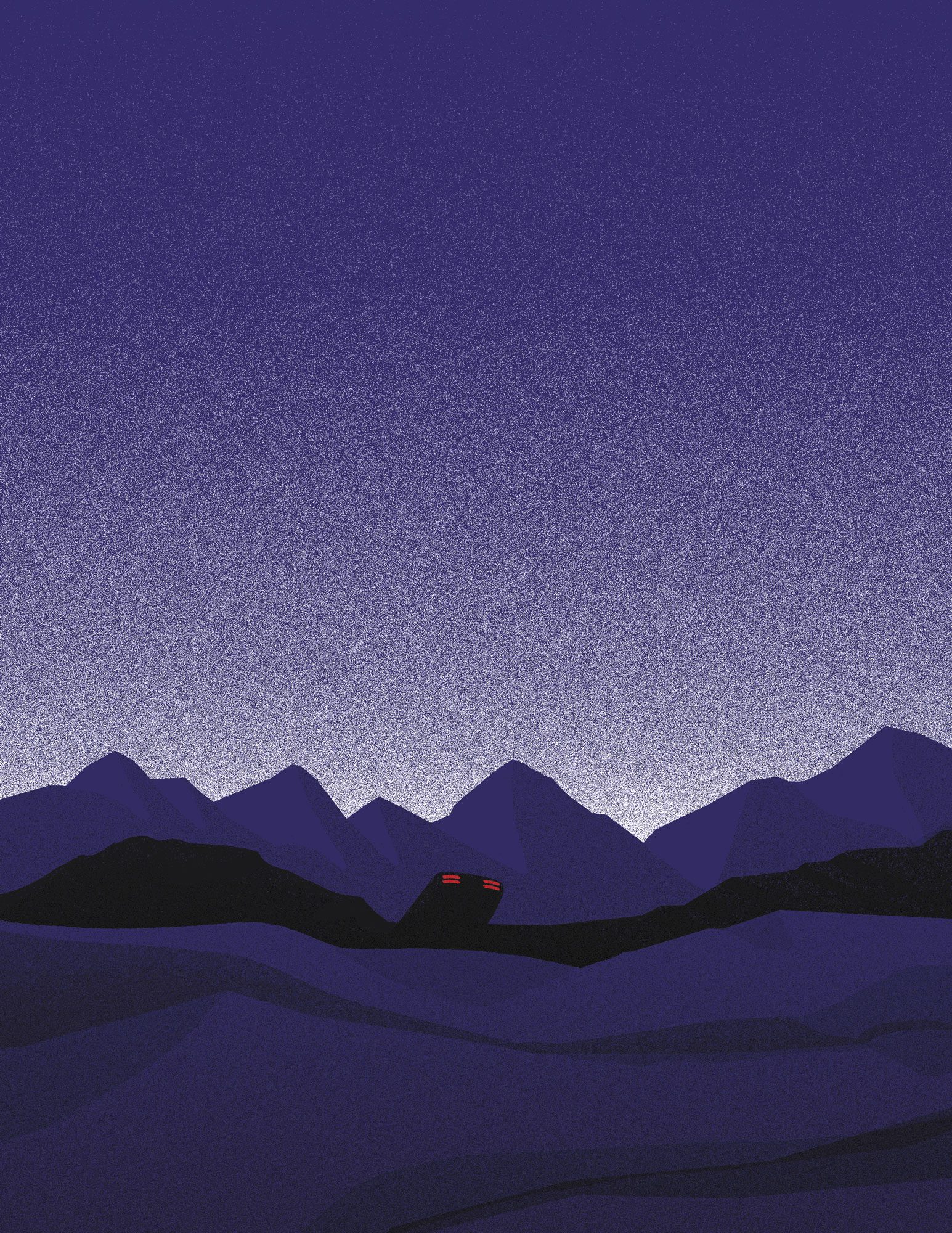 "Have any of you noticed that the same car has been following us for four blocks now? Four whole blocks. That creepy gray sedan. I wish I could see the driver."
"We've just been going straight for the last four blocks ..."
"But did you notice when it started following us? It was sitting at that four-way stop with its lights off for who knows how long. I thought it was abandoned, but then we drove past and it pulled out and started following us."

READ MORE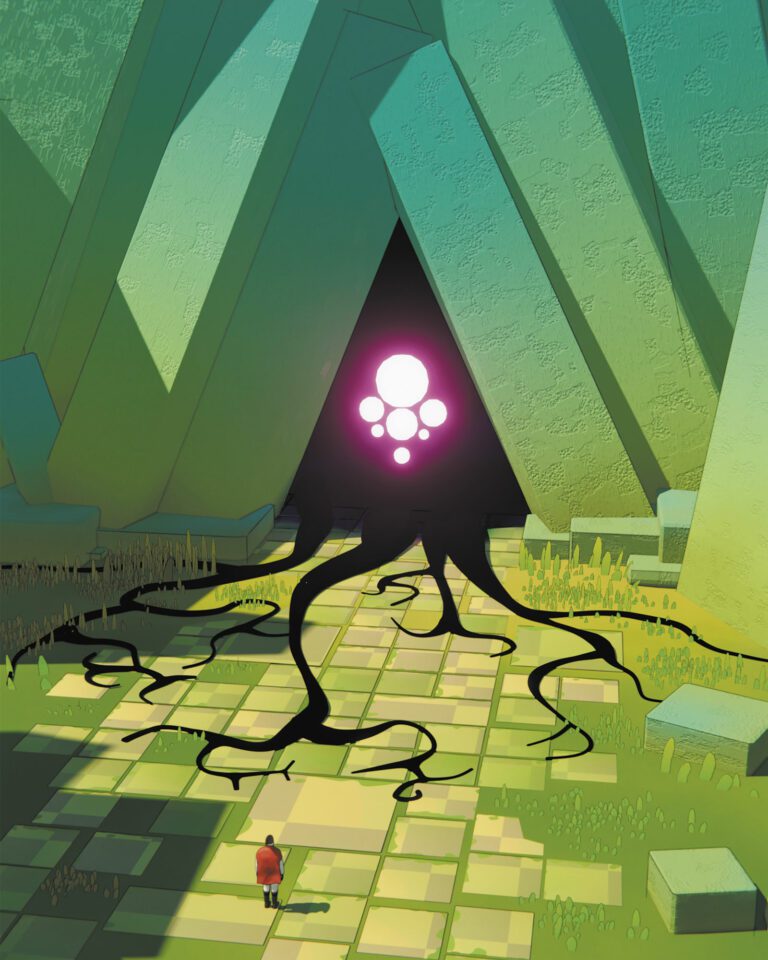 When Rekkon saw the black tentacles spilling from the temple gateway, he stopped and sighed heavily, shoulders slumping. Every damn time.
He didn't think he'd encountered this particular denizen of the dark before, but it was hard to say. There were a lot of tentacled beasties out there, all with delusions of grandeur, and when you made a living retrieving misplaced weapons and other dangerous artifacts from the far corners of the galaxy, they tended to make a nuisance of themselves.
He unwrapped a cough drop and popped it in his mouth while he considered his options.

CHECK IT OUT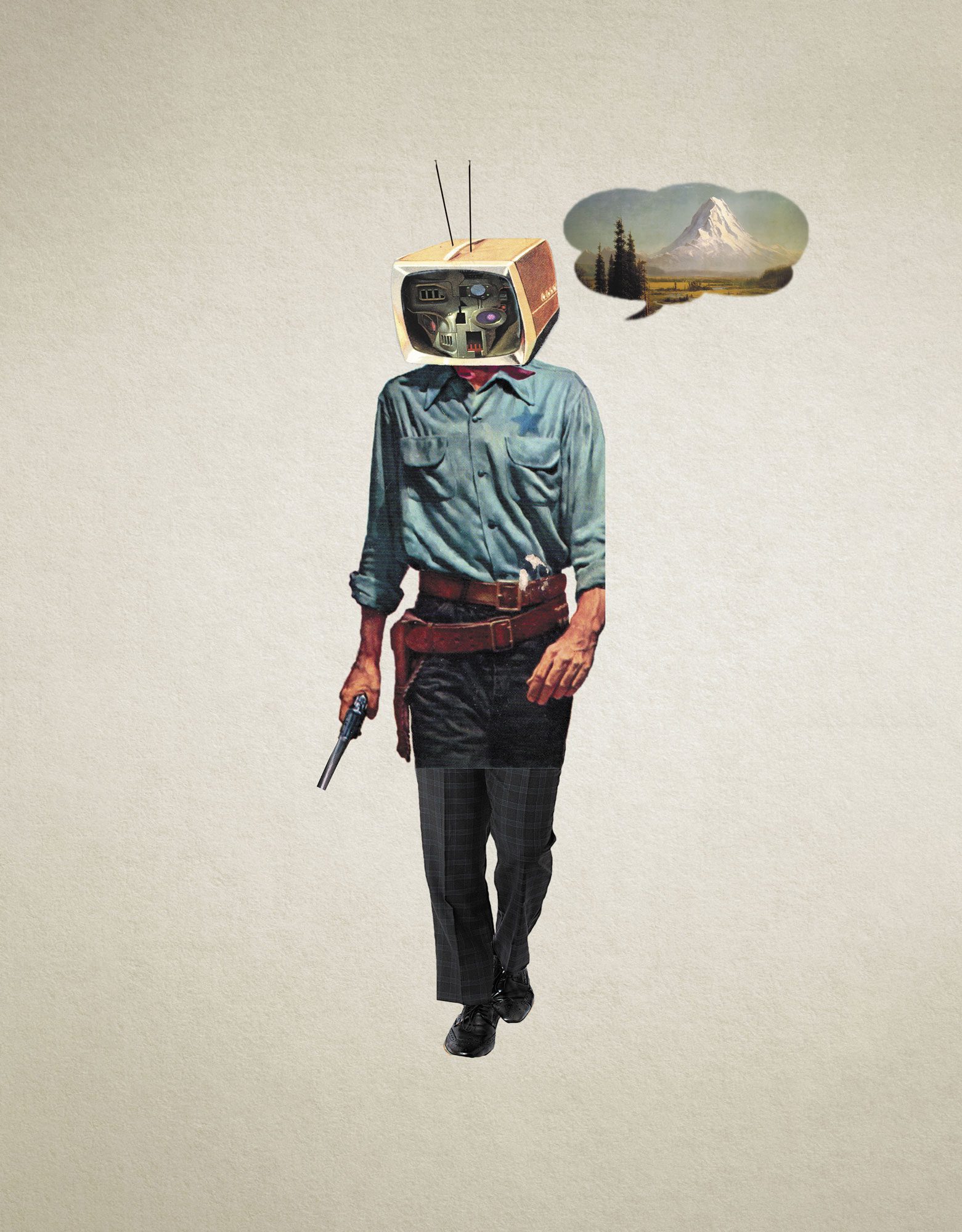 do as the Romans do. Isn't that how it goes?
So let's fast. We've got plenty of food at home. There'll
be plenty more when I'm through. I shaped myself
myself; took my face in my hands and pulled. Pried open
my mouth, wiggled my tongue, saw how far my lips could stretch.
I would've made a great rodeo clown. An even better buckin' bronc.

CHECK IT OUT
WHAT KIND OF BIRDY ARE YOU?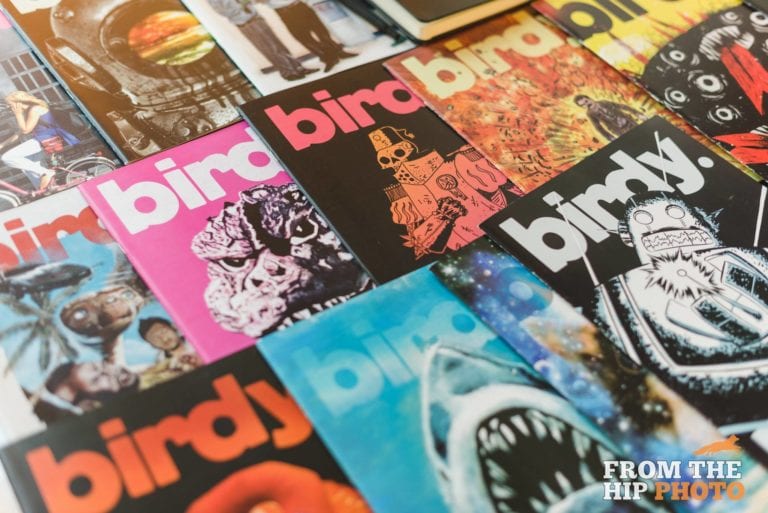 Birdy Magazine is independent work produced by independent artists and writers. Submitted and served up fresh for you. We produce a beautiful, highly-collectible printed book every month as a love letter to this classic medium and to the creators whose works we feature.
CAROUSEL ARTIST CREDITS:

Peter Kornowski, Cabin Visit, Issue 096, December, 2021  //  Ali Hoff, untitled | Issue 104, August 2022  //  Eric Joyner, Fetch, Issue 107, November  2022 // Austin Parkhill, Polar Solar, Issue 109, January, 2023   //  Ray Young Chu, Karate Kat | Issue 007, July 2014  //  Jonny DeStefano, Land Sea Sky | Issue 063, March 2019  //  Jonny DeStefano, Vivid Crimson | Issue 047, November 2017  //  Mark Mothersbaugh, Technology Watches Over Us | Issue 097, January 2022  //  Peter Kornowski, Crash Landing | Issue 087, March 2021  // Krysti Joméi photo  //  Derek Knierim, Groundhog 1988 Anaconda | Issue 066, June 2019  // Jash Tracey, Shark In The City | Issue 077, May 2020  //  Eric Joyner, Escapees | Issue 101,  May 2022  //  Nick Flook, Rex and Relaxation | Issue 087, March 2021  //  Derek Knierim, Planet A Landscape | Issue 067, July 2019  //  Mark Mothersbaugh, From the Postcard Diaries Untitled | Issue 015, March 2015