FUTURE FANTASY DELIGHT
Funneling Creativity Through A Monochrome Lense
By Carsen Greene
Photos by Lindsey Kennedy & Courtesy of Future Fantasy Delight
Published in Issue 079, July 2020
Artist Nico Salazar delves into the winding road he took to landing his own room, Hidden Capsule, at House of Eternal Return at Meow Wolf.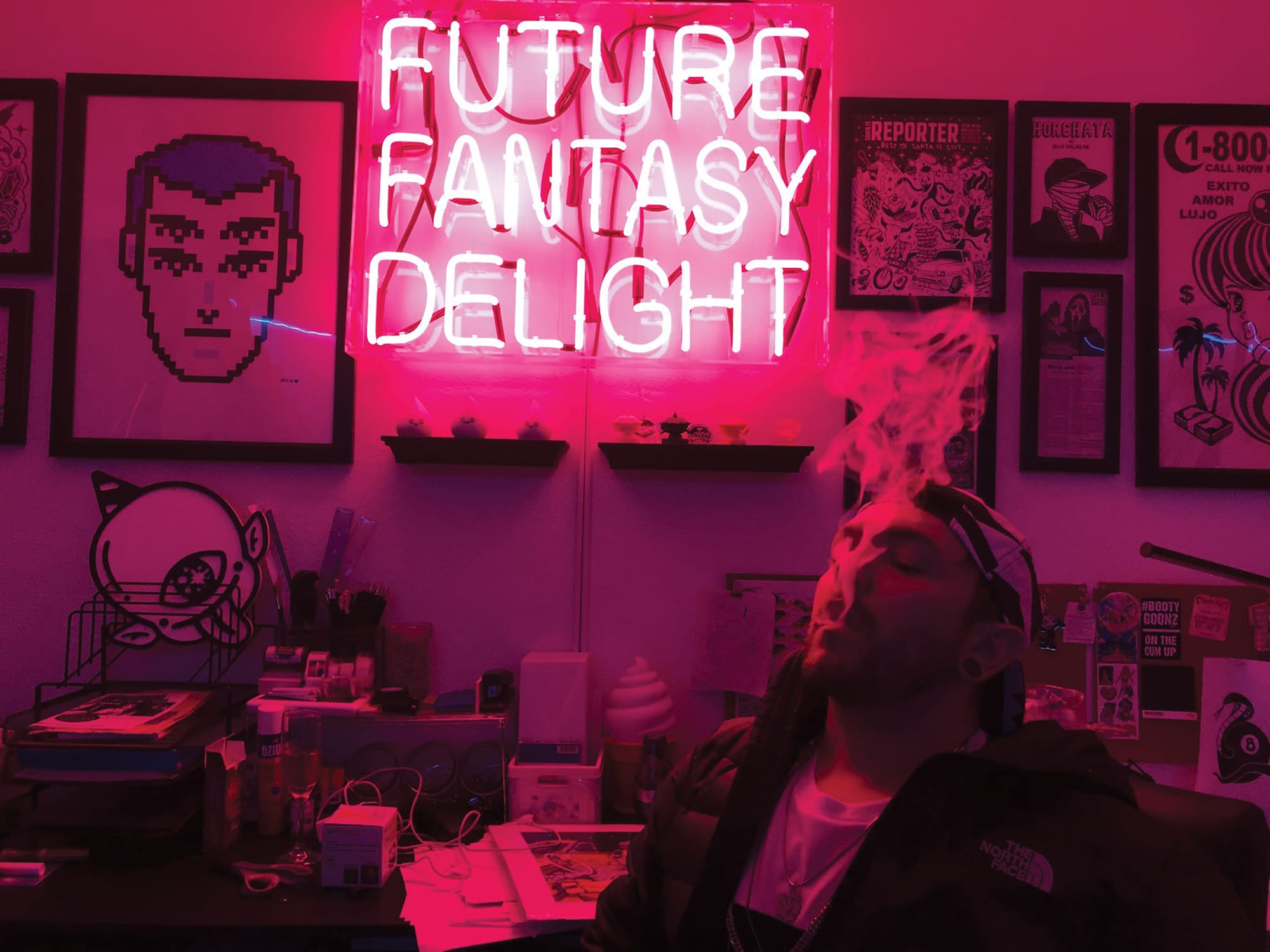 Nico Salazar, the artist behind the brand Future Fantasy Delight, is well- known around New Mexico for his black and white illustrations. He used to fill up entire sheets with characters using a black Crayola marker everyday for months while he did live-drawings on the Santa Fe Plaza. They look similar to the maximalist style of his room in House of Eternal Return at Meow Wolf, called Hidden Capsule.
After a chance encouraging encounter with Paul McCartney during one of his live-drawing sessions, "… okay, I'm going to keep doing this."

Inspired by monochrome artist and popstar Grimes, Nico decided to stick to the black and white for good. After graduating from the Institute of American Indian Arts (IAIA) in Santa Fe with a B.F.A. in Studio Arts, specializing in painting, he took the techniques he learned across all mediums and applied them to his line drawings.
"Since it's black and white, it's really dependent on balance and composition because I'm only using two colors usually, so it's how to keep the viewer's eye moving on the piece," he explains.
As of late, the majority of his illustrations depict queer femme Latinx or Chicana characters. "Most of them are female characters, but I also leave the gender up to the viewer's interpretation, because I have drawn lots of women based on drag queens and just other gender-fluid types of characters."
Not only is Nico an ally, he is a proud member of both the LGBTQ+ and Latinx communities. But he says it's been a hard journey. He only recently has had the confidence to share his experience as a gay artist and he says it's because he wants to inspire young queer artists to not be afraid to be themselves.
"I always want to empower and showcase LGBTQ+ people from the Latinx community and that's something I'm really proud of and I want to continue to do." He notes Keith Haring, famed gay graffitier, as an inspiration to stand up to the Machismo culture that can sometimes surround Latinx and Chicana art.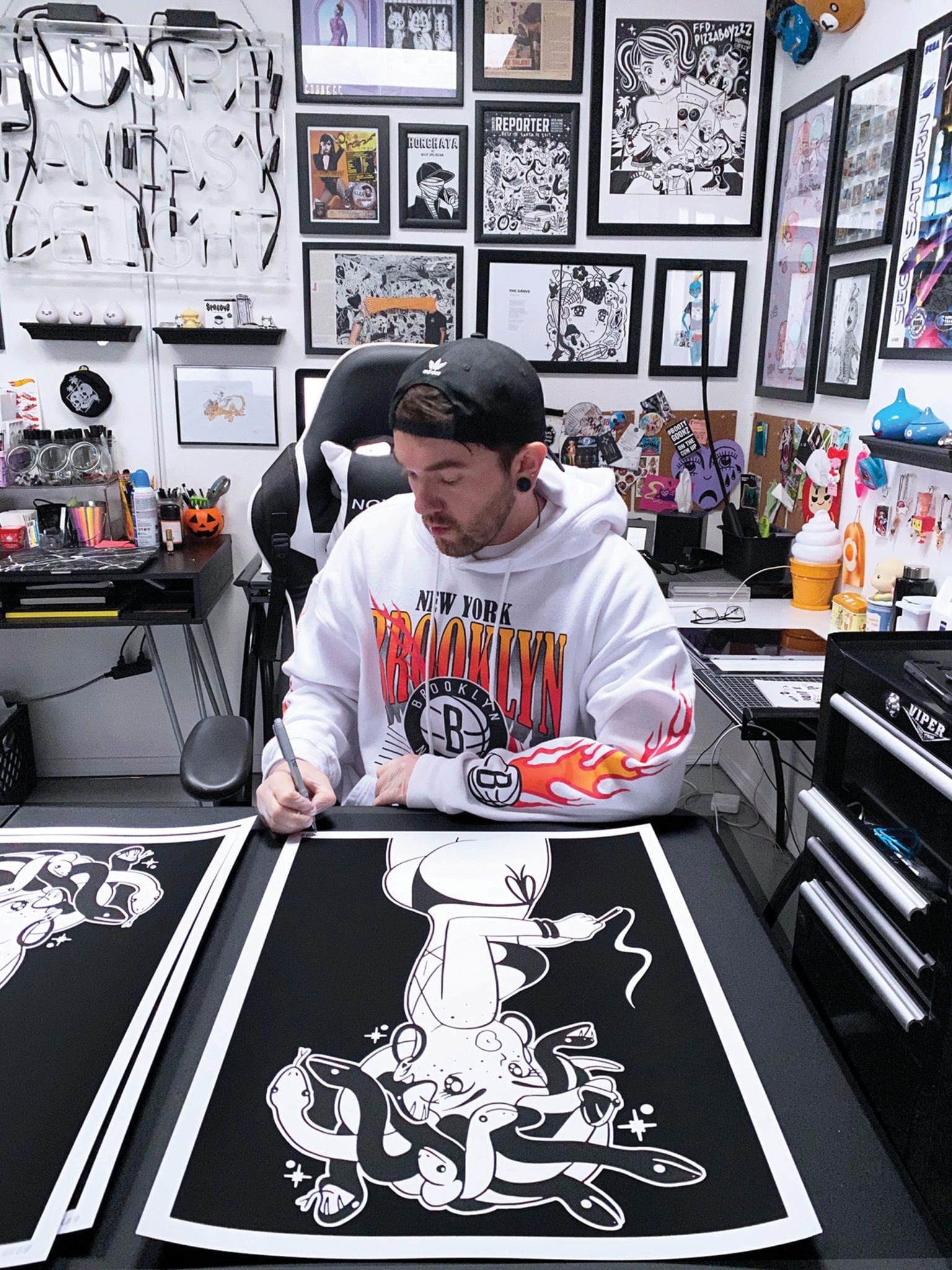 The femme characters he draws partly grew out of watching the women in his family conquer hardships, and partly from his obsession with female fashion from a young age. "Growing up in New Mexico with all these women, these strong, hard-working women, I developed my own work ethics but also I just naturally was always attracted to the female characters in the video games. With Street Fighter, I always wanted to be Chung-Li. Or with X-Men, I always wanted to have Storm or Rogue because I was just like, 'They're so cool.'"
His appreciation for video games and the female characters didn't stop as he grew up. When he created Future Fantasy Delight as his senior project at IAIA he incorporated video games in a unique way. "I had all these old Sega and Nintendo games, and I spray painted them, and made labels for them that were all my own artwork." He also made shirts and potion bottles for a pop-up shop that he hosted as his final.
People wanted to buy his work then and there. Including Meow Wolf Co-Founder Vince Kadlubek.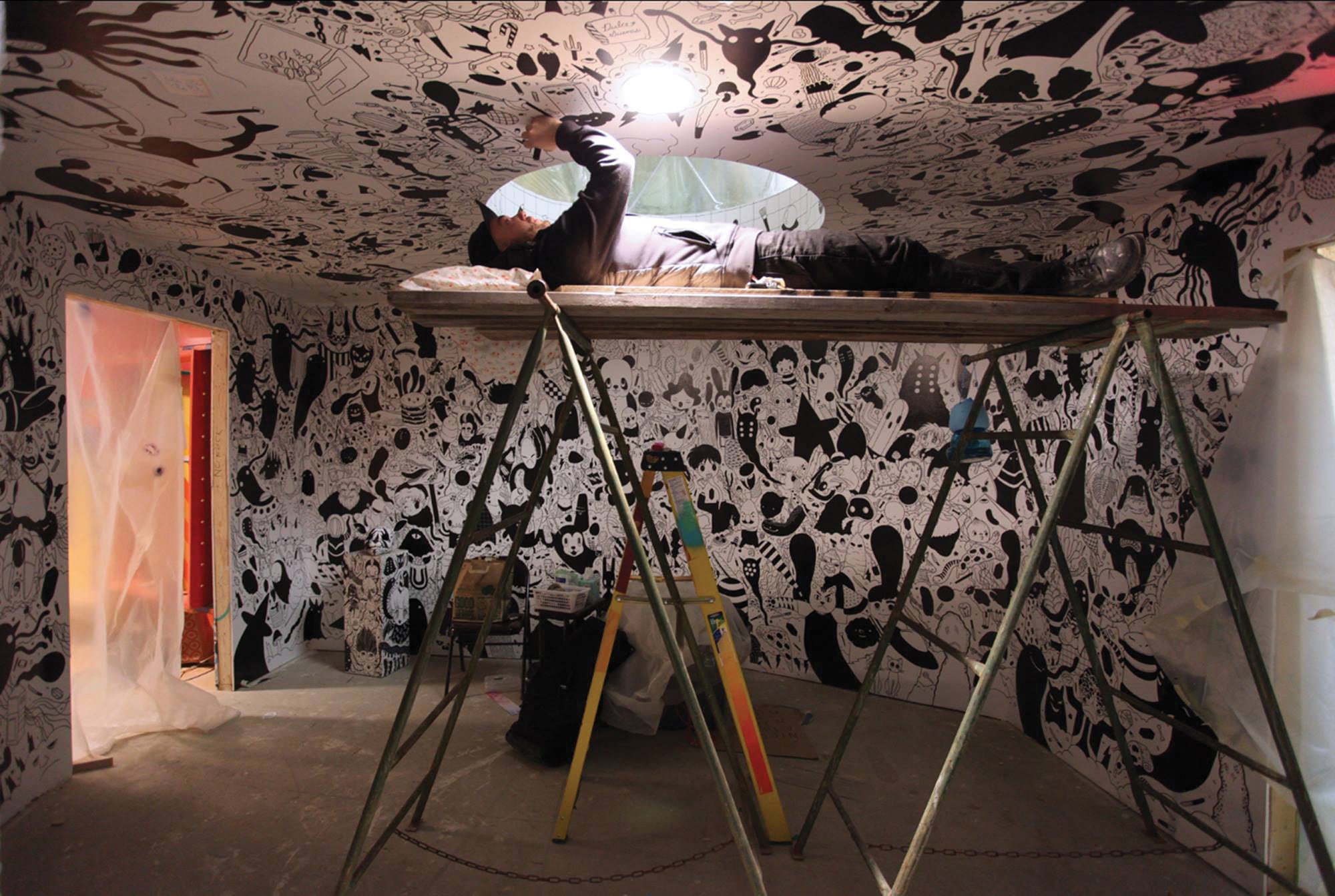 Without pause, Future Fantasy Delight was officially born. Future Fantasy Delight because it sounds as if translated, but not correctly. That's Nico's signature style; a blending of unique familiar but fresh synergies that can only be quantified as just left of center. And that's why his work fits so cohesively in House of Eternal Return, despite his room being the only monochromatic one.
Because Future Fantasy Delight wasn't fully conceived until the end of his college years, Nico encourages creativity at all ages. "I feel like I'm a late bloomer. I spent my whole 20's just doing who knows what." After graduating, he dreamt of starting a fashion brand and traveling to Japan as Future Fantasy Delight. Six years later, he's marked both off the list.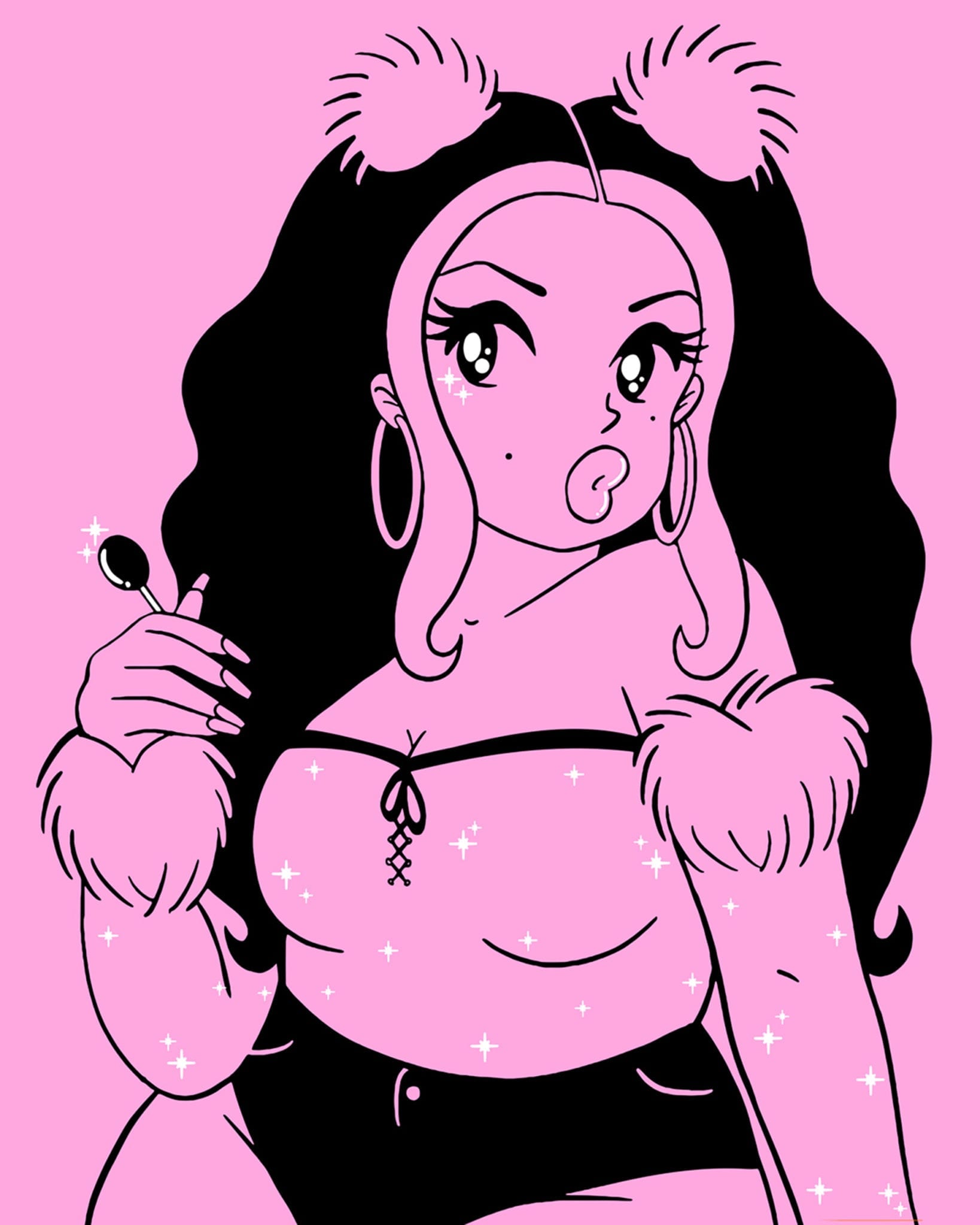 His latest illustration was inspired by and in partnership with Albuquerque local and trans model, Alexandria Terria, featuring a doe-eyed chick with puffs in her hair, hoop earrings, a little cleavage, and a sucker in her hand. She personifies a sense of cool and confidence. The illustration was printed as a special edition and all of the proceeds went to the Transgender Resource Center of New Mexico in honor of Pride Month.
To see more of Nico's work, head over to futurefantasydelight.com or follow him on Instagram: @futurefantasydelight.
THIS FEATURE WAS PRODUCED IN PARTNERSHIP WITH MEOW WOLF.