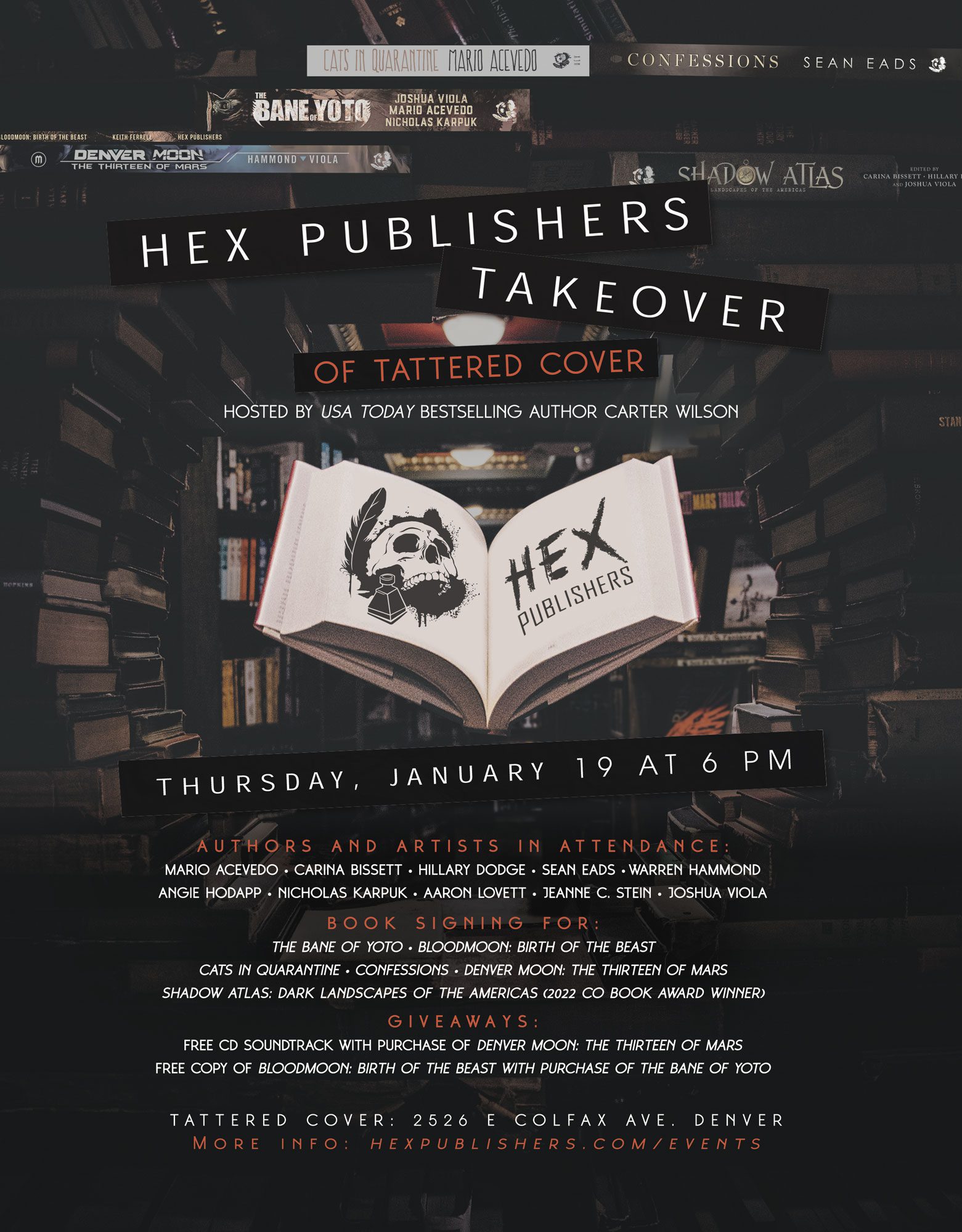 Hex Publishers is Denver's independent publishing house proudly specializing in genre fiction: horror, science fiction, crime, dark fantasy, comics and any other form that explores the imagination. Founded by writers, Hex values both the author and the reader, with an emphasis on quality, diversity and voices often overlooked by the mainstream. 
The multi-award winning publisher is taking over the longstanding indie bookstore Tattered Cover (Colfax) January 19th for an evening showcasing their newest books alongside the authors and artists behind them, several of which who have been featured and published in Birdy. Hosted by USA Today bestselling author Carter Wilson, the night will include giveaways, book signing opportunities and the chance to pick the creative minds of Mario Acevedo, Carina Bissett, Hillary Dodge, Sean Eads, Warren Hammond, Angie Hodapp, Nicholas Karpuk, Aaron Lovett, Jeanne C. Stein and Joshua Viola. Read on about the genre-spanning books that will be featured at the event: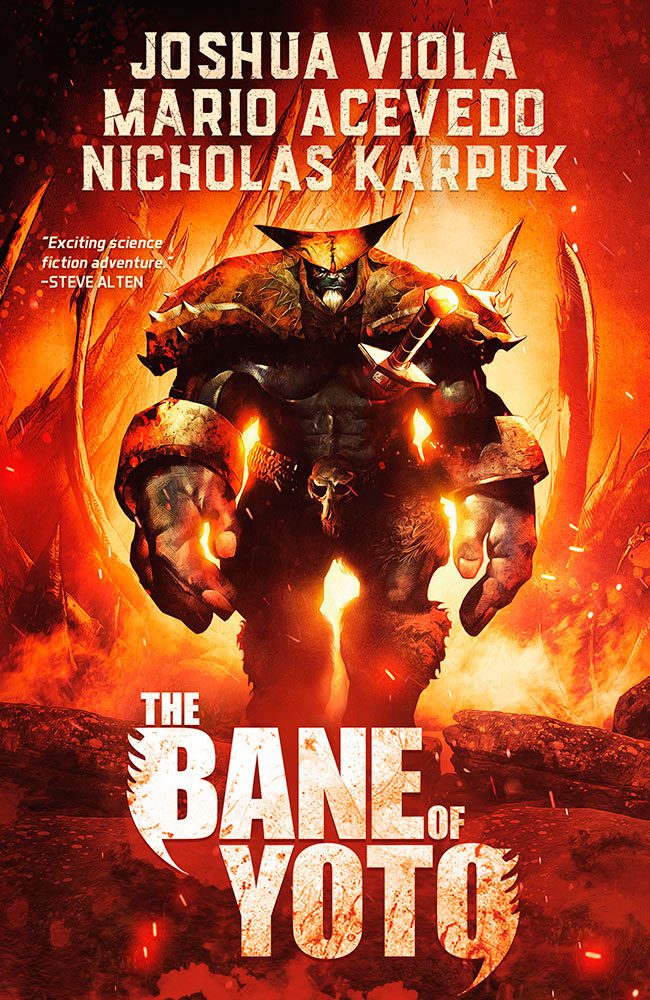 The Bane of Yoto by Joshua Viola, Mario Acevedo, and Nicholas Karpuk
Some say the Arbitrators existed long before the universe was born. Others believe their dark powers spun the fabric of time itself. They are mystery. But here is truth: After ages of formless existence, the Arbitrators craved physicality once more. Their hunger sparked a great fire — a blaze that found its shape in the form of a dagger capable of transmitting their essence into a living vessel. In their search for a worthy body to inhabit, they destroyed the world of the gentle numah and the combative olokun. But not all was lost. General Vega and his vile olokun warriors enslaved the remaining numah and relocated them to a thriving moon where they were forced to toil in endless strife. Cycles later, two numah brothers, Eon and Yoto, witnessed the slaughter of their parents at Vega's whim. Eon vowed vengeance, while Yoto sought a timid life in hopes of drawing no attention from their cruel overlords. But when an alien witch dispatches a minion to bury a mystical dagger in Eon's heart, thereby granting him the Arbitrators' power and the ability to defeat Vega, it is Yoto who is stabbed. Now, Yoto's days of cowardice are over. He is transformed into a monstrous creature of tremendous strength and intellect. But will Yoto become the heroic liberator of his people — or the cause of their total annihilation?
---
Joshua Viola is a 2021 Splatterpunk Award nominee, Colorado Book Award winner, and editor of the StokerCon™ 2021 Souvenir Anthology. He is the co-author of the Denver Moon series with Warren Hammond. Their graphic novel, Denver Moon: Metamorphosis, was included on the 2018 Bram Stoker Award™ Preliminary Ballot. Viola edited the Denver Post #1 bestselling horror anthology Nightmares Unhinged, and co-edited Cyber World—named one of the best science fiction anthologies of 2016 by Barnes & Noble. His short fiction has appeared in numerous anthologies, including DOA III: Extreme Horror Anthology, Doorbells at Dusk, and Classic Monsters Unleashed. He is currently developing novelizations for a new video game franchise from Random Games, led by the creators of the Grand Theft Auto series, and Brent Friedman (Star Wars: The Clone Wars, Star Wars Rebels, Star Trek: Enterprise, Halo 4, and The Twilight Zone). As a video game artist, he worked on Pirates of the Caribbean: Call of the Kraken, Smurfs' Grabber and TARGET: Terror. Viola is the owner and chief editor of Hex Publishers in Denver, Colorado, where he lives with his husband and son.
---
Mario Acevedo is the author of the national bestselling Felix Gomez detective-vampire series, most recently Steampunk Banditos: Sex Slaves of Shark Island, the YA humor thriller, University of Doom, and co-authored the Western novel, Luther, Wyoming. His work has won an International Latino Book Award, a Colorado Book Award, and has appeared in numerous anthologies to include A Fistful of Dinosaurs, Straight Outta Deadwood, Psi-Wars, and It Came from the Multiplex. Mario serves on the faculty of the Regis University Mile-High MFA program and Lighthouse Writers Workshops.
---
Nicholas Karpuk lives in Colorado, with his wife, daughter, and two FIV positive cats. It's possible he's standing directly behind you, but please do not verify this.
---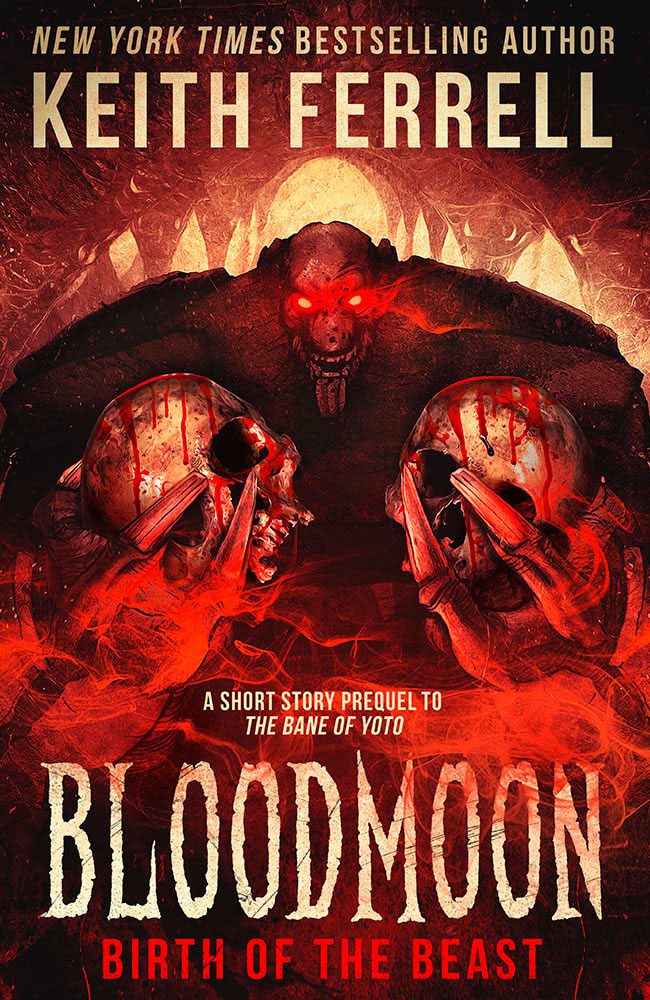 Bloodmoon: Birth of the Beast by Keith Ferrell
A short story prequel to The Bane of Yoto. Pitiless, merciless and lacking all humility, General Vega has seen countless rivals fall beneath his ruthless claws. His very name sparks terror in the minds of numah and olokun alike. Every villain has an origin story, but few have a beginning as dark as General Vega. Anyone who claims to know the truth about his past are deluding themselves, and even the worst rumors are comfortable lies compared to the sinister reality of Vega's life. The olokun believe their leader was born to rule worlds. But even they underestimated him. General Vega's vile ambitions began in the womb.
---
In memoriam: Keith Ferrell was the author of a dozen or so books, fiction and nonfiction, as well as over 1,000 magazine and encyclopedia articles and essays. He was co-author, with Brad Meltzer, of the New York Times bestseller History Decoded. From 1990 to 1996, he was editor-in-chief of Omni Magazine. His short fiction has appeared in Asimov's, Black Mist, Millennium 300, Nightmares Unhinged, Cyber World, among others.
---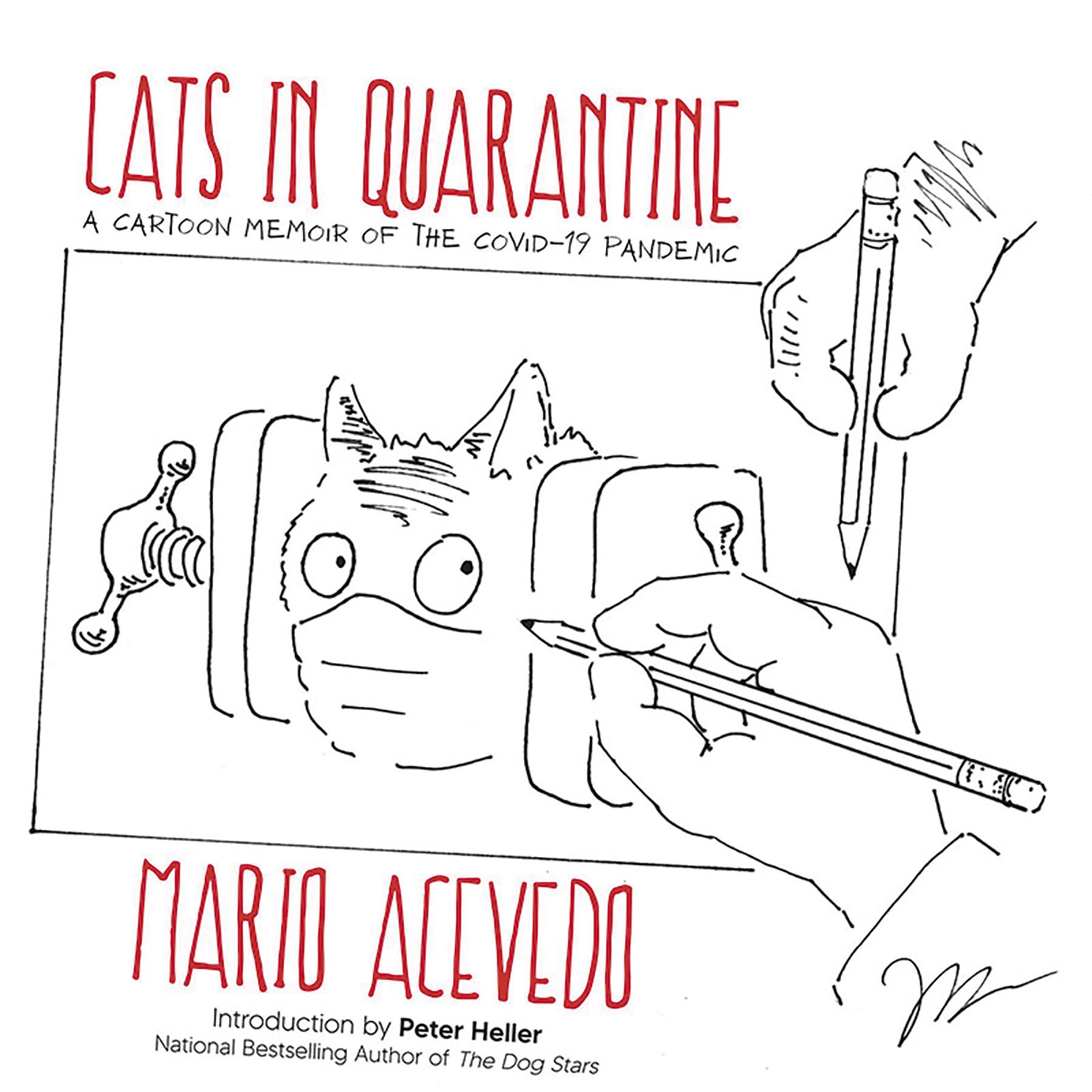 Cats in Quarantine: A Cartoon Memoir of the Covid-19 Pandemic by Mario Acevedo
During the Covid-19 pandemic, award-winning author and artist Mario Acevedo chronicled life in lockdown with a daily cartoon. Cats in Quarantine, a single-panel comic, appeared every day on Acevedo's social media, and every day, it drew more fans. As the days and weeks stretched to months and years, these sketches became more than a pastime for Acevedo, more than a touchstone for his friends. They became an incisive record of a historical turning point. From toilet paper and vaccines to political pique and social unrest, Cats in Quarantine captured the zeitgeist of the Covid era with Acevedo's signature humor and keen, observant intelligence. This collection of 300 Cats in Quarantine favorites commemorates the tragic and the absurd, the frustrations, fear and loss that marked a time we might want to forget, but one humanity would do well to remember.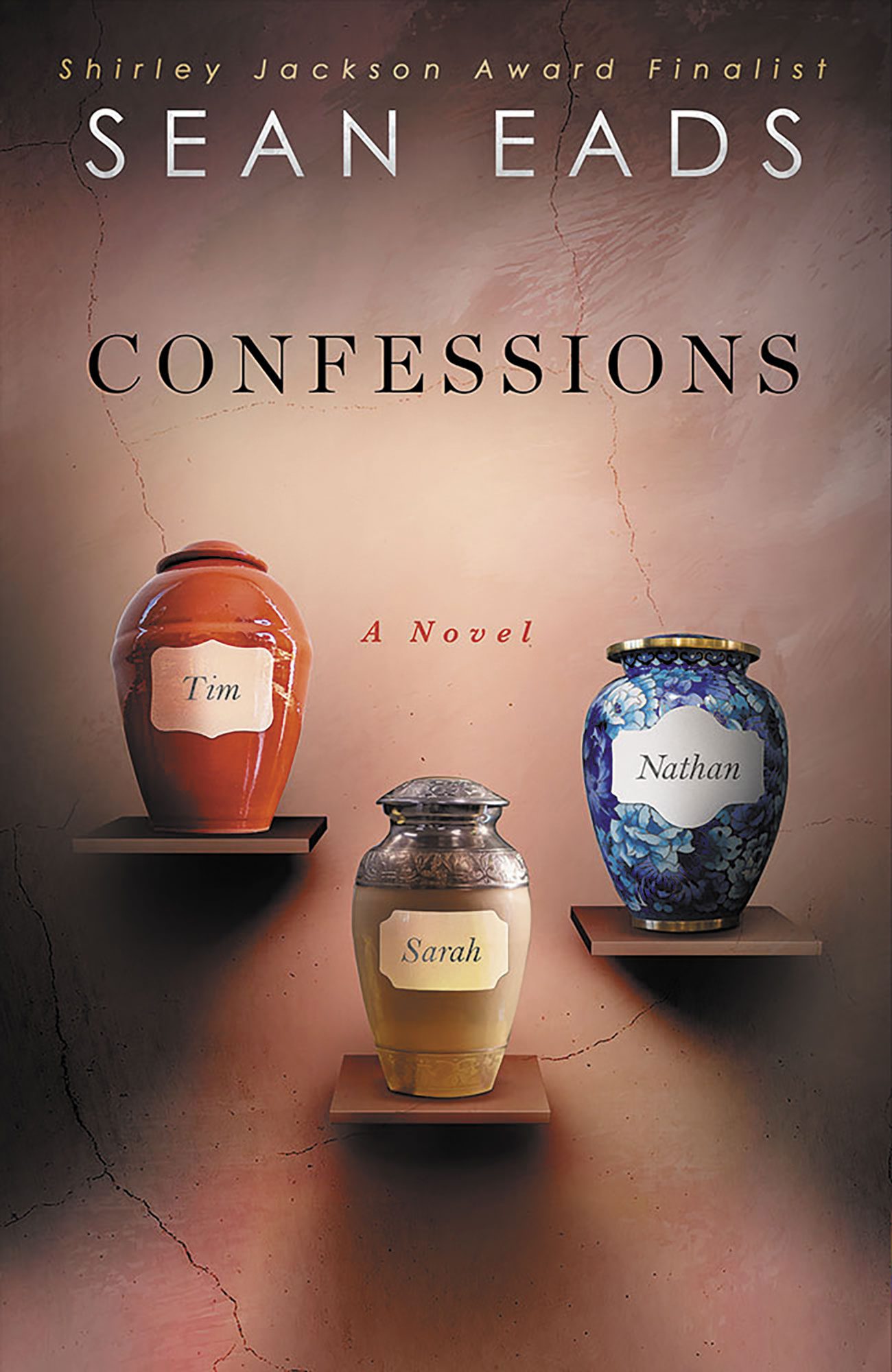 Confessions by Sean Eads
Nathan Ashcraft knew this morning wasn't going to be easy. After all, he's the town funeral director, and he's coming to work early to meet two grieving parents whose baby was stillborn. The meeting fills him with dread and anticipation because the baby's father, Steve, was his high school crush, and they haven't seen each other in almost thirty years. What Nathan doesn't know is how the child's death connects him to other people in town, especially Tim Sawyer, the local dentist and Nathan's recent infatuation, and Sarah Lawrence, a retired high school biology teacher whose good intentions almost destroyed his life decades ago. These three people will face their own moment of crisis today, sparking self-reflection and self-doubt, despair and regret that drive them toward their own drastic resolutions and confessions. But in the end, is confession really good for the soul?
---
Sean Eads is a librarian in Denver, Colorado. He's been a finalist for the Shirley Jackson Award, Lambda Literary Award, and the Colorado Book Award. His short fiction has appeared in numerous anthologies.
---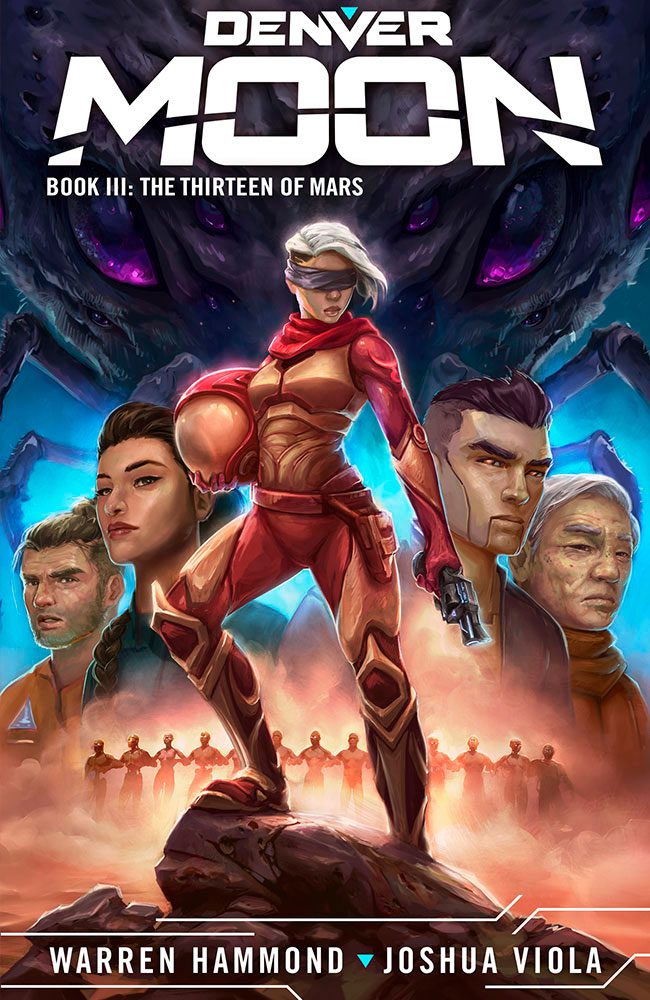 Denver Moon: The Thirteen of Mars by Warren Hammond and Joshua Viola
Book three in the Denver Moon series. It's been more than two years since Denver Moon discovered that alien shapeshifters infiltrated Mars Colony. Their attempts at human mind-control have failed, but when Denver opens a vault beneath a terraforming facility, she discovers what they really want: to exterminate all inhabitants of the Red Planet. Tatsuo Moon — Denver's grandfather and the co-founder of Mars City — has been gravely injured. To save him, Denver will need the help not only of her friends, Smith, Nigel and Navya, but also of humanity's archenemy, Doctor Werner. To save Mars, she'll need a miracle.
---
Warren Hammond has authored several science fiction novels, quite a few short stories, and a graphic novel. His novel Kop Killer won the 2012 Colorado Book Award for best mystery. His latest series, Denver Moon, is co-written with Joshua Viola.
---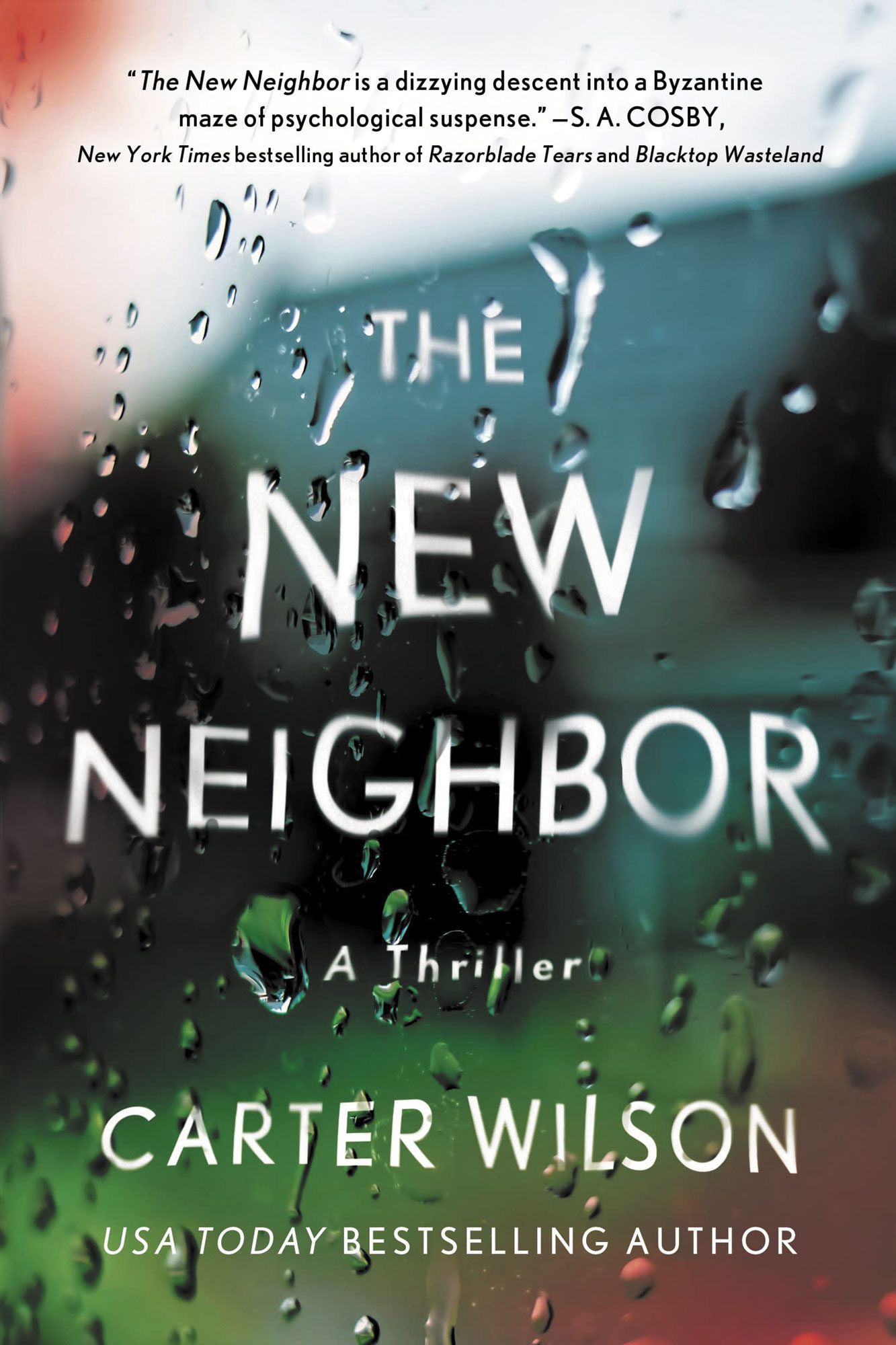 The New Neighbor by Carter Wilson
Aidan holds the winning Powerball numbers. Is today the best day of his life … or the worst? Aidan Marlowe is the superstitious type — he's been playing the same lottery numbers for fifteen years, never hitting the jackpot. Until now. On the day of his wife's funeral. Aidan struggles to cope with these two sudden extremes: instant wealth beyond his imagination, and the loss of the only woman he's ever loved, the mother of his twin children. But the money gives him and his kids options they didn't have before. They can leave everything behind. They can start a new life in a new town. So they do. But a huge new house and all the money in the world can't replace what they've lost, and it's not long before Aidan realizes he's merely trading old demons for new ones. Because someone is watching him and his family very closely. Someone who knows exactly who they are, where they've come from, and what they're trying to hide. Someone who will stop at nothing to get what they want …
---
Carter Wilson is the USA Today bestselling author of eight critically acclaimed, standalone psychological thrillers, as well as numerous short stories. He is an ITW Thriller Award finalist, a four-time winner of the Colorado Book Award, and his works have been optioned for television and film.
---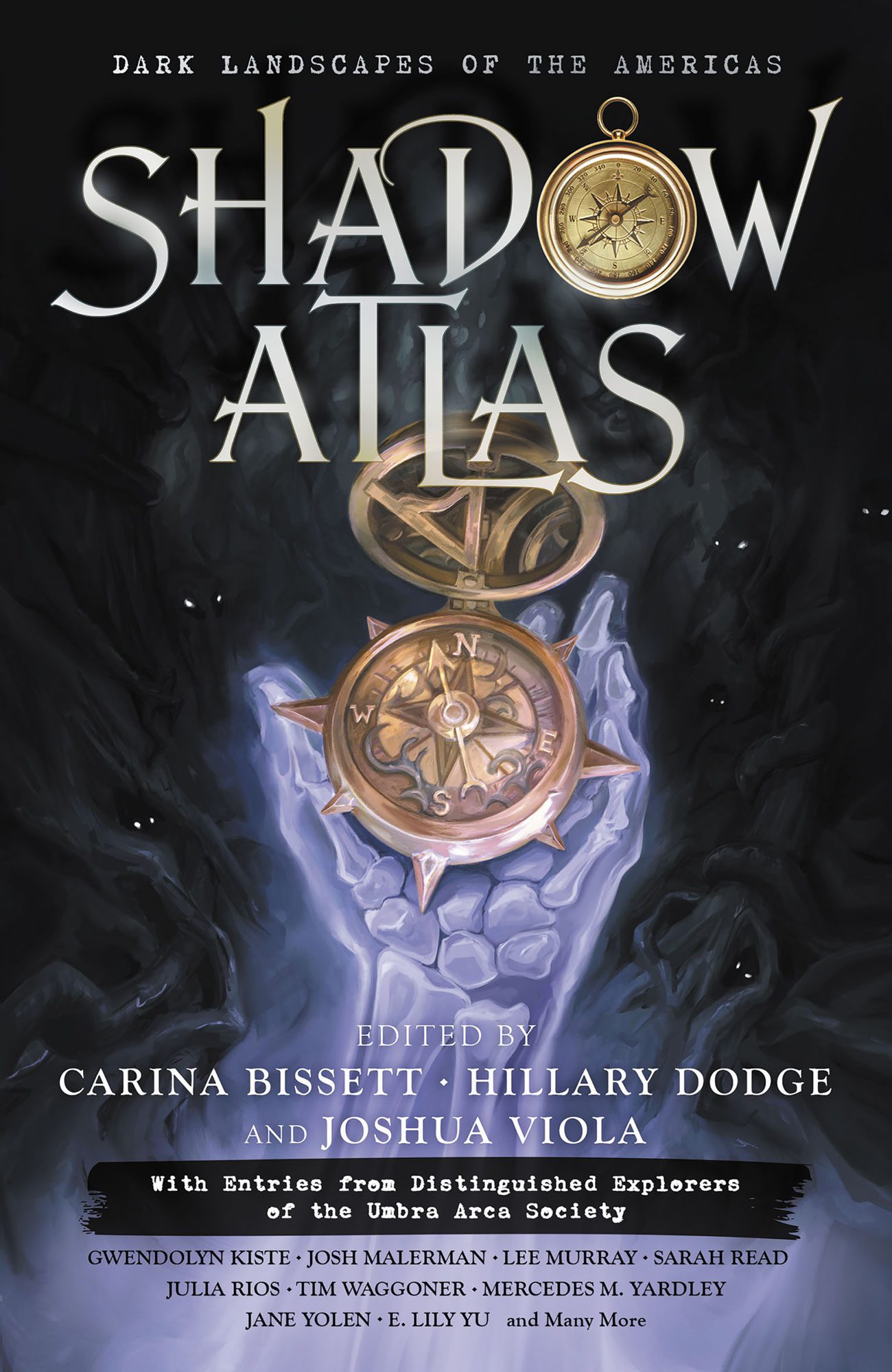 Shadow Atlas: Dark Landscapes of the Americas edited by Carina Bissett, Hillary Dodge and Joshua Viola; short stories by Mario Acevedo, Sean Eads, Warren Hammond, Angie Hodapp and Jeanne C. Stein; illustrations by Aaron Lovett (2022 Colorado Book Award Winner)
Seeking to reclaim humanity's early secrets, the Umbra Arca Society was forged. For centuries, this private league of explorers dedicated their lives to uncovering the oldest mysteries of the Americas. Armed with boldness and guile, and equipped with only a compass, a journal and devotion to truth, these adventurers braved cursed landscapes, dared unnatural adversaries, and exposed hidden civilizations. Many did not survive. None were forgotten. Their stories are maps revealing the topography and contours of landscapes unimaginable and dark. The Shadow Atlas collects their adventures. 
---
Carina Bissett is a writer, poet, and educator working primarily in the fields of dark fiction and fabulism. Her short fiction and poetry have been published in multiple journals and anthologies including Upon a Twice Time, Bitter Distillations: An Anthology of Poisonous Tales, Arterial Bloom, Gorgon: Stories of Emergence, Weird Dream Society, Hath No Fury, and the HWA Poetry Showcase Vol. V, VI, and VIII. She has also written stories set in shared worlds for RPGs at Green Ronin Publishing and Onyx Path Publishing. Bissett also teaches generative writing workshops at The Storied Imaginarium and works as a volunteer for the Horror Writers Association (HWA). In 2021, she was acknowledged for her volunteer efforts at HWA with the prestigious Silver Hammer Award. Her work has been nominated for several awards including the Pushcart Prize and the Sundress Publications Best of the Net.
---
Hillary Dodge is the author of several speculative short fictions as well as three nonfiction books, including Gather Round the Table: Food Literacy Programs, Resources, and Ideas for Libraries (ALA 2020). She spends a good deal of time traveling, going places that are forbidden, and eating. She has been published in online magazines, podcasts, and print anthologies, including Pseudopod, Space Squid, Hellbound Books, and Hex Publishers.
---
Angie Hodapp is the Director of Literary Development at Nelson Literary Agency. She holds a BA in English and secondary education and an MA in English and communication development, and she is a graduate of the Denver Publishing Institute at the University of Denver. She has worked in publishing and professional writing for the better part of the last two decades, and in addition to writing, she loves helping authors hone their craft and learn about the ever-changing business of publishing.
---
Jeanne C. Stein is the award winning, national bestselling author of the Urban Fantasy series, The Anna Strong Vampire Chronicles, and with Samantha Sommersby, The Fallen Siren series. She has stories in over three dozen anthologies including Hex's Nightmare's Unhinged. Recently, she completed the third book in a Sci-Fi, action, adventure series called 180 Degrees Magnetic: Suicide Sail with co-author Jim Schoendaller which will be available in November.
---
Aaron Lovett is a mixed-heritage Asian American artist and has been published by AfterShock Comics, Tor.com, The Denver Post, and Spectrum Fantastic Art 22 & 24. His Nightmares Unhinged (Hex Publishers) cover art was licensed by AMC for their hit TV show Fear the Walking Dead. He was the artist for the HWA's StokerCon™ 2021 Souvenir Anthology. You can see his most recent work in Monster Train (Shiny Shoe and Good Shepherd Entertainment), which was a number one Global Top Seller on Steam and named Best Card Game of 2020 by PC Gamer. His art can be found in various other video games, books and comics.
---
Join Hex Publishers during their takeover of Tattered Cover (Colfax) on Thursday, January 19 at 6 p.m. More info can be found on Hex Publishers site.