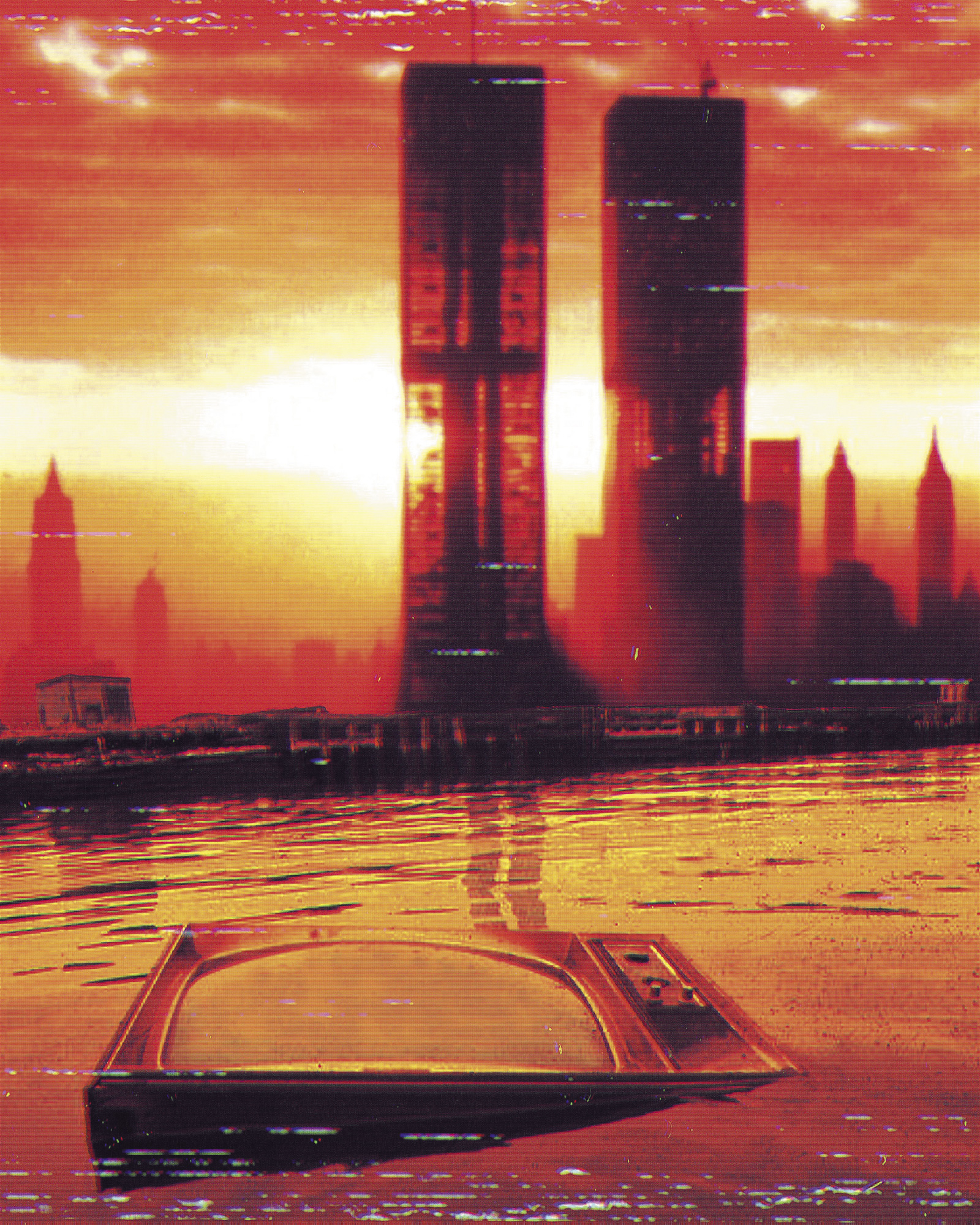 Jono Bottom
By Gray Winsler
Art by Dave Danzara aka Lost In Time Designs
Published Issue 093, September 2021
Jono Bottom was a cashier at Sbarro — "Home of the Original XL NY Pizza." No one had ever made a pizza as big as their's before. Size is often a source of pride for Americans, including the size of pizzas, the military and penises. Sbarro's pizza can be found in strip malls and cafeterias across America. They even have a location at the Pentagon. One could say that Sbarro has helped fuel America's international war strategy, but one would not say this for risk of damaging Sbarro's illustrious brand. Jono did not work at the Pentagon Sbarro. He worked at the Sbarro on the 107th floor of Two World Trade Center.
Jono became a Sbarro Team Member in December of 1999, one month after his mother, Penelope Bottom, dropped him off at Penn Station on his 18th birthday. That was the last day he saw his mom. Her parting words were: "You're too good for this world, Jono. And you're too damn good for me." She hugged him, stuffed a $100 in cash into his pocket, and drove back home to Cleveland, Ohio. She would die of a heroin overdose one year later. Jono had always told her she was the best mom he could have ever asked for. She had loved him with her whole being for as long as she could. 
Jono may as well have been on heroin that first day in New York. All he'd ever wanted was to live in the city. He didn't want to be an actor or a singer or a dancer or any of that. He just wanted to live in "the best city in the whole wide world." This adoration for New York spawned from he and his mother's shared love of the television series Friends. They ordered Chinese takeout and watched it every Thursday night together. It was Jono's favorite day of the week. To actually be in New York now was a feeling of euphoria he had never experienced before. He spent an entire hour wandering around Penn Station, saying hi to all of the Santas visiting for the "Christmas in July" SantaCon that year. Unlike most New Yorkers who despised SantaCon for the drunken belligerence that typically ensued, he was in heaven.
After greeting the Santas, he decided to head to Central Park, but was given incorrect directions by a tourist who was also from Cleveland and went south instead. A canvasser stopped him along the way who explained to him that every 23 seconds, a child dies from a lack of clean drinking water. Jono was horrified by this news. He began to cry wet gobs, which made him feel all the more awful that he was wasting water. The canvasser — who had said this line 1,543 times before — was unnerved and did their best to comfort him. Jono donated the $100 his mother gave him and hugged the canvasser, who at this point had also begun to cry. 
He continued his walk south until he ended up at Washington Square Park. Enamored, he forever believed this to be Central Park. He spent the rest of the afternoon sitting cross-legged in front of a trumpet player, clapping wildly every time he finished a tune. The musician initially thought he was a loon, but after time began to appreciate Jono's enthusiasm and shared some of his earnings at the end of the day. That night Jono slept in Washington Square Park, where he'd sleep for the next month.
The following afternoon he was goaded into a game of chess at the park's corner. As it happens, he was something of a chess prodigy. He was talked into playing there every day for weeks and mentored by the other players — in exchange for most of his winnings. That was how he met the manager of the Sbarro on the 107th floor of the South Tower, in a chess match. By this point Jono was caked in layers of dirt, smelling of a dumpster filled exclusively with fish guts. The Sbarro manager offered Jono a job and found him a place to stay. It was a gracious act of kindness few other than Penelope had given him in his life — and it would inadvertently lead to his death.
Jono was working the day shift on September 11, 2001. He road the elevator up at approximately 8:42 a.m. and got off on the 82nd floor to say good morning to his friend Kaitlyn Anders as he did every day. Her coworkers interrupted their conversation saying something had happened and they needed to leave immediately. Security informed them everything was okay and to stay where they were. Jono and Kaitlyn did as they were told. Minutes later, United Airlines Flight 175 crashed into that very floor.
The floor collapsed. They were tossed violently in a mess of steel and concrete. Kaitlyn was killed by the impact. Jono was thrown through a shattered window by the explosion. He was in shock as he fell, wide-eyed as the smoke plumed out the side of the South Tower, ears ringing, head bleeding, plummeting toward the concrete below.
Listen:
I could never say how or why, but in this moment the beam of light that is Jono's soul was strummed to the same frequency of time itself. He was plucked like a chord from that instant and vibrated across eternity. His consciousness was not okay with this vibrating. It became lost in time, clinging to any moment it could grab hold of. Jono experienced this at first as reliving the moments of his life.
He was 10 again, with his teacher Mrs. Elizabeth Brightbaum who said to him, "I've never met anyone quite like you, Jono." Mrs. Brightbaum had meant she'd never met someone quite so dumb. Jono replied, with no small amount of pride, "I don't think I've met anyone like me either."
With a blink he was 13, snuggled up on the couch next to Penelope, watching Friends on their tube TV. He looked up to her, warmed by the freckles on her nose. He wished desperately to stay in this moment.
Another blink and he was back to his room in Bay Ridge just a few months ago, writing a letter to his mom. He knew Penelope had died, but he wrote her letters each week all the same. This letter said: "Mom, today I met a girl. Her name is Kaitlyn. She was kind, and her smile reminds me of you. It made me feel warm inside. I love you more than anything. —Jono." 
His consciousness slipped now, losing its grip on those fleeting moments. He felt entire swaths of time as a single feeling. He felt his years in New York as one big, jubilant glow. He felt his entire childhood with Penelope as the warmth one feels sitting next to a hearth wrapped in a wool blanket on a snowy day. He felt his existence itself as an ember in a fire surrounded by ash.
But then he felt beyond his own life: the gentle vibrations of generations that would come centuries after his own. These vibrations were not separate, they were all being played at once, in one great symphony, a symphony that he was a part of. And he felt that no matter how much this precise moment in time hurt, he was proud for how he'd played his part.
And then Jono was back, back beside the shimmering windows of the South Tower, back hurtling toward the concrete below, back in the moment just before his death. And it was in that moment he closed his eyes and smiled, thinking of his mom and Friends and their tube TV, filled with gratitude for the life he'd been given.
---
Gray Winsler is the first ginger to be published in Birdy Magazine, Issue 091. He loves living in Denver despite his allergy to the sun. He spends his mornings with his dog Indy by his side, writing as much as possible before his 9-to-5. If you're curious about Normal, IL or why TacoBell is bomb, you can find more on his site.
Check out Gray's August Birdy story, Bex, here.
---
Dave Danzara has spent most of his life creating art. Born and raised in California, Dave won a scholarship to Laguna Art Institute of Southern California in 1994. His influences can be found in pop culture, sci-fi, fantasy, film and music. Graphic design and digital collage art have become Dave's passion and signature. Thanks to social media, Dave has attracted the attention of musicians worldwide and has created album artwork for several bands of various genres. From Rio de Janeiro, Brazil, to Los Angeles, California, Dave's art has been featured in many art galleries. He has 10 years of experience as a freelance videographer and is the Director, writer and Producer of "The Video Craze" documentary film. He is the owner of Vector Invader Productions. He has been involved in numerous freelance projects and short films. Dave enjoys the challenge of creating art; for him, it is a lifestyle. Find Dave's work on Instagram: @lostintimedesigns
See Dave's August art, What Lies Beneath, here.