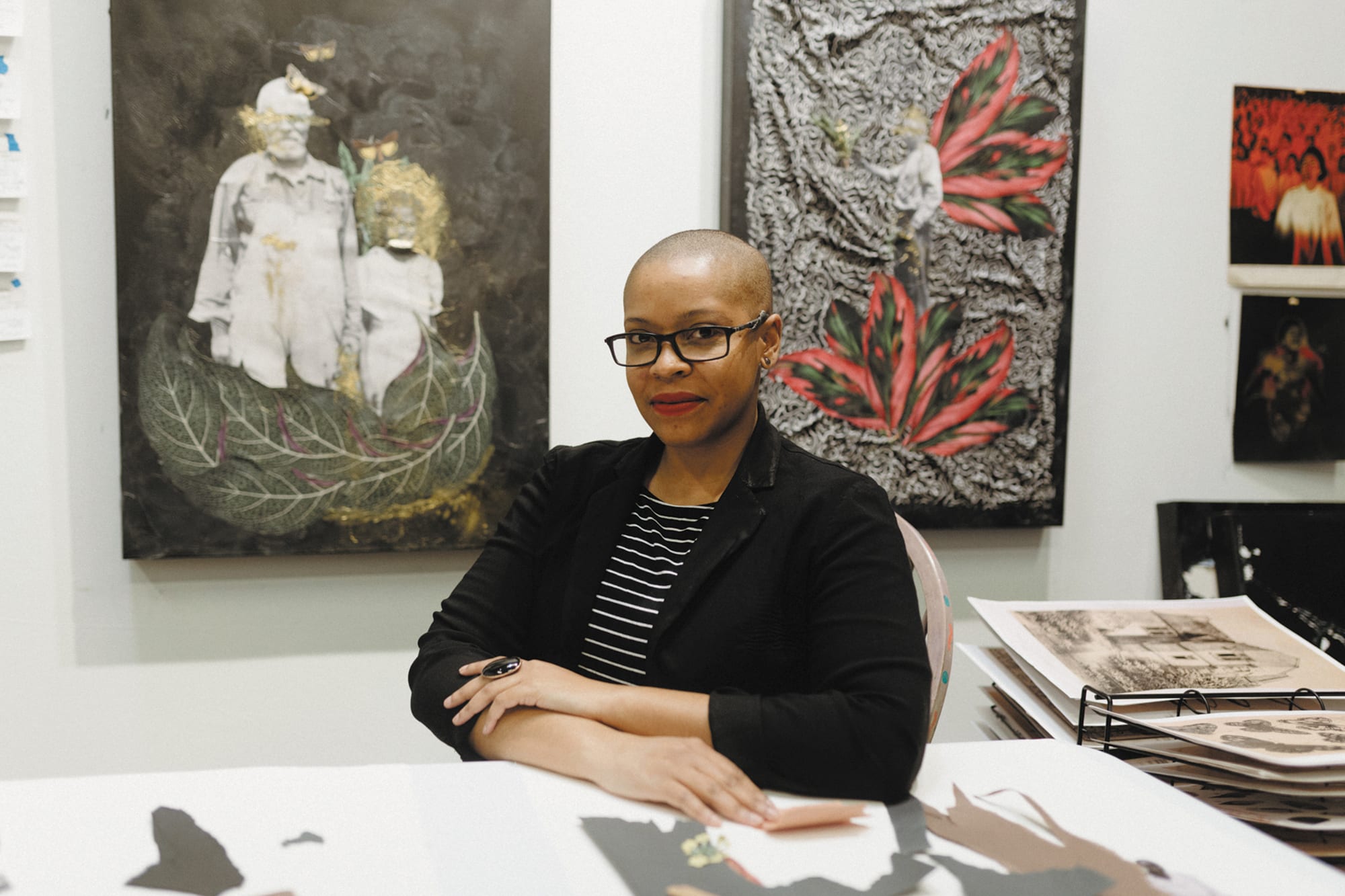 DENVER ARTIST TYA ALISA ANTHONY: CREATING NEW SPACES FOR BODIES OF COLOR
Interview and Photos by Rachel Grammes
Published Issue 078, June 2020
This is an excerpt from a recent interview with Denver artist, Tya Alisa Anthony, who is part of the Museum of Contemporary Art's Octopus Initiative, which offers any resident of the Denver metro area the chance to borrow and live with a work of art made by a Denver-based artist for 10 months. Read the full interview here at mcadenver.org.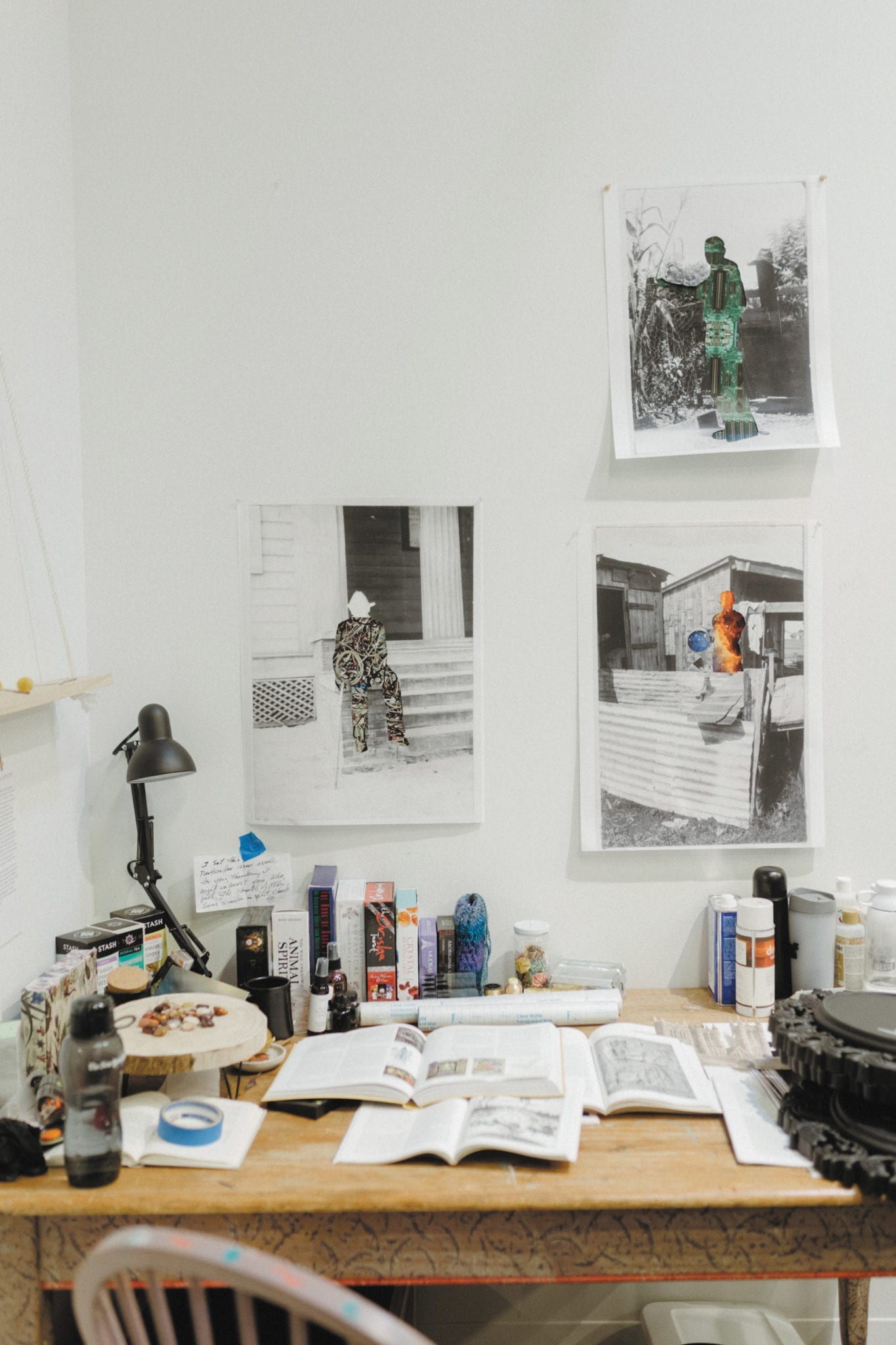 We paid a visit to the wonderfully kind Tya Alisa Anthony at RedLine Denver in Five Points. Her studio is a treasure trove of personal family photographs and historical images. Anthony's art explores generational trauma and identity through narrative. When we visited, she laid out an in-process work on a table, which included clippings of a subject surrounded by textiles and illustrations of botanicals. This gave us a glimpse into her process for the two bodies of work that she created for the Octopus Initiative, titled Share the Crop and Organic Tarot.
What first interested you in photography and how did collage become one of your primary mediums?
Photography has been a part of my life since I was 12 years old. My father was a hobbyist in the 1960s and he wanted to learn more about photography after graduating high school. Then he was in the military and wanted to become a military photojournalist. In his spare time — with us traveling around the world — it was second nature to have a camera in his hand, and at the time it was film.
During undergrad, I focused primarily on portrait photography, then I realized I needed to expand my mediums and I began working with collage. I wanted to explore my thoughts surrounding appropriation and utilize archives along with my photography or just archives in general.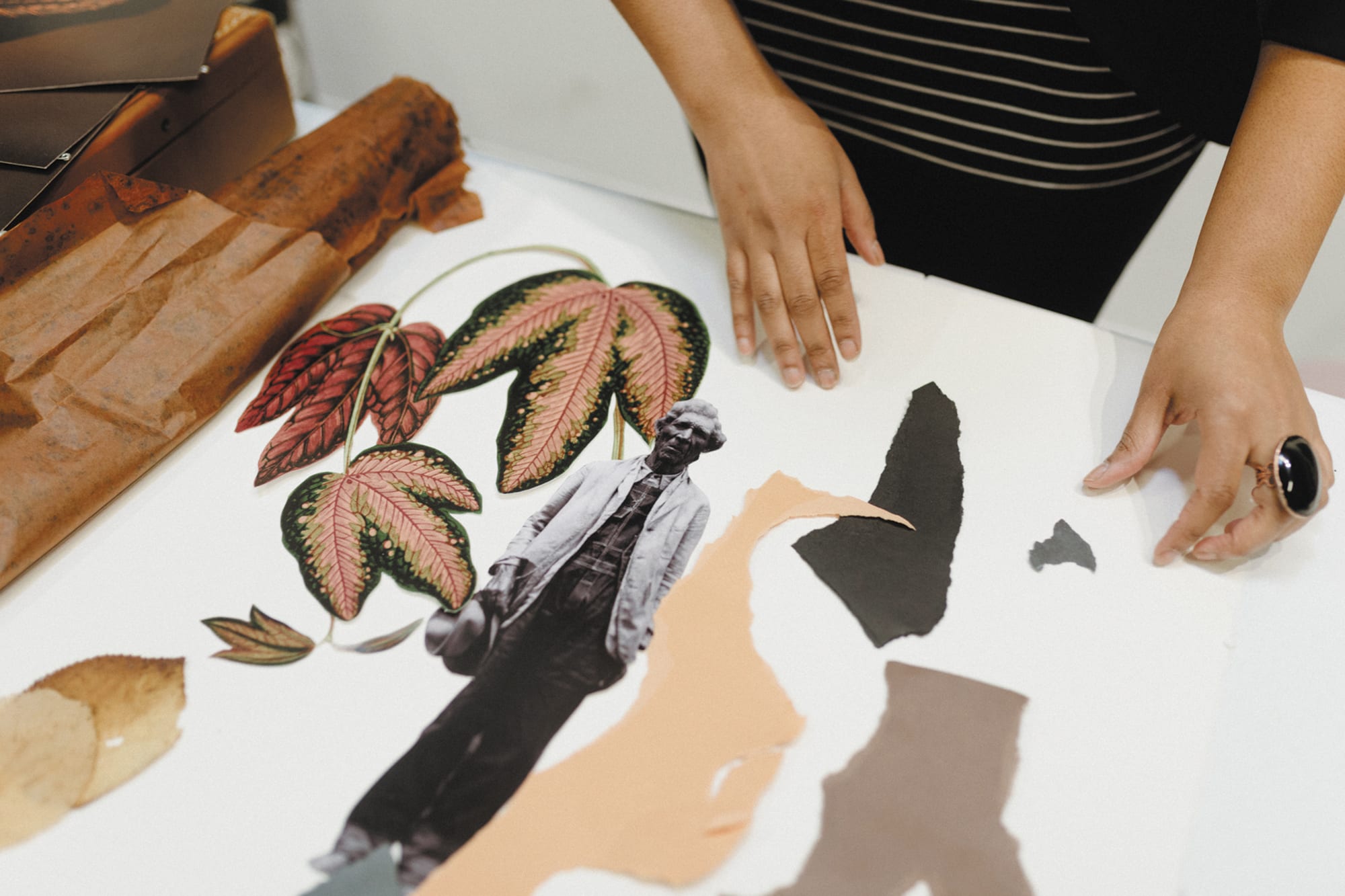 Since you work with archival materials, do you find yourself reimagining these scenes of the past? Or even reimagining representation in certain narratives?
Absolutely. I feel like it's a reimagining of the identity of these subjects. They're given one identity from a point of view that is based in transatlantic slavery, and although that is important, there is so much more to each individual. Even considering myself — connecting to the past and that history — it never will be removed from my history, my past, or my identity. So, I work to see it in a reimagined state where the subjects are exalted and given a mystical identity.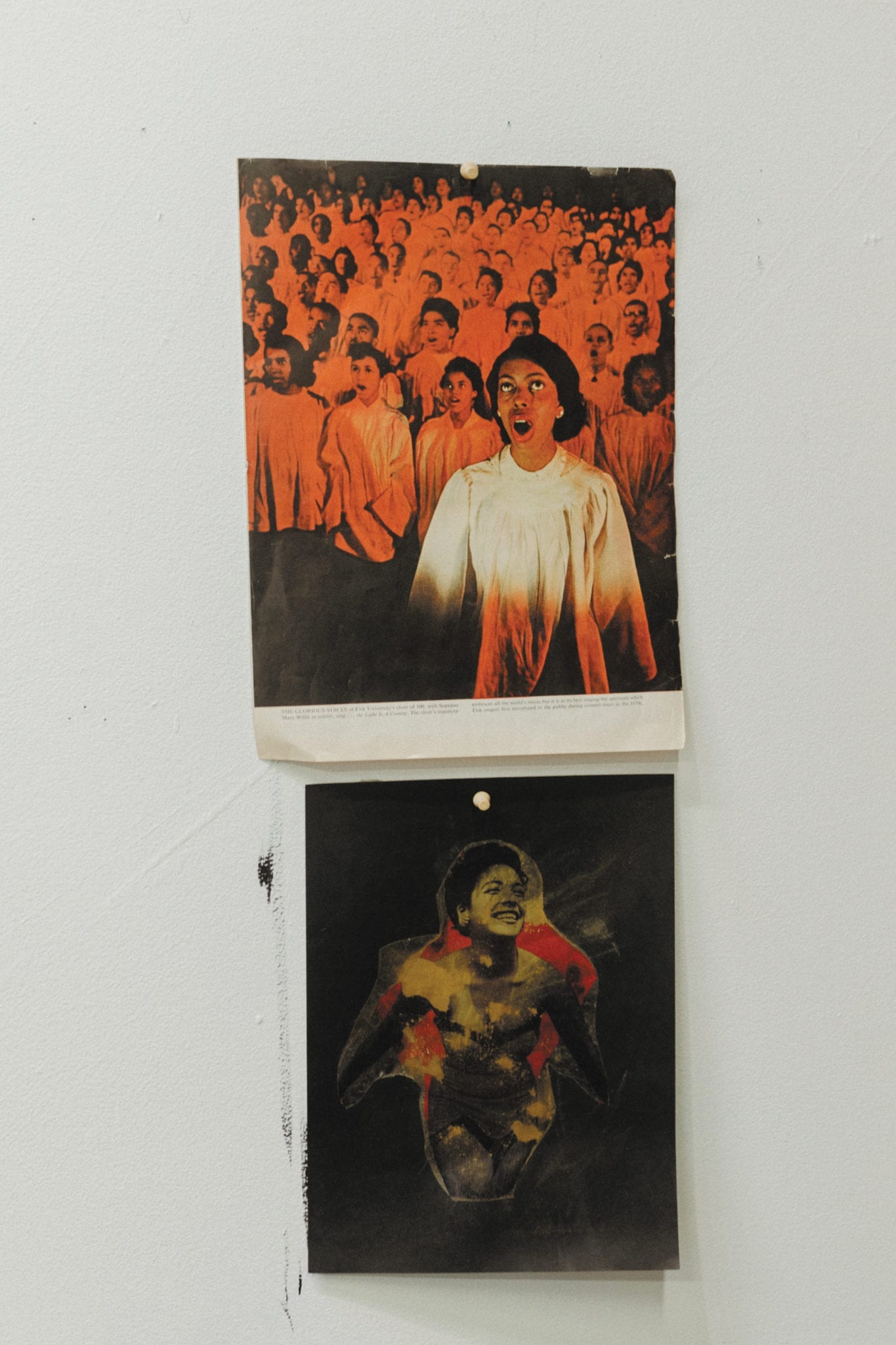 You've said that you explore "ritual surrounding people of color." Can you expand on this?
I really connect with natural environments. I was raised by my mother and her mother and aunts and uncles and it was ritual every summer to go to South Carolina and stay with our grandparents. Our grandparents would teach us their ritual habits, their connections to root work or occultism in broader terms. I'm from a family that were sharecroppers turned farmers and caretakers. They were called kitchen witches and herbalists. They were never formally taught these things, it was all natural and intuitive.
What is it like for you to be a black female artist in this day and age?
It's a responsibility — but in a good way — to be one of a handful of African-American artists in Denver that is working in this way. It's uncomfortable — it's all of these things. But I think it fuels the work. Instead of deterring me from creating works that are inspired by people of color, it inspires me to place myself in the work. I'm in a position where it excites me to be uncomfortable and make others uncomfortable by creating critical thought surrounding our blended culture. I don't want to throw the work in people's faces, but I want to allow conversation and discourse and have more representation in gallery spaces.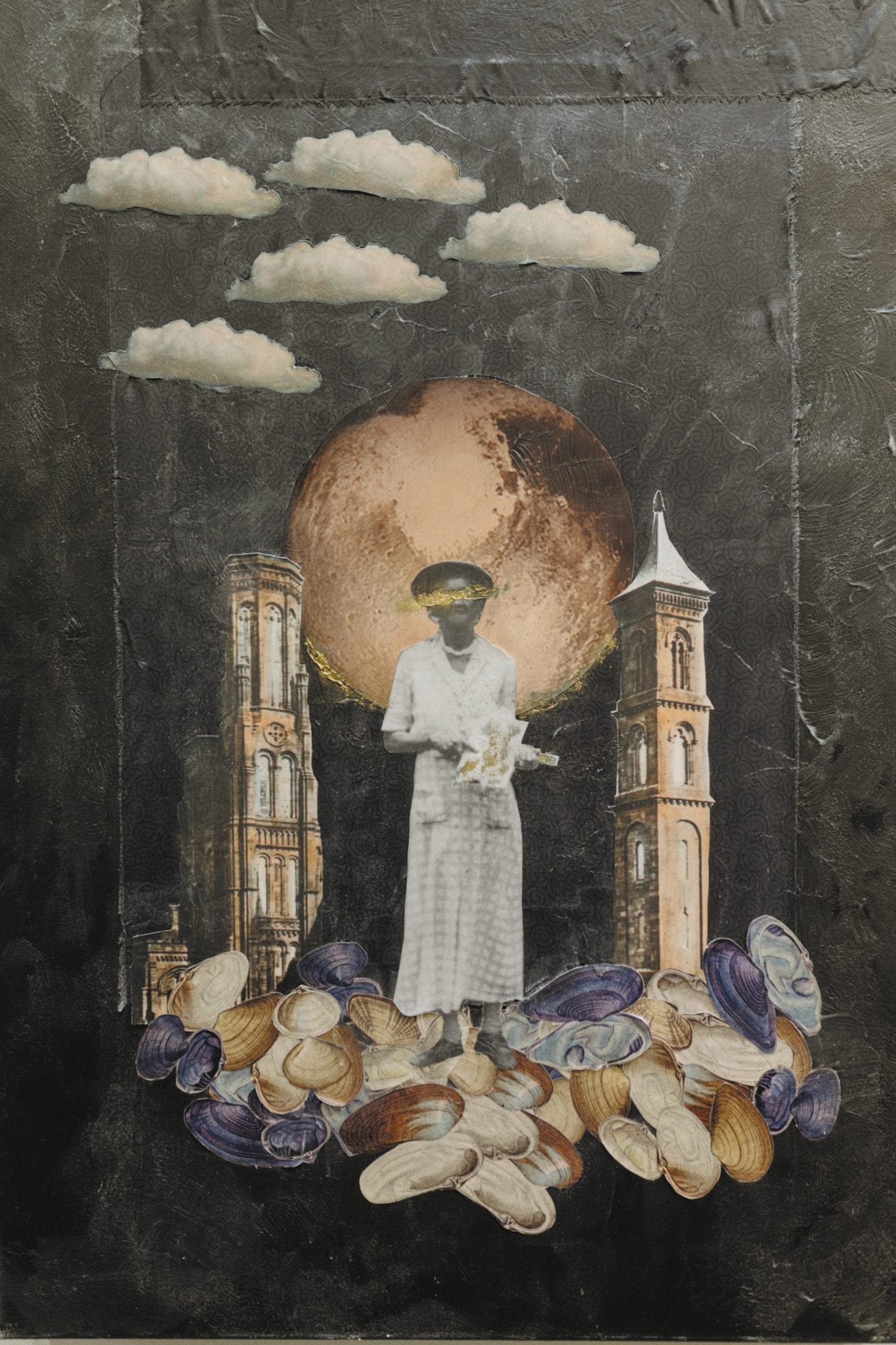 Read Tya's full interview and find interviews with other artists at mcadenver.org/blog. Learn more about Tya Alisa Anthony and see her body of work at tyaanthony.com and on Instagram @tyaanthony.