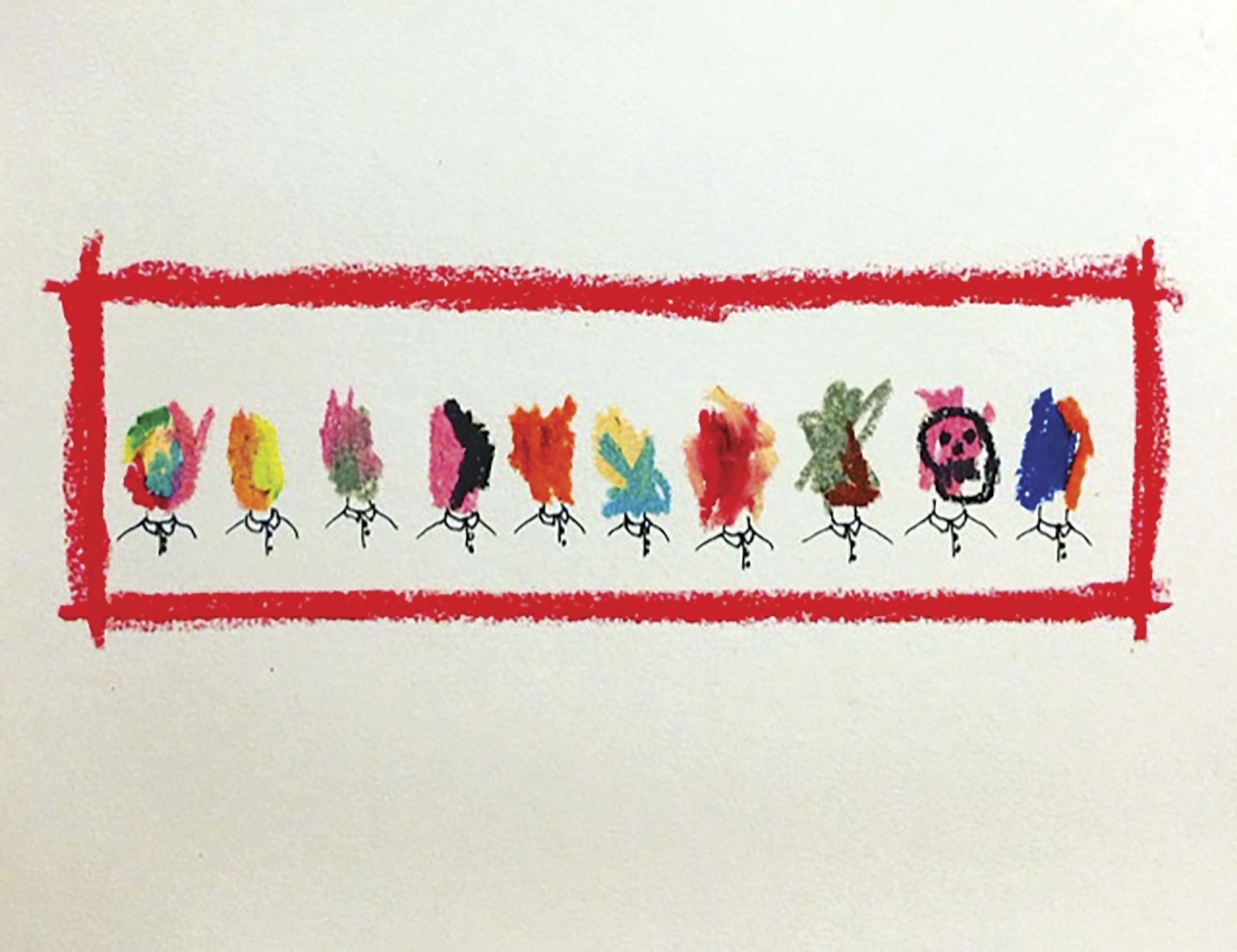 Afterlife as an aura photo booth
By Kailey Tedesco
Art by Jack Estenssoro
Published Issue 115, July 2023
i keep sinning 
contained in stairwells. furniture, 
all caned, drops to its knees, 
prays. this is a confessional: 
do you see the checkerboard 
of a man lensed in red? 
underneath his chair: bubblegum, 
chewed, still wet. 
deeper under: sharks homemaking
shipwrecks, craving 
blood in more ways than one. their wood
cake-cut, not splintered. 
that's where my face is. deep
inside the woodgrain & the murk. 
it's coming forward blue-lipped foamed 
in the color of too many paints,
all of its insides floating to the surface—
too bogged to identify. 
in a few hours no one will be able to recall
how my shape fit,
sitting in its own temperature.
---
Kailey Tedesco is the author of three full-length collections of poetry. Her book, Lizzie,Speak, won White Stag Publishing's 2018 Manuscript Contest. She is a senior editor for Luna Luna Magazine and she currently teaches an ongoing course on the witch in literature at Moravian University. She has won various & eclectic poetry contests including the Muse/A Red Lobster Prize & the BPAL x Haute Macabre TOTALITY-inspired perfume prize. You can find her work in Electric Literature, Passages North, Black Warrior Review, Black Telephone Magazine, Fairy Tale Review, Gigantic Sequins and more. Check out her site to see more: kaileytedesco.com.
---
Jack Estenssoro is a born and raised Denver, Colorado-based artist. Born in 1990 Estenssoro has experimented with art since his adolescence. Starting in 2015 oil painting became his primary medium of choice. Jack Estenssoro is a self proclaimed Neo-Sureal-Realist. Estenssoro's work deals with the complexity of ordinary, contemporary life that may be overlooked because of a sense of  banality. Estenssoro instead finds great inspiration in such topics and explores why such themes are of great importance to the zeitgeist. See more of his work on his site and on Instagram.
---
This is Kailey's debut in Birdy. Keep your eyes peeled for more future work by this talented write. In case you missed it, peek Jack's last Birdy install, or snag issues from the first few years of Birdy to see more of his work.