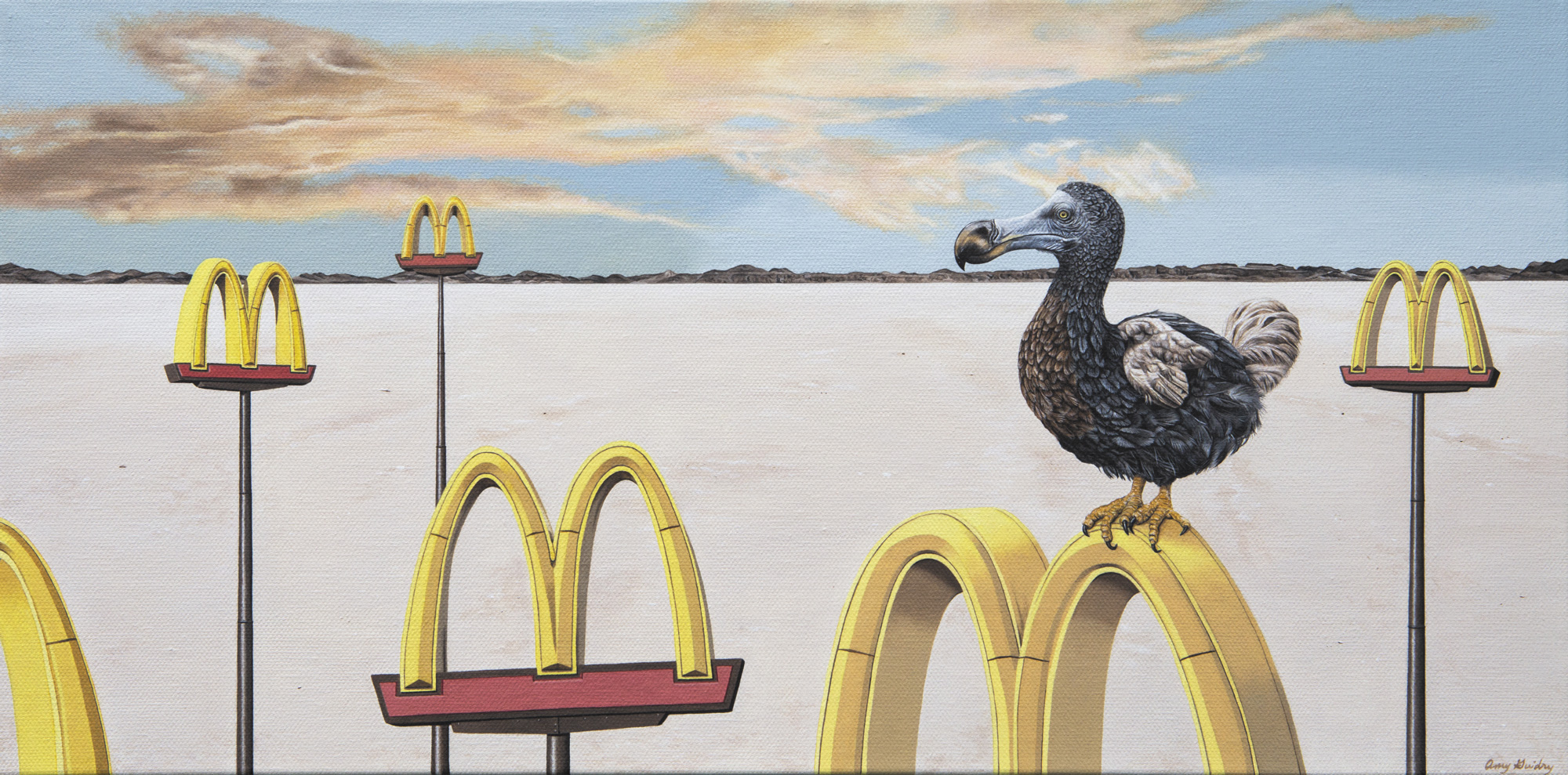 Invasive Species
By Amy Guidry
Published Issue 088, Birdy Magazine
Amy Guidry (b. 1976, Jacksonville, N.C.) is an American artist residing in Lafayette, Louisiana. She grew up in Slidell, Louisiana, a suburb of New Orleans. Guidry comes from a family of artists including the late painter Eleanor Norcross. She studied at Loyola University of New Orleans where she received her Bachelor's degree in Visual Arts in 1998. She was the recipient of the Loyola University Art Scholarship, which is awarded to only one student per graduating class.
Guidry's work has been exhibited in galleries and museums nationwide including the Visual Arts Center of New Jersey, Aljira a Center for Contemporary Art, Brandeis University, the PhilaMOCA, the Paul & Lulu Hilliard Art Museum, and the Acadiana Center for the Arts. Her work is present in public and private collections throughout the United States, Canada, Europe, and Asia; including the Alexandria Museum of Art, The City of Slidell, and the Cedar Rapids Museum of Art. Guidry's paintings have been featured in publications such as American Artist, Adbusters, and American Art Collector as well as online features such as Hi-Fructose and the Huffington Post. Her work has also been featured on MTV's The Real World, Season 20: Hollywood. She is represented in New Orleans by LeMieux Galleries.
---
My love for art began at a very young age, when I was about 3 years old. It was my means of communication, as well as my enjoyment. In 1988 I tested into the Talented Art Program, where I remained throughout junior high and high school. In 1994 I was the recipient of the Loyola University New Orleans Visual Art Scholarship, which is only awarded to one student per graduating class. While studying various art disciplines as part of my curriculum, I also studied Psychology through senior level courses.
My interest in Art and Psychology continues to influence my work. With Surrealism being the grand marriage of the two, I was naturally drawn to every aspect behind the movement. Themes I explore involve the human psyche —who we are and how we interact with each other, and the world we live in — our relationship with other animals and nature, our role in the life cycle and the connections between all life forms, as well as our influence and impact on all of nature. I work in series, each painting has its own message, with the overall concept conveying respect for all of nature and humanity.
To this day my art is still my means to communication and my enjoyment. I enjoy creating but even more, I hope to inspire, enlighten, amuse, brighten, and bring forth positive change. My goal is to create powerful work that provides an enriching experience. The intricate detail of each painting draws you into its space, speaking to you and creating the opportunity to have an internal dialogue with the painting and forming a personal connection. Each of my paintings is an original, one of a kind, just as the experience each viewer has is unique and resonates with them. I strive to create art that can be enjoyed in the present and passed on to future generations. Each painting has its own history starting with its creation from a sketch to a painting, and each reflects a part of my artistic career, and continues to build upon that history as it is enjoyed and inspires others.