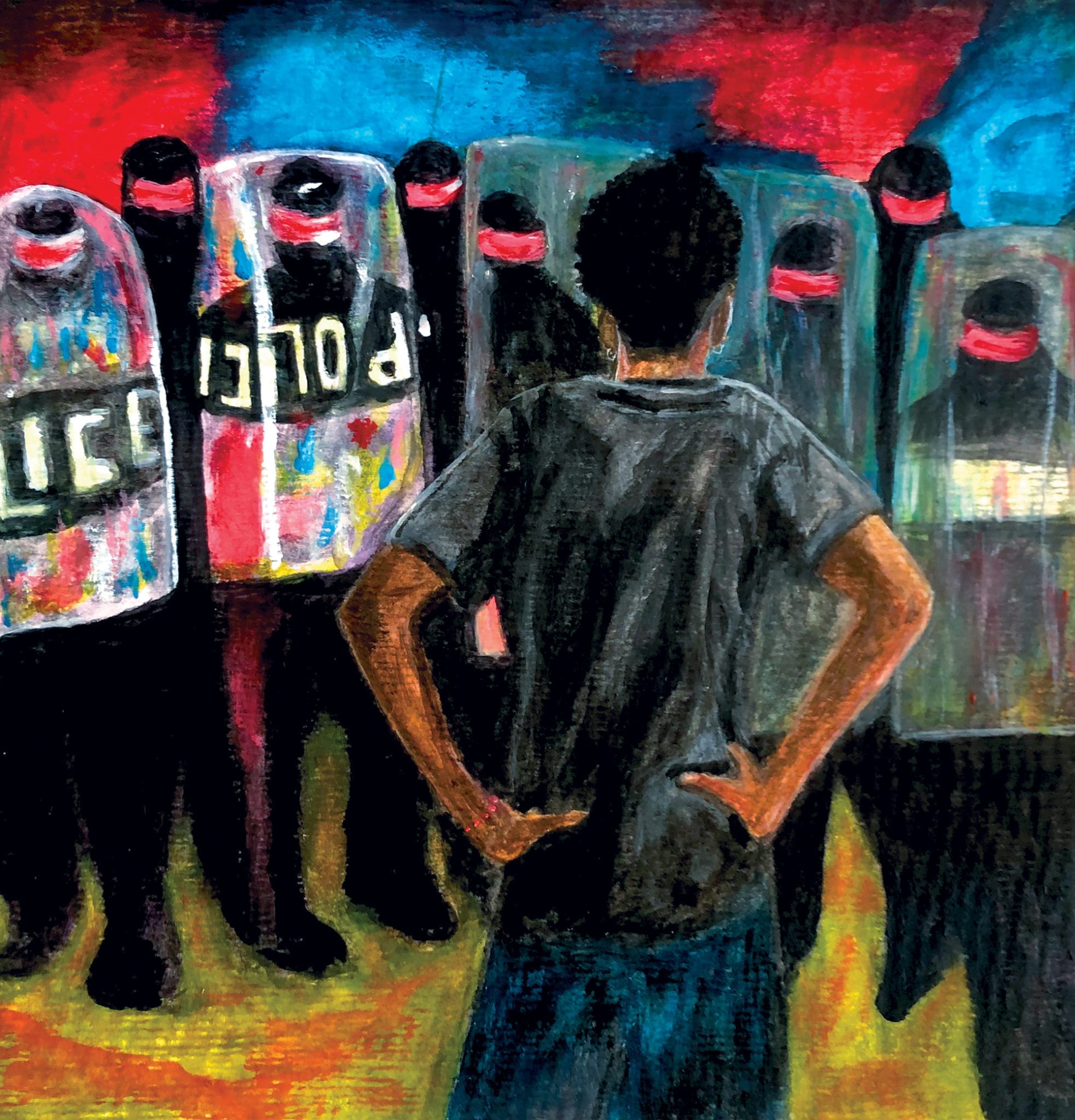 BLACK LIVES MATTER
Art By Jonny DeStefano
Published Issue 078, June 2020
Cyborg thugs once again bringing violence to a peaceful protest.
The overwhelming majority of Black Lives Matter protesters have been peaceful, respectful and brave beyond our comprehension, despite the hundreds of years of deep and inexcusable failure in our country to reform our criminal justice system and branches of law enforcement. These horribly brutal practices and killings by law enforcement and government agencies are rooted in the history of our country dating back to slave patrols and our mere practice of slavery in and of itself. When an entire group of people is under such imminent danger from both explicit and implicit violence and murder, it's time we stand in solidarity and take action. Now. Forevermore. Black Lives Matter.
Take Action. Show Solidarity. Give Support. Donate. Learn More: Black Lives Matter | Black Lives Matter 5280 | Colorado Freedom Fund | Black Owned Businesses In And Around Denver | Colorado Black Arts Festival | Denver Justice Project | Soul 2 Soul Sisters | Showing Up for Racial Justice – Denver | The Denver Foundation Anti-Racism Approach | Denver Black Pages
Below you will find multiple resources from multiple organizations.
---
---
The following is from an open-sourced Google doc list which is meant to reflect the rapidly evolving nature of this moment. Though this list is not artist or designer-specific, AIGA Eye on Design included a list of platforms where you can find Black designers, illustrators, and Black-owned design studios for you to hire and support. Please feel free to edit their document with your own resources + suggestions as this list is far from complete.
---
Bail funds and memorial funds  
Organizations seeking donations
In addition to bail funds, there are groups and organizations that are fighting for Black racial justice and anti-racism that could use your support right now. Please also consider setting up a recurring donation to any of these organizations if you're able—this helps give organizations a reliable revenue stream for regular operating costs and longer term planning. 
A coalition to demand that Minneapolis divest from policing and invest in long-term alternatives.  
Transformative justice organization for developing Black leadership in Minnesota. Both Black Visions Collective and Reclaim the Block are Black-run and have been doing important on the groundwork for the protests in Minneapolis. 
An organization that pays criminal bails and immigration bond for those who can't afford to as we seek to end discriminatory, coercive, and oppressive jailing. It has encouraged people to donate to local Black and BIPOC-led organizations like the two above and to George Floyd's family. 
The NAACP's legal organization fighting social justice. 
Actions you can take now 
Resources
"Wear a mask and eye protection, carry lots of water for hydration and first aid, and have a health plan for before, during, and after your participation." A resource by Raina Wellman and Lauren Sarkissian that addresses how to navigate protesting in the time of COVID-19. 
The Washington D.C. chapter of AIGA created a thorough resource list for people who want to deepen their understanding of anti-racism. Includes books, articles, podcasts, films, organizations to follow, and resources for parents looking to raise children with an awareness of anti-racism. 
A guide by Manassaline Coleman for who to target with social media and digital protesting tactics and how to make your messages most effective. Support Coleman's work on this guide by sending her money through Cashapp: $saliine. 
From 2014, a guide for engaging in the movement for ending police and state violence against black people if you are unable to attend rallies and protests. 
An open source guide to becoming a more effective ally by Amélie Lamont.
Optical allyship is "allyship that only serves at the surface level to platform the 'ally,' it makes a statement but doesn't go beneath the surface and is not aimed at breaking away the systems of power that oppress."  A super straightforward and clear guide for NOT doing that, by Mireille Cassandra Harper. 
A guide by Annika Izora centering Black queer, trans and nonbinary folks and Black women so you can create your own ongoing reparations plan.  
From Spaceus, a growing list of artists who are working to raise funds for the movement by selling their work. 
Hart, a Black queer activist, writer, and sexuality educator offers webinar courses on anti-racism, resistance, and analysing structures that perpetuate "mass marginalization under global capitalism." After learning 101, go ahead and take Hart's Social Justice 102. 
One of the most comprehensive Google docs we've seen, containing many of the community bail funds, memorial funds, political education resources, orgs, and general advice/tips for people attending protests or using social media as an organizing tool.
This guide is non exhaustive compilation of ways cultural institutions, public or privately funded, where people in places of curatorial responsibility are overwhelmingly white and/or light skinned, as well as spaces that utilise the white cube(/black box) as the display frame, can and should and will have to redistribute their material and immaterial resources when welcoming Black folks, people of color and our audiences. Pullout Guide by Eunice Belidor.
The Antiracist Classroom is a student-led organization at the Art Centre College of Design focused on counteracting racism and white supremacy in design education and practice.
Mayors pledge, other resources at
• https://www.obama.org/mayor-pledge/
https://docs.google.com/spreadsheets/d/1WX_GXhkhY-GH8fagak58CdiEY8Z7Kdtn9_MGoneP-xM/edit?usp=sharing Bilingual (Spanish & English) resource on anti-Blackness in Latin America and BLM 
Where to find Black designers, illustrators, and Black-owned design studios to hire 
Designers offering free services 
Talks from/about Black designers
This list is just a start— we invite you to add to it.
Anne H. Berry & Penina Acayo Laker
Rick Griffith 
Events to Have on Your Radar
Activists to follow on social
This list is just a start— we invite you to add to it.
Anti-racism reading 
Ed note: We ask that whenever you can, please don't buy these books from Amazon. In most cases, we've linked directly to the author's website. You can buy from local bookstores at Indiebound.org and Bookshop.org, and buy ebooks and audio books on Kobo. We've also tried to include any links to directly compensate these authors in addition to buying their books, which we encourage that you do if you are using and accessing their work. 
Oluo has been writing about race since the 2012 murder of Trayvon Martin, when she turned her food blog into a space for talking about issues of racism and injustice. She's since become an influential speaker and writer on these topics, and her book So You Want to Talk About Race? is New York Times bestseller. We find that it's a good primer on racism and guide for continuing the conversation. 
"Based on the viral Instagram challenge that captivated participants worldwide, Me and White Supremacy takes readers on a 28-day journey of how to dismantle the privilege within themselves so that they can stop (often unconsciously) inflicting damage on people of color, and in turn, help other white people do better, too." Saad also runs the Good Ancestor Podcast, is an incredible force on Instagram, and first published her book as a free PDF in 2018 (which she now asks that you don't use as it's since been updated). To make sure she gets paid for the work she does that we all benefit from, support Saad's work on Patreon. 
For an in-depth history of how race was invented and constructed, and how the idea of whiteness has carried forth throughout history, from the ancient Greeks (who had no concept of race) up to today. It's slightly academic, deeply informed, and a truly engaging read. 
Sociologist and educator Robin DiAngelo coined the term "white fragility" in 2011 to describe the defensiveness that white people exhibit when their ideas about race and racism are challenged. In her 2018 book, she illustrates how this behavior reinforces white supremacy and prevents meaningful dialogue, ultimately aiding an understanding that racism is not a practice that is only restricted to "bad" people. See also DiAngelo's anti-racism resources for white people and her interview on Layla Saad's excellent Podcast Good Ancestors. 
"Ibram X. Kendi's concept of antiracism re-energizes and reshapes the conversation about racial justice in America–but even more fundamentally, points us toward liberating new ways of thinking about ourselves and each other."
Eddo-Lodge, a London-based journalist, decided to write this book out of her frustration that the conversations in Britain around race weren't being led by the people who are affected by it. The result is a book that explores issues such as the whitewashing of history and feminism and the political purpose of white dominance. The book turns three years old this week, and Eddo-Lodge is asking that anyone who buys her book donate the same amount to the Minnesota Freedom Fund.
Delving behind Canada's veneer of multiculturalism and tolerance, Policing Black Lives traces the violent realities of anti-blackness from the slave ships to prisons, classrooms and beyond. Robyn Maynard provides readers with the first comprehensive account of nearly four hundred years of state-sanctioned surveillance, criminalization and punishment of Black lives in Canada.
The lines of oppression are already drawn. The only question is, Which side are you on in the struggle against the violence that is white supremacy and policing? Taking Sides supplies an ethical compass and militant map of the terrain, arguing not for reform of structurally brutal institutions but rather for their abolition.
"a civil rights litigator and legal scholar. The book discusses race-related issues specific to African-American males and mass incarceration in the United States, but Alexander noted that the discrimination faced by African-American males is prevalent among other minorities and socio-economically disadvantaged populations. "
Angle Davis is an activist, philosopher, and educator. This PDF is a collection of her interviews from February 2013 to June 2015. She discusses the Ferguson trials, Palestinian conflict, and the foundations of Movement. She unpacks oppression and the state of violence in America. This is an inspirational read for those interested in activism, Black feminism, and intersectionality. 
---
Why Minorities Are Overpaying for Auto Insurance (and How to Make a Change)