Book Club
By Hana Zittel
Published Issue 119, November 2023
The Great Displacement: Climate Change and the Next Great American Migration by Jake Bittle (2023)
"The burden of relocation would fall on those who had the least ability to resist it."
Journalist Jake Bittle's debut book examines the urgency of the climate crisis in the United States through the lens of those most directly impacted: those who are often forced into relocation and migration. While still regularly thought of as a future catastrophe, Bittle highlights the environmental destruction of global warming happening now and how these shifts compound with the inequities of capitalism and white supremacy to disproportionately harm select communities throughout the country.
Bittle's investigation starts in the precariously placed Florida Keys, an economy strongly dependent on heavy tourism. Here, the residents have a strong incentive to recover quickly after hurricanes whip through. However, as storms increase in intensity, recovery and rebuilding becomes more difficult and in some instances, impossible. In the case of the Florida Keys, Hurricane Irma's level of destruction forced residents to abandon their homes, friends and for one man, his life's work of preserving a global nursery that grew fruits found nowhere else in the United States.
In Northern California, ravaging wildfires exacerbate a housing crisis that has priced people further and further out from their communities. The Pointe-au-Chien Tribe in Louisiana have been displaced from their land due to erosion driven by the careless greed of the oil and gas companies. Hurricane Floyd's devastation forced residents from the historic Black neighborhood of Lincoln City, North Carolina, to accept FEMA buyout money to vacate their homes, finding that, "the FEMA money wasn't sufficient to purchase a new home outright, so they had to take out new mortgages. For some families, these new mortgage payments kicked in just as they lost their jobs at DuPont or entered retirement."
The Great Displacement covers loss across the country, painting full stories of the impacts of climate migration as it is happening. Bittle illuminates the real individuals, historic sites and irreplaceable neighborhoods we will continue to lose as the climate crisis worsens. "By the time you read this, some new and unforeseen calamity may have already come to dominate the headlines. The levees are already breaking, the rivers are already running dry, the fire is already snaking through the forest." For Bittle, the strengthening of government support and the right to home and shelter is the path forward when the options for turning back the clock on climate change seem insurmountable. His book serves as a warning that while the impacts may be inevitable, our response can help shape a more equitable world in the face of the climate crisis.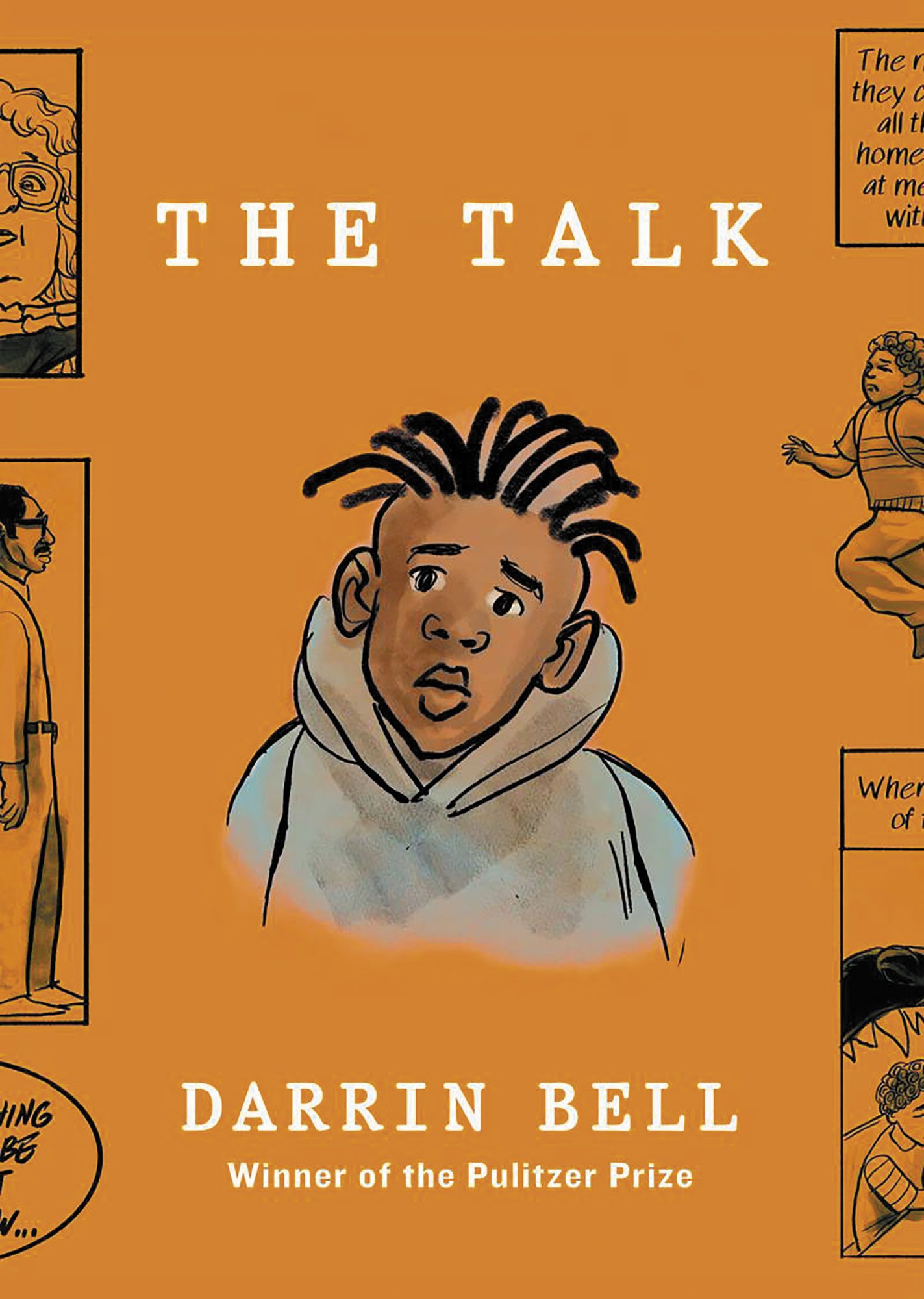 The Talk by Darrin Bell (2023)
Pulitzer Prize-winning cartoonist Darrin Bell's latest graphic novel focuses on his own coming-of-age story, reflecting on growing up in Los Angeles as the biracial son of a white mother and Black father. As a child, Bell begged his mom for a water gun and was met with rejection. When she finally gave in, he was surprised that the one she got was bright green. He asked, "Why doesn't it look like a REAL gun?" She explained that white people would see a little Black boy with a toy gun differently than a white boy. But Bell didn't listen and instead of following her rules of only playing with it at home with his brother, he sneaks out to play Luke Skywalker in the neighborhood. When confronted and yelled at by a cop, he's terrified and traumatized, just a 6-year-old kid playing outside, realizing the gravity of her warnings.
Bell's memoir highlights his defining life moments, but also the microaggressions and racism from teachers, other students and friends that shape the way he moves through the world. His mother does her best to shield him, and when he seeks guidance from his father about race, he receives little insightful direction on how to navigate life.
Bell's beautifully drawn memoir chronicles his growth as an editorial cartoonist and illustrator to his time at Berkeley to meeting his wife and starting a family. Coming full circle, Bell reflects on what it means to have a son of his own, reaching back to the memory of his own discussions of race with his parents, and choosing to take a different path. The Talk stands as an honest and memorable triumph in graphic storytelling.
---
Hana Zittel is a librarian at the Denver Public Library in addition to being a librarian at the Denver Zine Librarian. She grew up in Steamboat Springs, Colorado and pretty much just likes being outside with her pup when she has some free time, and reading, that might have been assumed though.
---
Check out Hana's October Book Club in case you missed it, or head to our Explore section to see more of her past reviews.