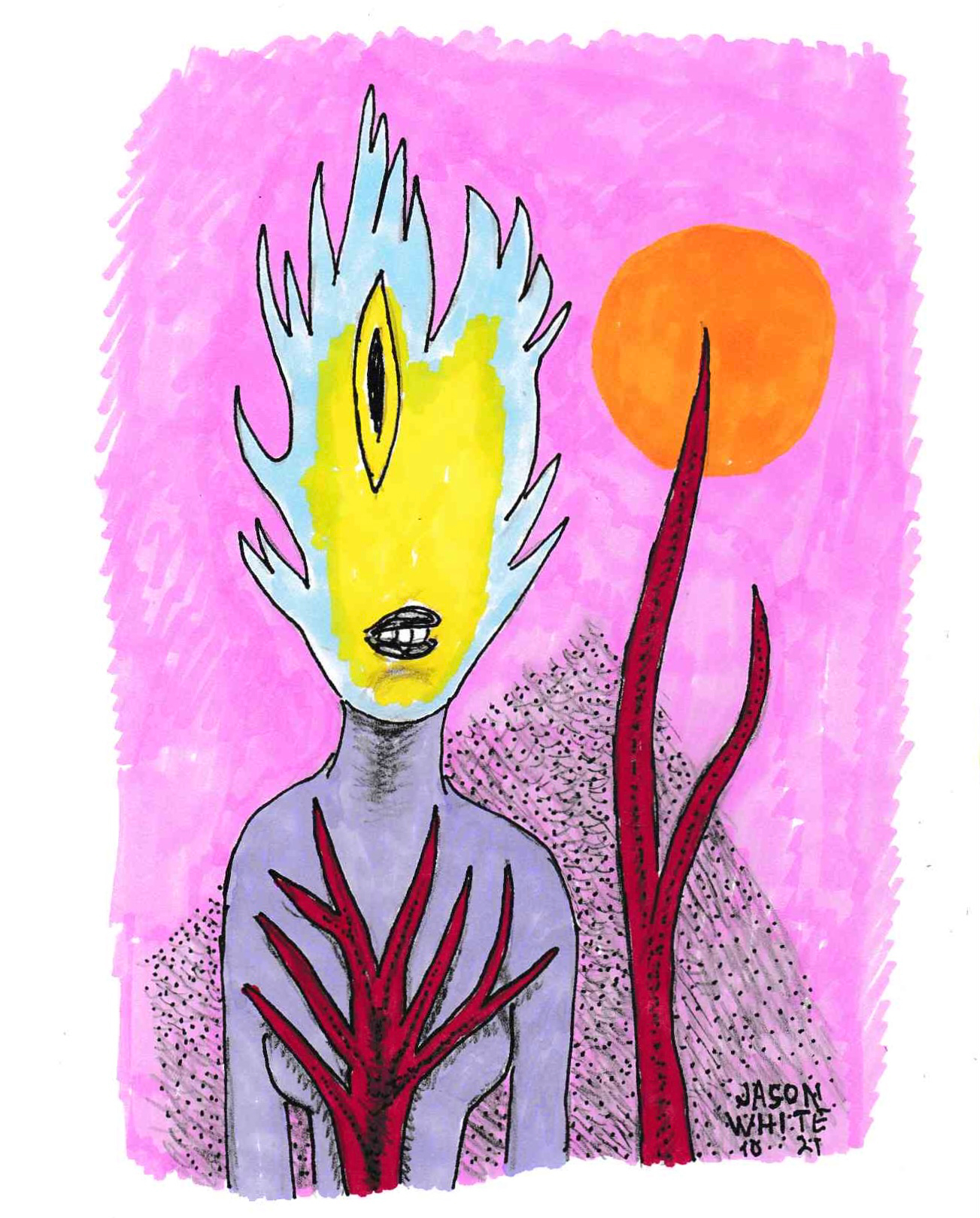 Decadence in Good Company
By Maggie D. Fedorov
Art by Jason White
Published Issue 102, June 2022
Decay;
at dying firelight
the cardinal winds astir
From my fingers, tongue,
even from my eyes
it seeps
I weep
the loss of self astounding
as I turn my anger free into the fire
turn my tears loose into fire
turn my fears loose into fire turn
my passion, pain, my talent loose
to fire
HELL turn my love loose into fire
build my noose up from that fire
My screaming finds no ears to
fall on
swallowed by the fire
Live my whole damned life in fire
So I invite the flames
devour me
Only one thing
flames insist:
a sacrifice
Have I not sacrificed enough
given all poured into fire
Even parts of me
I want to be
turned loose and lost to flame
I can't help how it calls me
With such sweetness in my name
Come
join me by the firelight
toss in a care or three
Just be weary as
it calls you back
It's still devouring me.
---
Born and raised in the Greater Seattle Area, Maggie D. Fedorov began to develop her inquisitive nature and lust for exploration when she was very small. Maggie considers herself a lifelong learner, and as such she spends much of her free time reading, researching, honing her skills in the arts and other hobbies, and naturally, planning her next adventures!
Maggie's writing stems from a desire to delve into and capture what it means to be human at its very core; this tug-of-war that we play with the elements which mold our lives as we fight and embrace them, and using our observations to develop more vital roots anchoring us to the elements we all battle and nurture in our own lives. It was out of a compulsive need to share this form of expression and exploration that Maggie Fedorov, the writer, was born.
Maggie shares her travels and her life with her husband, Sam. The two are often found indulging in desserts, collectively dreaming about their future fur babies, and attempting to achieve Nirvana through the flawless integration of bad puns and dad jokes in normal conversation. See more on her Instagram.
---
Jason White is an artist living in the suburbs of Chicago. His favorite mediums are oil on canvas and pencil & ink drawings. When he was a kid he cried on the Bozo Show. His work varies from silly to serious and sometimes both. Check out more of his work on Instagram.
---
Check out Maggie's May published Birdy piece, Vocal Manipulations, and Jason's May companion artwork to Brian Polk's Rumors, Idle Talk & Fireside Chat, and Jason Heller's Strings, or head to our Explore section to see more work by these talented artists.