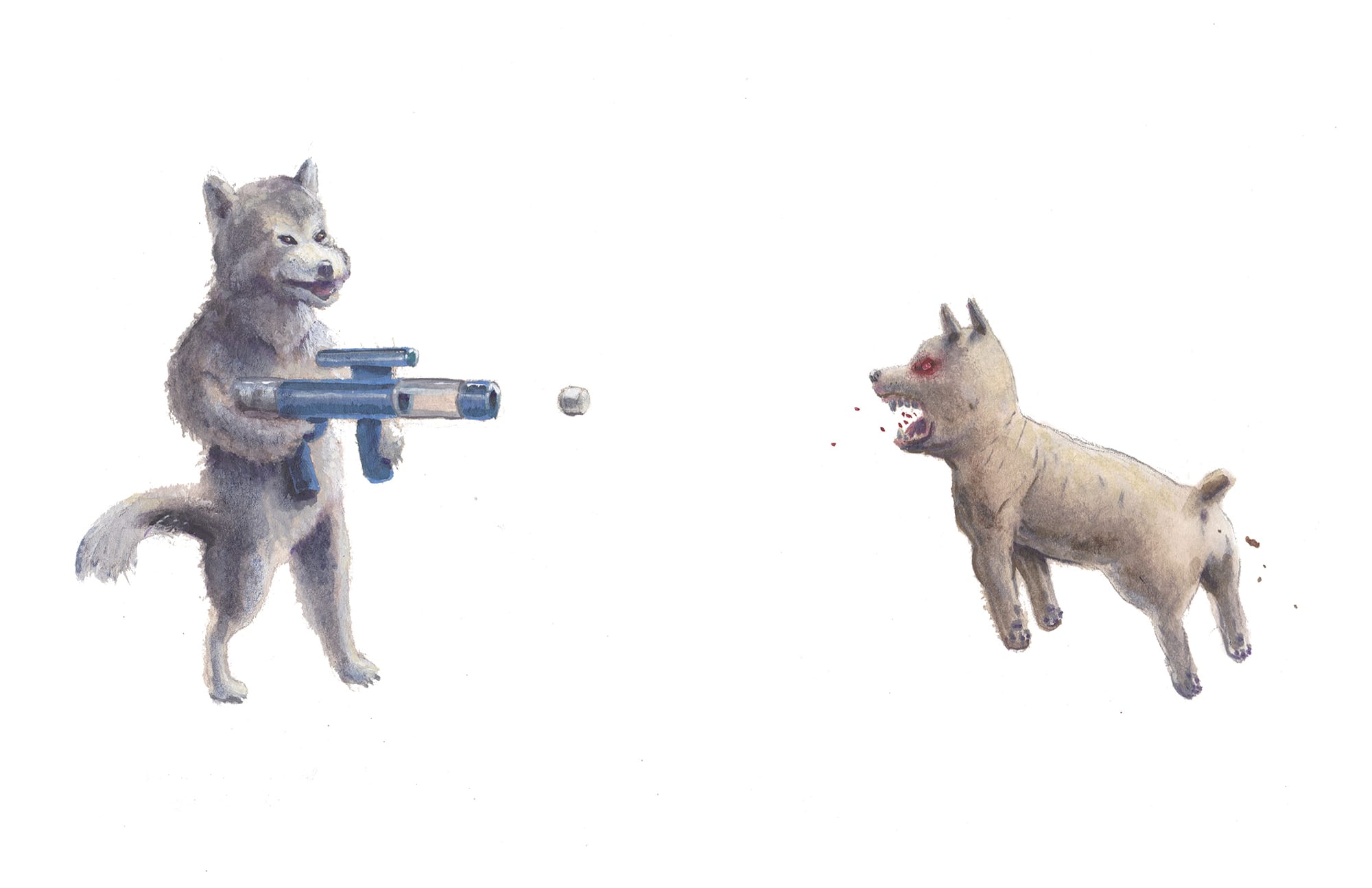 Extremely Short Fiction For Extremely Short Attention Spans
By Brian Polk
Published Issue 086, February 2021
---
DURING THE PANDEMIC, I'VE LOST THE ABILITY TO READ IN THE LONG FORM
I think I've figured out my aversion to reading novels during these COVID times. And it mainly has to do with the fact that the aliens, Nephilims, whoever built the Georgia Guidestones, at least two of the assassins of JFK, D.B. Cooper, and several members of the Illuminati who worked with the Freemasons and what's left of the Knights Templar all created the Coronavirus in their inter-dimensional labs, and have also used their invisible rayguns (for lack of a better term) to interfere with the proper function of my brainwaves. As such I can only hold enough of an attention span to watch hours of YouTube videos, which have opened my eyes to the true reality. Hit me up if you would like to know THE TRUTH and I will send you some links. 
HOW DO YOU GET TO BE MORE CHARMING?
"Can you learn to be more charming?" I asked my love partner of many years, who knows first-hand that I am not a charming person. 
"I don't think so," said my love partner of many years — the one who knows first-hand that I'm not a charming person. 
"Hmm," I said in contemplation. "Does it bother you that I am in no way charming?" 
"Now that you mention it," she says, pausing for a moment. "Yeah, a little." 
I tried to think of something charming to say, but nothing came to mind. 
THERE'S THIS GUY AT WORK WHO'S REALLY INTO STAR TREK AND FOOTBALL AND HE TRIES TO TALK TO ME ABOUT BOTH OF THOSE THINGS EVEN THOUGH I HAVE NO INTEREST IN OR KNOWLEDGE OF EITHER
His name is Ted. 
CALLS FOR MY OUSTER WILL NOT BE HEEDED
While I am aware of the growing chorus of clientele who wish to see me terminated for my job performance, I want to take this opportunity to say that I will not voluntarily resign from my position as assistant manager at the Bridgeport Area Pizza Stop. 
Yes, I am aware that I probably shouldn't have called in sick last Saturday night to climb up on my roof and drop acid with my buddy, Mikey. I probably shouldn't have derobed and live-streamed the event on the Bridgeport Area Pizza Stop's Facebook page either. Nor should I have claimed I was the second coming of Frank Bruce Robinson, the founder  of Psychiana — mainly since that's a super obscure reference and I'm sure I came off as rather pedantic. But please know this: I was tripping extremely hard at the time. 
I suppose my point is that what a person does in his or her time off from work is his or her business. And while I take full responsibility for  my actions, they are nevertheless my own affairs that no one else but me — and Mikey and all the people who watched the live- stream — should pay any mind to. 
And sure, it has come to my attention that some of you making the calls for my resignation are upset about the fact that I also stole a lot of your credit card numbers to finance a psilocybin mushroom grow operation. To that I say: A) You will all be repaid once the psilocybin mushroom grow operation is functional. And B) I'm a fucking assistant manager at the Bridgeport Area Pizza Stop, and I need some supplemental income here, fellas. So quit being a bunch of dicks. 
WHEN HE STARTED REFERRING TO TOMATO SAUCE AS 'GRAVY,' I KNEW IT WAS OVER
"Wait, what?" I asked my soon-to-be ex-boyfriend, Tommy, after he told me to pass him the gravy. 
He repeated himself. 
I looked at our spread of Italian food in confusion. Then it hit me like a ton of bricks. "Are you saying 'gravy' when you mean 'tomato sauce?'" 
"Yes," he said in all earnestness. "What don't you understand? I need the gravy. Could you please pass it?" 
Too dumbstruck to speak, I just stared at him with a look of intense incredulity. Tommy is not from the East Coast. He has never even been east of the Appalachians. He was born in Lehi, Utah, moved to Kiowa, Colorado when he was nine, and bought a house in Aurora when he was 22. Hitherto, he had never called tomato sauce anything other than "tomato sauce." 
Though, once I thought about it, we did just recently rewatch The Sopranos, which I realized soon after was where he had picked it up. It's hard to say how much that realization hurt my soul. The only time I call anyone a "phony" is either immediately after rereading Catcher In The Rye or when someone clumsily attempts to co-opt slang they picked up from television. To my credit, I didn't use Holden Caulfield's favorite word that night, but my inner-monologue was certainly shouting it in my head. 
Why?" I asked him.
"Because my noods are dry," he said.
"No, not why do you need the tomato sauce, why did you call … Wait, did you just say 'noods?'"
"Yes, I need the gravy for my dry noods."
"This is over," I said without missing a beat. "It took two years for me to get used to you calling pizza 'za,' and forgive me, but I just don't have it in me to be cool with all this gravy and noods business." 
That was the last night I saw Tommy. In retrospect, I'm glad I left him before he started referring to bar coasters as "bev naps." 
WORST EMPLOYEE AT WORK NEEDS MOST AMOUNT OF PRAISE
  

THAT BAGEL SHOP DOWN THE STREET — Aaron Henderson, 20-year-old cashier and absolute shittiest employee at Jersey Street

 

Bagels, needs constant praise in order to carry out the daily tasks assigned to him, despite the fact that he shows up 10 minutes late every day, takes multiple unscheduled breaks on the clock, and spends half his shift on his phone. "The boss is always telling me when I'm doing something wrong," said the staffer. "But the boss never tells me when I do something right. Like that last guy who paid with a five. His change was $1.22 and that's exactly what I gave him. But the boss didn't even notice. He's too busy with 'boss' stuff." 

Henderson began working at the bagel shop two months ago, and has thus far shown no signs of gaining any of the basic skills, initiative, or drive to do a somewhat satisfactory job, even after completing all of the requisite training nearly five weeks ago. "At first I just thought [Henderson] sucked ass 'cause he was in training," said Jessie Sanchez, a long-time employee. "But he didn't ever get better. I'm starting to think he's one of them fart suckers that just can't ever work right no matter how hard he tries." Sanchez then stubbed out her cigarette and got back to doing a job for which she needs very little, if any, managerial approval.

Store manager Gerald Henzel, who routinely works 50-plus hour weeks and only hears from upper-management when he makes a colossal error, doesn't hold Henderson in high esteem either. "That Aaron kid doesn't know his ass from a hole in the ground," said Henzel. "The other day, he almost cried when I didn't give him a medal for rotating the cream cheese tubs. It's a part of your job, kid; just fucking do it." When asked why Henderson has thus far kept his job, Henzel responded, "I'm going to give him another week. If he can't clean up his act by then, I'll have to hire another entitled little shit who can't go two minutes without expecting me to break into applause." Added Henzel after a long sigh: "It's like no one wants to do really demanding, unrewarding work for minimum wage anymore.
---
Brian Polk is a Denver-based writer, publisher of The Yellow Rake, and drummer for Joy Subtraction and Simulators. He's the author of Placement of Character and Turning Failure into Ideology. He likes writing, muck raking, yellow journalism, zines not blogs, cheap booze and punk rock.
---
Ray Young Chu is an LA based artist specializing in acrylic, photorealism, cartoony, abstract, graffiti and ice cream.