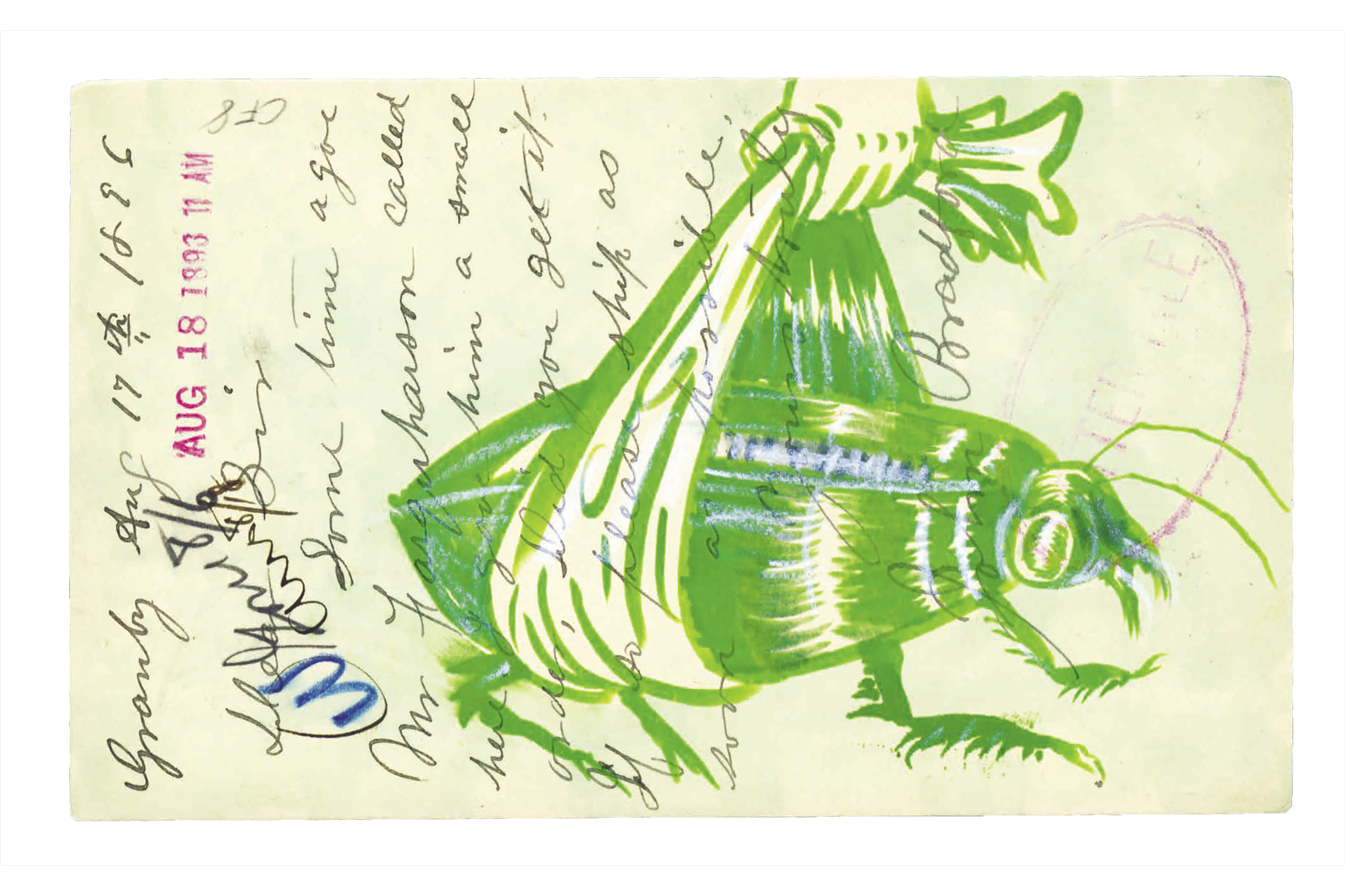 GRASSHOPPER
By Zac Dunn
Art by Mark Mothersbaugh & Daniel Whittington
Published Issue 099, March 2022
Hounds tooth 
Foaming at the mouth 
A shiny briefcase 
And a bad case 
Of chronic halitosis
One foot in front 
Of the other 
Stepping over 
The scorched earth 
In your wake 
A master of the universe 
But utterly perverse 
Fist full of dollars 
Heart full of rocks 
A smiling so bright 
It makes you wanna 
Feed it concrete
Behind giant craters of greed 
Staring down the muzzle 
Of a bazooka 
In the name of vanity 
And utter distain for the elderly 
Not knowing who you are 
Steaming ahead at full speed
Helming the Titanic
Captain my captain 
We are doomed 
The first mate exclaims 
But there is no ship 
No iceberg or Leo or Kate 
No band playing as the 
Bow slowly breaks 
Women children first 
The doors slam open 
The people all stand up 
The fog of the previous moment fades 
Up flights and polished boxes
High into the sky 
69th floor in the fore' 
Ferragamo's still wet from the rag
The face behind the desk 
Sstands and ushers you in 
The men are all there sitting 
Sizing up the bag of bones 
Brains, balls, blood and dastardly intent 
That stands like a scarecrow 
In a fallow field …
The work is never done 
It can't stop ever 
A hand and voice call out 
From far off across the 
Mighty cherry expanse 
Uttering some gibberish 
And arithmetic 
Blubbering about 
Collateral damage 
To the palm and the digits 
Thrust brashly in said direction 
Extending a one word extinguisher 
NO 
No one can stop this thing of ours 
This crusade of conquest 
This manifest of malicious destiny 
Versus anyone and anything 
Just as we put lead in the water 
We will put the poison 
back in the Kool-Aid 
Dead silence
The old man looked confused 
He grit his teeth and stood up 
Slamming his boney rooker
Like a thunder clap 
NO 
No young man
How can you hear the grasshopper
At your feet?
When you cannot 
Hear your own heartbeat?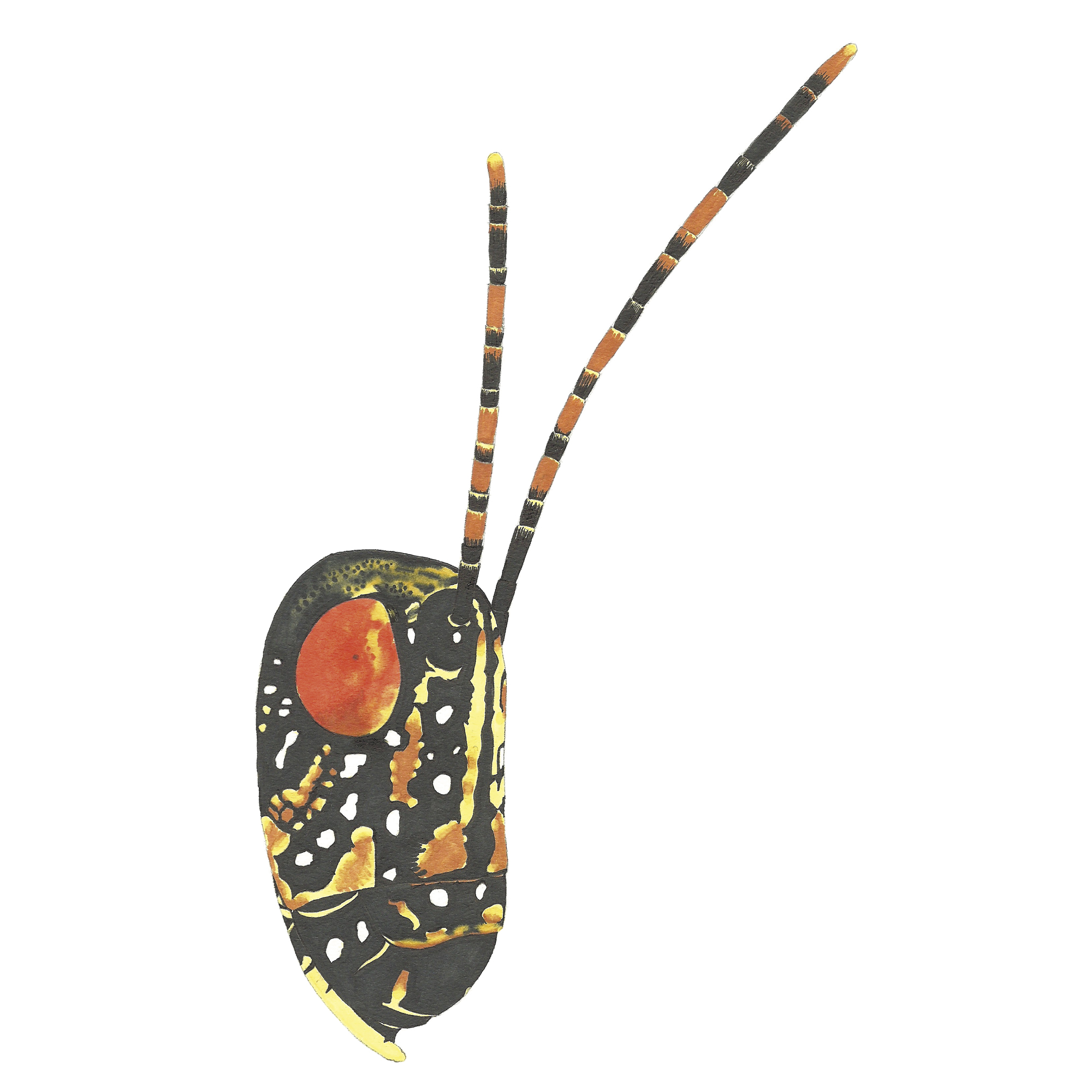 ---
Zac Dunn is a psycho-social mechanic, father, musician and dreamer. Check out his music and follow him on Twitter and Instagram.
---
Daniel Whittington is a Pennsylvania-born illustrator specializing in pencil and marker.
---
Mark Mothersbaugh is one of this era's most unique and prolific composers. Deeply aware of the ability of precise, multi-faceted artistic expression to deliver vital social commentary, he has perpetually challenged and redefined musical and visual boundaries. Mothersbaugh co-founded influential rock group DEVO, and then parlayed his avant-garde musical background into a leading role in the world of scoring for filmed and animated entertainment, interactive media and commercials. As an award winning composer, his credits include Moonrise Kingdom, 21 Jump Street, Cloudy with a Chance of Meatballs, Enlightened, Rushmore, The Royal Tenenbaums, The Life Aquatic, Pee Wee's Playhouse, and the hugely successful Rugrats television, stage and film franchise. Through his multimedia company, Mutato Muzika, Mark has scored hundreds of commercials. Mothersbaugh received the BMI Richard Kirk Award for Outstanding Career Achievement at the organization's 2004 Film/TV Awards. He can currently be seen as the art teacher on the hit television series, Yo Gabba Gabba! See more of his work on Instagram and his site.
---
Check out Zac's February Birdy piece, GRAVY, and Mark's installs, When He Fell Through The Trap Door, Then Everything Started Going WrongandWhere Do We Go From Here, or head to our Explore section to see more work by these artists.