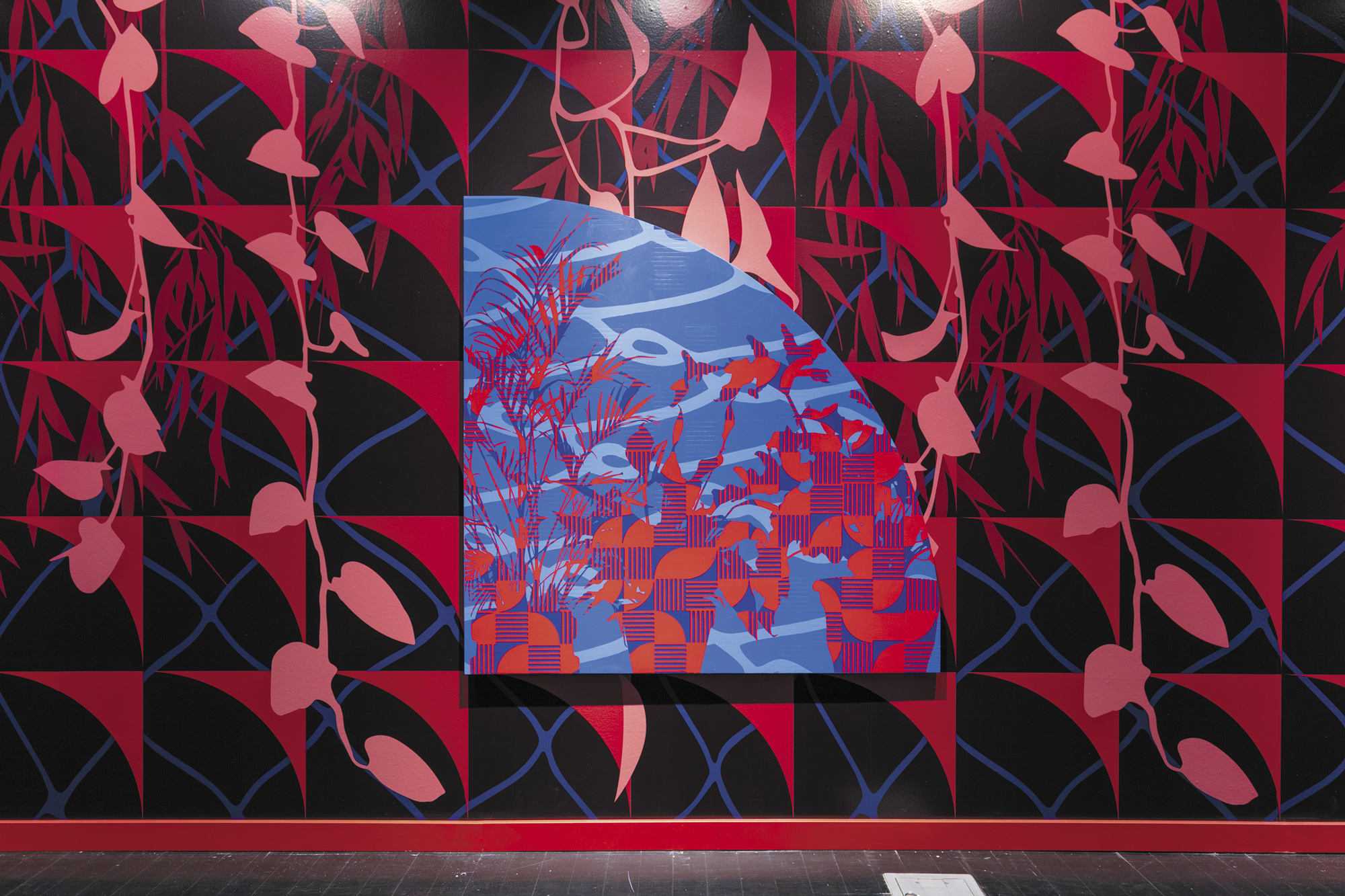 Jaime Carrejo: Waiting
By Tai Bickham
Photos by Wes Magyar
Published Issue 091, July 2021
This is an excerpt from a recent blog interview with Denver-based multidisciplinary artist, Jaime Carrejo. Jaime Carrejo: Waiting is currently exhibiting at the Museum of Contemporary Art Denver, and Carrejo is a featured artist in the museum's Octopus Initiative library. We emailed with Carrejo to learn more about the concept behind Waiting and how 2020 changed how we see and experience time.
HI JAIME! HOW HAVE YOU BEEN?
I'm doing okay! I feel optimistic, hopeful and thankful. It's been a strange, heartbreaking 14 months. And yet, we are still here. So, all in all, I am grateful that I am able to take a deep breath every morning.
HOW DID YOU COME UP WITH THE CONCEPT BEHIND YOUR EXHIBITION WAITING?
I had quite a bit of unease about the state of the world, politics, and the well-being of my family and friends when we went into lockdown. I was so stressed out I felt helpless. My home became a place of safety and confinement where work and life merged. My partner and I settled into our makeshift home office spaces and noticed many of our house plants were dying. Some thrived regardless of our lack of attention. We moved plants around the house, made notes on which plants grew well in each room, and read up on the varieties in our spaces to pass the time. We created watering schedules, had conversations with the plants, and watched them grow on our windowsills. I had a show planned at Alto Gallery in the fall of 2020, and my studio at Tank was closed. Our backyard became my new studio, where I decided to make paintings of our house plants. When making the paintings, I began to think of the plants as barometers of our level of distraction and deep care. Our relationship with plants can be intimate, like sinking a finger into the soil or distant when we forget to water one in a separate room. These ideas and experiences led to the MCA exhibition. Through conversations with [Mark G. Falcone Director at MCA Denver] Nora Burnett Abrams, I landed on a waiting room space as the anchor point of the exhibition.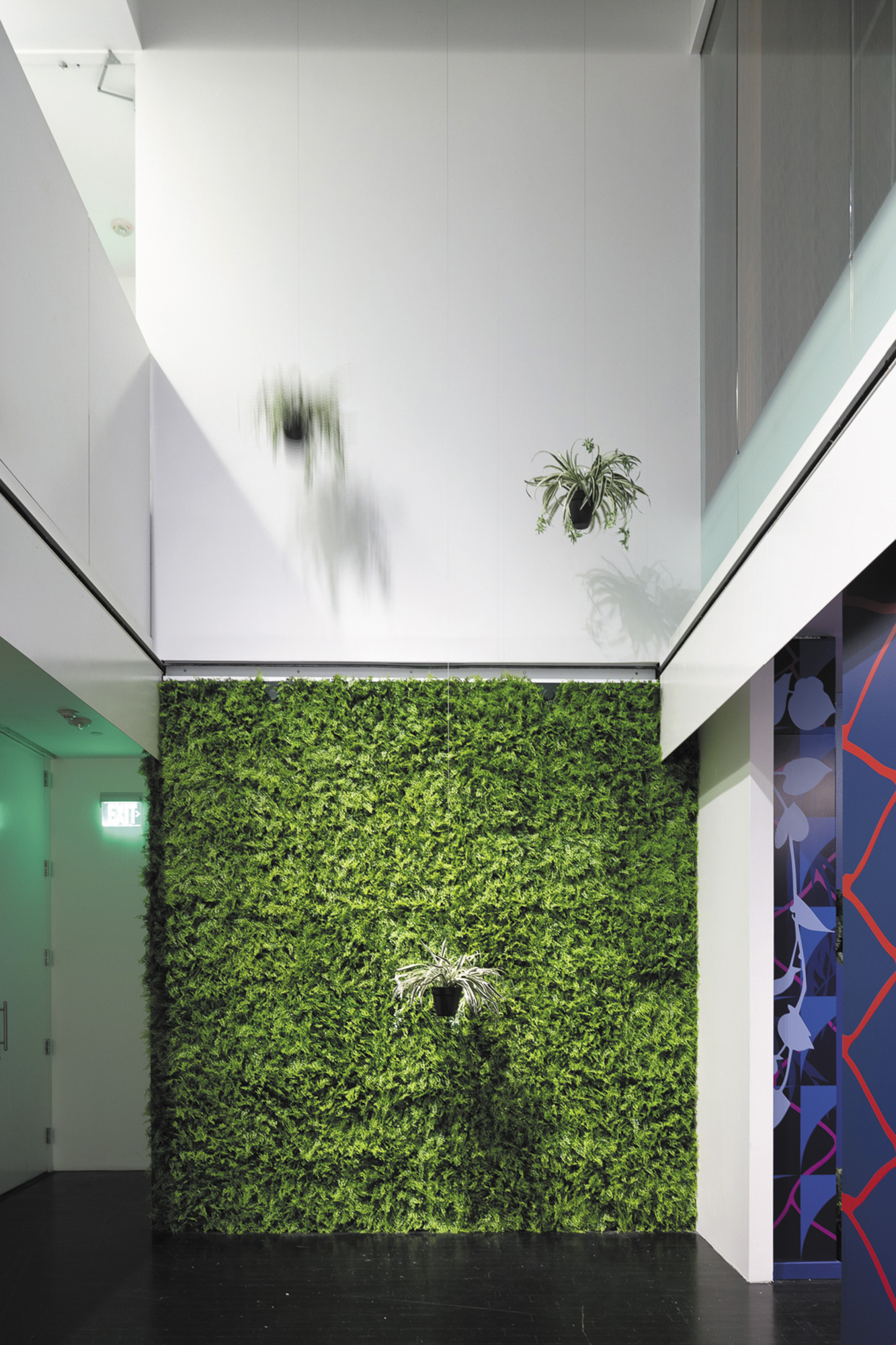 THE COLOR PALETTE OF WAITING INCORPORATES VIBRANT COLORS OF PINKS, REDS, BLUE AND BLACK. IS THERE SIGNIFICANCE IN THE SELECTION OF THESE COLORS AND THEIR THERAPEUTIC OR SENSORY PROPERTIES?
Absolutely. The color palette uses warm and cool contrast to create the mood. I selected hues from sunrises and sunsets to mark the beginning and end of a cycle. I wanted to use a contrasting color palette and positioned the hues as opposites though the wallpaper and paintings. I also played with a color effect called simultaneous contrast where our perception of complementary colors next to each other appear to shift in saturation and hue when placed near each other. In reality the colors have not changed. The color shifts we perceive are due to reflections of light. We notice changes in light and dark values in new ways. This phenomenon seemed poetic when thinking about the last year and how people might develop new priorities in the years ahead. That's the wonderful thing about time and having to wait. It forces us to dig in, walk away or see things from a different perspective.
2020 HAD A LOT OF US REFLECTING ON HOW WE SPEND TIME AND WHAT WE SPEND OUR TIME ON. WHAT DID YOU LEARN ABOUT HOW YOU SEE THE CONCEPT OR ESSENCE OF YOUR TIME, OR TIME IN GENERAL? DO YOU THINK THAT AS WE MOVE OUT OF THE PANDEMIC INTO A RESEMBLANCE OF NORMALCY, WILL THIS LESSON BE AN ADAPTED CHANGE MOVING FORWARD?
Wow, this is a great question. My friend Gretchen Schaefer and I have discussed "attention" quite a bit over the last year. She often quotes the poet Mary Oliver stating, "Attention is the beginning of devotion." Where we place our attention defines our time. Our time is the single most valuable thing we have. We can spend it, but we cannot get it back. So, I am striving to be more mindful of what I choose to do and where I decide to place my time. Working day in and day out can be fulfilling depending on the work being done. We also need to pay attention to inequities in our culture, how we care for others, how we care for ourselves. It's a new lesson for me. I mean, I knew it was important, but when 2020 made us all slow down, my understanding of time changed. What I thought was important is forever changed.
---
Jaime Carrejo: Waiting is on view through August 22 at MCA Denver. For more information and to reserve tickets, visit mcadenver.org. You can also view Carrejo's work featured in the Octopus Initiative program at octopus.mcadenver.org.
---
Tai Bickham is a photographer, writer and the Business Manager and Executive Assistant to the Director of the Museum of Contemporary Art Denver.
---
Check out MCA Denver's last Birdy install about MCA Denver Shopmaker Animal Handmade, or head to our Explore section to see their past published features.