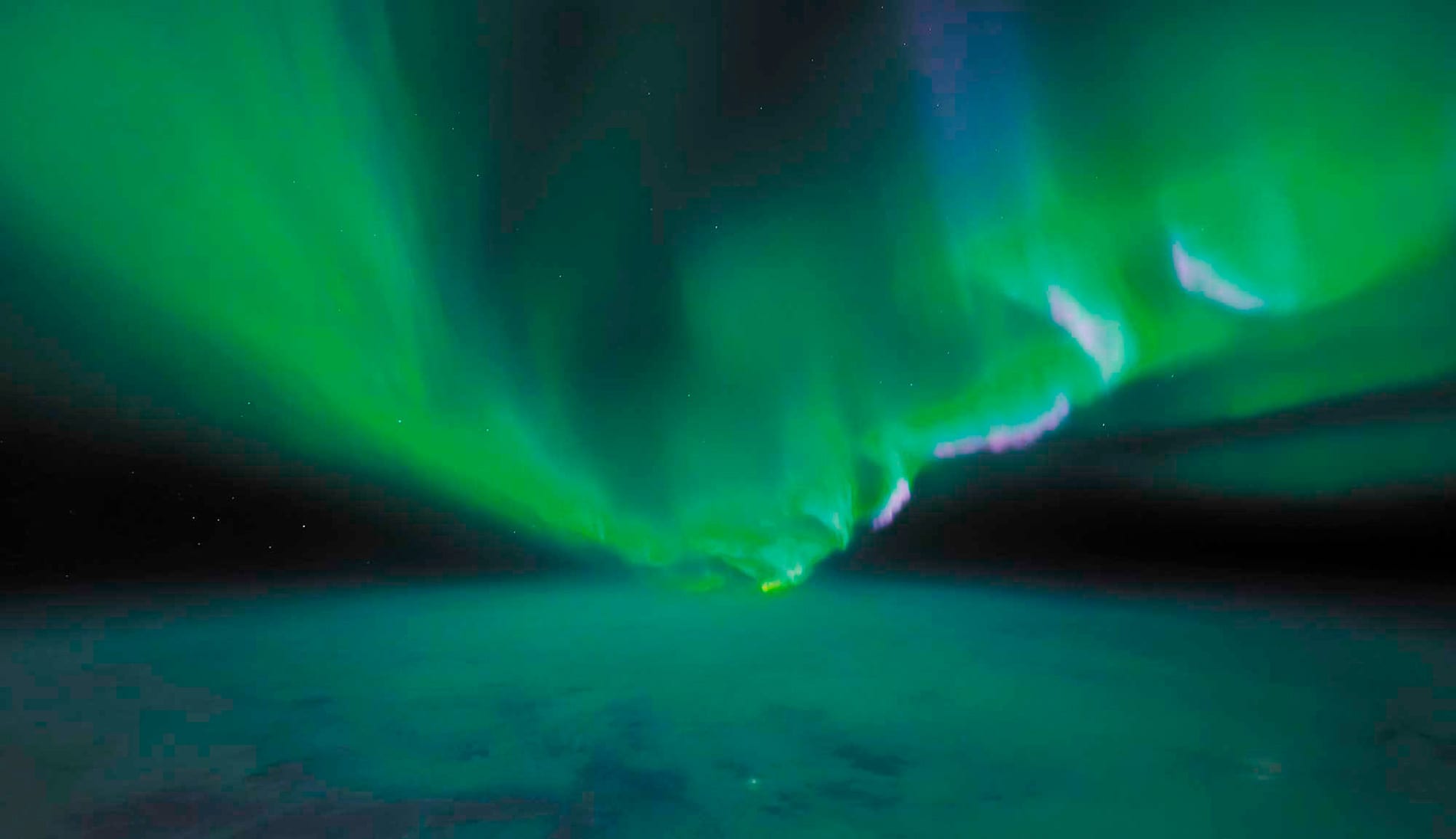 LIGHT SIDE UP: Aurora Borealis From Space
Photos + Film by Nate Luebbe, Autumn Schrock & Austin Smith
Interview By Krysti Joméi
Published Issue 087, March 2021
With over a year of planning, three adventurous photographers — Nate Luebbe, Autumn Schrock and Austin Smith of the Denver-based production company Lost Horizon Creative — embarked on a wild journey to become the first film crew ever to capture cinema-quality footage of the Northern Lights from the edge of space. 
---
How did you three meet / come together as a team for this project? 
Austin: I've known Nate for about four years. I had an itch to climb a mountain in Mexico in the fall of 2017 and needed a climbing partner. I'd followed Nate's photography through Instagram for years and on a lark, reached out to ask if he'd want to go. Even though we'd never met in person, he immediately said yes. Three weeks later, we summited Mexico's highest mountain, and we've been off to the races since. I've known Autumn for almost as long, meeting in Seattle prior to yet another climbing trip that Nate and I had planned. About a year ago — again, over another mountain climbing expedition, this one in Peru — Nate bounced this wild idea that he had off me: "What if we sent a balloon to the edge of space to film the aurora?" I said, "yes!" immediately and the idea took over the next year and a half of our lives. 
Nate: Honestly Austin covered this super well! Autumn and I have been dating for about three and a half years now, and we met because I was a big fan of her photography and we had a bit of a digital friendship for a few years. I was on assignment for a travel guide in 2017 and knew that I would be passing through her neck of the woods, so I sent her a message and we met up and the rest is history! 
Autumn: I agree with Nate that Austin covered most of it well!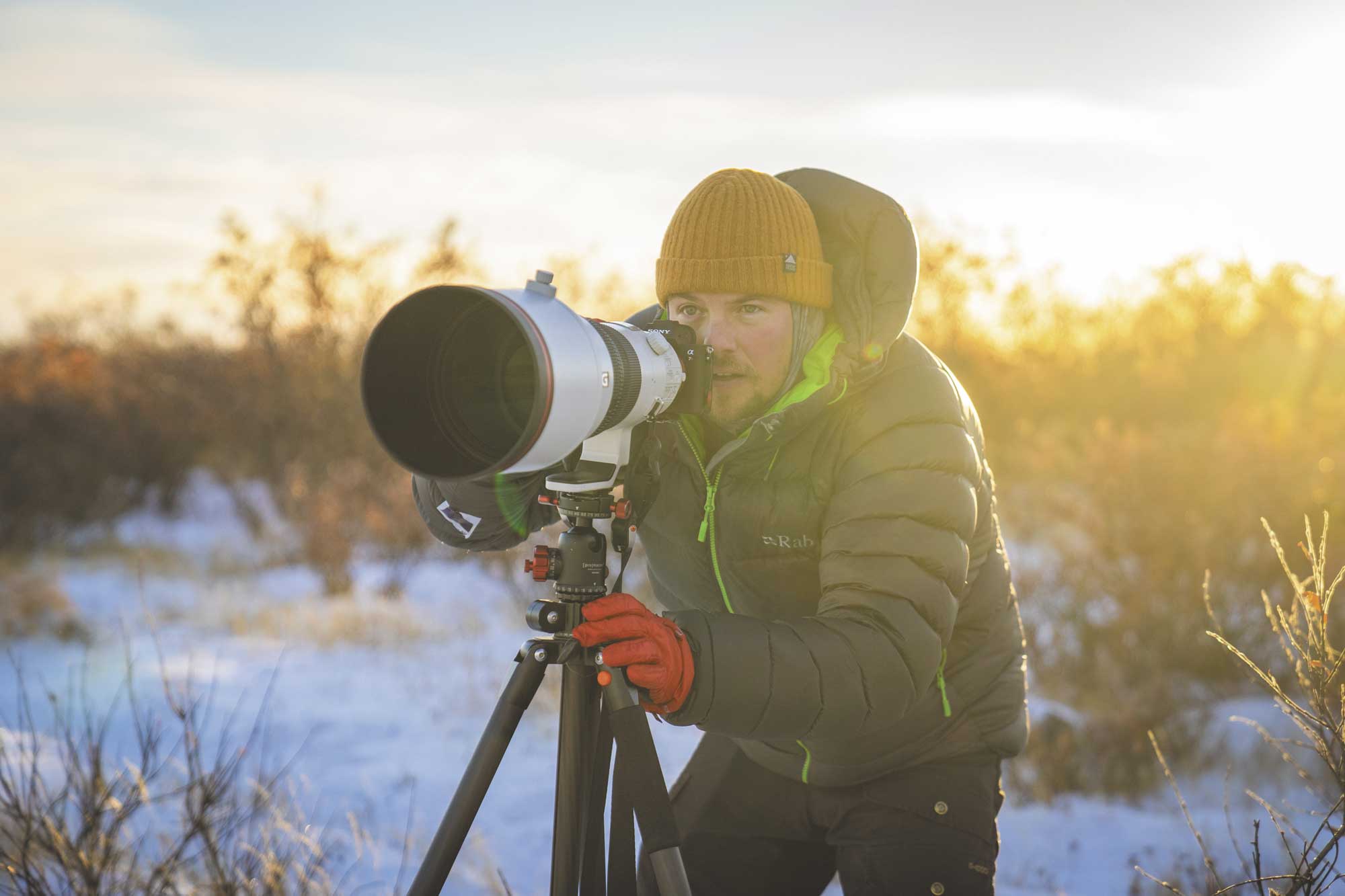 Nate & Austin — how did you get into adventure photography?
Austin: I've had a love of photography and a thirst for adventure for as long as I've been alive. I moved from Atlanta to Colorado in the spring of 2014 and discovered that everything was beautiful everywhere I went in the state! I started climbing the state's 14ers (the 58 mountains in Colorado over 14,000 feet) and began bringing along a small camera to document my adventures. I was still learning about photography, but the passion and thirst to better my skill ran deep. It started to click from there that these passions for the outdoors and film could be combined. 
Nate: I didn't really get into adventure photography, I was born and raised in adventures and so when I began with photography it was just a natural fusion of my two passions.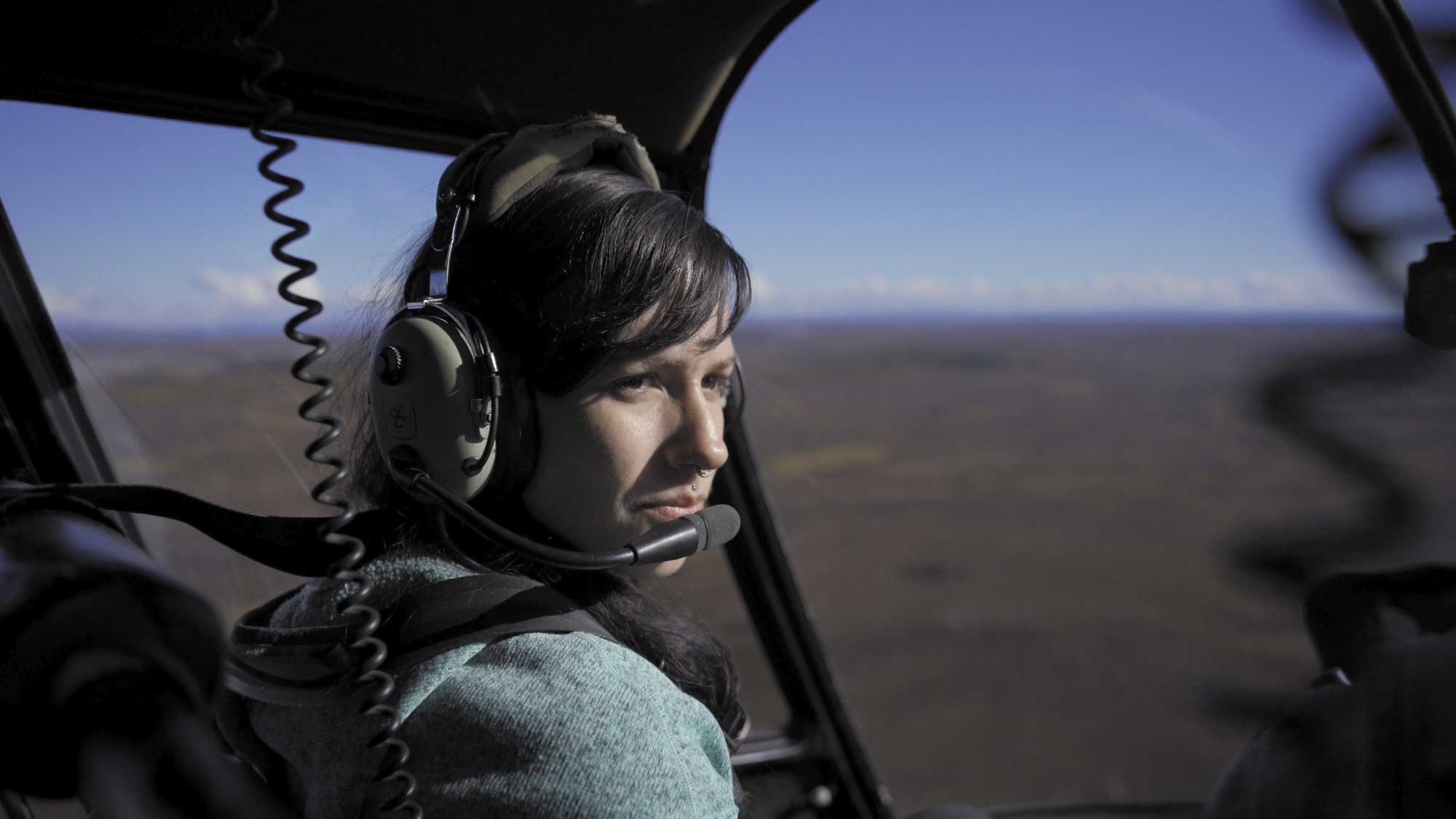 Autumn — how about you with astrophotography? 
To be honest, I'm a massive nerd and have always been enamored by space and its stunningly mystifying celestial objects. Being a night owl, my natural rhythm allows me to stay out late for stargazing. I started photographing the night sky more seriously after a meaningful solo hike at my favorite national park, Mt. Rainier National Park. It was there that I fell in love with not only watching the night sky, but photographing it. 
Favorite aspect of the aurora borealis / first memory of ever seeing it? 
Austin: Though Nate and Autumn are experienced aurora chasers, the journey to make this film was my first time seeing the aurora! I remember we were driving back from a location scouting mission outside of Fairbanks after dark and saw flashes in the Northern Sky. We pulled over and jumped out of the car and there it was: like magic curtains hanging from heaven. 
Autumn: My first time witnessing the aurora borealis was actually on my birthday up in Norway. I had always wanted to see the lights, and Nate had already seen them and kept telling me how amazing they were. The first sight was simply unbelievable. You hear stories and you see videos online, but actually experiencing the aurora for the first time is a feeling that I wish I could bottle. It's a full-body experience of emotion: joy, wonder, excitement, confusion, disbelief, addiction. I think my favorite aspect of the aurora is how you'll never see the same sight twice. They may be similar, but each display is always different and unique in some way. They're fleeting and that makes the chase so much more fun. 
Nate: I vividly remember a trip to Alaska with my parents when I was 10 years old. They took me to a slideshow presentation of a local nature photographer and he had some photos of the aurora borealis. At that age, I had never even considered that such a thing might exist, and I decided right then and there that I absolutely WOULD see them before I die. Thankfully, a career in nature photography has made that dream come true, and I have to say the magic never wears off.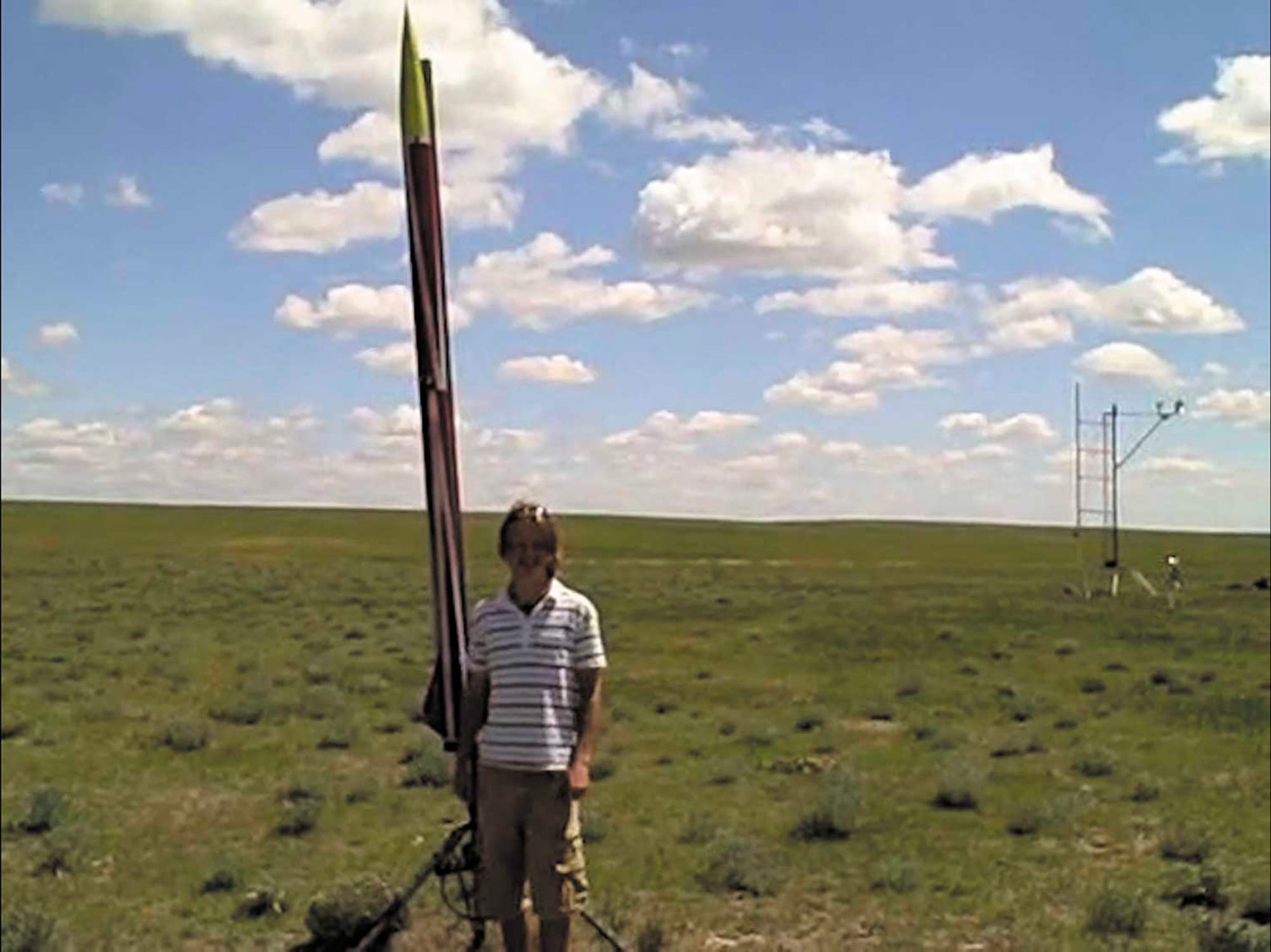 Nate — did your obsession with space, building rockets and attending Space Camp as a kid set you up for designing the payload prototype? 
Oh yes, it absolutely did. I was always that kid who excelled at the weird engineering projects at school, from the egg drop challenge, to building pinewood derby cars in Cub Scouts (you'll be unsurprised to hear I once put a rocket motor in one and got disqualified). One of the big takeaways from the NASA space program is that sometimes the best solution is not the most elegant on its face. A styrofoam cooler may seem primitive, but it's honestly the best insulation to weight ratio we could have asked for, it's affordable for prototypes (of which I made several), already formed into the correct shape, and surprisingly durable.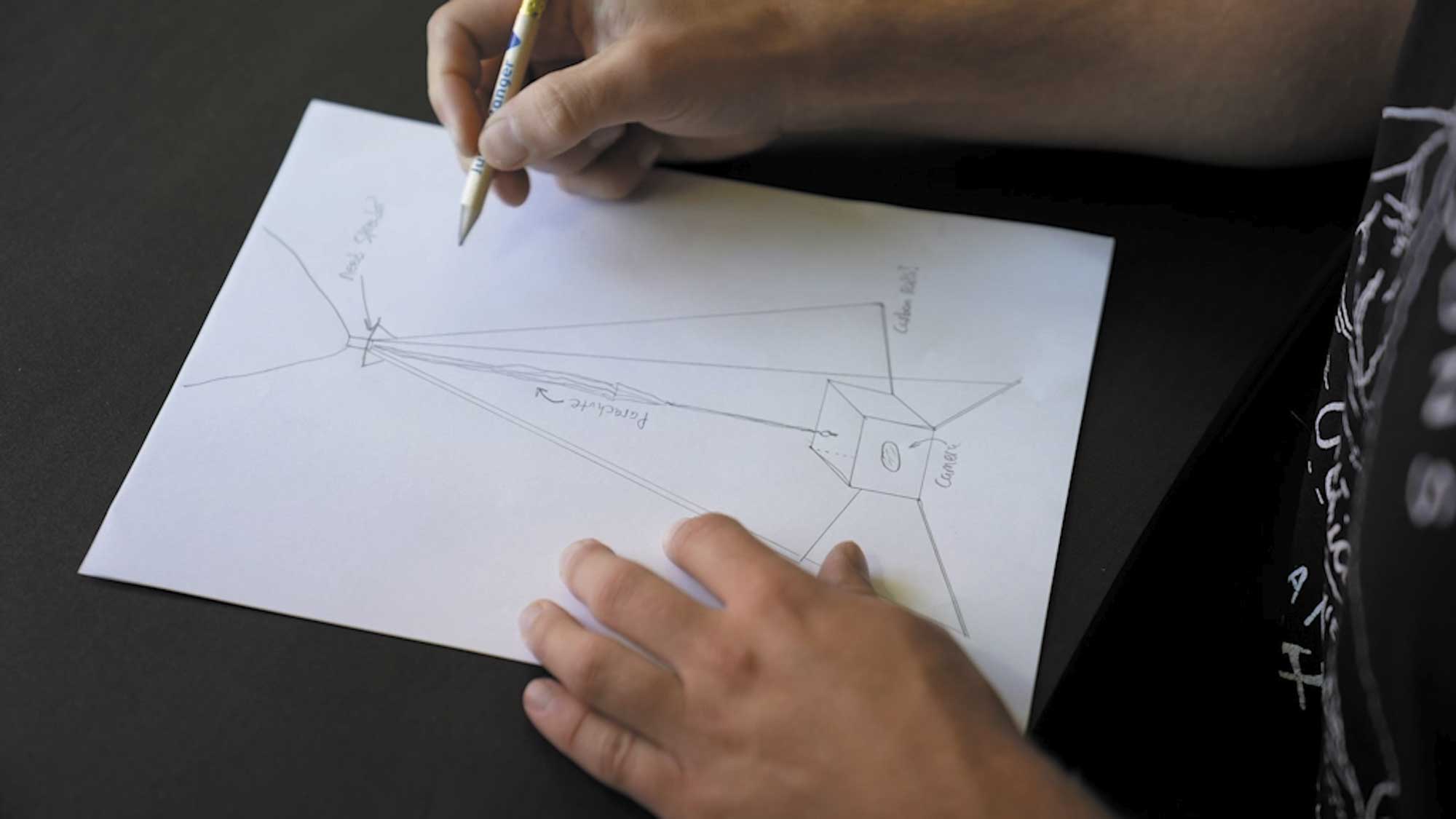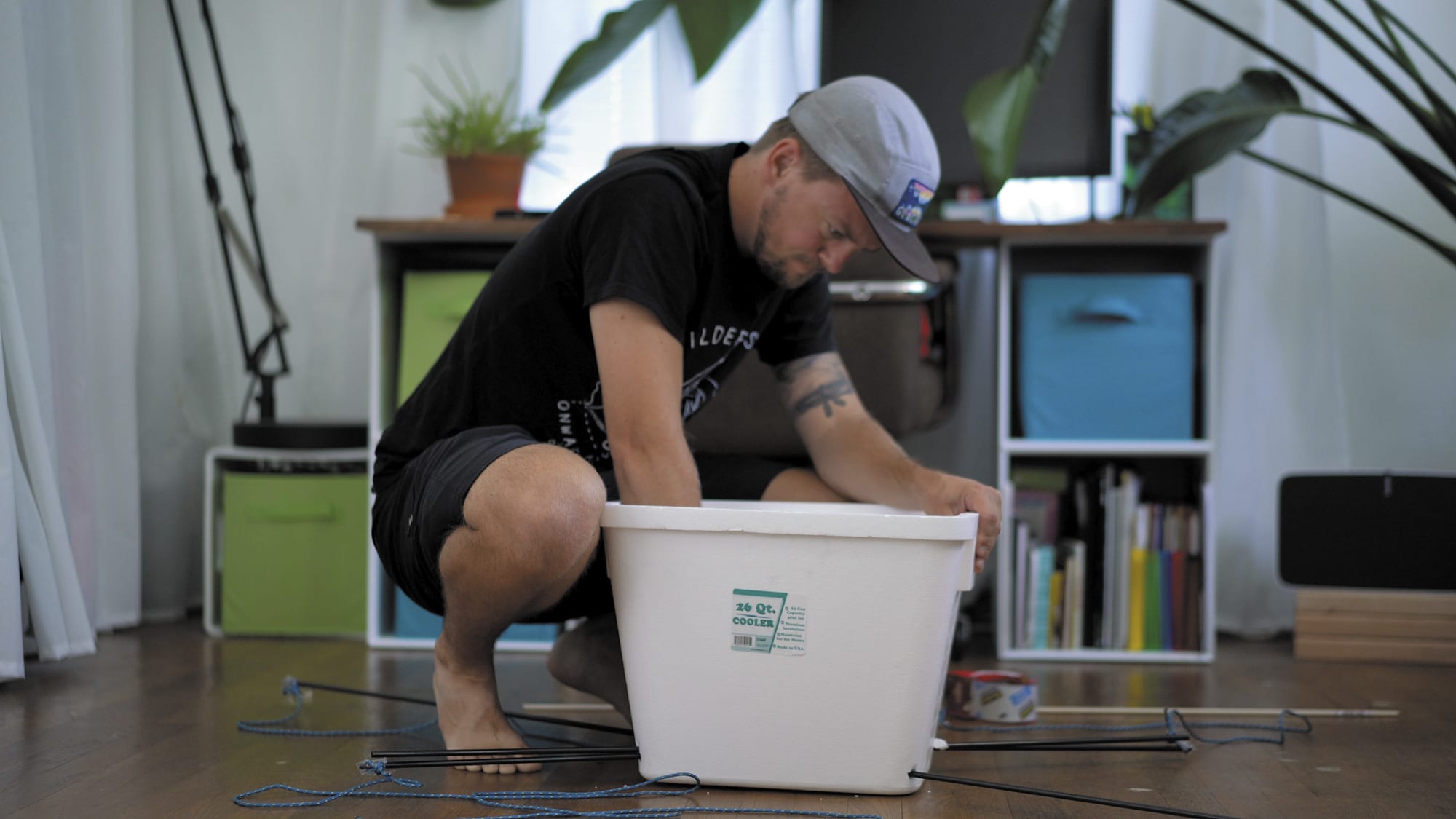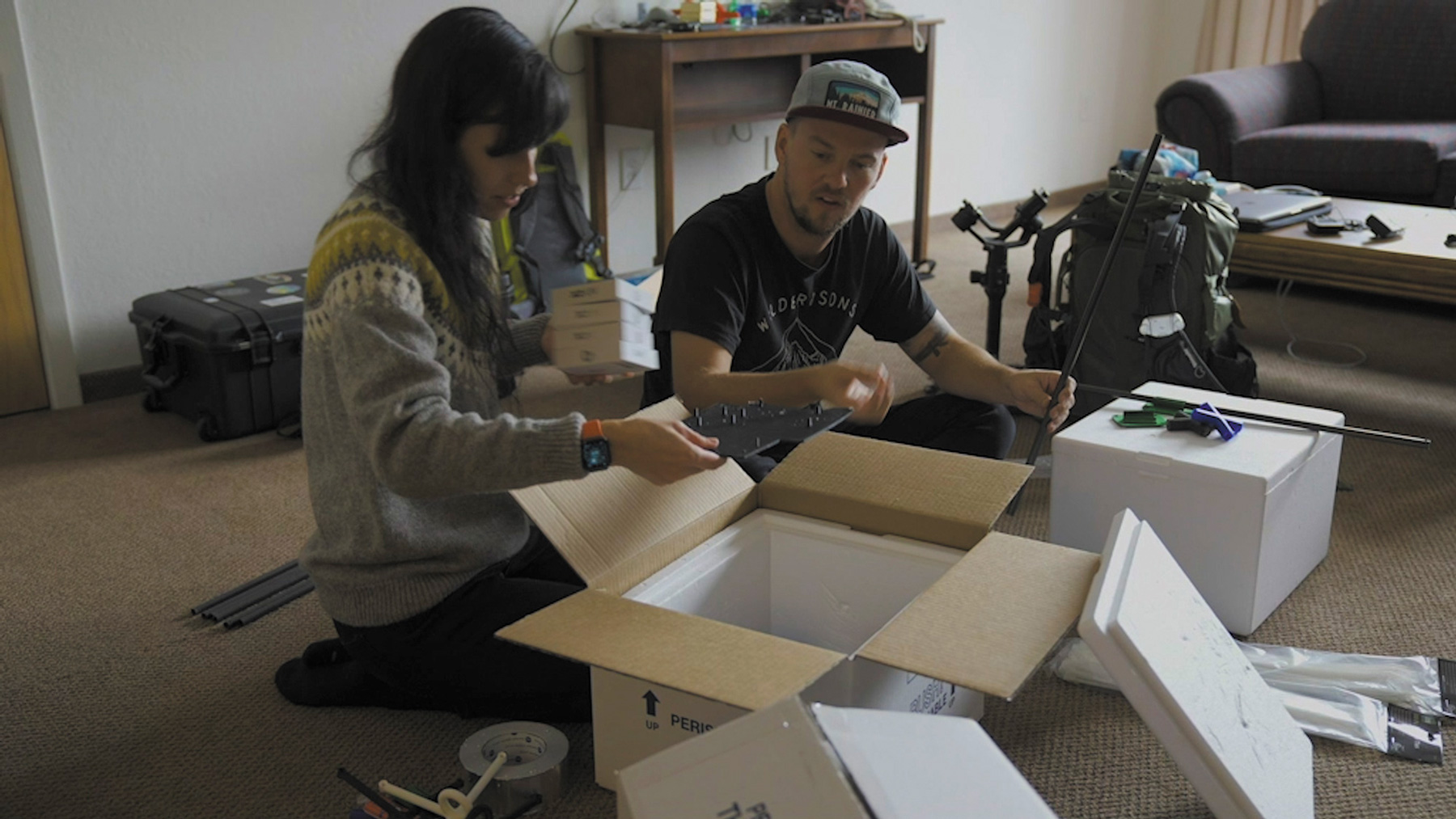 How did you choose your launch sites in Fairbanks, Alaska? 
Austin: There were a lot of logistical headaches and this was one of most difficult. There was a lot of science that went into it. I'm a pilot and was the team's airspace and launch coordinator. There were a few elements that we had to be mindful of: wind direction and velocity, our ascent rate and estimated burst altitude, and then the controlled commercial and military airspace surrounding Fairbanks. We ran simulations based on our balloon's ascent rate and then the forecasted cloud cover and wind speeds to reverse engineer a liftoff location that would avoid going through Fairbanks airspace. Of course, wind speeds and direction changes by the hour and the result was having to find two different locations to accommodate them.
For both flights, we chose locations west of Fairbanks where our payload could ascend so that it flew over the city's controlled airspace and descended to the east without overflying the Canadian border. In fact, on the first flight, the GPS appeared to indicate that the balloon wouldn't explode and descend in American airspace and I had to make a 4 a.m. call to Alaskan Air Traffic Control to alert them that we might be "invading Canada" via weather balloon at 120,000 feet!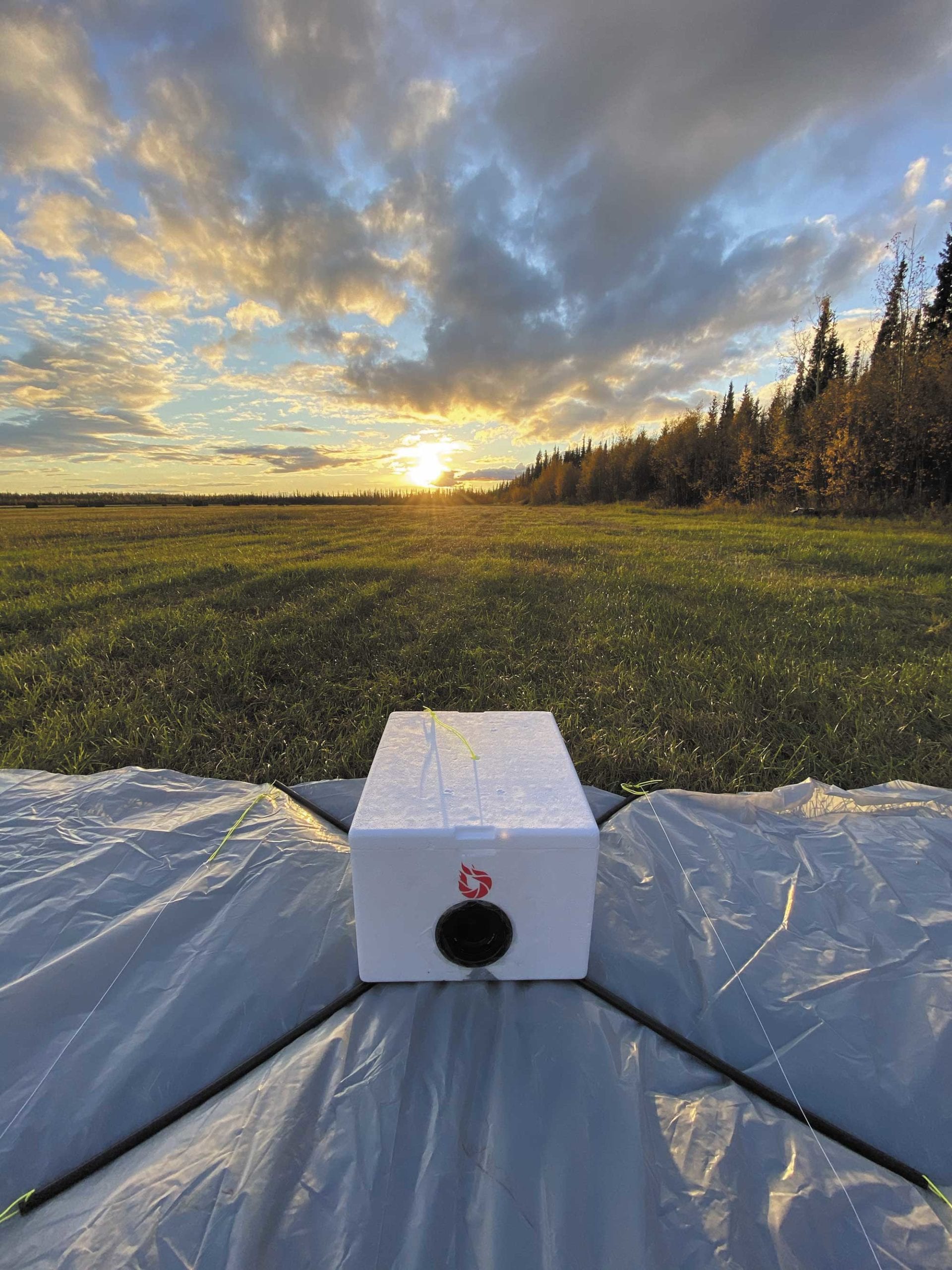 Autumn: Austin covered this well. Nate had gone to sleep when Austin made the call about "invading Canada" and that was certainly one of the unexpected experiences of this project that I'll always remember! 
Nate: I had been running flight simulations based on projected ascent rate and real-time wind data for weeks leading up to the launch, and we had assembled a pretty substantial list of potential launch sites outside Fairbanks that would properly avoid all airspace issues and allow for a safe flight. Hilariously, the storm that blew in when we arrived completely changed everything and we ended up having to do almost all the location scouting again when we arrived in town. I probably ran the flight simulation 25 times per day, every single day for an entire month, and with Austin's help on FAA restrictions and airspace regulations, we were able to find several fantastic launch sites! 
Autumn — at pre-flight you're shown running through a check list of calibrations/settings for your Sony a7S III camera and other electronics. How did you all figure out the particular specifications needed for the flight?
Without getting too technical – when photographing the night sky, you need to allow as much light as possible to enter the camera's sensor. We chose a lens that allowed a lot of light in matched with a brand new low-light camera to do the same. From there, it was just a matter of knowing what shutter speed we would need in order to keep the video smooth and not choppy, but still have a slow enough shutter to let enough light in for each frame. With a subject as challenging and unpredictable as the aurora, we set the ISO of the camera to auto to allow it to adjust itself when the aurora was brighter or darker.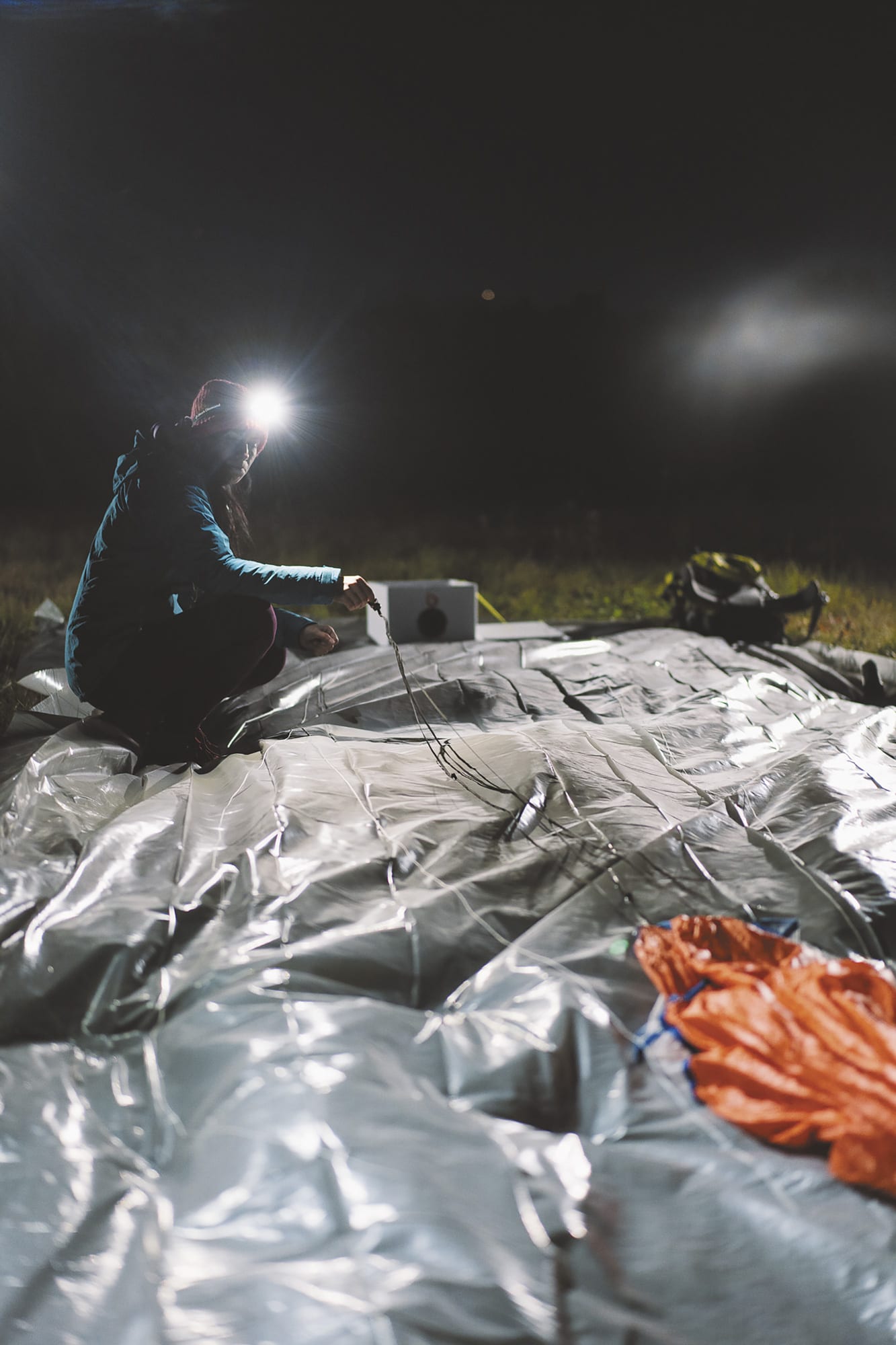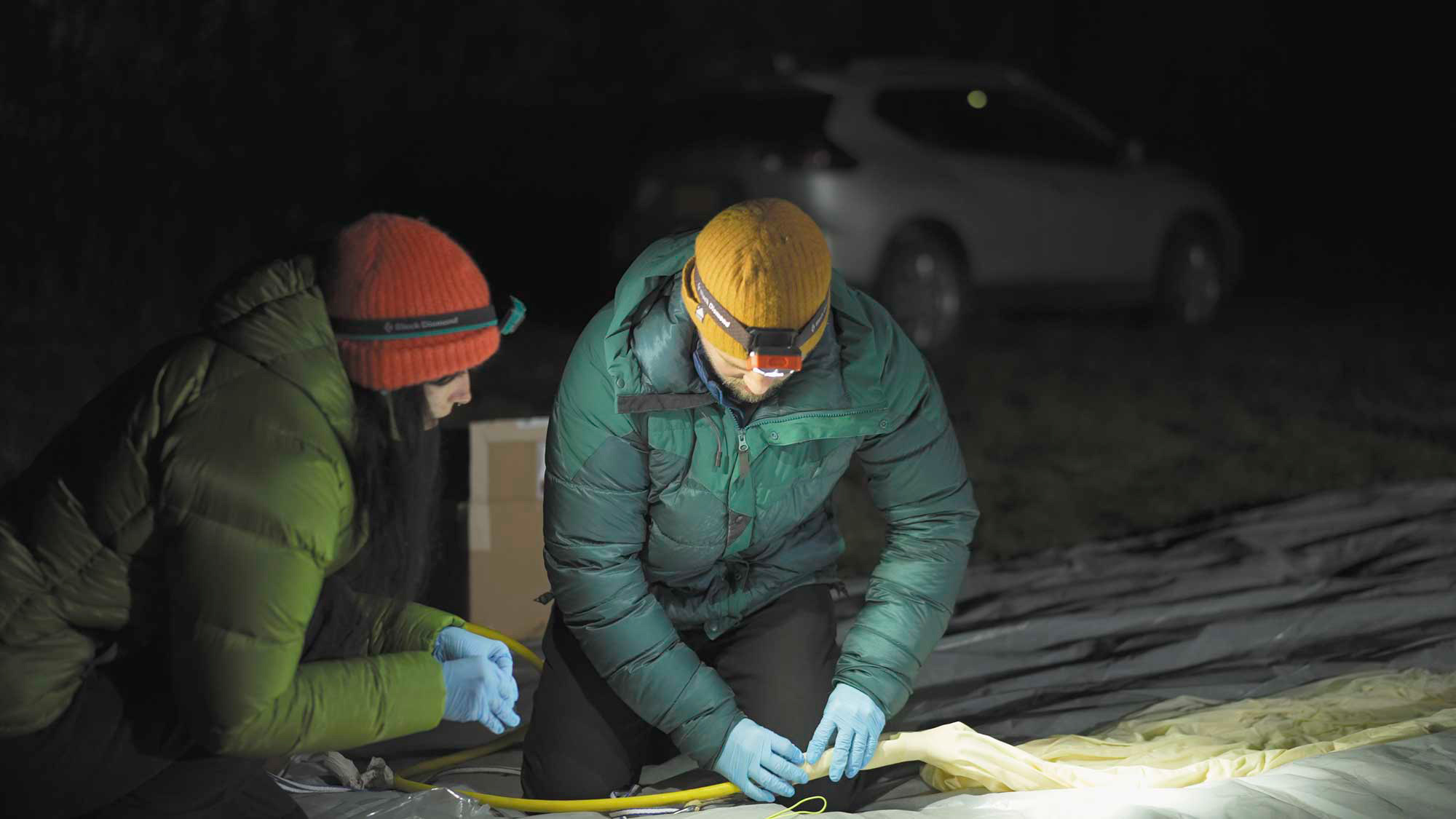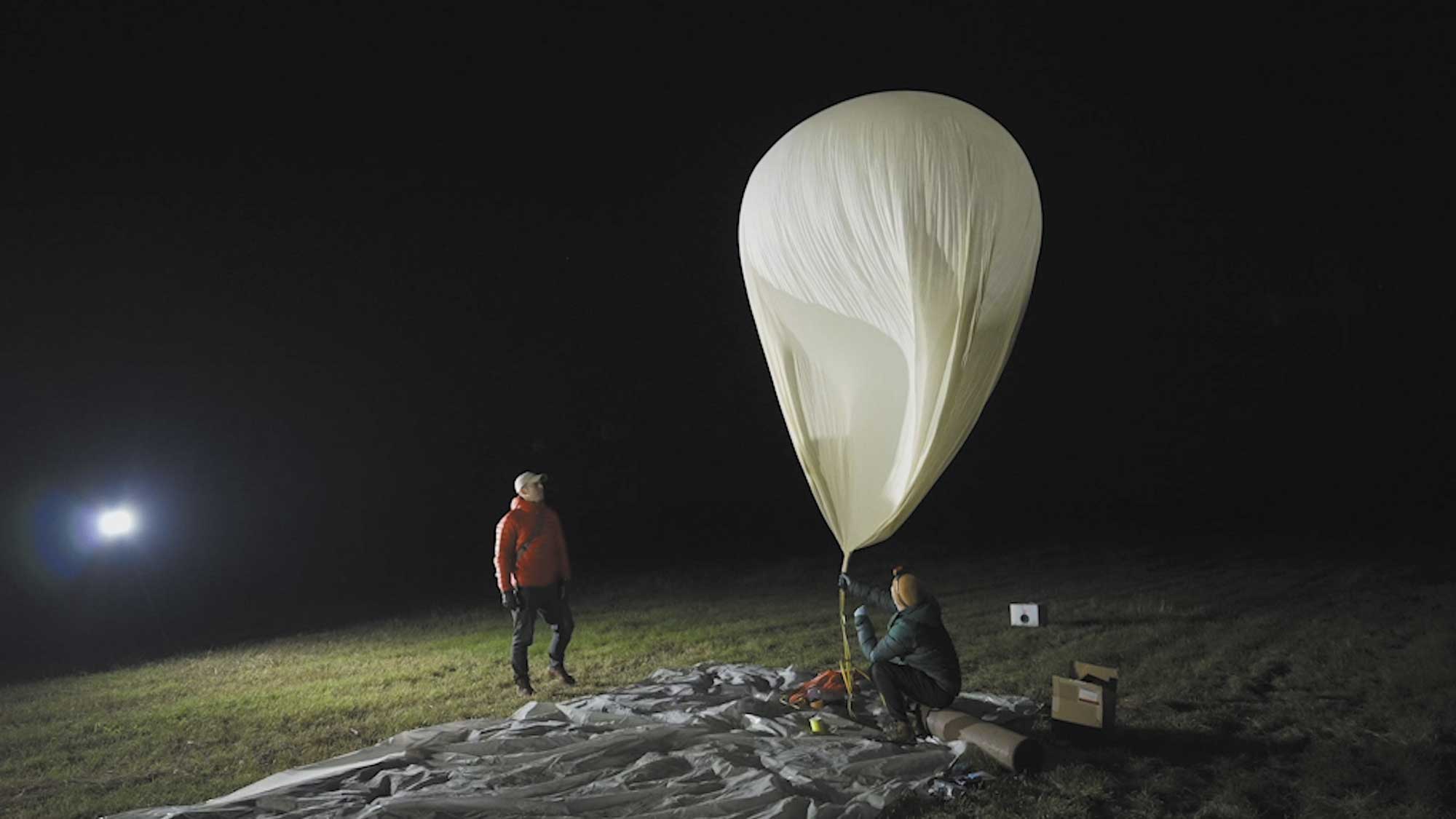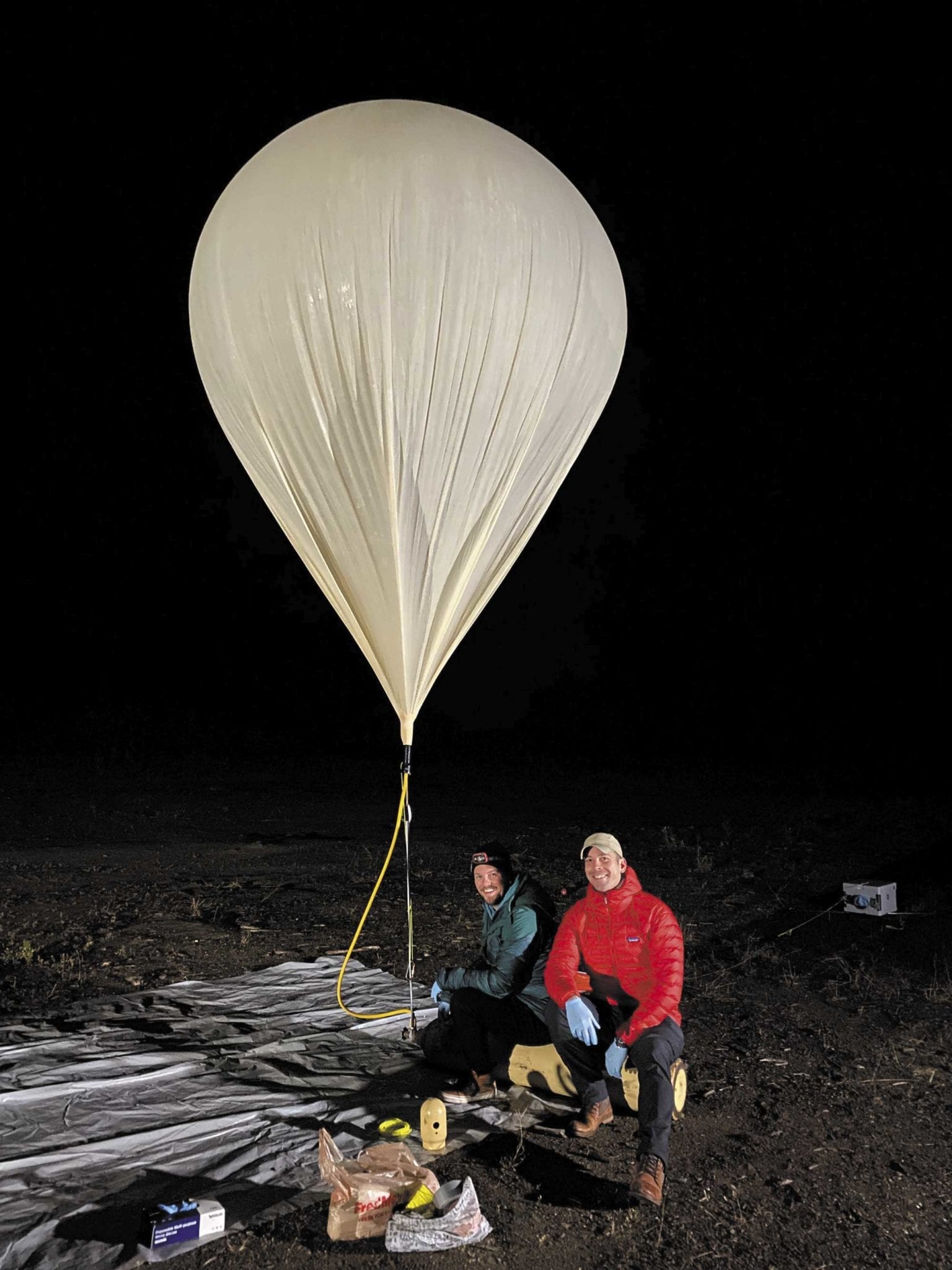 Biggest challenge / most rewarding aspect of this project? 
Austin: Logistics, logistics, logistics. Everything was a complex question that had to be solved and then transported to the Alaskan wilderness. How do we keep a camera warm at 120,000 feet where the temperature is negative 100°F? How do we find helium in Alaska? How do we ensure our balloon avoids Fairbanks airspace? How will we track our balloon? How do we get cinema quality footage from a camera both small and light enough to be lifted to the edge of space? How do we avoid inclement weather? All of these problems had to be solved for.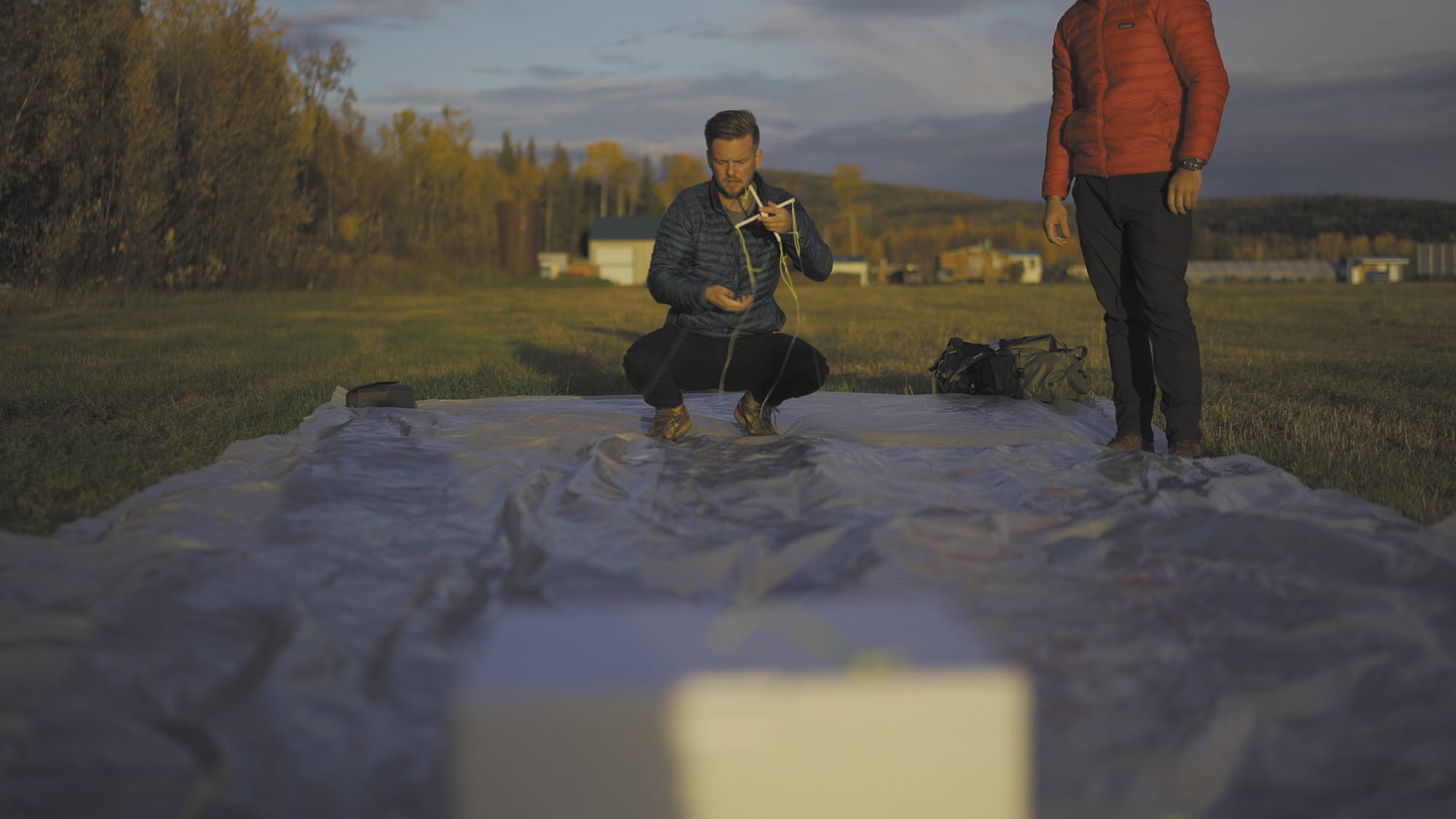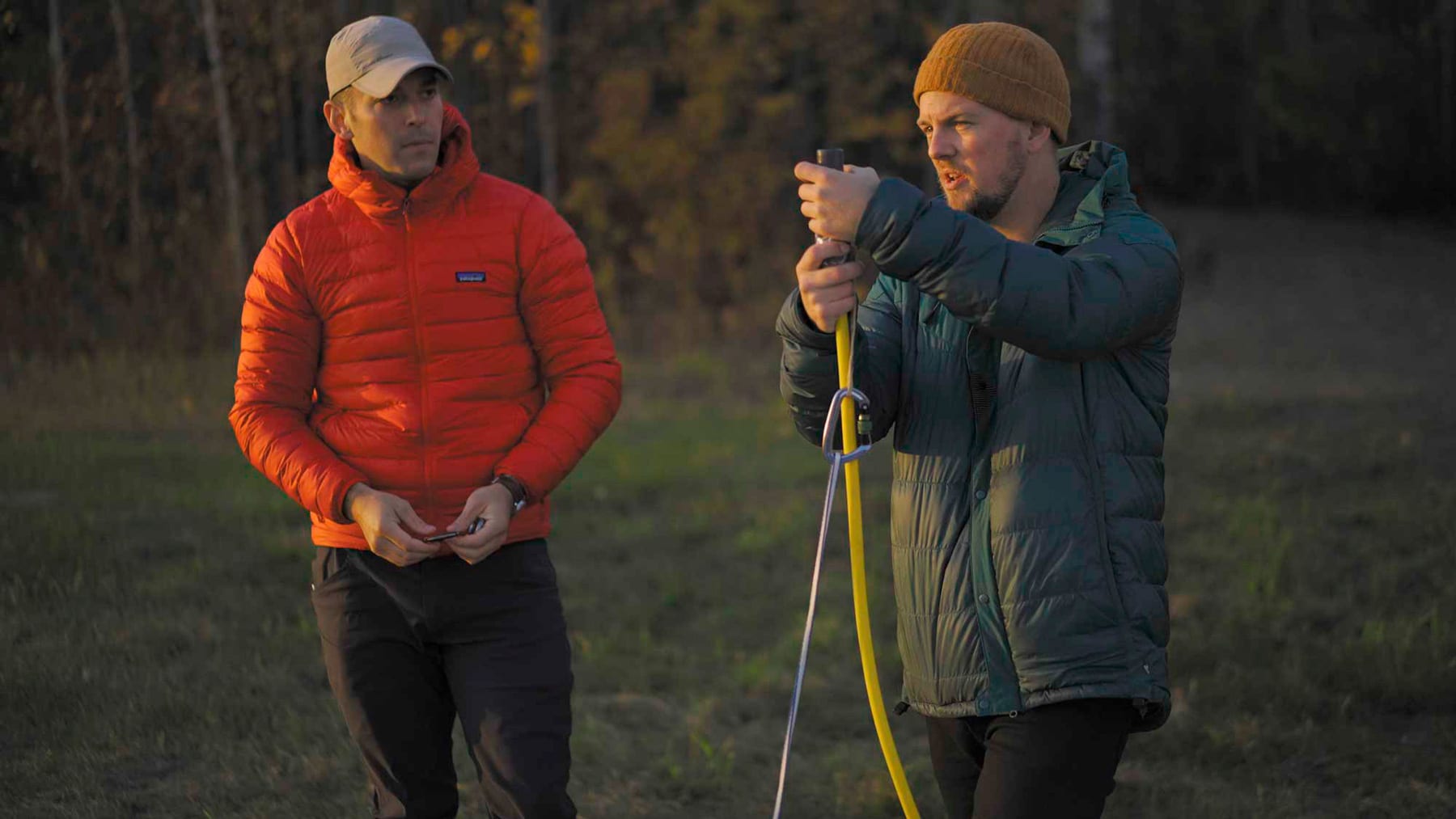 Autumn: The biggest challenge for this project was how to get stabilized footage. No one had ever created a stabilization system for a weather balloon payload before, so we had to design and engineer something from scratch that would keep the camera stable during the flight for smooth footage. The most rewarding aspect was of course seeing the footage for the first time! It was an absolutely incredible feeling sitting in that restaurant and realizing that we had succeeded. 
Nate: I know this isn't a helpful answer, but I honestly can't narrow it down. Everything was equally important, from insulation to stabilization to parachute deployment and powering the camera for four plus hours in extreme temperatures. It would be a disservice to the complicated lattice of engineering to pick one single challenge. 
You all went through a dark place when you lost your first payload. What advice can you give creatives who face a similar trial in their work? 
Austin: Accept that failure will be part of the process before it happens. Failure is just a problem that needs to be worked — have a plan in place to deal with it when it happens so you spend less time agonizing over the loss and more time moving forward with solutions. 
Autumn: As creatives, we experiment and try a lot of things that don't turn out quite as planned. With something like innovation or being the first to try something, it's important to remember that it most likely hasn't been done for a reason: it isn't easy. Failure is sure to be part of that process, so knowing that ahead of time and not banking on everything going perfectly will help to keep the devastation in check. Allow yourself time to grieve, as it is heartbreaking, and that's a very human emotion that we shouldn't feel guilty about feeling, but try not to dwell on the failure for too long. Get back out there, be creative, make mistakes, but remember that creating is what you love. Have fun! 
Nate: Honestly this is just part of being a creative. Often times experimentation doesn't yield fruitful results and you have to just move on and accept that. Usually it's just a bad photo and some wasted hours, but in this case it was a thousand wasted hours and thousands of dollars, that's what made it so difficult.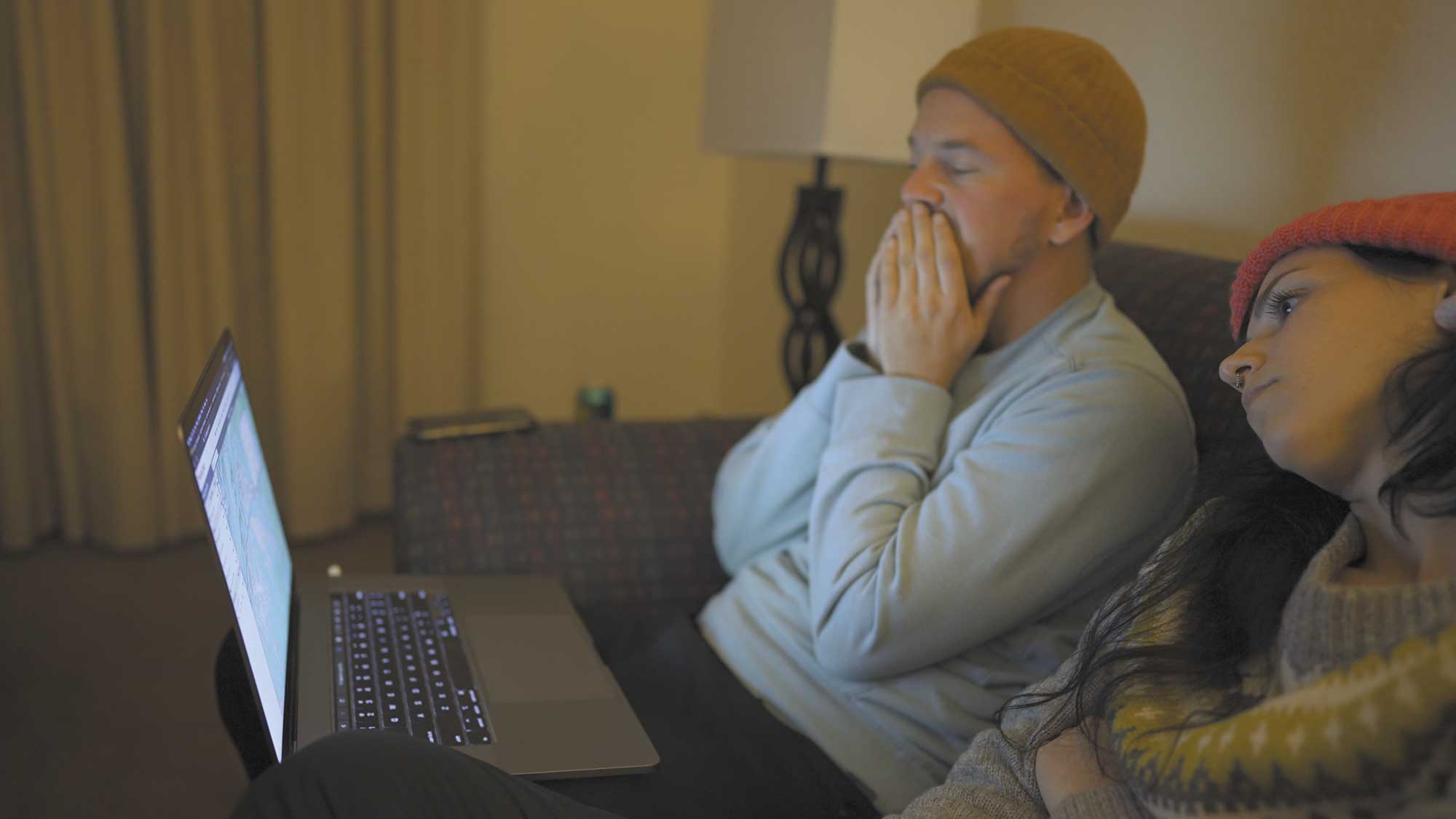 Describe your feelings when you first saw the aurora on your footage. 
Austin: Oh lord. Pure elation. To literally see a year of work on screen and, not just that, but to find out that the shot you had worked so hard to get was even wilder than you could have ever imagined it would be — just pure joy. I remember being so, so giddy with joy — and also with the beer we were celebrating with while watching it for the first time! 
Autumn: I'm not even sure I can put it into words; it's almost like the first time I saw the aurora. I was such a mixed bag of emotions. I was absolutely thrilled, but also just in such awe of witnessing the aurora from a completely different perspective. It felt like watching wizardry. 
Nate: It didn't actually set in for me. I saw it, and I knew my crazy idea had finally come to fruition, but it sort of just felt like more aurora photos. I don't know, maybe I was in shock, but it didn't fully click for me in the restaurant. I think it was several weeks later when I was finally editing the film together that it really sunk in that we had done something so special.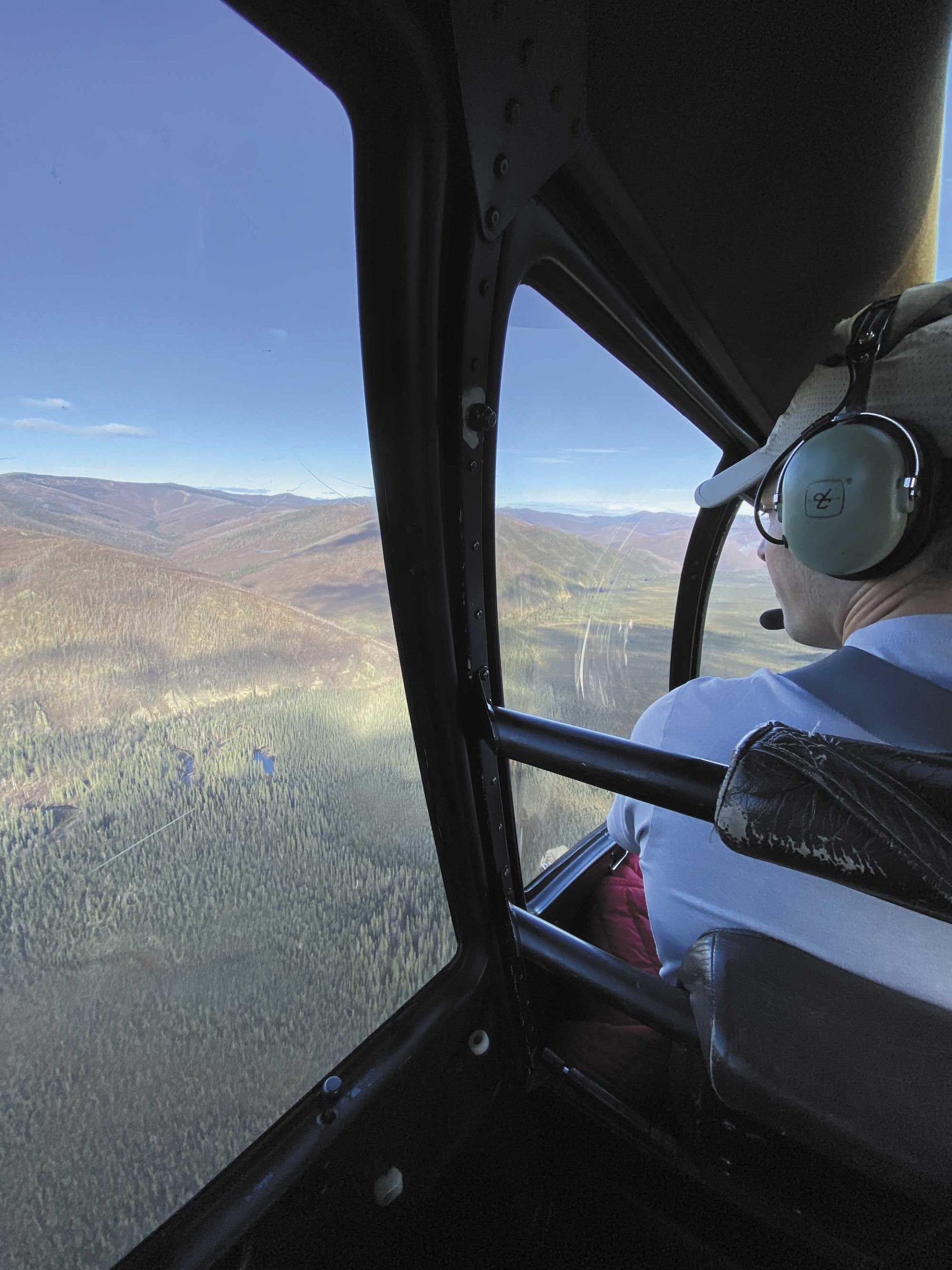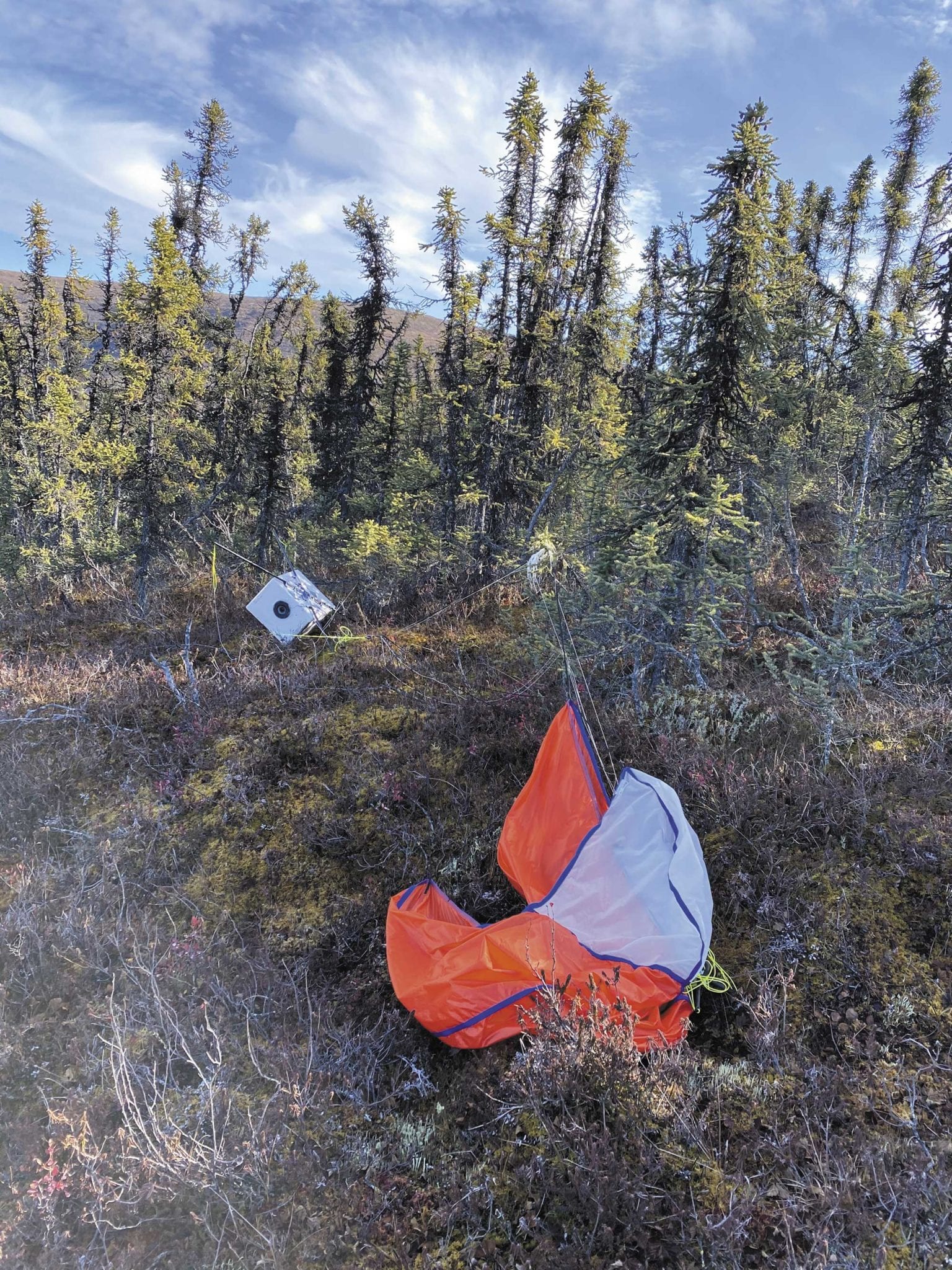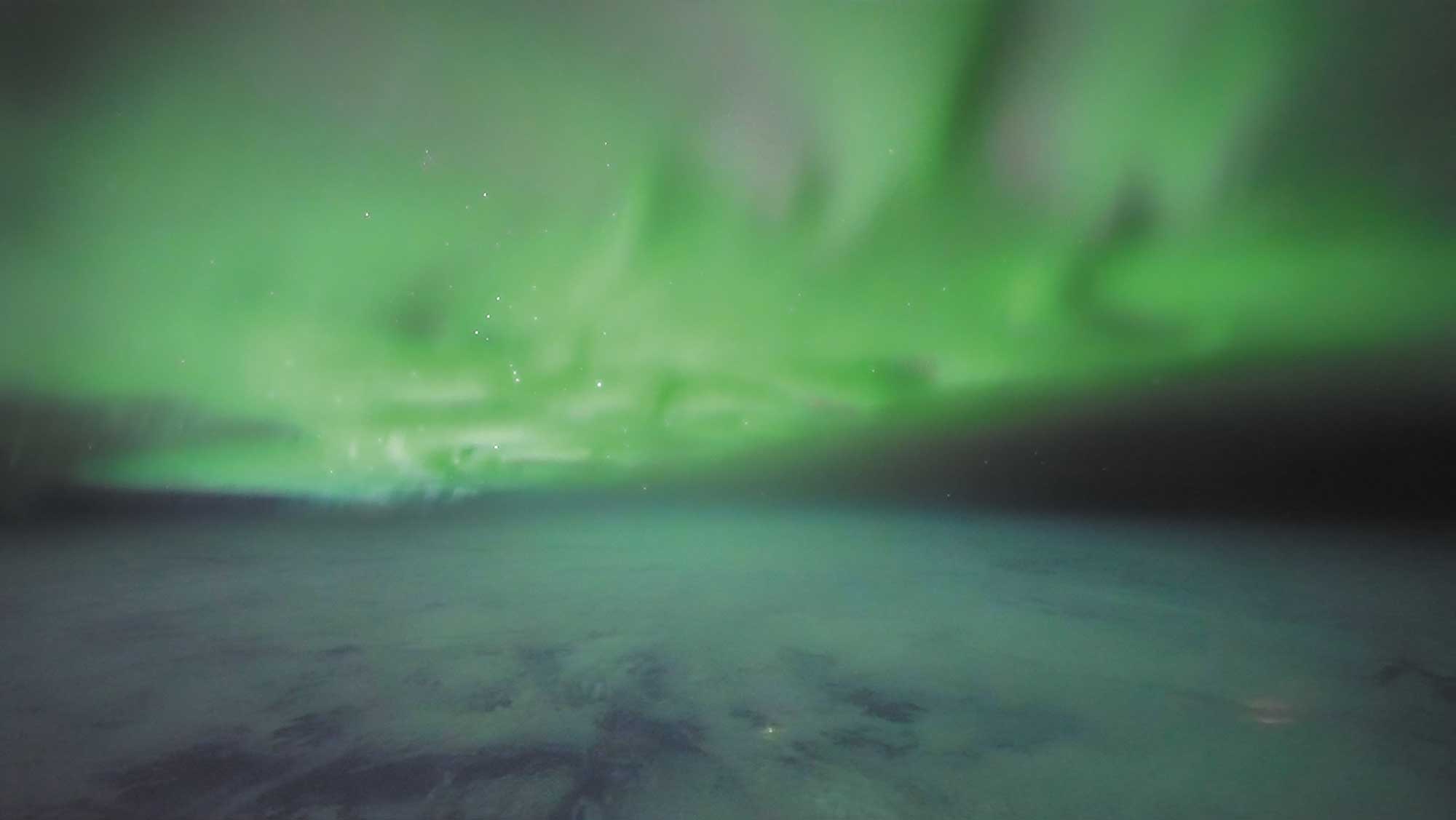 How did this project change you? 
Austin: I came out of this project with an immense respect for Mother Nature and a deeper understanding that, in the world of adventure photography, we live at her whims. She is the one that dictates if the aurora will bloom, if the rain will stop, if the wind will lift, if the clouds will part, if she will allow us to get what we've come so far for. 
Autumn: Light Side Up has been impactful to me in ways that I never expected. Before I often found myself thinking, "Nah, there's no way," when an idea would pop into my head. But what if there is a way? How many opportunities have I missed because I held myself back? I now find that I have fewer of those "no way" thoughts, and when they do pop up, they're instantly followed by, "Well, what if? Why not?" This new way of thinking has meant so much to me that I hung up a photo of the aurora from our flight as a reminder in my office. Why not chase the outlandish ideas? Someone else will if I don't. 
Nate: For me this project has opened some doors. I've always had a habit of daydreaming WAY above my station, and I've had lots of ideas go unrealized because I was the only one who thought it was possible. Now with a proof of concept, I'm finding it much easier to bring wild ideas to potential sponsors and be taken seriously. I have a few more things in the works now that I'm very excited about. 
What's next? 
Austin: Oh we always have interesting things cooking. I keep thinking about all of the incredible places I want to see around the world and challenge myself to add a twist to create an engaging story to tell. And after seeing how we were able to make this seemingly impossible aurora adventure happen, the sky isn't even the limit anymore. If we can find the funding, I'm ready to make a film on the mountaineering to be done on the moon! 
Autumn: I'm continuing to embark upon the aurora journey. I just recently launched an aurora photography guide, have been teaching online classes on aurora, and am continuing to spread the wonder and amazement of the dancing lights to as many as I can. I'm excited to see where this propels me and my career! 
Nate: Probably too early for me to leak any info about my next projects, but I can safely say I won't be endangering cameras quite as much in the future! 
Anything I missed? 
Austin: We can have wild, high-flying dreams all day long, but none of this would have happened without the incredible support of our sponsors. It's so, so cool to see how Sony, Breakthrough Photography and NFuzed are companies led by people with a level of passion for adventure and art that match ours. 
Autumn: As well as Explore Fairbanks for helping us with all of the on-the-ground logistics while in Fairbanks! 
Nate: I'd like to thank my parents: the ultimate sponsors of wild ideas. They've always fostered and nurtured my weirdness, no matter how outlandish and I think they're almost singularly responsible for my willingness to dive 100 percent into any project. 
---
Check out more of the crews' projects at: losthorizon.co
---
Follow the team on Instagram:
Nate: @nateinthewild | Autumn: @autpops | Austin: @austincamsmith
---
Now, here's the full film: