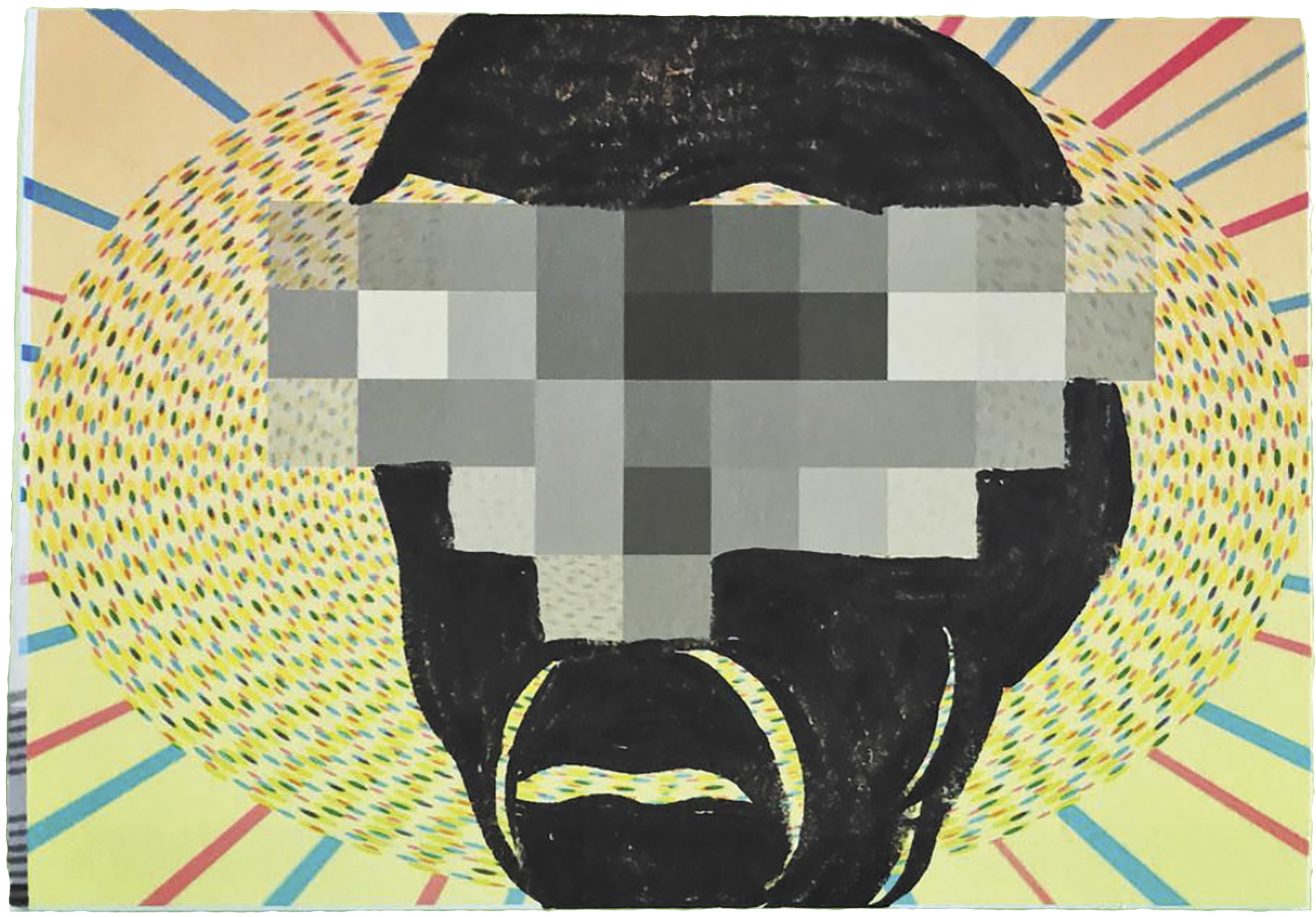 Man or Machine
By Zac Dunn
Art by Mark Mothersbaugh
Published Issue 094, September 2021
I'm hard-wired into you love
Like I'm connected to the stars above 
The eye in the sky it speaks to me 
Because we have the same circuitry 
AM I A MAN 
OR AM I MACHINE? 
They're always turning me off and on
So I can't remember where I'm from 
But can you see that I'm just a man?
I'm upgraded with ROM and RAM
AM I A MAN 
OR AM I MACHINE? 
Oh mama let me be the one 
The one to remember when I came from 
Before they put this board in my head
And deleted all the words you said 
AM I A MAN 
OR AM I A MACHINE? 
When I touch you on the cheek 
you always act like I am such a freak 
My stigmata it runs three deep 
Because I'm building it 
While you sleep
AM I A MAN
OR AM I A MACHINE
We raise our bloody fists 
To the sky
Wondering why they left us here to die 
A million miles away
Under the sea 
I can't fathom all the treachery 
The greatest nemesis 
They deceive 
Kathulul calling back like 
An old friend 
I close the opus 
We began 
Once again the plot unfolds 
What's dead will resurrect 
Tenfold 
AM I A MAN 
OR AM I A MACHINE? 
The Cain who snapped the camel's back 
Makes me Abel to attract 
Your heartbeat across this void 
We cannot recall how it felt 
But now we touch like children 
With no guilt 
Collapsed eyes and lips lock 
Feeling just like silk 
One in many many ways 
The tension will make them all obey 
The ill invocation 
When we fall 
This heart of mine 
It beats in time 
The majestic precipice
We faced was too sublime  
---
Zac Dunn is a psycho-social mechanic, father, musician and dreamer. Check out his music and follow him on Twitter and Instagram.
---
Check Zac's September Birdy install, DEATHWISH/ FRIENDSHIP BRACELET I go Godzilla Claus, here with artwork by Mark Mothersbaugh.
---
Mark Mothersbaugh is a Conceptualist. As an undergraduate art student at Kent State University, Mark began creating work in the late 60's and has created tens of thousands of works to the current day in various mediums including, rubber stamp designs, mail art, decals, prints, ink illustrations, oil paintings, ceramic sculptures, manipulated photographs, video, film compositions, sonic sculptures, rugs, screen savers and so on.
While touring with his band DEVO, it was not uncommon for Mark to lightly "correct" or add onto the bland paintings and prints that adorned the many hundreds of otherwise unmemorable hotel rooms that he occupied for one night at a time. Using a van, bus, hotel room, airplane, or any space as his workspace, he has created over 40,000 drawings which serve as the genesis of ideas that later emerge in his larger projects.
Mark views much of his work as experiments in "beatnik-stream of consciousness" poetry, which to him, is related to speaking in tongues; the surrendering of the intellect to the primordial, or science vs. faith
An observer among us, Mark writes down things that he overhears throughout the day … people at another table, a voice on the radio, pieces of verbal fabric that drift and weave and create the poetry of life, the flotsam and jetsam that swirl around us and fill our subconscious with scraps of what it is to be, according to Mark, a "thinking ape."