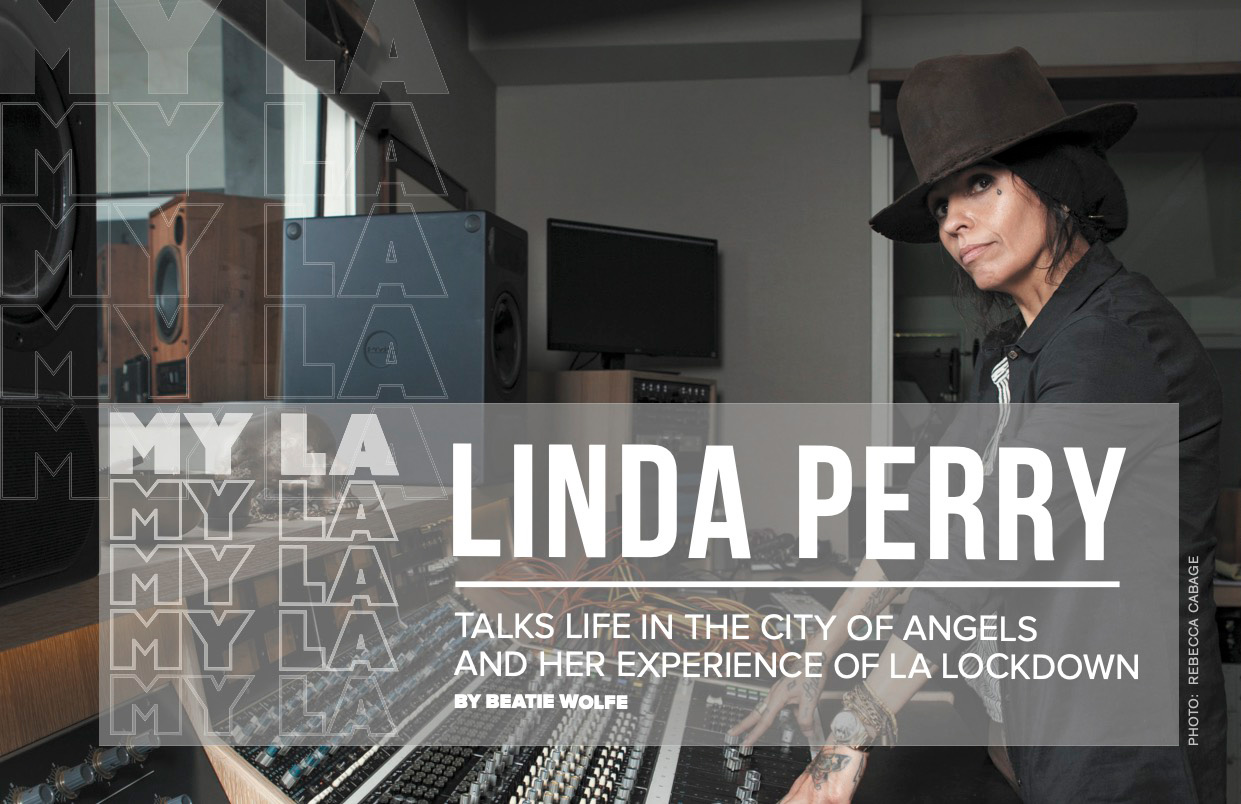 MY LA: Linda Perry Talks life in the City of Angels and her experience of LA Lockdown
By Beatie Wolfe
Published Issue 088, April 2021
---
AS PART OF HER COLUMN FOR LONDON'S EVENING STANDARD NEWSPAPER, BIRDY FRIEND, ARTIST BEATIE WOLFE, SITS DOWN WITH AN INSPIRING LOS ANGELES RESIDENT. THIS MONTH? MULTI-PLATINUM RECORD PRODUCER AND SONGWRITER LINDA PERRY 
---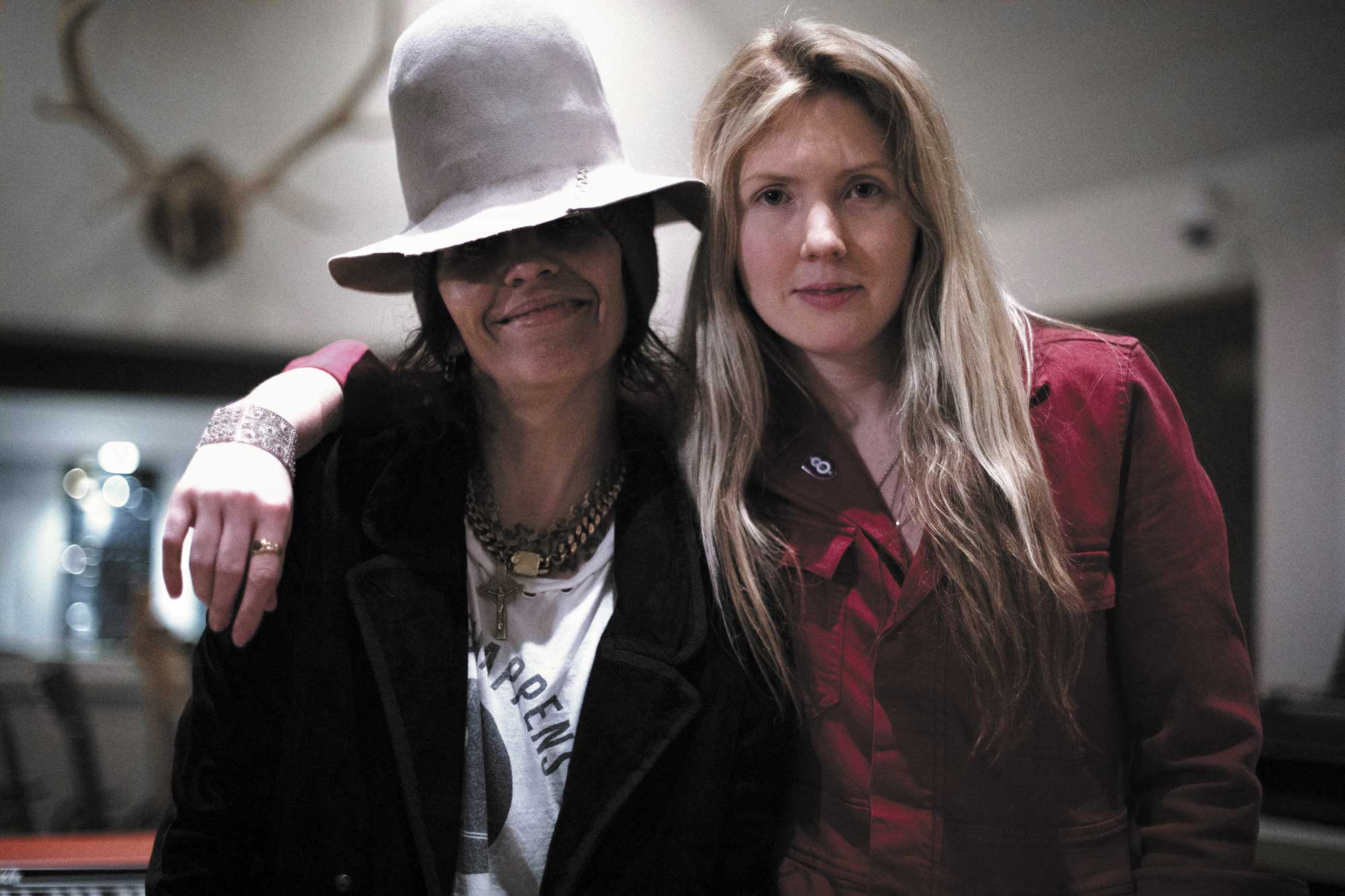 Few possess the raw energy of Linda Perry: artist, producer, songwriter, singer, business owner, and all-round powerhouse. 
Linda Perry, a Songwriter Hall of Fame inductee and multi-Grammy nominee, began her journey as the lead singer and songwriter of 4 Non Blondes before turning her hand to production. 
As a songwriter-producer, Perry quickly established herself as one of the industry's heavyweights, shaping the sounds of musicians such as Pink, Christina Aguilera, Gwen Stefani, Alicia Keys and Adele, and having a resounding influence on the presence of female empowerment in pop culture. 
Inducted into the Songwriters Hall of Fame in 2015 as a testament to her impact, Perry also earned a groundbreaking Grammy Award nomination in 2019 for "Producer of the Year," making her the first woman to be nominated in 15 years in this category. This same year Perry was nominated for a Grammy and a Golden Globe for her work with Dolly Parton. 
Artist Beatie Wolfe sat down with Perry, an LA resident since 1997, to talk about the best (and weirdest) things about life in the City of Angels. 
What first brought you to LA? 
The interesting thing is I'm a California girl. I was born in Boston but when I was a year old we moved to San Diego and then later on I moved to San Francisco and lived there until '97. But I was never attracted to Los Angeles as a place to live. It's a place I visited. I would run away from home (I stole my friend's sister's car several times) and come to LA and hang out at Melrose, back when Melrose was actually cool with all the punks because I was a total punk. There was this big nightclub that we'd go to listen to deathrock and punk music but I never thought as an adult I'd live in LA. 
What motivated you to stay? 
San Francisco was starting to bore me. Silicon Valley's in and all the great mom-and-pop stores are closing down. Record stores are disappearing. I was driving to LA (and usually I drive with no music) and I started arguing with myself in the car: "You're going to move to LA." "What? There's no way in hell I'm moving to LA! That's not going to happen." "It IS going to happen. You're going to call your manager and fire her. You're going to give notice on your house and you're going to start looking for a place in LA." By the time I get to my friend's house I'm really annoyed and he asks me what's wrong and I tell him: "I'm fucking moving to LA! My fucking gut is telling me that I've got to move to LA and I'm annoyed because I have to fucking do it!" 
How did you figure out where you wanted to be? 
I asked my friends, "Where's the hip area?" And everybody said: "Silver Lake, Los Feliz, West Hollywood." So I said, "Okay so where's the unhip area?" And they said: "Burbank, Sherman Oaks." And Sherman Oaks stood out to me so I asked, "What's Sherman Oaks like?" And they said: "Well a lot of porn stars, cokeheads and old people live out there. And I go, "Is it hip?" And they're like: "Oh no!" So I said, "Okay, that's where I'm moving." I found a house that's not even me, but I just fell in love with it (the house you've come to, the studio we've recorded in). I purposely stayed away from anything hip and that's how I got to LA.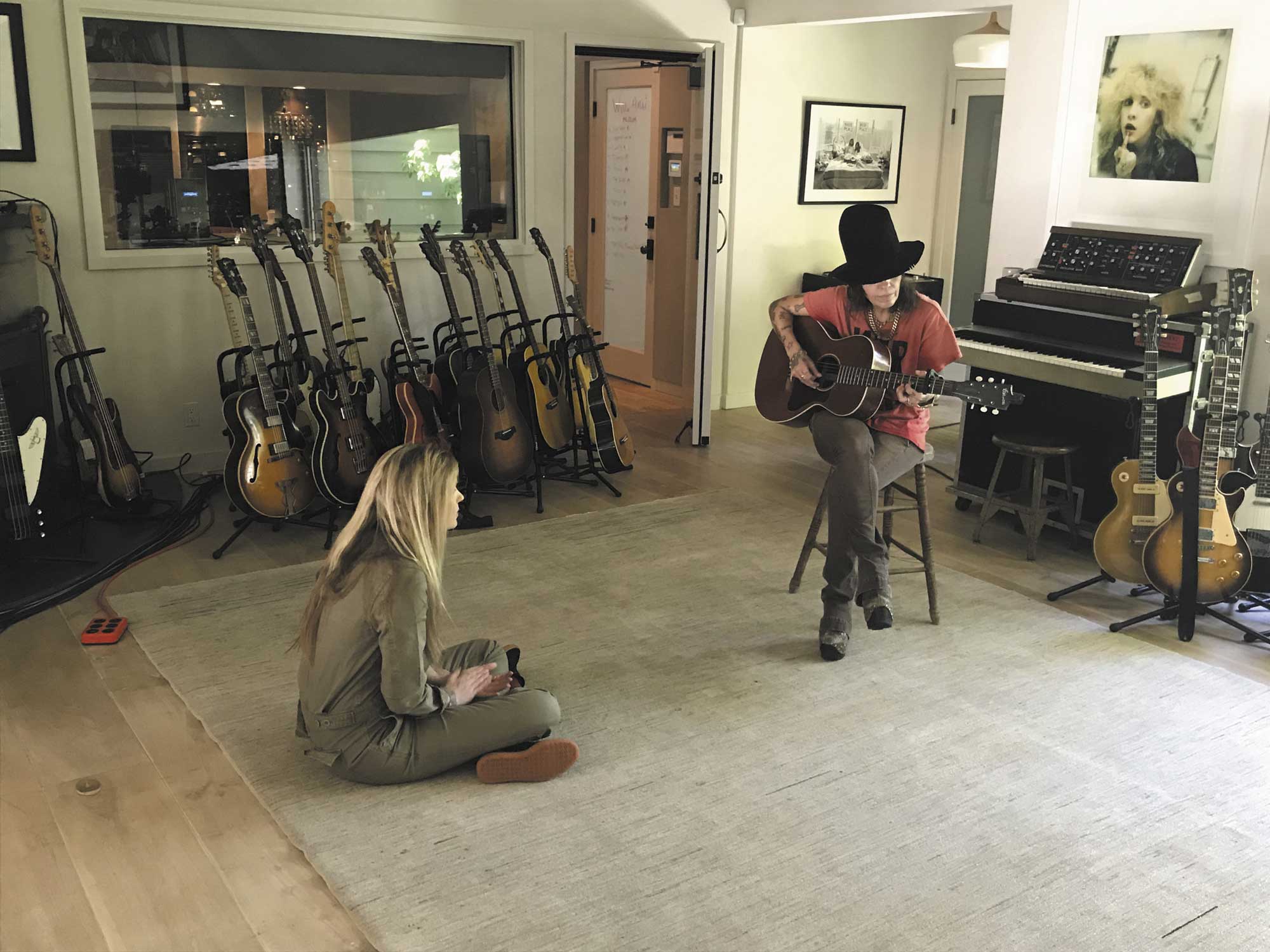 What was your first creative project here? 
When I got here I thought, Okay, what am I going to do now? So my friends and I put together this rehearsal place and I was in there writing and recording what would be the third album for Interscope. Then in late '98, I played Interscope what I'd done and they're not into it. And I'm like: "Okay, let me out of this deal. You guys don't get me. I don't want to be 4 Non Blondes. I want to do weird stuff." So finally they let me go and I was free and in 2000 I wrote "Get This Party Started" and that started a whole new chapter in my life. 
Is there something you've done here that you feel you couldn't have done anywhere else? 
Yeah, my whole thing changed here. My gut told me to come to LA if I wanted to reinvent myself and that's what I did. I left San Francisco as an artist (in the linear sense) and came to LA and became a producer and songwriter. I didn't fully get what being an artist meant until I moved to LA and in that way LA has made me more of an artist and an entrepreneur. 
How else has LA changed you? 
I'm very serious in LA. In San Francisco, I was always drunk and partying and not that serious, but I'm very serious here because I have a vision. I have a goal that I'm trying to reach and I'm not here to fuck around. 
What do you most love about LA? 
I love that LA is whatever you want it to be. It's you! San Francisco is a sleepy town, you can walk from one side to the other, it's a very specific flavor. LA is more of a diner with an all-you-can-eat buffet and it could be trashy food or super fancy food, it caters to everything. So 
that's why to me, LA is you, it's whatever you're into. I didn't want to be around a bunch of assholes or be in that party scene. So that's what I built here. It's like your own personal movie and you're the star, the director, the production designer, the writer and whatever you see for your life, it is. And that's why I don't think I could live anywhere else. 
How do you unwind? 
Well it's all here in one environment. I often don't even think I'm in LA. When I look out it's so beautiful that it feels like I'm in some kind of tropical environment. There's a lot here that can make you feel like you're not in a big city and when you need a break you can go to Malibu or drive up to Ojai. 
One thing people might not know about you? 
That's hard because I feel like I'm so transparent. Maybe how sensitive I am, but I think you can tell that I am. Sometimes I think it's not about what I'm not sharing, but what people aren't seeing. If someone meets me it's almost a prejudge that they're meeting Linda Perry, this intimidating character, but they're choosing not to see the sensitive side of me. Maybe people don't know that I'm easy to talk to. I'm warm and caring. I'm aggressive and hard too, but I'm very yin and yang. What is hard about me is also soft about me. I have both extremes but I'm never in between. There is one foot in badass and one foot in soft and vulnerable. 
Do you have a favorite time of day and why? 
My favorite time of day is the one I feel the most powerful in and that's random. Like today my favorite time of day was 5:30 a.m., I felt really in my power for some reason, but tomorrow at 5:30 a.m. I might feel dark and moody. So whenever I can feel my light is my favorite time of day. 
Where do you go or what do you do to get inspired? 
I don't go anywhere. That's the funny thing about me. I like to be at home and go to the studio. I'm inspired by my son, he's everything to me. He makes me feel like I have a purpose. Then I'll come to my studio and sitting here talking to you, listening to music, is always inspiring. The projects, the vision, the will, the vulnerability, the growth, the change, acknowledging what's not great about me and trying to fix it. That all plays a big part in what comes out of me musically.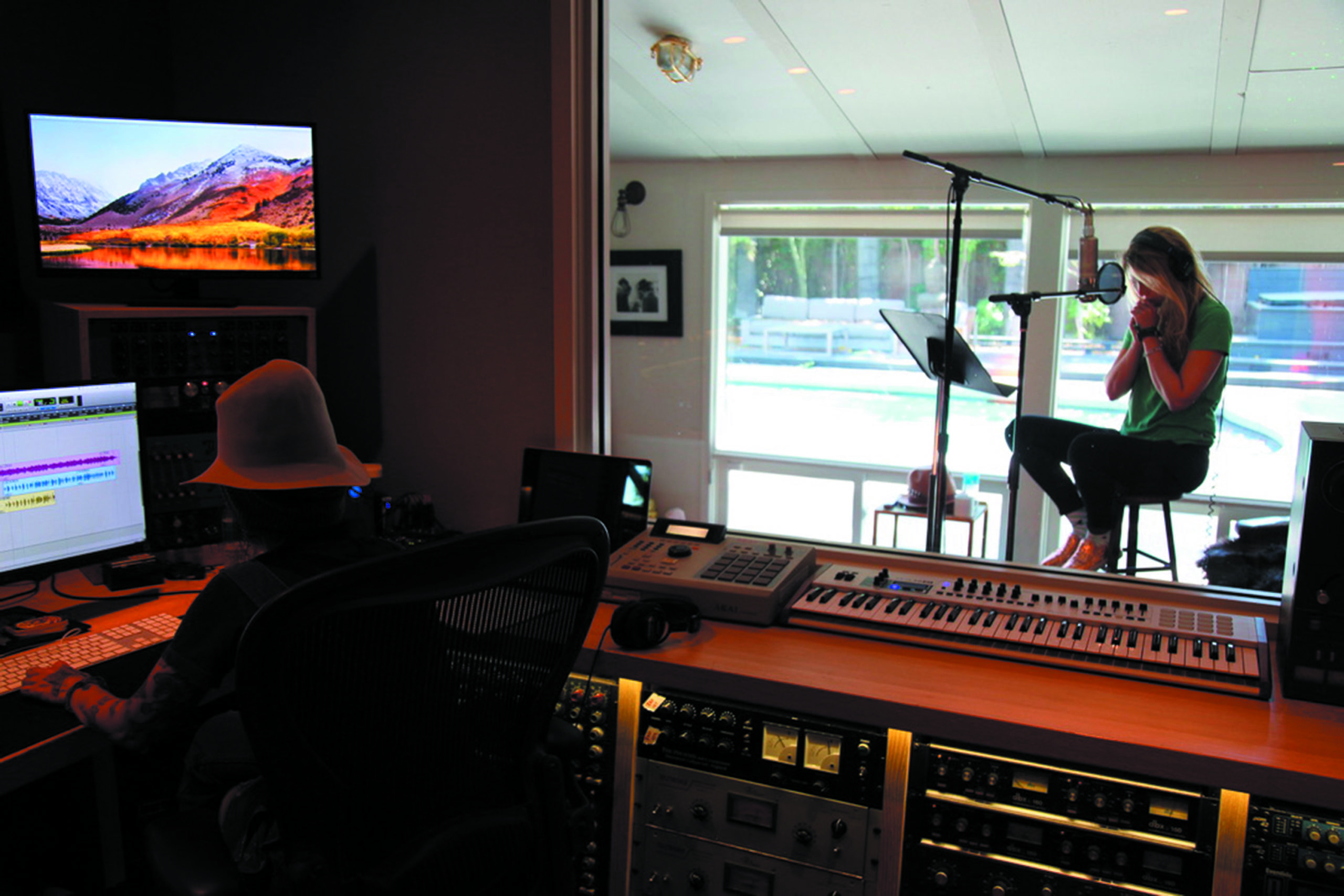 How have you found this quarantine experience? 
I would say for the past five years I haven't really known who I was and I've had a hard time touching base with what I'm feeling. So with this time in quarantine, in isolation, and the world shutting down, I've had a lot of opportunities to focus on who I am and who I used to be. All the things that I felt made me great 10 years ago and what makes me great today because I'm nothing if I don't know who I am. 
So I'm thankful for this unusual turbulent and emotional time that we're going through because I think a lot of people are going to come out very different. The people who want to evolve, the people who are seeing this in a different way — and not just in the obvious way it's being presented — because we've been given this incredible opportunity to reorganize, prioritize, reevaluate. Life hit pause and everything's stopped and we've been able to move emotionally and spiritually through this without really losing time in a sense. So I'm looking forward to the body of music and the stuff that comes out of me right now. I'm not going to put any pressure or time limit. I'm just going to let it soak in and unveil the creative as it presents itself.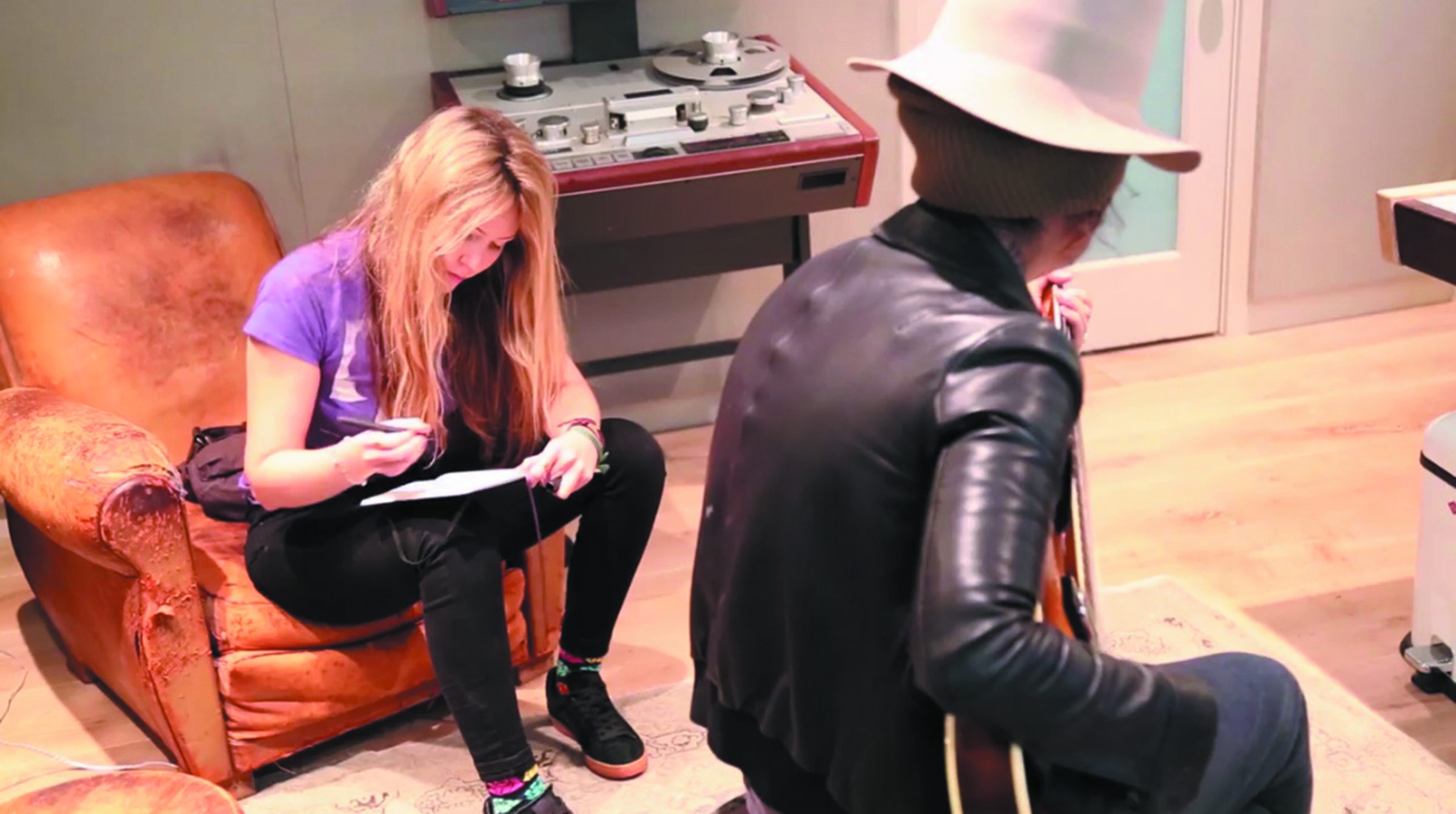 A favourite place you like to go? 
I love walking. I don't care where I'm at. I could be in a beautiful field or on some scenic mountain hike or the busiest street in LA and it all registers the same because I'm not walking to look at things, I'm walking to be inside. Walking helps me to center myself, it balances me and I get a lot of answers when I walk. I've literally walked from my house in Sherman Oaks to Sara's in Hancock Park. I'll walk all over LA but I need a destination and a sense of completion. I can't walk randomly with nowhere to go and maybe that's what fucks me up in my own life. I need to see clearly where I'm going. 
What's the last album you bought? 
The Velvet Underground & Nico because I lost my copy. So when we had our record store, I bought that album again. 
A piece of music that is synonymous with LA for you? 
I instantly go to The Mamas & the Papas, The Doors, Guns N' Roses, Concrete Blonde because those are the bands that most people think of when you mention LA and Guns N' Roses is an incredible example of tying a band to a city. But when I think of LA my heart is the warmest with The Beach Boys. When I was growing up my sister was totally in love with Brian Wilson and I would always hear "Don't Worry Baby." But for me, it's got to be "God Only Knows." 
Something that only happens here? 
You could be in your house thinking, I wish I could meet the music supervisor who did some soundtrack that I fucking love, and then you go to Whole Foods and you're grabbing a mango and somebody else is right there and you have this conversation and it just happens to be that same music supervisor. That happens to me all the time and I feel like it only happens in LA. It's like the connection that you're looking for somehow finds you.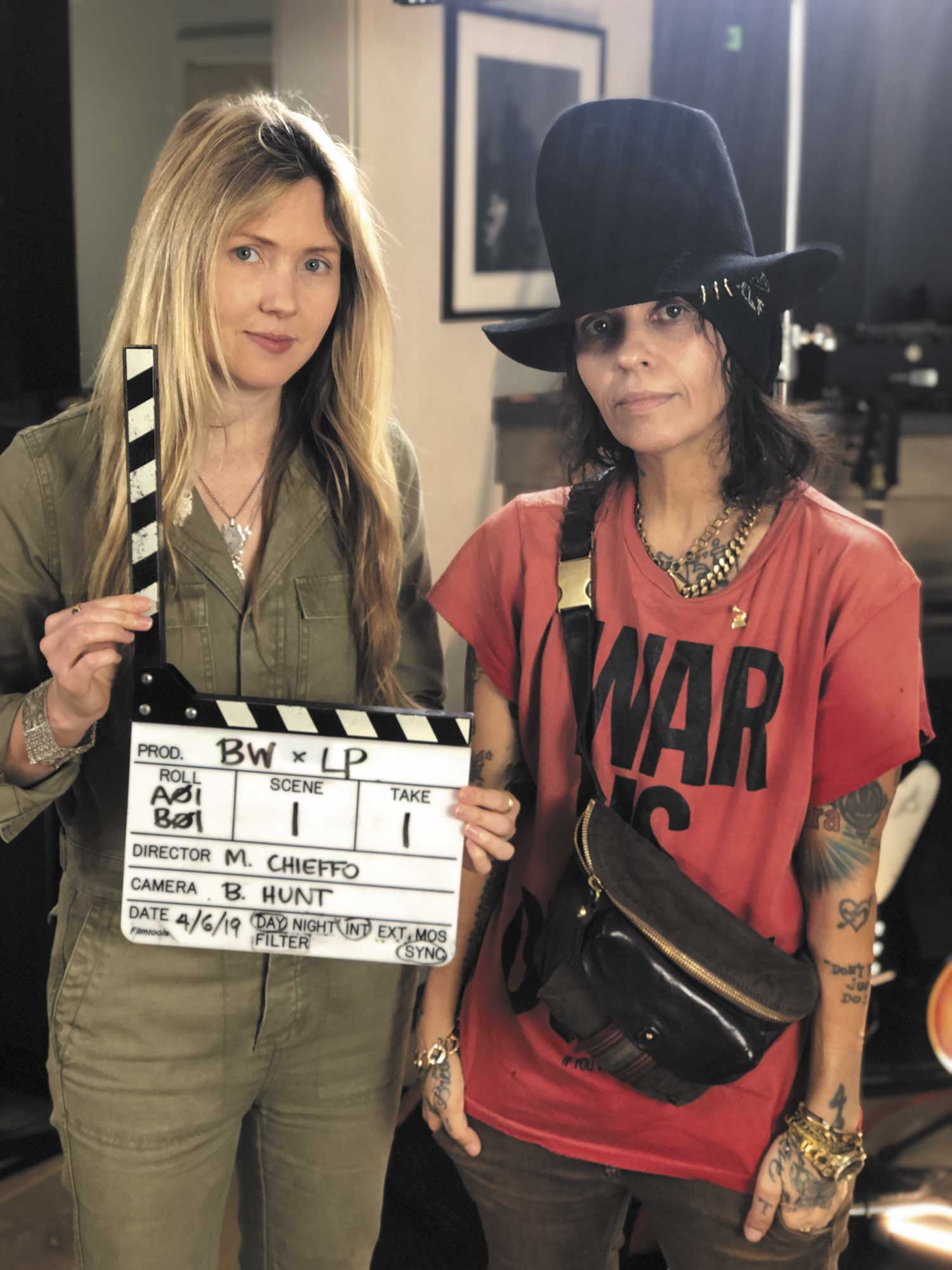 Biggest misconception about this city? 
That it's filled with a bunch of assholes and egotistical, stuck-up, rich people that are fame-hungry and ruthless. It's not that at all. If that's who you want to be around then that's who you will be around. It's not that there aren't those elements, but it's such an awesome city filled with so much diversity and so many great, generous, helpful, kind, nurturing people and a kick in the ass when you need it. LA is impossible to label as one thing. 
One word that you hear too much, and one word you say too much? 
I hear "influencer" way too much. I don't even know what that fuckingg means, you know? And there are no artists anymore, it's all influencers. And I probably say "you know" too much and "fuck." I shouldn't say fuck so much. 
What's underrated? 
The culture. You have to explore LA to really understand what's going on and it took me a long time to. I underestimated the beauty and the art because I thought that everyone here was only focused on one thing: being famous. But there's a lot of depth and culture here in Los Angeles. If you look for it. 
What's overrated? 
The star appeal. The idea that every time you walk down the street you either see a star or some hot person. 
LA in three words? 
I love it. 
If you were a juice, what juice would you be and why? 
It'd be a celery juice with a little bit of ginger. Because it comforts my mind and it makes my body feel good and I feel like it's also open for interpretation. Because with celery juice, people normally would think it's just celery, what could it possibly do? But it does a lot of great things. So it's unassuming but it's also aggressive in the taste, especially if you put ginger in it, and it's a little bitter. So I feel like that pretty much wraps me up. I'm unassuming but aggressive. And I think most people usually walk away feeling good after they have met me or spoken to me. 
Any final thoughts? 
I feel like I have said it all, Beatie, and you have pulled out this wise Linda once again, as you do, so I'll leave it at that.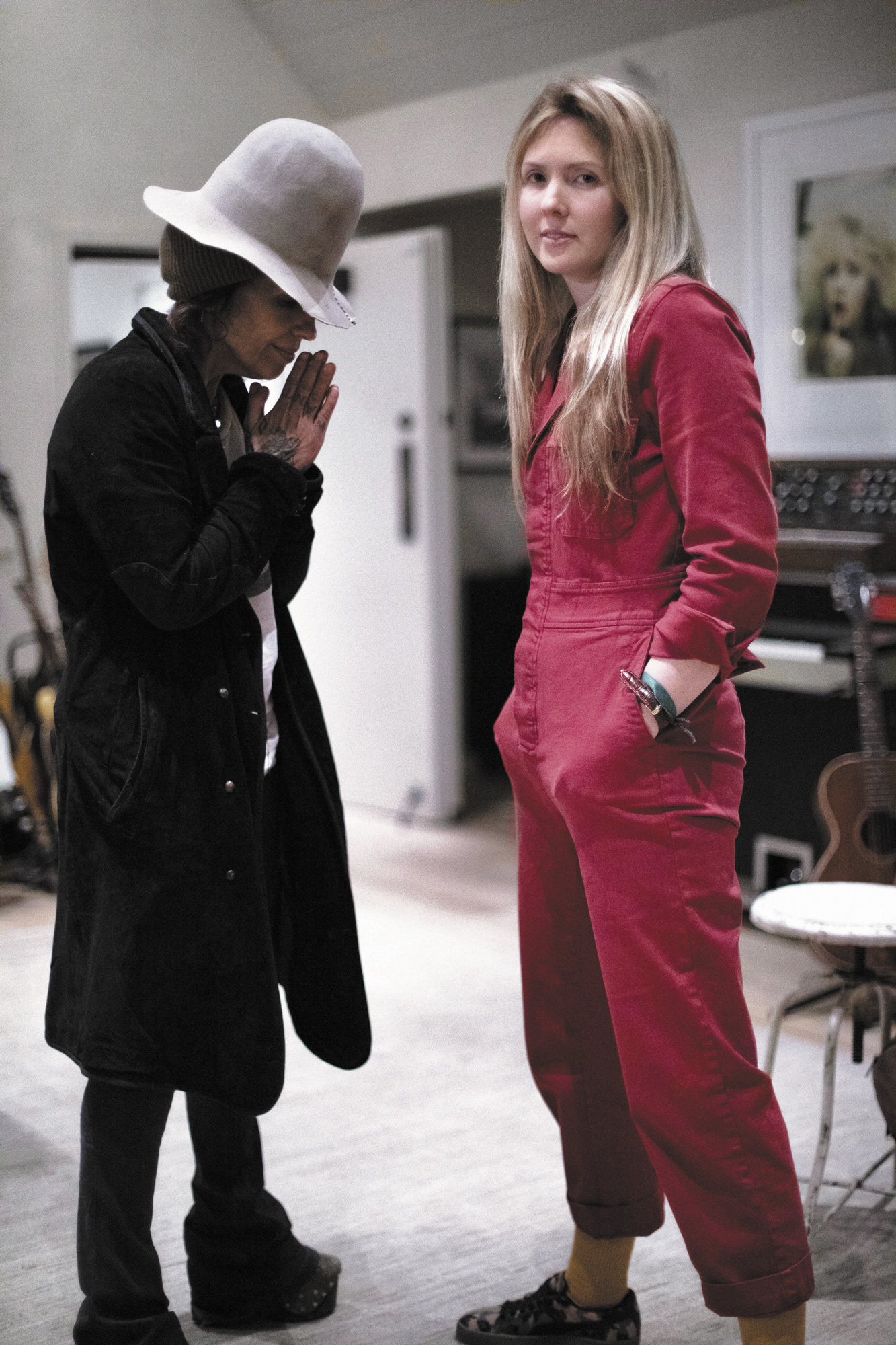 ---
Check out Linda's newest song release "The Letter." Available to stream online on multiple platforms here. with accompanying video on YouTube. See more of her work on Instagram and Twitter and on her site.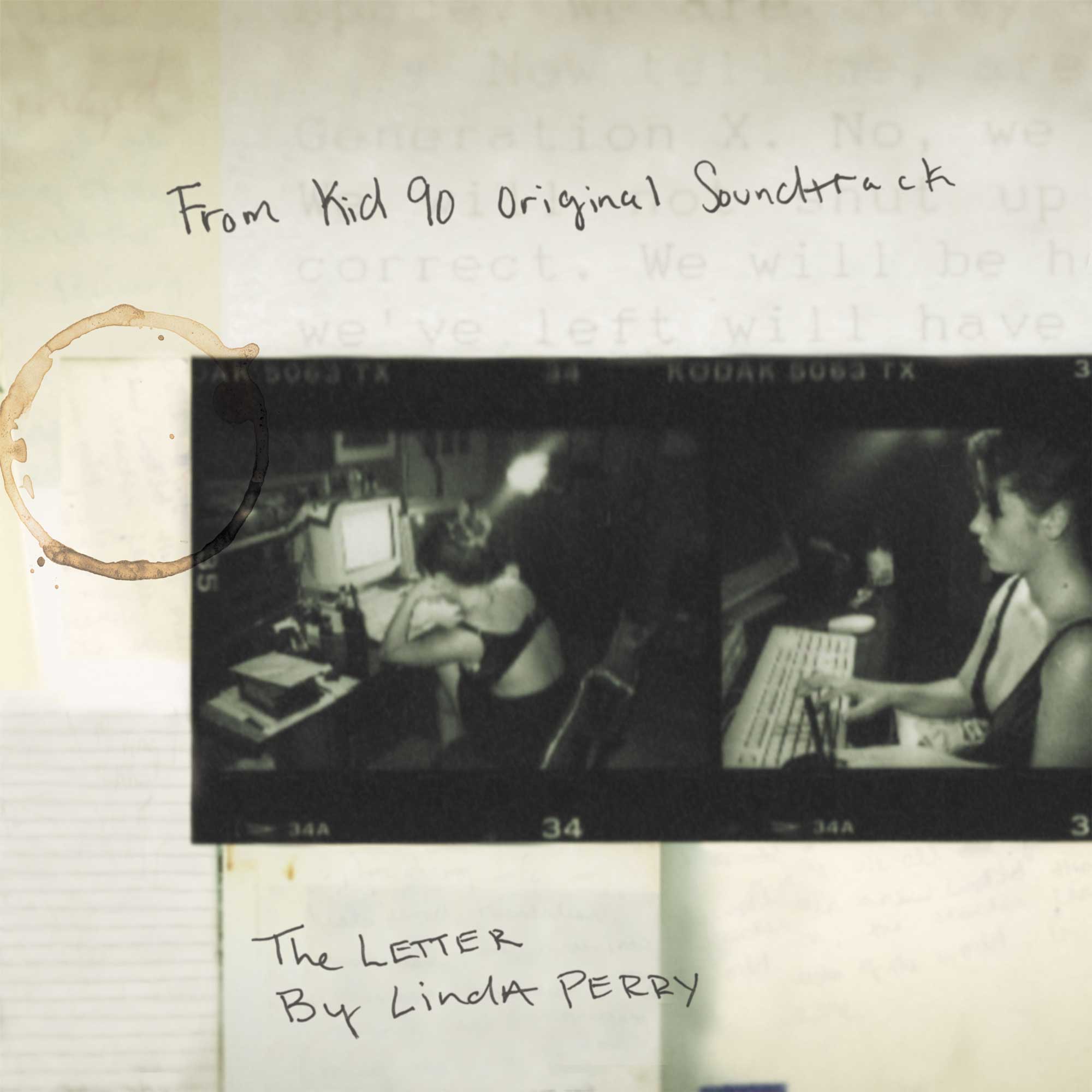 ---
This interview was first published on July 26, 2020 
---
Beatie Wolfe is a London-born, LA-based artist and innovator who has beamed her music into space, been appointed as a UN Women Role Model for Innovation and held a solo exhibition of her album designs at the V&A Museum. Beatie will be speaking and performing at the inaugural Nobel Prize Summit on April 26- 28, 2021. See more at beatiewolfe.com.