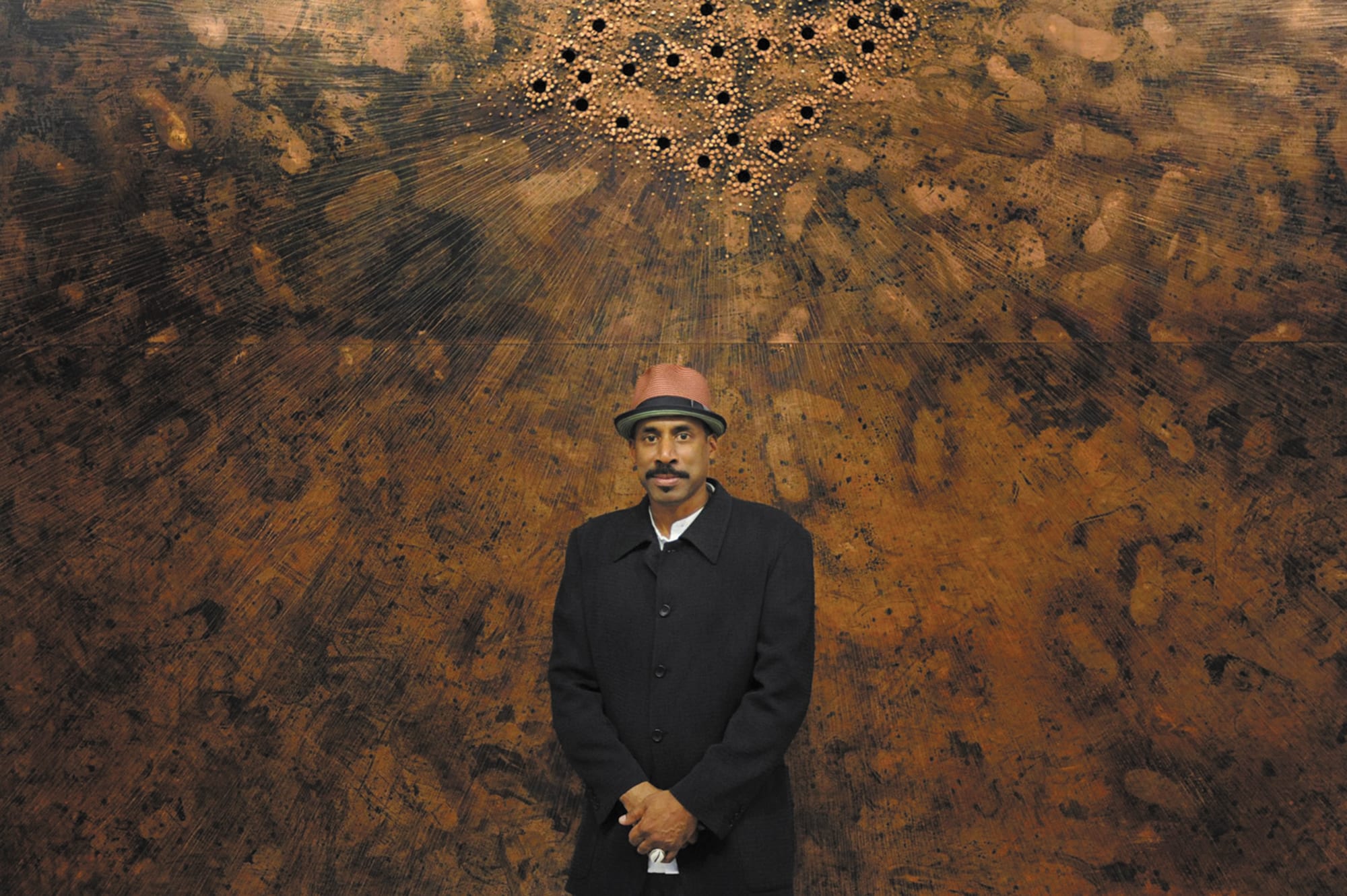 NARI WARD: WE THE PEOPLE
By Tai Bickham
Published Issue 080, August 2020
Since the early 1990s, Nari Ward has produced his works by accumulating staggering amounts of humble materials and repurposing them in consistently surprising ways. His approach evokes a variety of folk traditions and creative acts of recycling from Jamaica, where he was born, as well as the material textures of Harlem, where he has lived and worked for the past twenty-five years.
In 1993, as part of Ward's residency at The Studio Museum in Harlem, and in response to the AIDS crisis and drug epidemic of the early 1990s, Ward produced Amazing Grace, a large-scale installation accompanied by the power of Mahalia Jackson's Amazing Grace. The hymn, filled with the lyrics of redemption, change, and the optimism of hope, provides a poignant audio background to the circle of more than 300 discarded baby strollers that Ward collected throughout Harlem that are bound with twisted fire hoses that he repurposed from an abandoned fire station. 
Ward's approach often creatively juxtaposes ancestral folk traditions with discarded materials that he repurposes and recycles in his work. He also transforms his objects by using fire, ringing or weaving to his materials, which provides his audience with layers of texture and metaphorical meanings that reference social and political issues related to race, poverty and consumer culture. 
The idea of change resonates throughout the exhibition, particularly with Naturalization Drawing Table (2004). Comprised of discarded plexiglass sourced from bodegas in his neighborhood, this work introduces a discussion of citizenship and the process by which one becomes a citizen. For Ward, who moved from Jamaica to New York City when he was 12 years old, the importance of becoming a citizen became more prevalent after 9/11.  The work is activated when visitors complete a form in order to initiate the process of becoming a citizen. The completed form will be notarized in the gallery, and visitors will receive a set of prints made on immigration and naturalization forms. On the backs of these documents are drawings by Ward of military forts from Jamaica or sites where slave trading had occurred.  
By transforming the everyday objects he finds in his neighborhood, he brings the viewer on a journey that mines monumental themes such as identity, migration, displacement and gentrification, among other critical ideas relevant to the current social and political climate happening right now. His work is particularly poignant today as the country further investigates and questions what "We the People" means and who really constitutes "the people."
Nari Ward: We the People is on view through September 20, 2020. Tickets must be purchased in advance and can be found at www.mcadenver.org. 
---
Tai Bickham is a photographer, writer and the Business Manager and Executive Assistant to the Director of the Museum of Contemporary Art Denver.