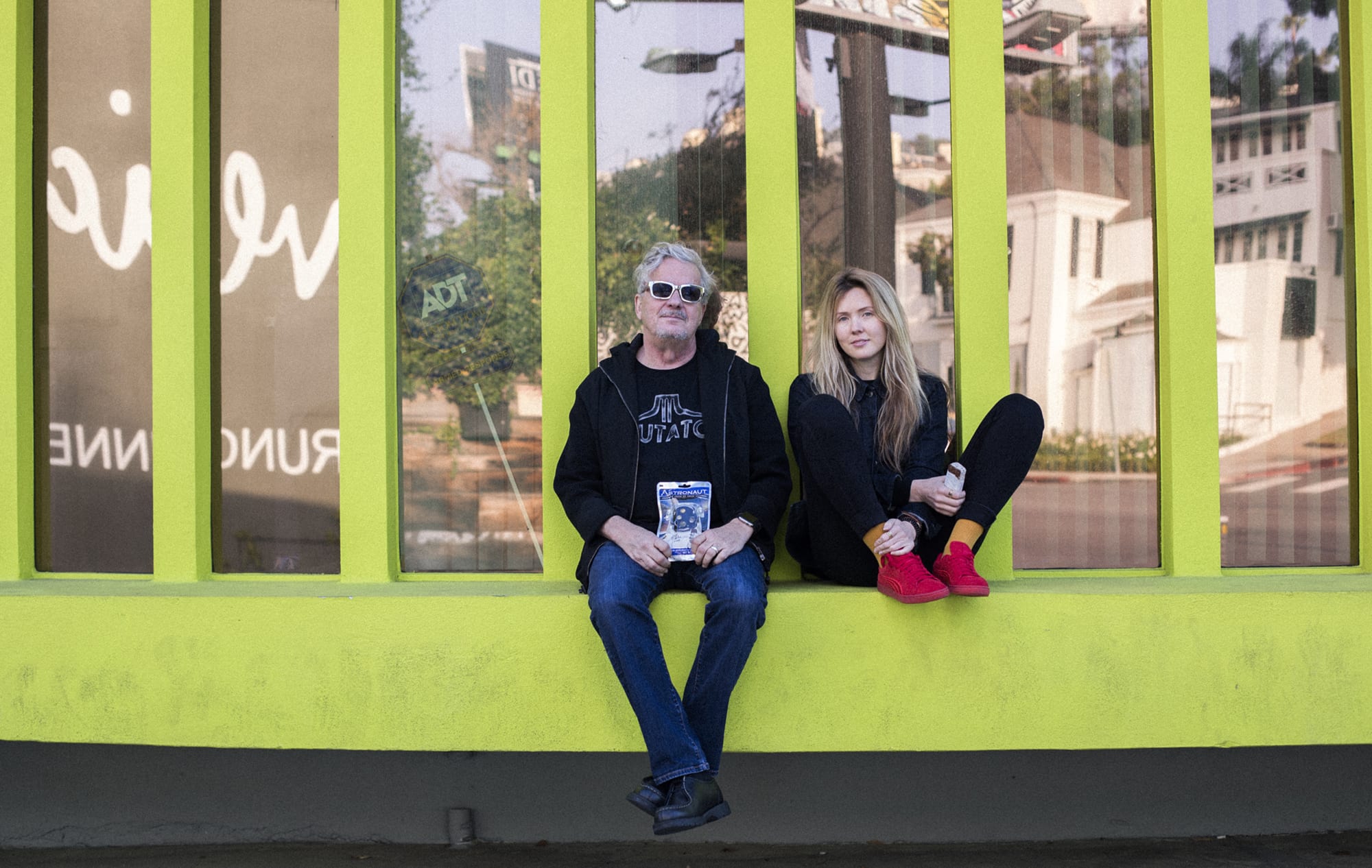 POSTCARDS FOR DEMOCRACY
An Interview with Beatie Wolfe & Mark Mothersbaugh
By Krysti Joméi & Jonny DeStefano
 To Be Published In Issue 082, October 2020
Mark Mothersbaugh and Beatie Wolfe go together like a stamp and a postcard. Both document our current time in tangible forms as artists, are accessible down to earth beings with no airs about them, and take the path less traveled in life by being themselves, doing what they love and spreading inspiration, every, single day.
So when Beatie first reached out to let us know about their new project, Postcards for Democracy, it couldn't have felt like a more destined collaboration between these two rebels with a clause. Standing up for our freedom of choice, rights to creative expression and supporting longstanding systems which serve us — the people — by championing free speech, ideas, information, knowledge and tangible forms of creativity is at the core of this art demonstration.
In light of the threat to our 225 year old United States Postal Service, at a time that could jeopardize the democracy of our country, Mark and Beatie are not only naturally stepping up, but bringing all of us with them. Postcards for Democracy aims to encourage as many people as possible to support the USPS at this critical time, our right to vote, and democracy as a whole via the power of art. The demonstration asks you to buy USPS stamps, design a postcard and then mail it to 8760 Sunset Blvd, West Hollywood, CA 90069. The postcards will become part of a collective art piece presented in both a physical gallery and virtual space which will be directed by Mark and Beatie.
We talked to Beatie and Mark to learn more about the project and why something as small as making a postcard can have colossal effects on all of our collective rights and freedoms.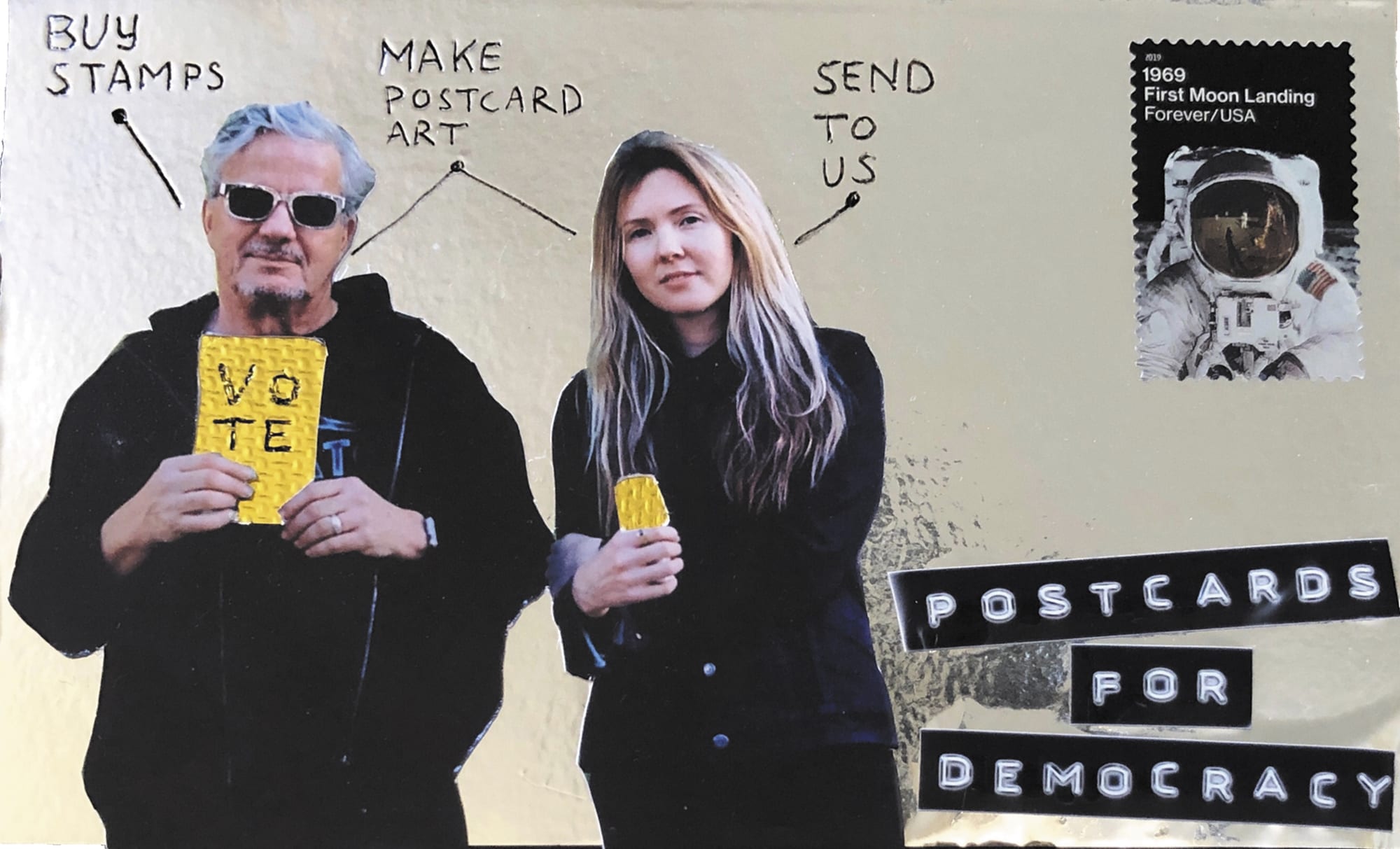 Beatie mentioned to us that you two set Postcards for Democracy into motion pretty fast and almost effortlessly, happening all within roughly a two week period of saying let's do this! to launching the site and call for action for people to participate. How did you two come up with this idea in the first place?
Mark Mothersbaugh: It was Beatie's idea, to be accurate! We had been talking for sometime about collaborating on something together, but we weren't sure what it should be. I think she just noticed that I was drawing on card stock roughly the size of postcards every time we chatted about something and that I was constantly posting images of that art, all over the place. So we talked about mail art, and I mentioned about my introduction to it back in the late '60s.
Beatie Wolfe: Yes, I loved the idea of Mark and me creating an exhibition and installation of people's letters in lockdown (a kind of mailbox menagerie) at this time when physical communication is more important than ever and because of a shared love that we have of this lost art-form. And this became much more timely in light of recent events. So this project seemed to tick all the boxes of both where we meet artistically and what felt needed in the world right now.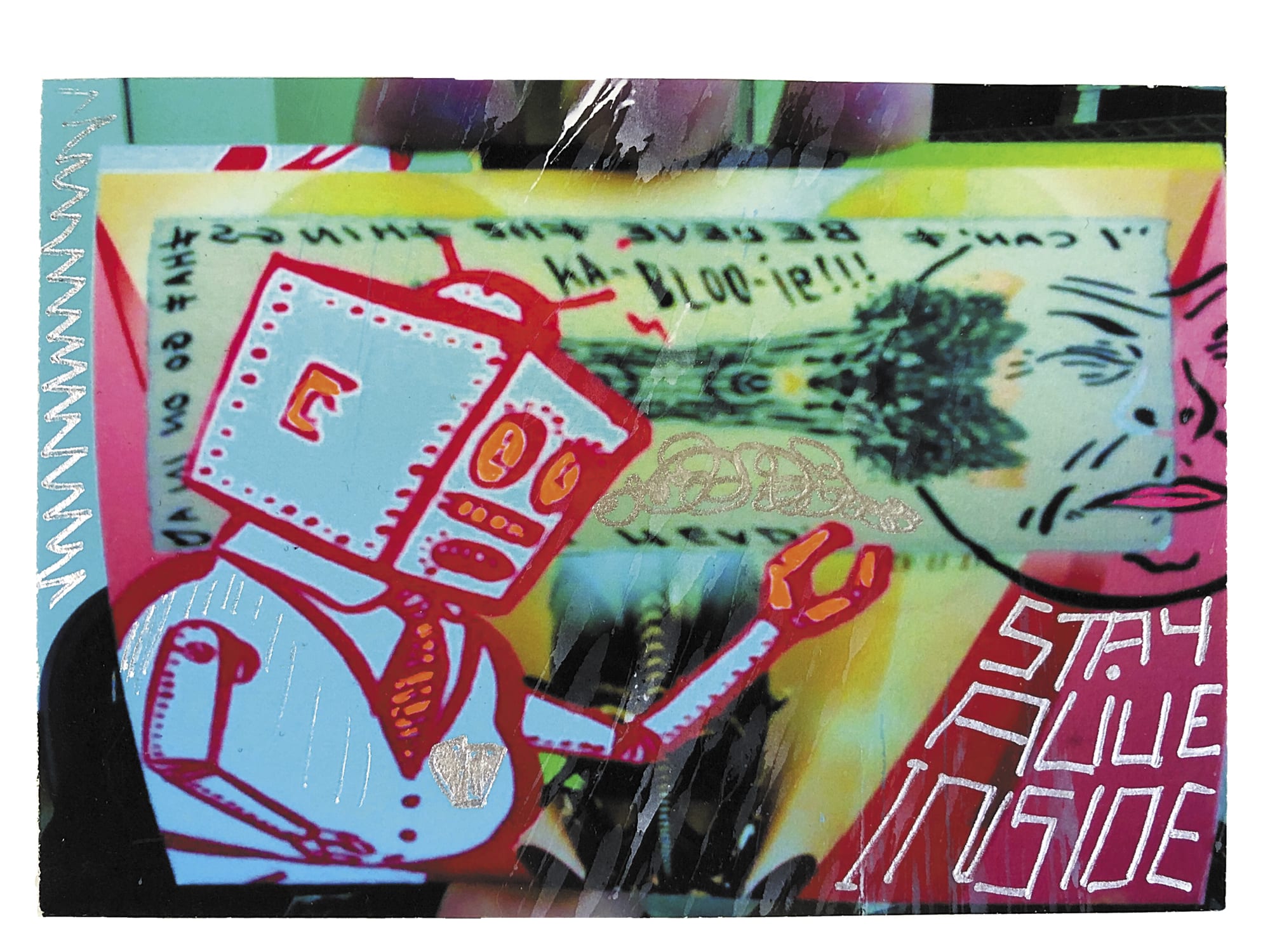 What's your earliest/fondest memory of mail — receiving or giving — and/or the post office?
BW: Well this isn't my memory but a story told to me and it isn't exactly fond, but it's forever imprinted in my mind. It was my 3rd birthday and my mum was surprised that there was no card from my Grandpa. Then sadly we heard that he had died. A week later on the morning of his funeral an envelope, addressed to me in his handwriting and with blood on it, came through the door. On the back a stranger had written: "I found this in the street, and thought I'd better post it." It was my birthday card!
MM: My family lived on a farm a couple of different times when I was young. And I remember watching for the mail truck to stop and leave things in our mailbox down by the road. I would run like mad to go collect post and bring it up to the house. This was the late '50s, and phone calls were expensive, and the internet didn't exist, so people relied more heavily on postal service. It wasn't uncommon for people to post a chat and wait a week to hear a response. I loved getting postcards and finding out someone in our family was brave enough to venture all the way to Niagara Falls.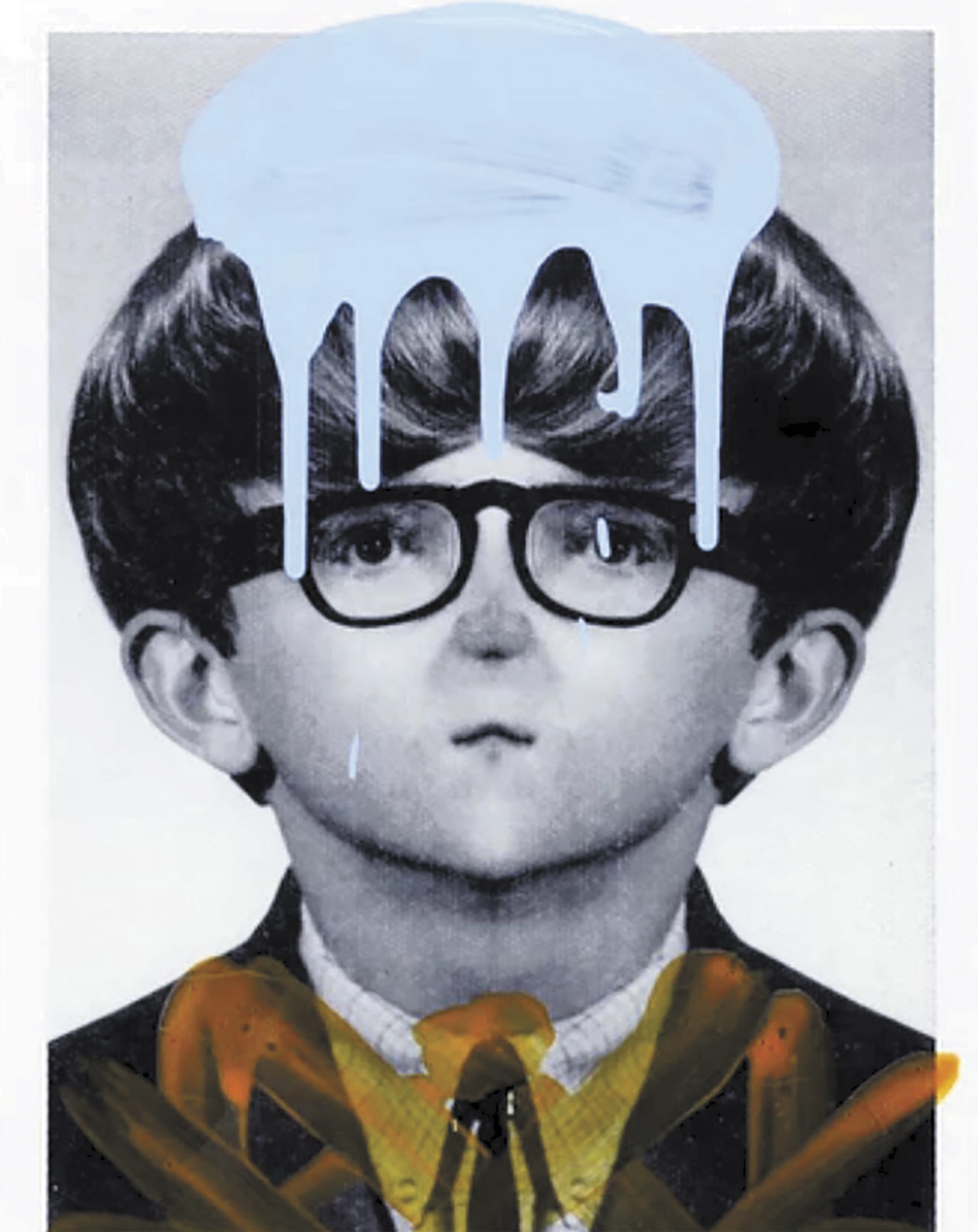 Mark — When we first went to your exhibition Myopia at MCA Denver in 2014, we saw thousands of your tens of thousands of postcards you created over the past several decades. Can you recall the first postcard you ever made? And what prompted you to start creating in this medium?
MM: I don't remember the first one but early on I got involved with the post-art movement that meant if you sent original postcard art to Jasper Johns or Ant Farm, they might send you some art in return! And, this week, I just completed red book 500 (100 original pieces of artwork in each, starting in 1972)  … Now I can die in peace, knowing I reached that (at one time) unthinkable number.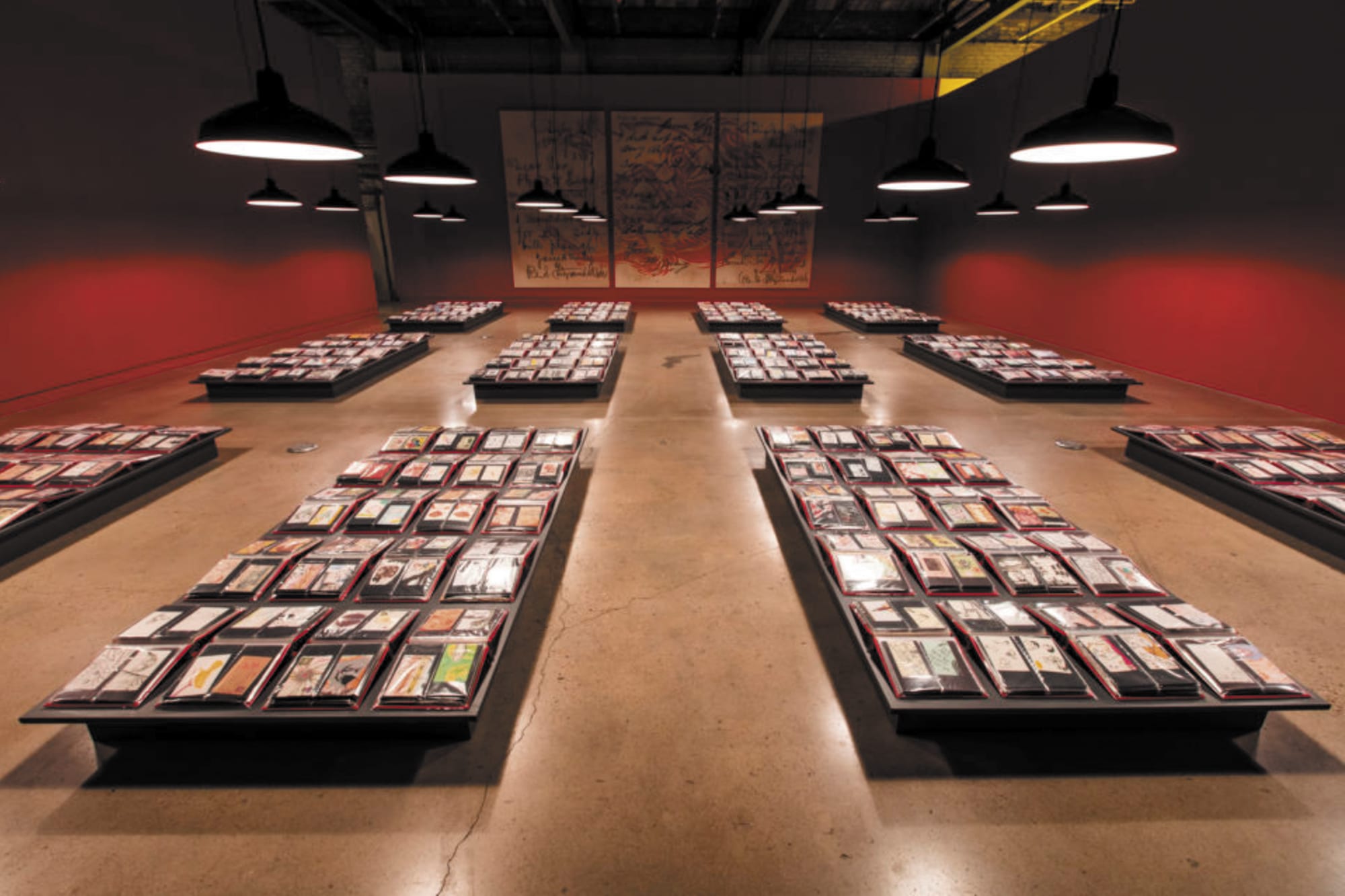 Beatie— Your lifework is committed to reuniting tangibility, storytelling and ceremony through exploration, innovation and activism in art and music. You've created numerous tangible forms of art from hand-held album viewmasters to a listenable record jacket. How is Postcards for Democracy an extension of this kind of work?
BW: Because I'm constantly questioning what should be preserved, what could be updated, as well as what we might have lost along the way. The digital era created access, it presented solutions, but it also created the idea that we could fast-track a lot of what defined us as humans to begin with. Writing and receiving personal mail is one of those core endangered experiences that reconnects us with ourselves, and with one another, and helps to keep us alive inside. So as well as being a constant mailer myself, I feel like, at a time where humanity is more disconnected than ever, we have an opportunity to reassess what actually matters and reclaim some of what keeps us inspired, uplifted, connected as human beings. Because just like the mail, if we don't use it, we'll lose it!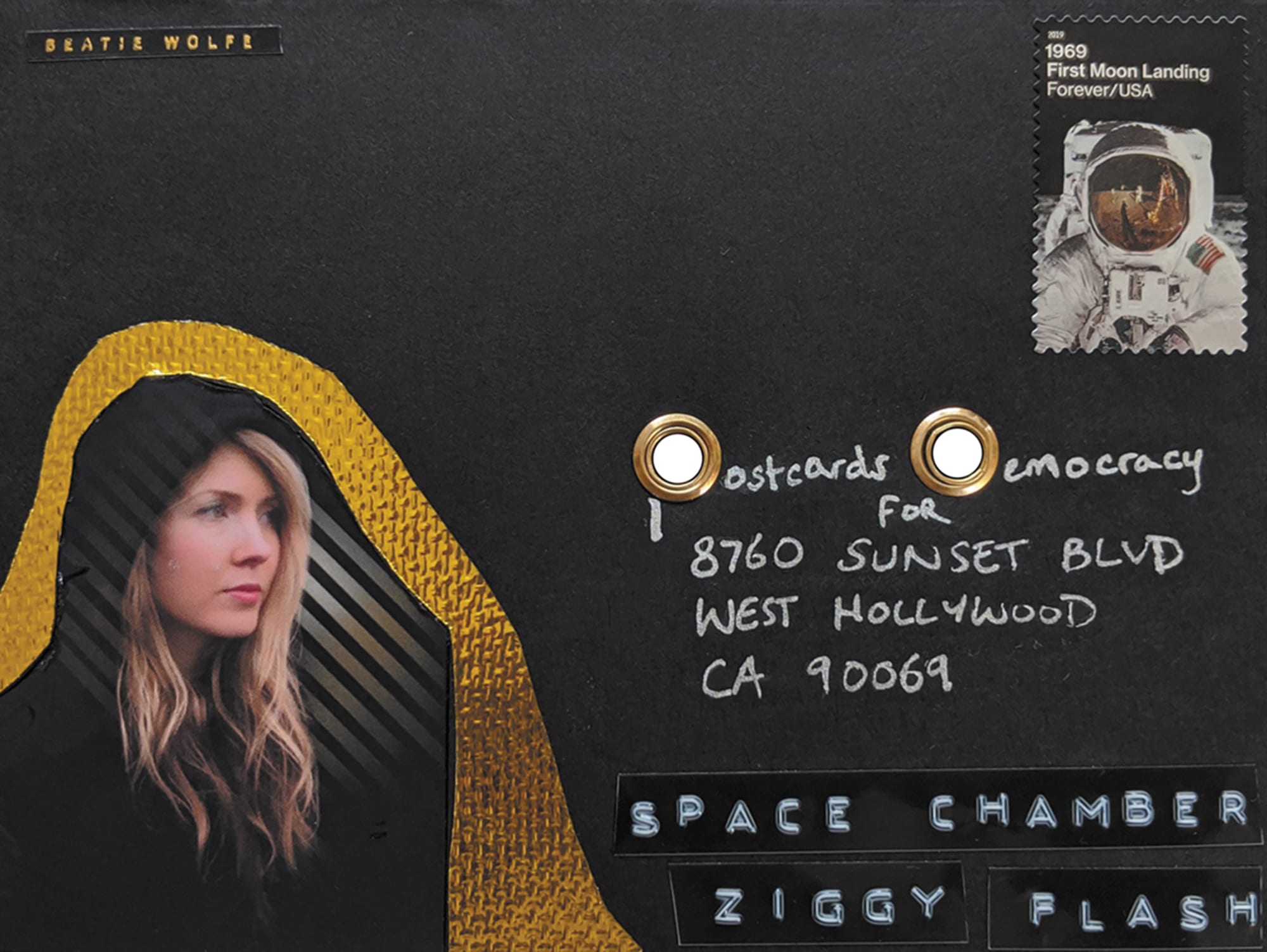 In a world ruled by digital communication, virtual worlds and instant gratification and response, why is supporting and preserving what some may dub "old school systems" like the USPS still a pressing issue?
BW: Because we need things that imprint, that make us present. And mail (along with many other "old school systems") does that.  
MM: Tangible communication, physical presence, is more important than ever in a world where we are one jackass joker away from the whole internet vanishing away from planet earth. At that point, the mailman will be the comrade who rescues us all from descending into chaos and oblivion.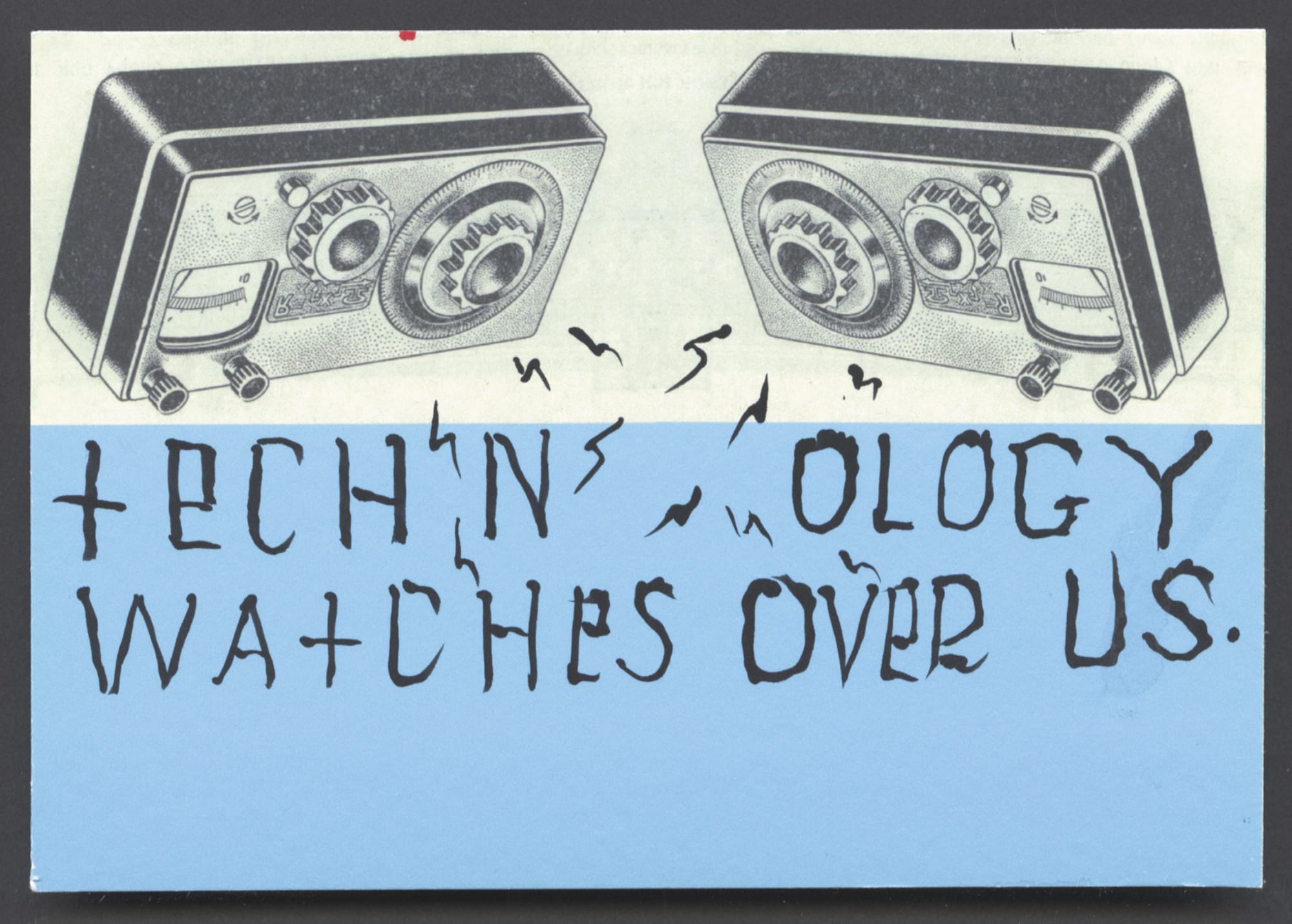 You both collaborated on several postcards for this project. How did you make these together? Describe your collaborative creative process.
MM: Part of what makes the post office the post office is that they collaborate with you also, adding dates, and catchy phrases, and the occasional stain, so post art is always at least a little collaborative. And, leaving an image on Beatie's graffiti-proof art pieces, was a challenge I wanted to take. 
BW: I sent cards to Mark and he sent some to me to build on. The cards I gave Mark were mainly made out of NASA-grade Mylar (leftover materials from my Space Chamber) which attempts to repel everything, including Sharpie ink, but he still found a way to leave his indelible Mark!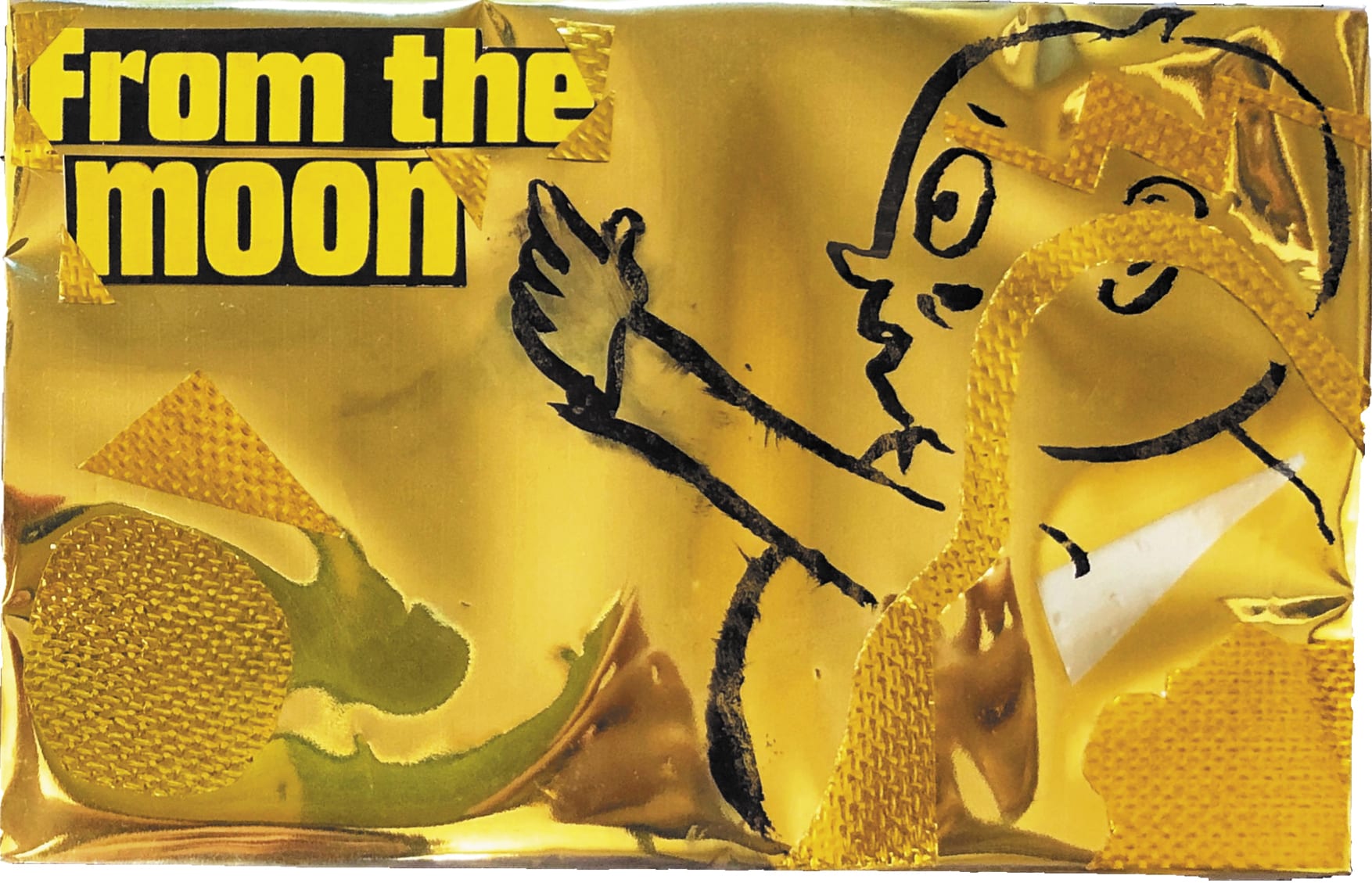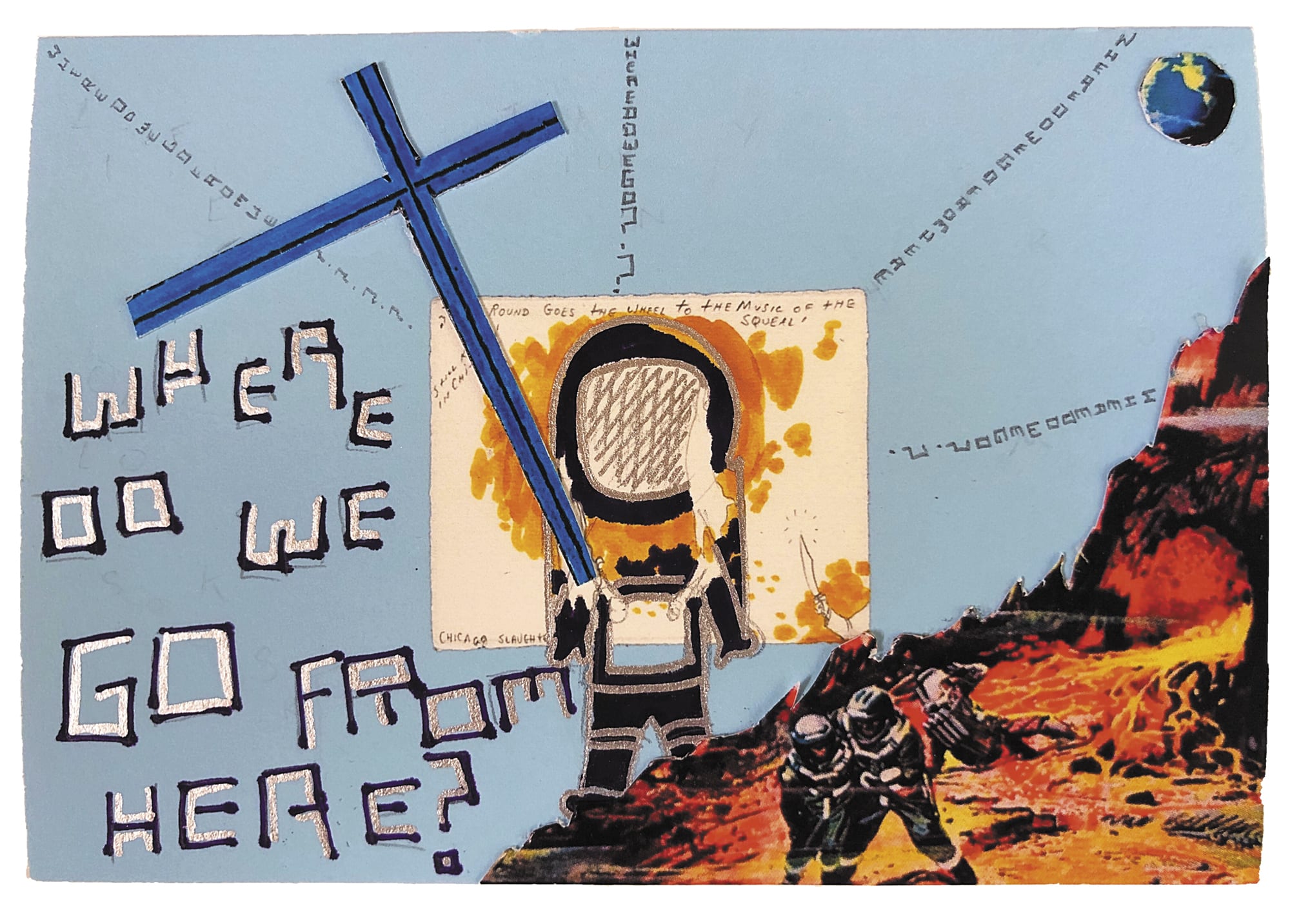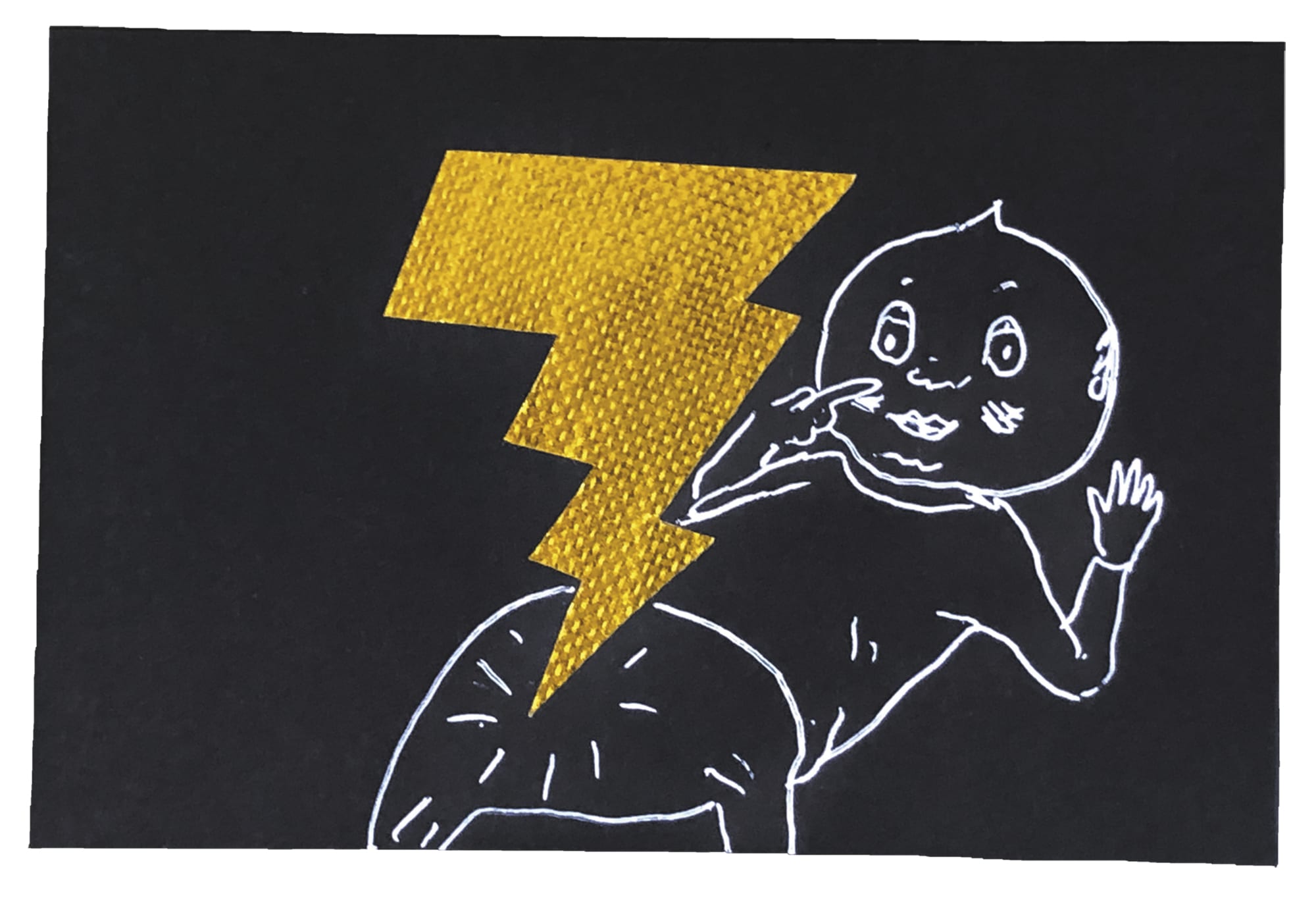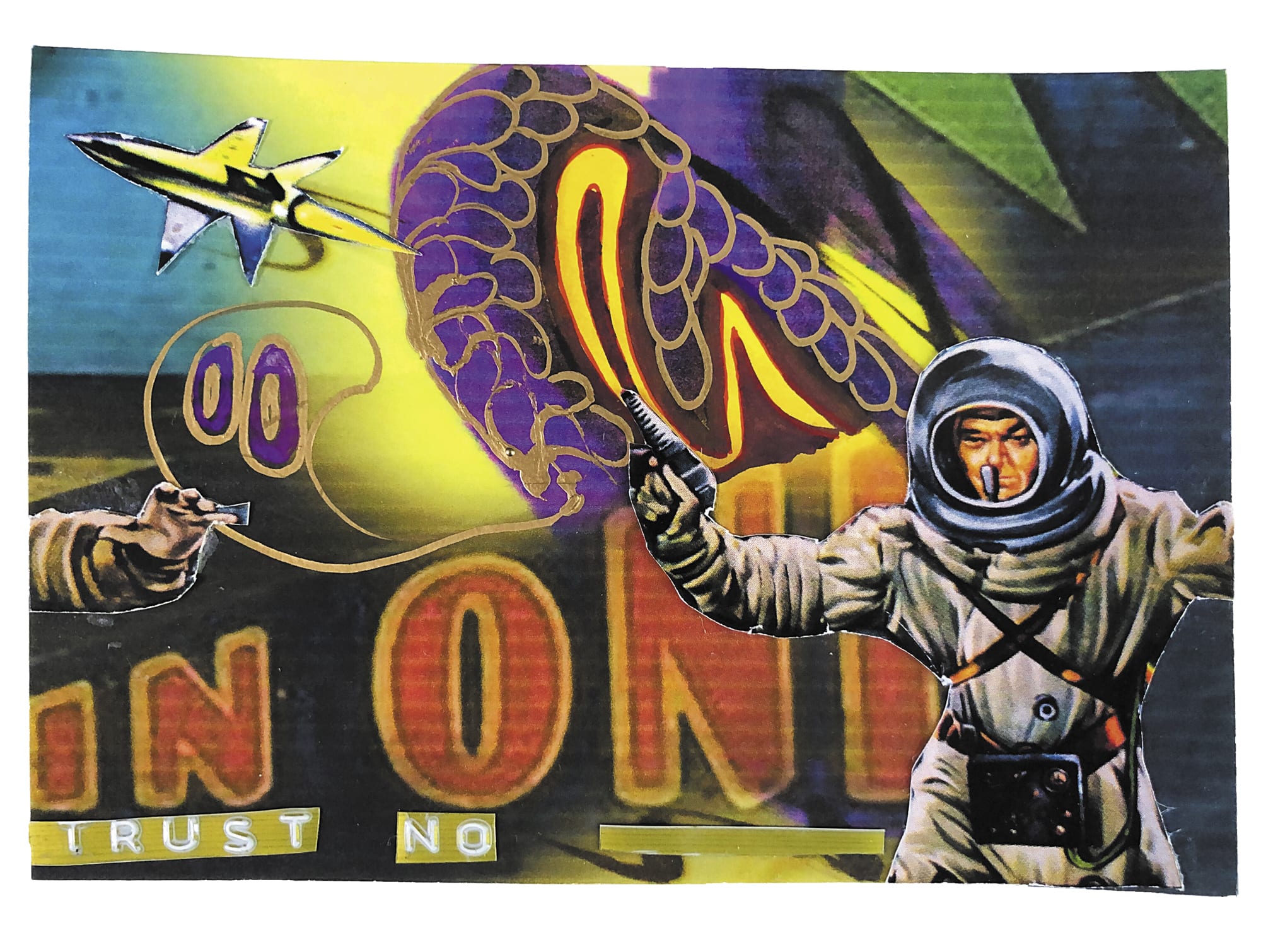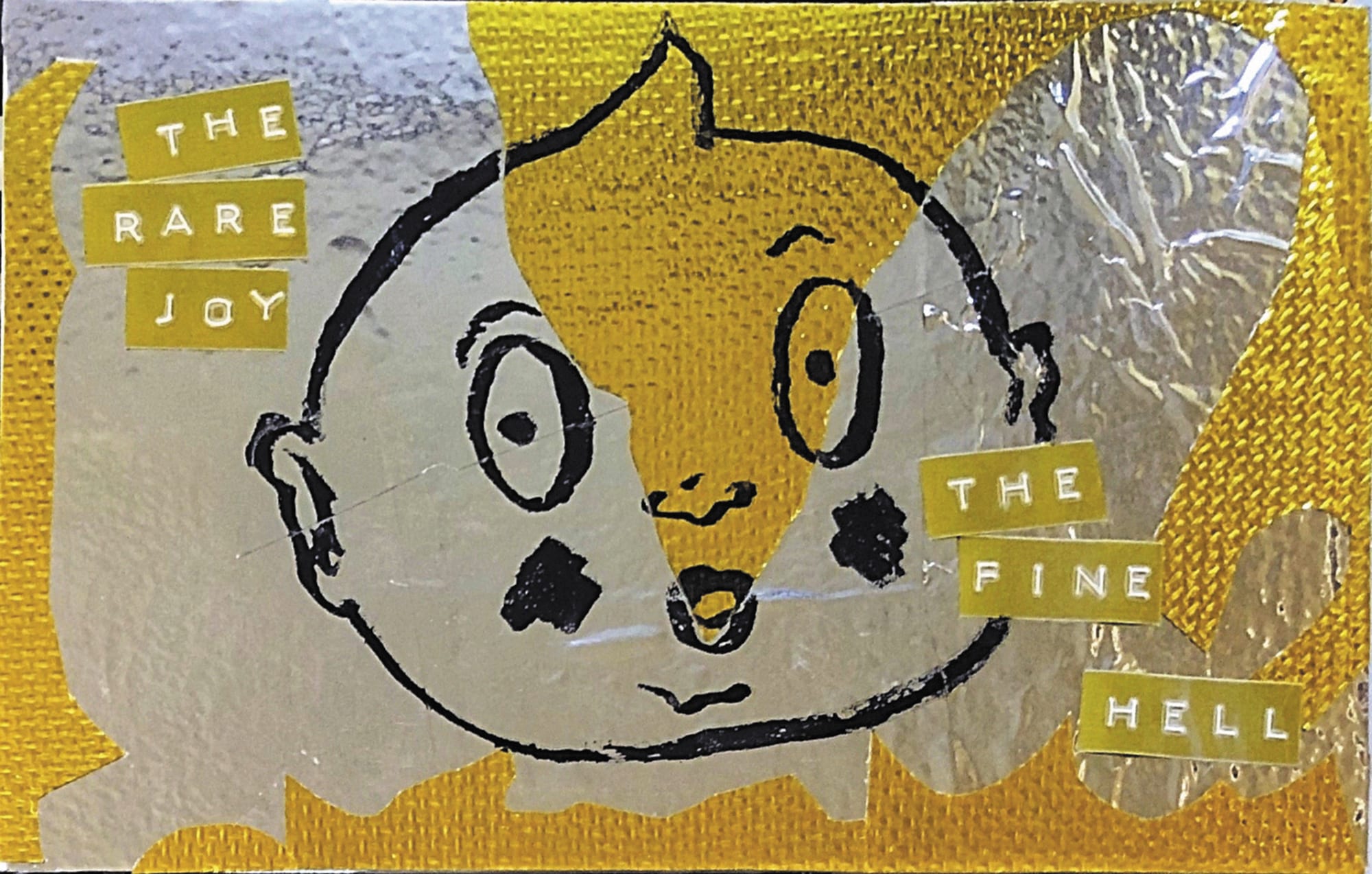 What advice can you give those who want to participate but maybe say: "I can't make art." "I'm no good at art." "I'm not an artist, not creative."
BW: I think we often impose limitations that don't exist or need to exist. So my advice would be to just have a go. And we've had a lot of people share that this is the first time they've made a card. 
MM: You don't have to call it art. That term does get bandied around a bit so leaving your mark can be called whatever you want. For a long time, I was a social scientist reporting the good news of de-evolution. You have a say, so say so!!!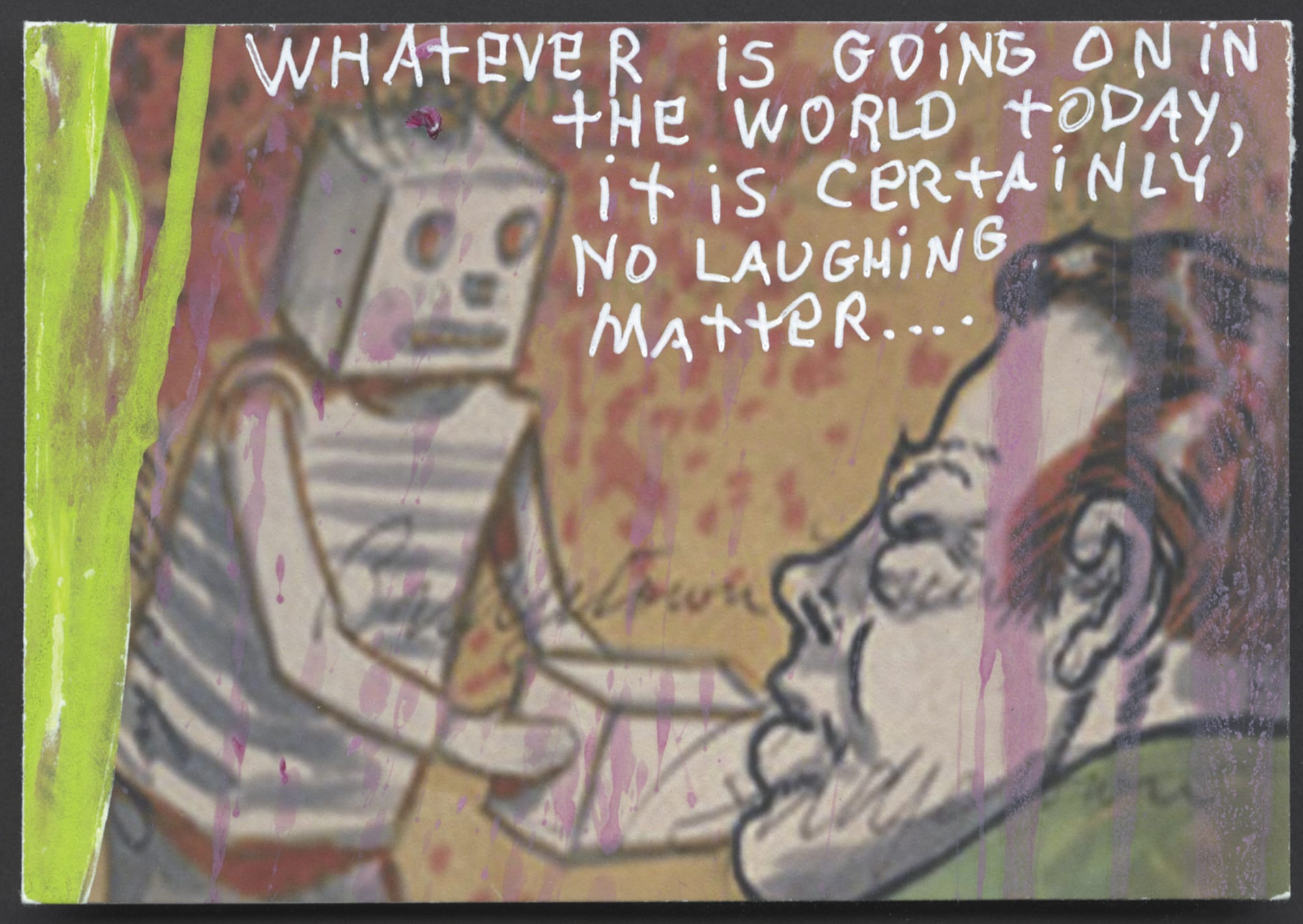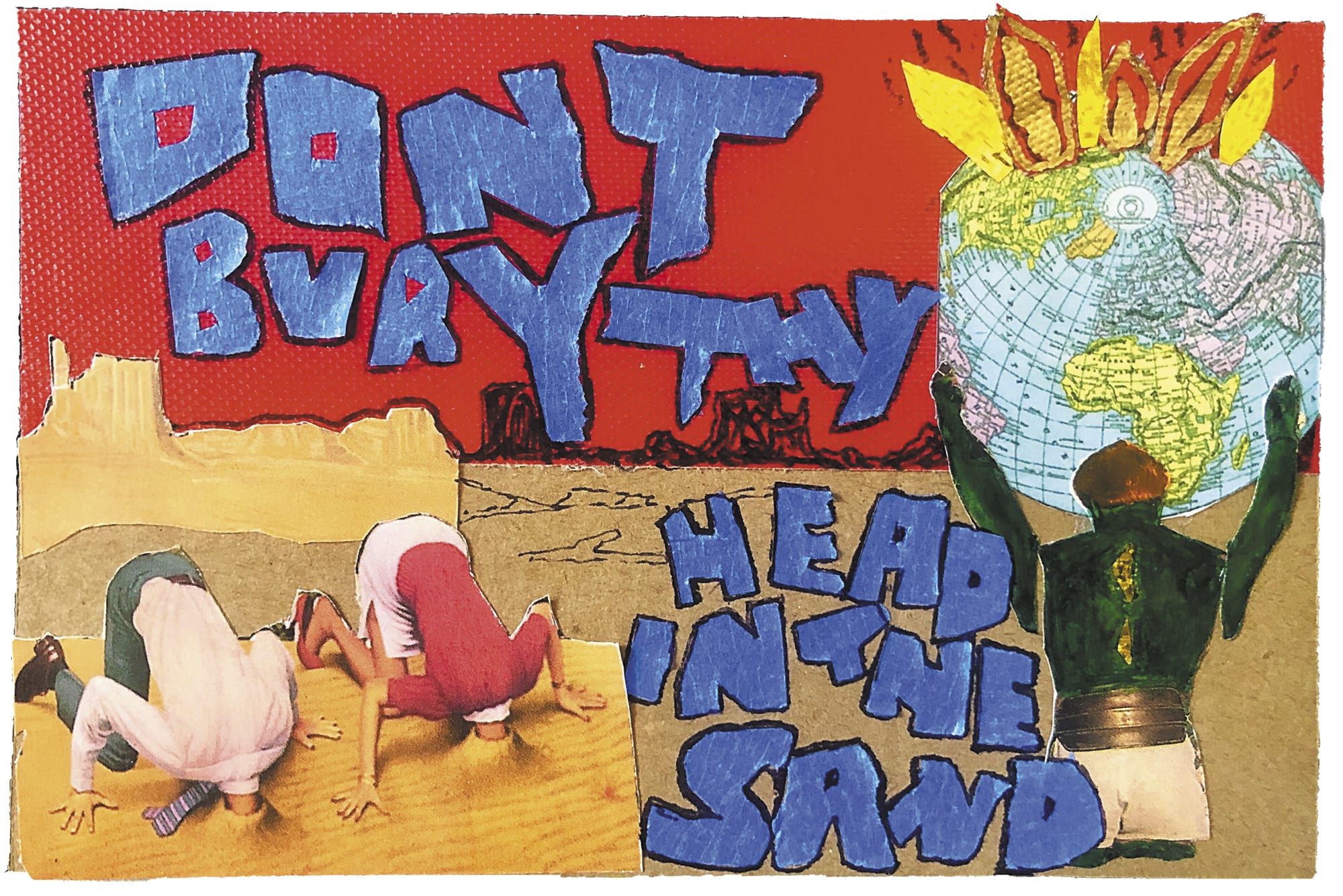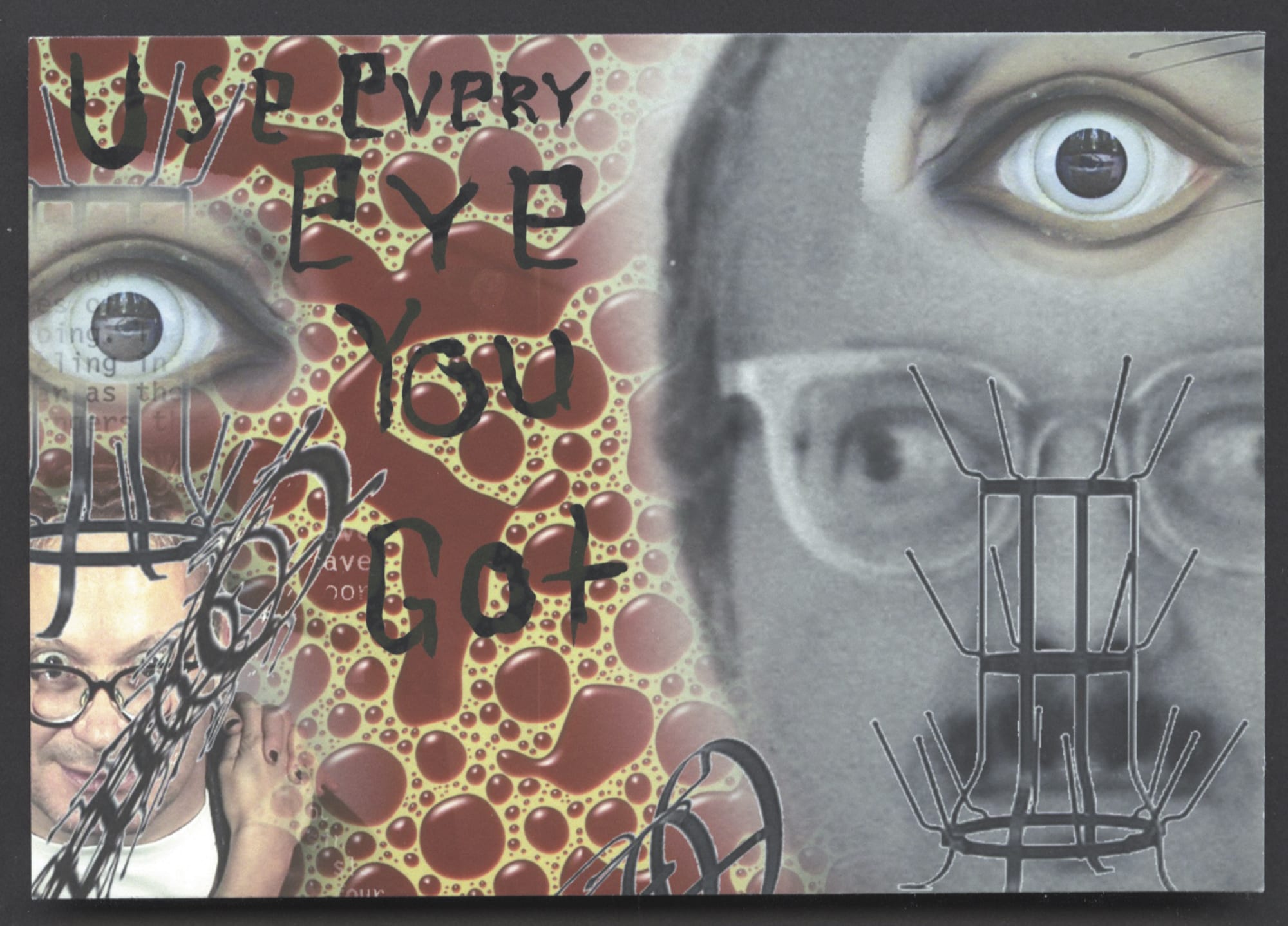 Participants are sending their postcards to 8760 Sunset Blvd in West Hollywood which will become part of a collective art piece — in both a physical gallery and virtual space — directed by you both. Can you give us a little sneak peek or teaser into what this will look like?
MM: It will look like a heck of a lot of mostly handmade postcards! And other stuff people send instead.
BW: In addition to a digital gallery and physical installation of some kind, we have a nice idea for creating a piece of art out of all the contributions that will combine man and the machine, beautiful music with synchronized visuals.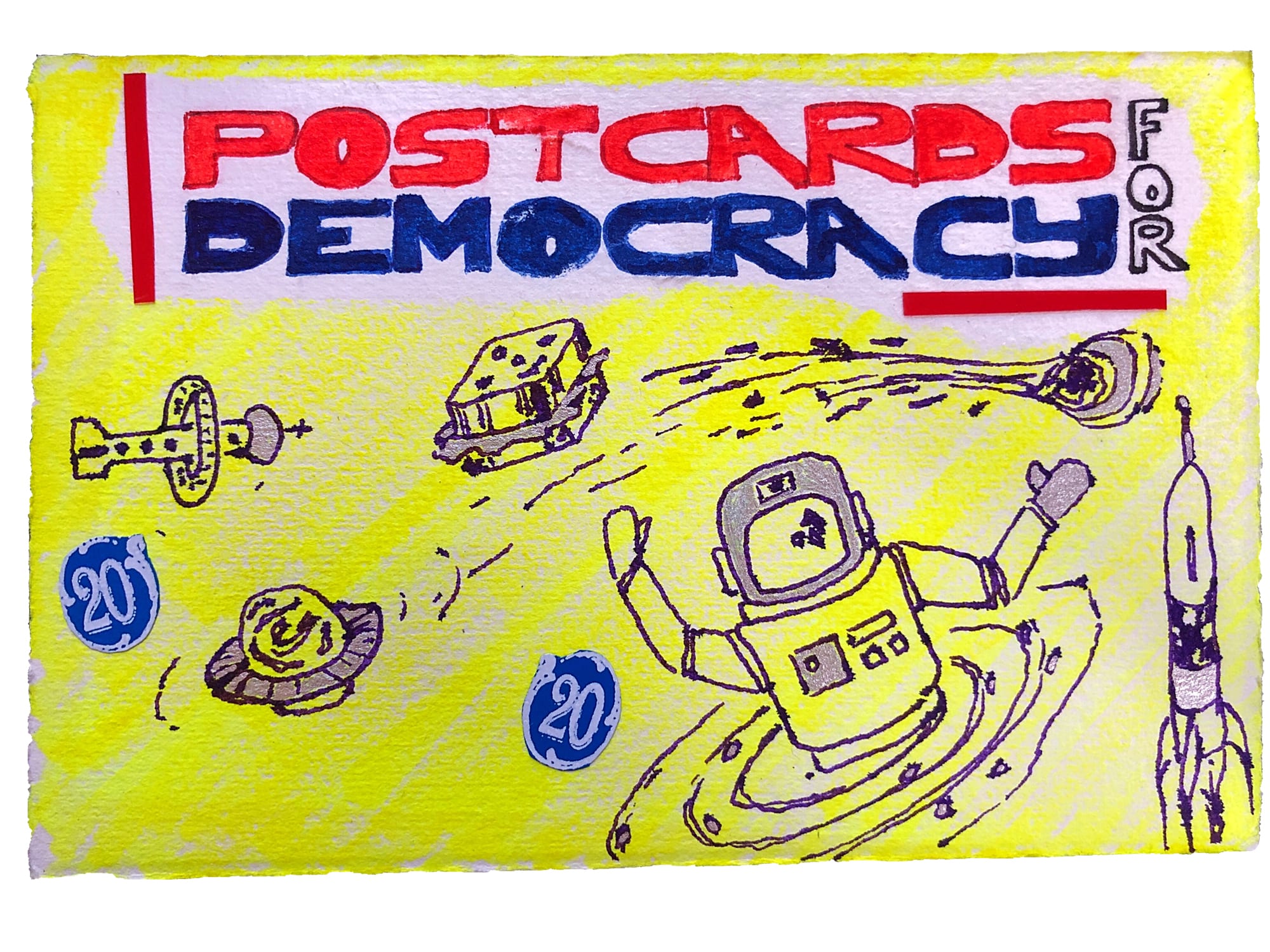 What are other ways people can support our democracy and longstanding institutions that serve us — the people — during these times and beyond?
BW: Start at home and believe that individual actions have the potential to make a world of difference. And take nothing for granted. 
MM: Stop and think about how fortunate you are to live in this flawed yet interesting time.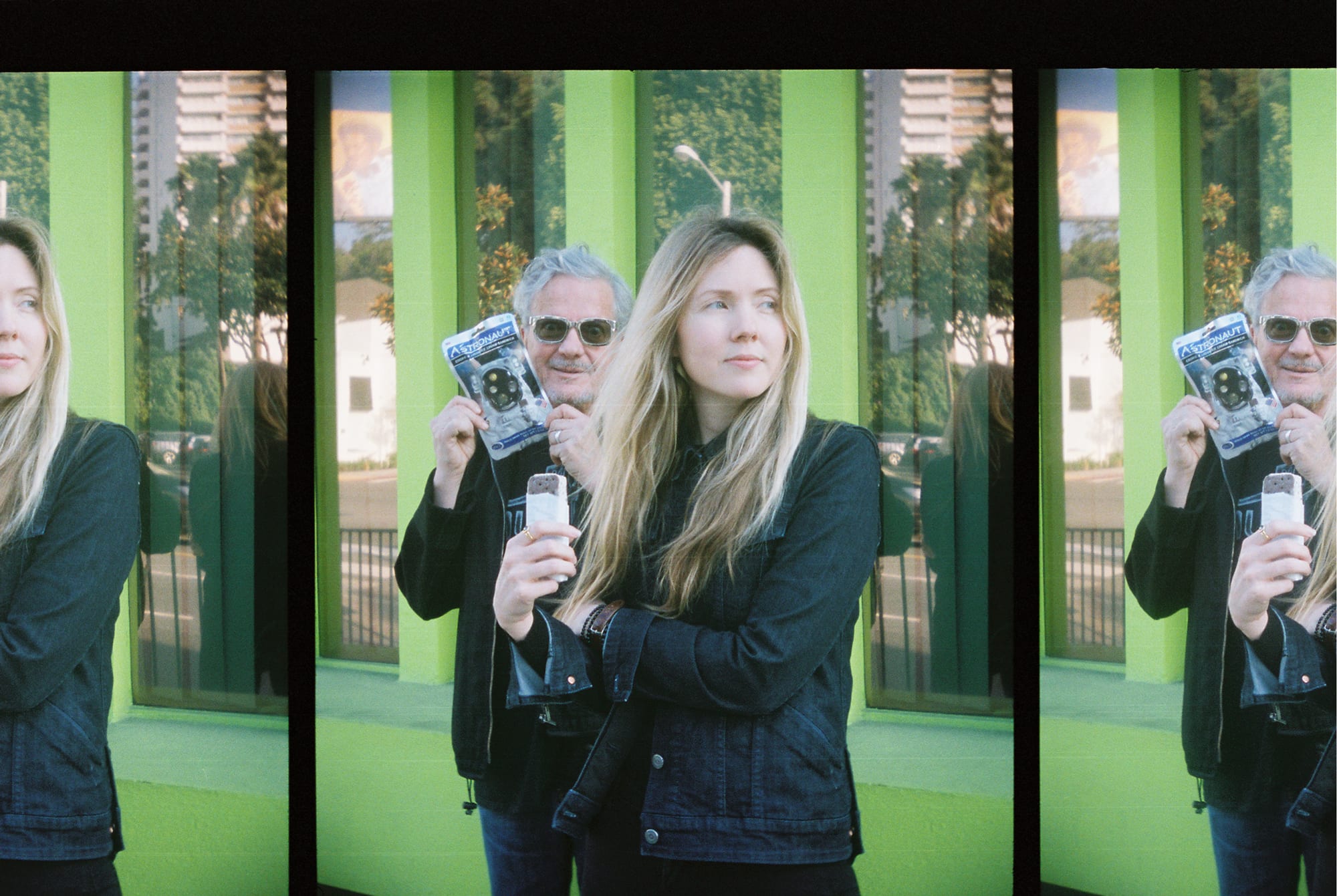 Mark — You just survived a life-threatening battle with Covid-19. How has this impacted the way you now view and make art?
MM: Yes, a side effect of the coronavirus was 10 days of ventilator and virus-induced delusions and hallucinations. I got a lot of paranoid pieces of art, and an album's worth of Devo music and a renewed respect for all things living.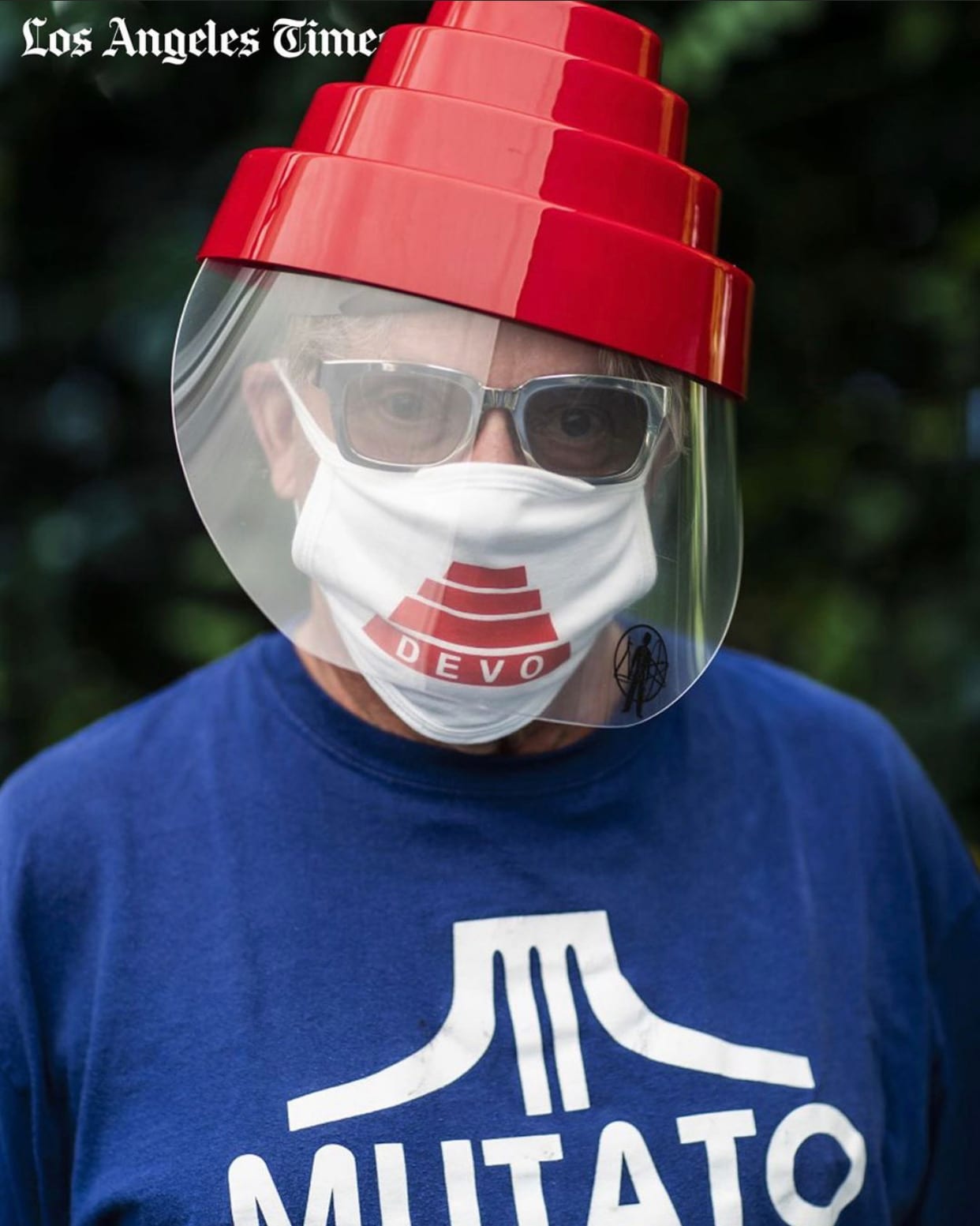 Beatie — You beamed an album into space via the Horn Antenna. Are postcards next? 😉
BW: Ha! That's classified information I'm afraid. 
Who is your dream penpal?
MM: Timothy Leary, actually.  We were close friends for his last 15 years, and he was the most optimistic, energetic, pro-celebrator of life I ever met, next to General Boy.
BW: I'm working with him! And the wonderful Allee Willis, although I know she's with us on this in spirit.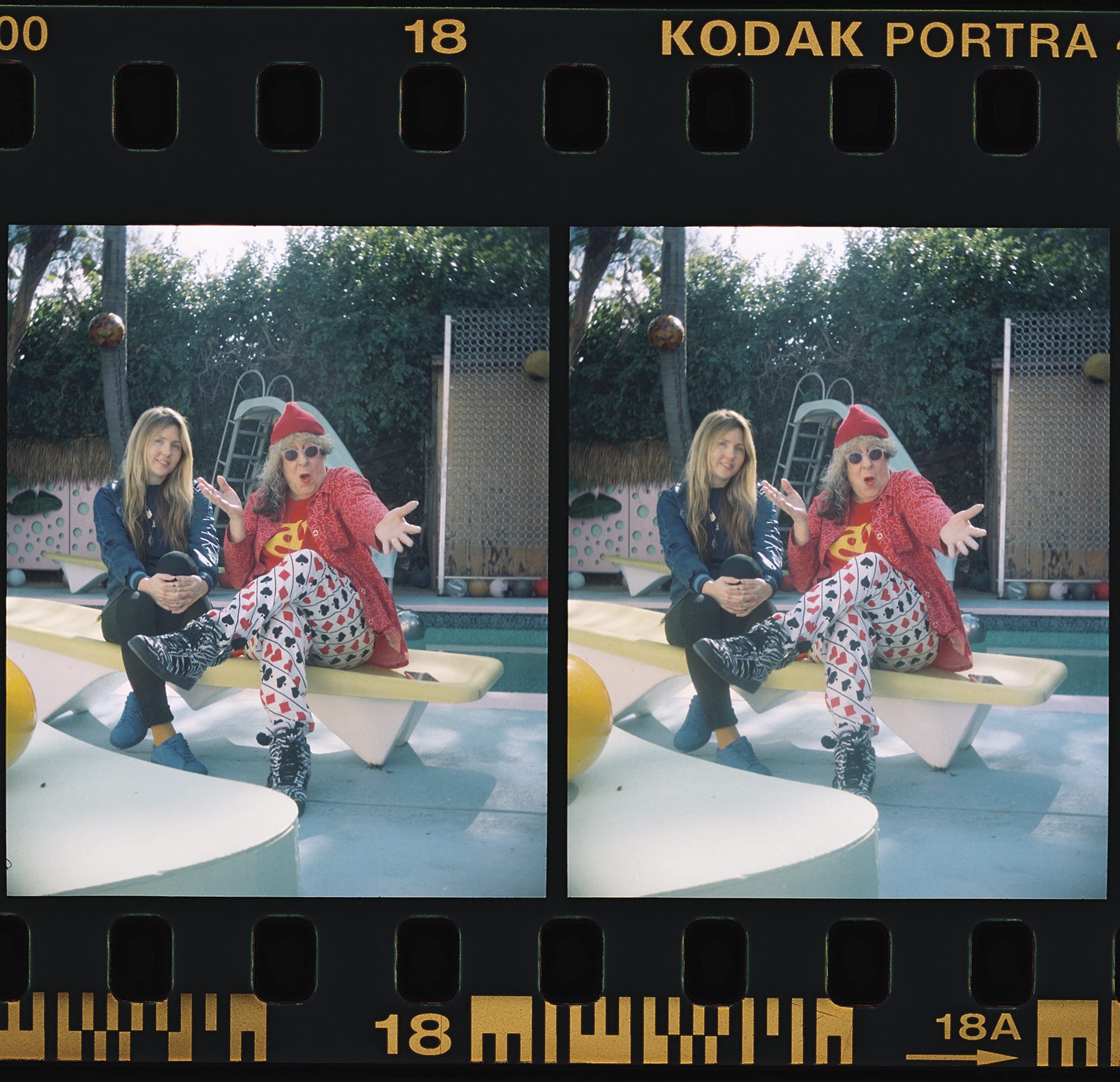 You can send a postcard from anywhere. Where/when is your card postmarked?
BW: Proxima Centauri, postmarked September 26th 2021. As my music would have reached it by this point, according to the wonderful astronomers at Mount Wilson. 
MM: West Hollywood.  That's where I'm locked down.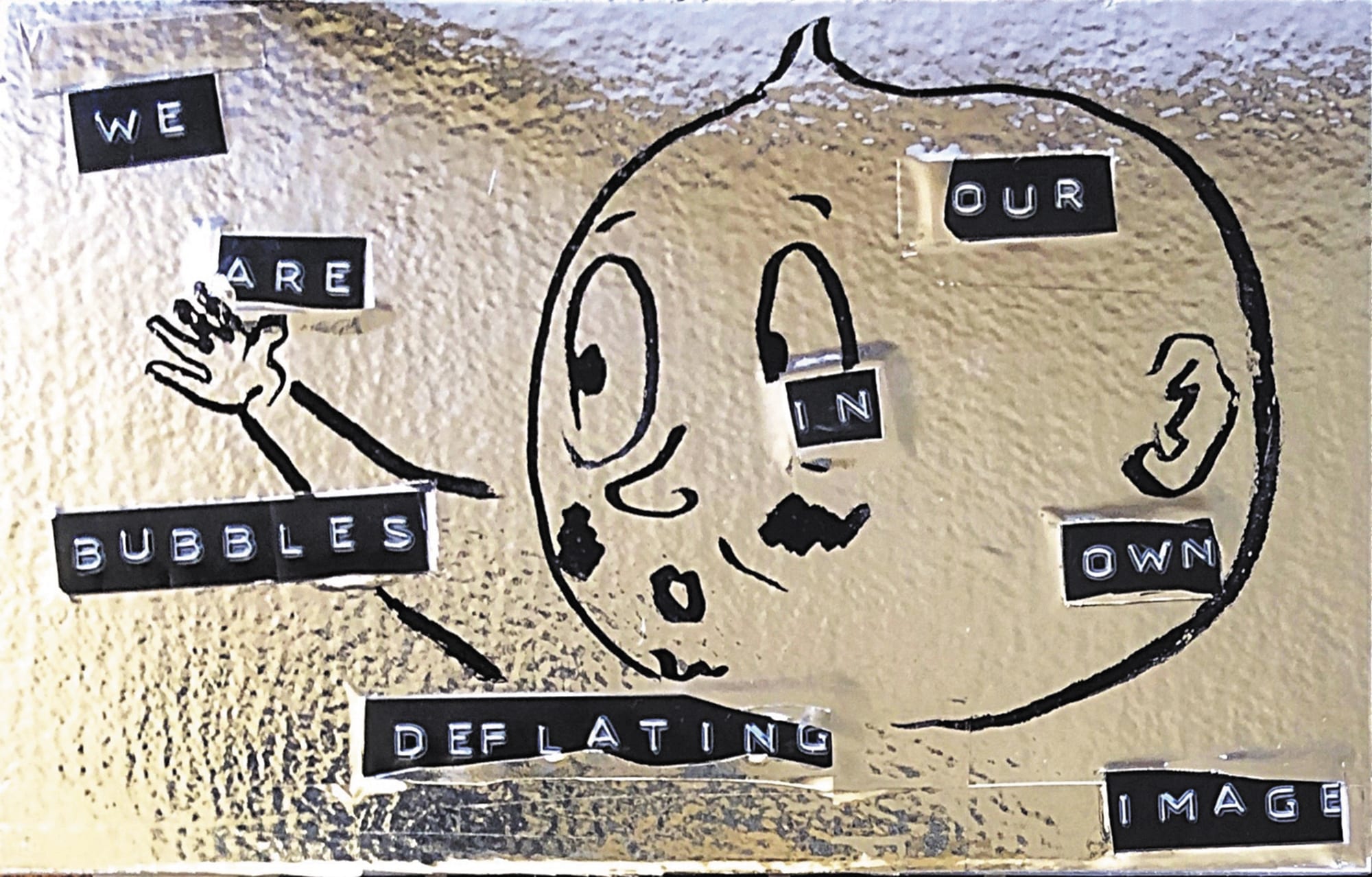 Anything we missed?
BW: We love you guys! 
MM: Yes, just to let you know, everybody I show birdy magazine to, no matter what they do, wherever they are in the world, they all think Denver is so lucky to have you! Keep up the good work! And please excuse my mono-visioned typing, I've been 2-D since catching Covid-19. It's not a joke, try to avoid it.
---
How YOU can participate in Postcards for Democracy and directly support our United State Postal Service and your right to VOTE!
Buy USPS stamps (35c for postcards)

2.

Make your postcard (

or recycle someone else's)

3. 

Mail it to: 8760 Sunset Blvd, West Hollywood, CA 90069-2206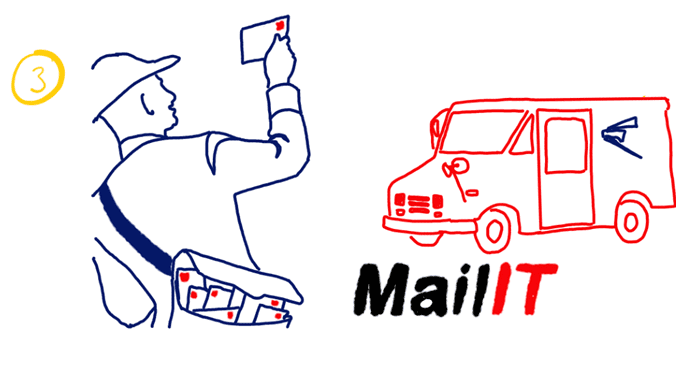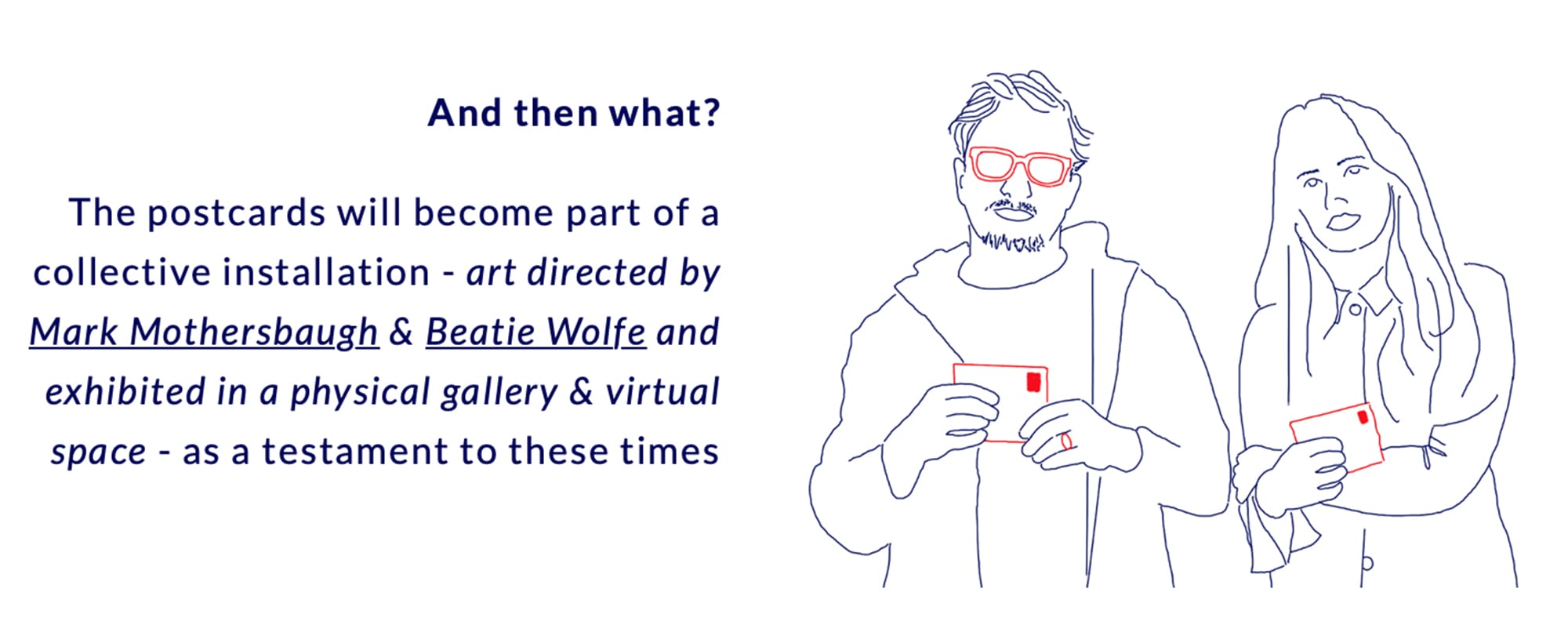 Want to see some postcard examples and learn more about how you can participate? Visit postartfordemocracy.com.
---
If you need ideas for a postcard, try collaborating on one of Beatie's and Mark's first one they made together!
Draw/Color/Paint/Sticker/Collage/Whatever inside the dotted lines of Flashback (front) or even on the images themselves!
Cut along the dotted lines.
 Write a message, draw a picture or do whatever on Flashback (back).
Cut along the dotted lines and glue Flashback (back) to the back of Flashback (front)
Make sure to stick a stamp on the top right corner + address it To: 8760 Sunset Blvd, West Hollywood, CA 90069-2206.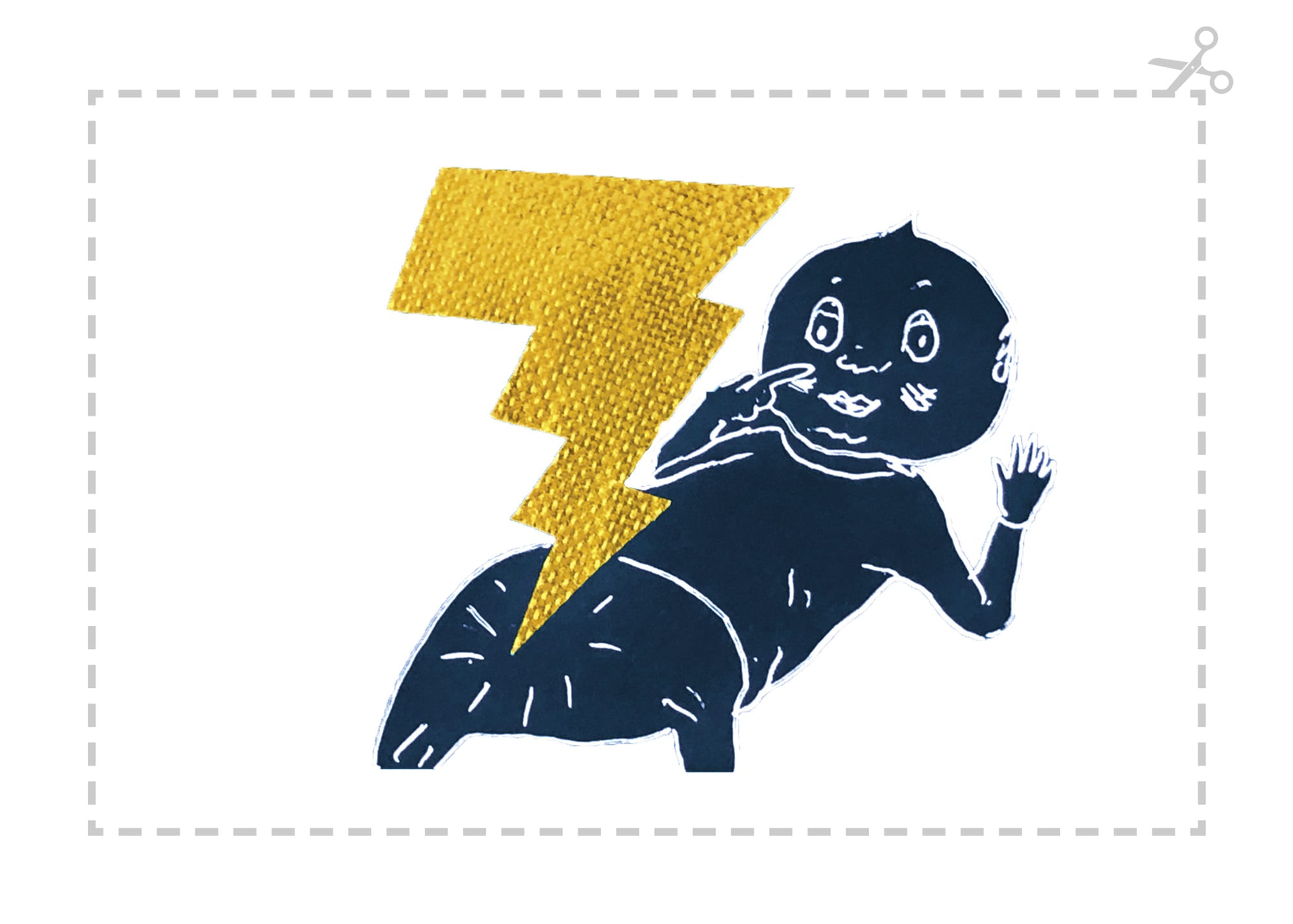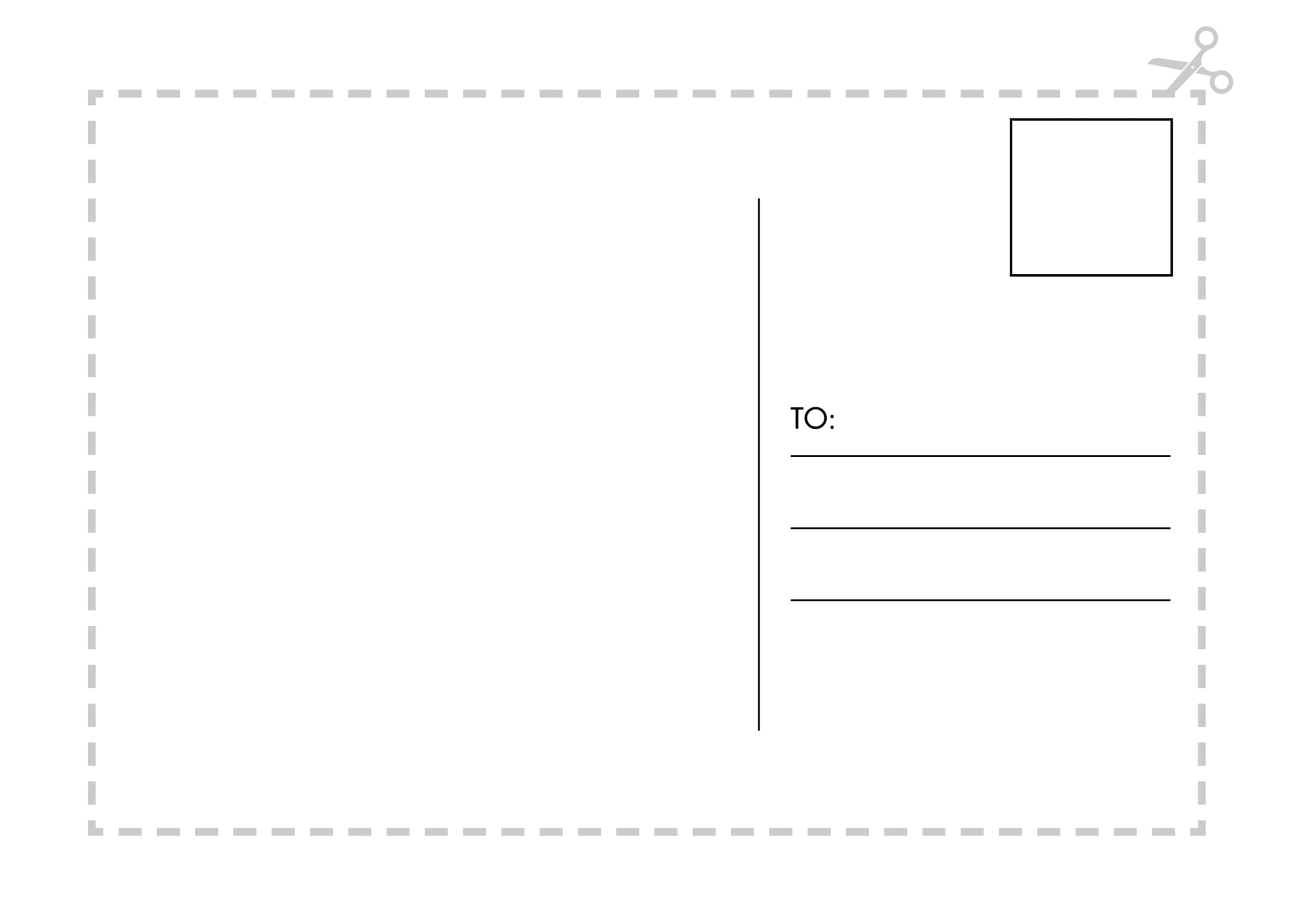 ---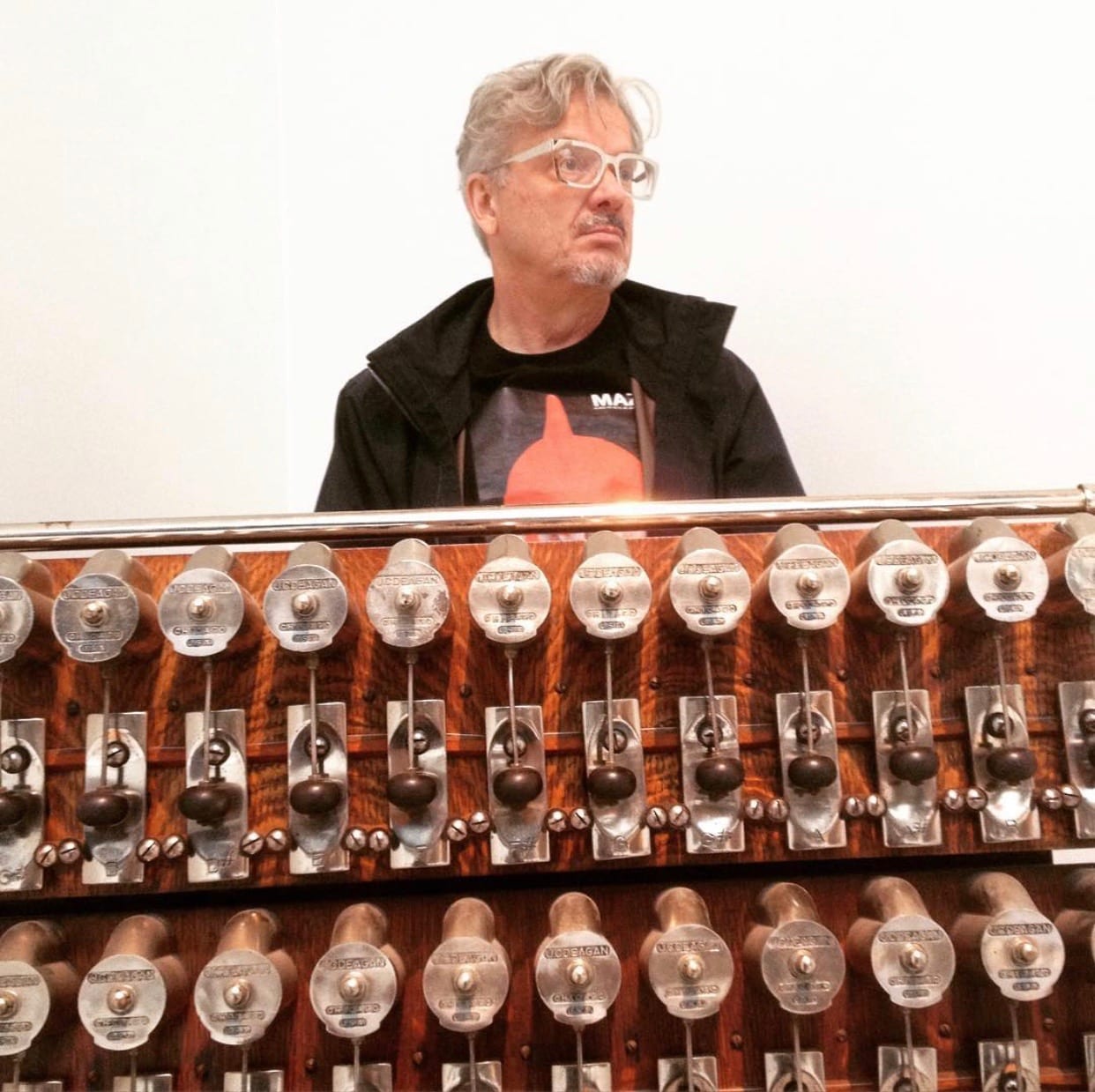 ABOUT MARK MOTHERSBAUGH:
As a young art student at Kent State University, Mothersbaugh first started making postcard art in the early 70s and exchanging work with known and unknown artists alike. Through these exchanges, he realized that he was creating an image bank and a lyric collection that served as a basis of inspiration that he would later use in the creation of his seminal art-rock band, DEVO.
Since then, he has filled over 490 archival volumes of 100 cards each. These cards became the basis of his most recent show Myopia, a retrospective beginning in 2015 focusing on modern man's ongoing, internal dialogue of beatnik stream of consciousness poetry, the surrendering of the intellect to the primordial and science vs. faith.
Mark has shown his visual art in over 125 solo exhibits over the last 35 years, with touring shows Homeland Invasion, Beautiful Mutants, and Myopia, a 3,000 object retrospective in 2015. His art has been featured on numerous books, album art and consumer products. He has collaborated musically with artists such as Brian Eno, David Bowie, Iggy Pop, Beck, The B52s and Neil Young to name a few.
He was given an honorary doctorate of humanitarian letters from Kent State in 2008. For more, visit: www.markmothersbaughart.com
---
ABOUT BEATIE WOLFE: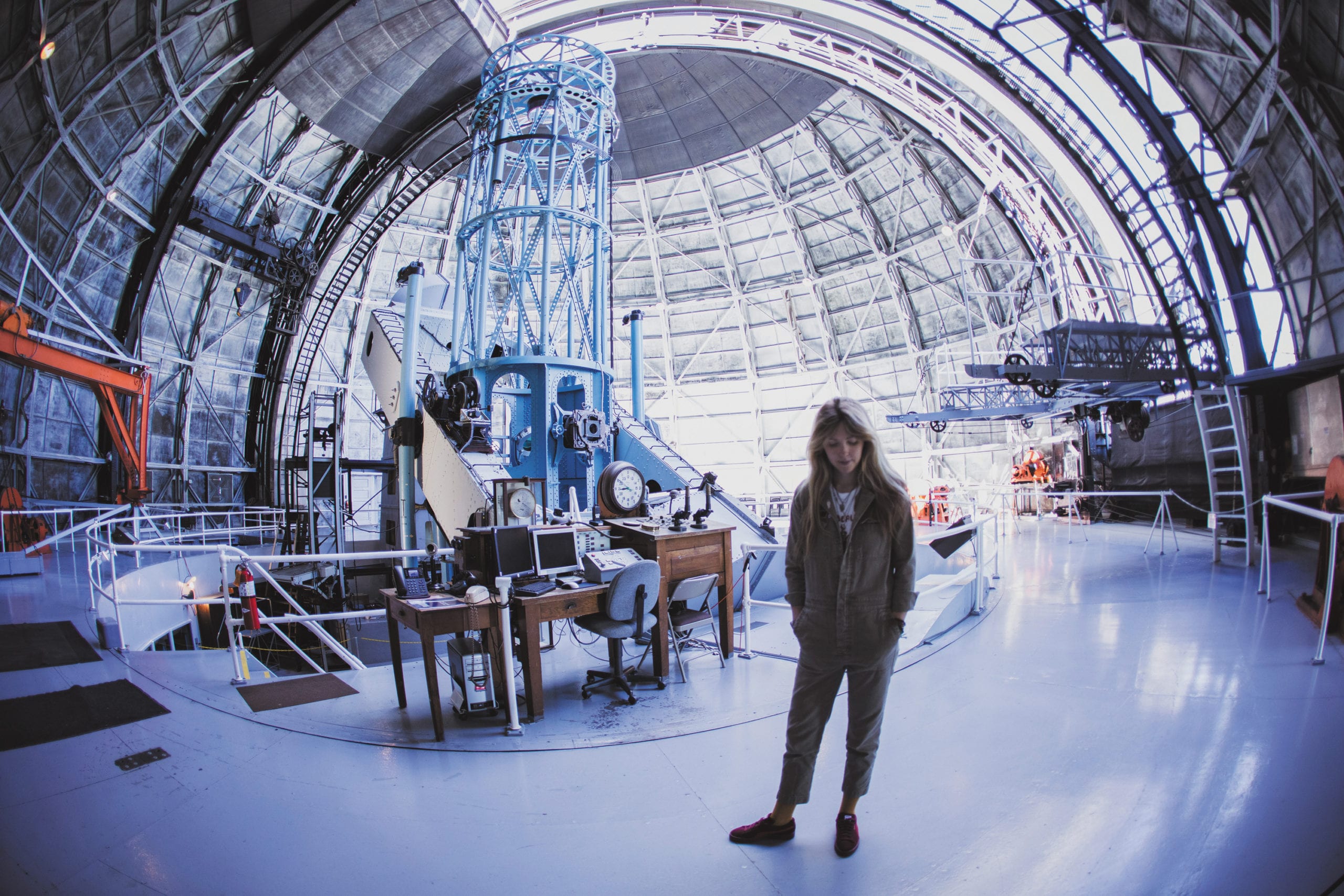 "Musical weirdo and visionary" Beatie Wolfe is an artist who has beamed her music into space, been appointed a UN Women role model for innovation, and held an acclaimed solo exhibition of her 'world first' album designs at the Victoria & Albert Museum.
Named by WIRED Magazine as one of "22 people changing the world," singer-songwriter and innovator Beatie Wolfe is at the forefront of pioneering new formats for music that bridge the physical and digital, which include: a 3D theatre for the palm of your hand; a wearable record jacket — cut by Bowie/ Hendrix's tailor out of fabric woven with Wolfe's music — and most recently an 'anti-stream' from the quietest room on earth and space beam via the Big Bang horn.
The Barbican recently commissioned a documentary about Beatie Wolfe's pioneering work titled Orange Juice for the Ears: From Space Beams to Anti-Streams and Wolfe's latest innovation is an environmental protest piece built using 800,000 years of historic data that will be premiered at the London Design Biennale in 2021. For more info, visit: www.beatiewolfe.com