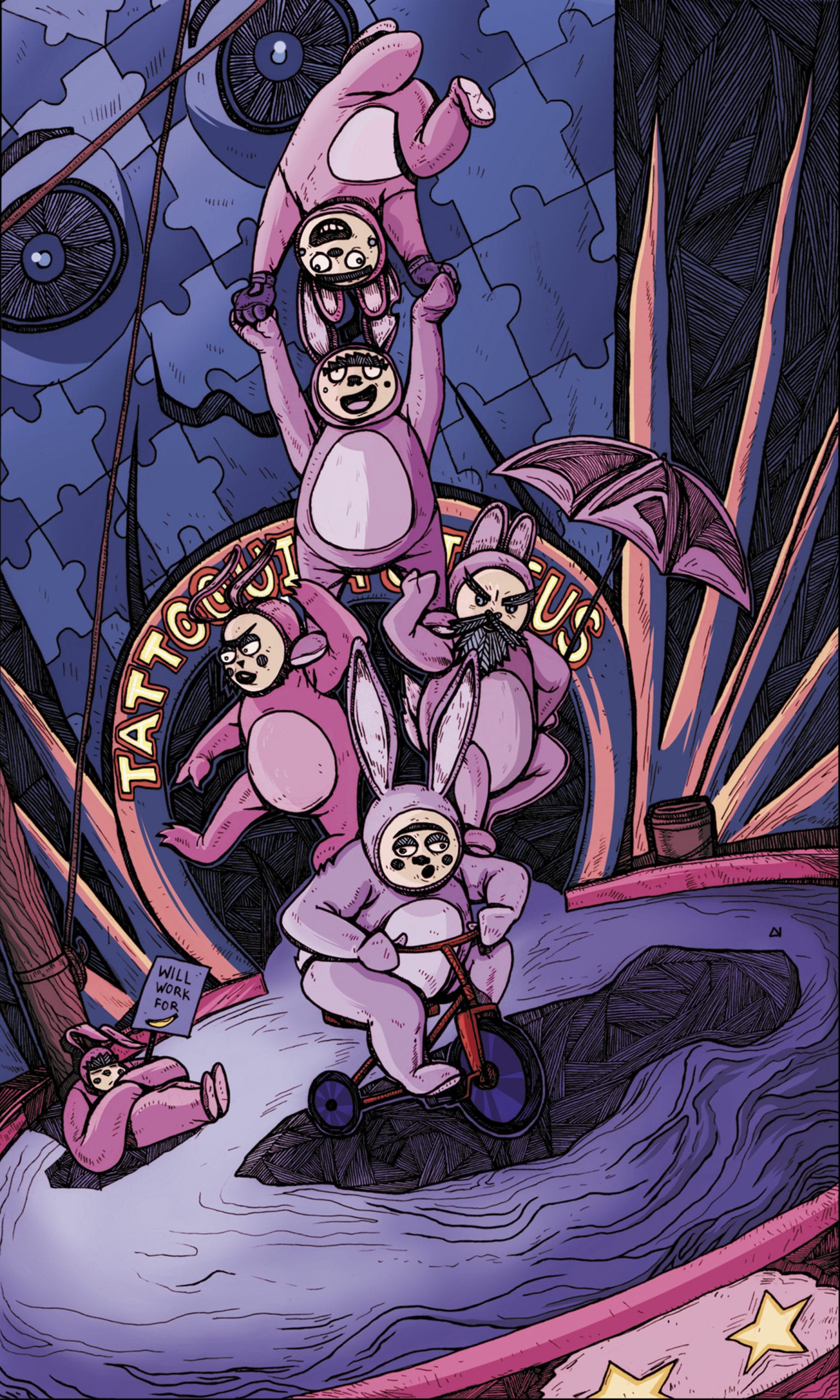 Stanley Kaiju and the Subterranean Bunny Defenders Go Underground.
By Elisa Sargent
Illustration by Daniel Crosier
Coloring by Kevin Waltz
In recent years, as many of you may know, this reporter has settled down in Denver, and I have generally kept my stories in Denver and about Denver events, however, the story I have for my readers today expands a bit past the boundary of our city, into a small field. My story of course starts in our beloved hometown, where I live and write, but although the rumors of a new phenomenon started here, it took me on a quest through several states and through several months.      
I initially heard about the phenomenon in a café. A café where I go every day for a small coffee before going into the office. I was reaching across the counter to get my single serving sugar packet when I noticed a man, frozen in place, with a dreamy look in his eyes standing across from me. When I casually inquired about his state, he told me the most amazing story.   
The night before last Saturday, or perhaps last Saturday, as far as he could remember, he attended a small circus, in a field, just outside of town. This of course piqued my curiosity. The traditional circus has all but disappeared. Lifelong performers of circus arts have been relegated to the corners of county fairs, or retired altogether, and the live animals from the circus have all found homes in zoos or sanctuaries. I asked him what he saw there, as it was clearly on his mind. The man quickly assured me that there were no live animals at the circus, but some type of mechanized creatures, none of which he could expressly identify. There were bright lights, projecting colors he could not explain, and of course food, which he could not remember. The one clear item he brought up in his strange ramblings was – fuzzy, pink performers.   
After hearing the strange story from the man in the café, I felt the fever to track down this new enigma. This is a fever which reporters often get which leads reporters such as myself to go to extreme steps to find and report strange stories to readers such as yourself. To start my investigation, I scoured the internet for several days and could not find a single promotion for this new circus, only vague firsthand personal accounts of a mysterious big top appearing randomly across the country. I packed my bags at this point and set forth to personally track this new event. I travelled through the summer to several towns, following the stories of dreamy eyed, vague, firsthand personal accounts. I arrived at the described locations to find empty fields, without so much as a puff of popcorn left behind to prove the existence of the mysterious big top.       
As the days shortened and summer harvest was harvested from the sprawling rural fields, I felt my fever subside and admitted defeat. Returning to Denver to pursue more tangible stories, I turned my car back down the interstate at full speed only to stop short as the traffic halted due to a procession of cars pulling off the highway onto a small country road. As I sat waiting for the cars to clear, I looked across the dry, dying stalks of corn in the field next to the highway. The gleam of the setting sun reflected a yellowish ray of light onto a spired canvas of a colorful, old fashioned circus tent poking up from behind the beige corn stalks. It was right there, the big top I had been looking for.  
I eagerly followed the slow thread of cars off the interstate and pulled into a cleared section of the field. Leaving my car behind, I followed the crowds through the muddy grass and rotting pumpkin field to the gate in front of the line of tents, tents that were carefully placed in a straight row pointing directly to the main event, the object of my summer long obsession.
I approached the entrance to purchase a ticket, and the young man selling tickets looked familiar. Not just the ticket seller, but the entire experience began to feel familiar, as if I had been there sometime during my childhood, or if maybe I had been there last Saturday night. I was shaken out of my hazy nostalgia by a slight growl from an odd creature that was stationed near the young ticket sellers' feet. I describe the creature as a creature because I could not identify exactly what it was. I cannot say that it was an animal, because it was not an animal, it resembled a dog while not quite being a dog. It was made from some type of metal, I assume, and run by steam based on observation of small puffs of steam fluffing out of the ears. I was held by its brightly lit pink eyes for a moment before I was able to look away and move onto the thoroughfare.    
The moment I passed through the main gate, the setting sun disappeared, and the lights on the big top electrified and projected the color the man in the café could not explain. I wandered through the smokey smell of popcorn past several tents as random lights flickered on. Shadows formed from inside the tents of strange, large creatures. Some shapes resembled the shape of elephants, but were not exactly elephants, others resembled the shape of horses, but were not exactly horses. Some were a fuzzy combination of both. Music started, from somewhere, mixed with sporadic hollow mechanical animal sounds emanating from inside the attractions. My reporter instincts pushed me to visit every tent, but a magnetic draw to the big top pulled me past the small curiosities to the towering pavilion at the end of the row. I quickly found myself seated in the main event, grasping my notebook to record every detail.  
The first act to come into the ring was a small group of Peruvian acrobats. Having been to Lima several times as a field reporter, my skepticism was immediately aroused. Never in my several tours in Peru have I ever seen an act quite like this. Strange, small men in pink fuzzy outfits silently meandered into the arena. From there, an explosion of action and sound erupted that I cannot quite describe. In fact, I am not able to remember much more after the beginning of the performance, and my notes have stopped. To clarify, my notes did not technically stop, but instead, the words of my notes stopped, and at some point I began to write symbols and squiggly lines on my notepad.  
I found myself back in Denver, shortly after the event. The journey home is not something I remember, but the experience will be with me forever.
I had hoped to spend the summer locating and revealing every detail of this mystery to you, my readers, but I can only repeat the rumors being passed around about this new phenomenon. There is certainly something out there, the origin of which is questionable but somehow familiar. The only thing this reporter can state for sure is, despite the complex blue haze of digital entertainment and never-ending stream of information available to our modern fingertips, there is still mystery, unseen beauty and something indescribably real, all contained under a canvas tent, in a field somewhere. Find it if you can.   
---
 Stanley Kaiju and the Subterranean Bunny Defenders created by Elisa Sargent and Daniel Crosier. Stanley and his fellow Bunny Defenders are the sworn guardians of the earth against UFO's and grow to kaiju monster sizes to do so. Nyl and Nad, along with their grandmother and dad look out for Stanley and friends as the world is finding out about them.  The bunnies work for bananas! Danger and hilarity is around every corner! Learn more at Stanley and his fellow defenders on
Facebook
.
---
Daniel Crosier is a graduate of RMCAD 2000, with an BFA in sculpture.  He is a mixed media artist, and began a neo-kabuki performance group called OFM: OdAm fEI mUd in 2003.  Daniel came on the comic book scene in 2006 writing and illustrating Sons of Soil, The Exquisite Vanishteer, Distortions Unlimited, Vincent Price Presents, as well as illustrating Bartholomew of the Scissors and Caustic Soda. Crosier partnered with The Enigma and Serana Rose for Show Devils #1, with illustrator Karl Christian Krumpholz. He has directed short films since 2005, and is currently developing a Show Devils film which will be the second feature, after Isolation Man, a mockumentary about a superhero who accidentally vanishes the Western hemisphere and Camp Crash, a Meatballs & Mad Max mashup. Daniel is also one of the co-founders of Dink Comic and Art Expo, and Colorado Festival of Horror. During the pandemic, Daniel has been producing COFOH Live & Undead, COFOH Presents, featuring interviews and original horror-based content, as well as Talking Palettes and Cafe Crash, interviewing creative and inspiring artists! See more of Daniel's work on Instagram.
---
Kevin Waltz is an illustrator and graphic artist living in Denver, Colorado. Alumni of the University of Northern Colorado with a Bachelors Degree in Fine Arts with an emphasis in drawing and graphic design. Hi work entails anything design and illustrative based working in music and commercial art. This ranges from poster art, shirt designs, company logos, albums covers, cartoons/comics colorist, tattoo design work and much more. In Kevin's original work, he tends to delve into surrealism. To mold and manipulate the world around us to create images of new places, people and objects to leave up to the viewer to decide where the image takes them emotionally and aesthetically. Inspiration also stems from Renaissance, Art Nouveau, Impressionism, Pop, and Graffiti art.