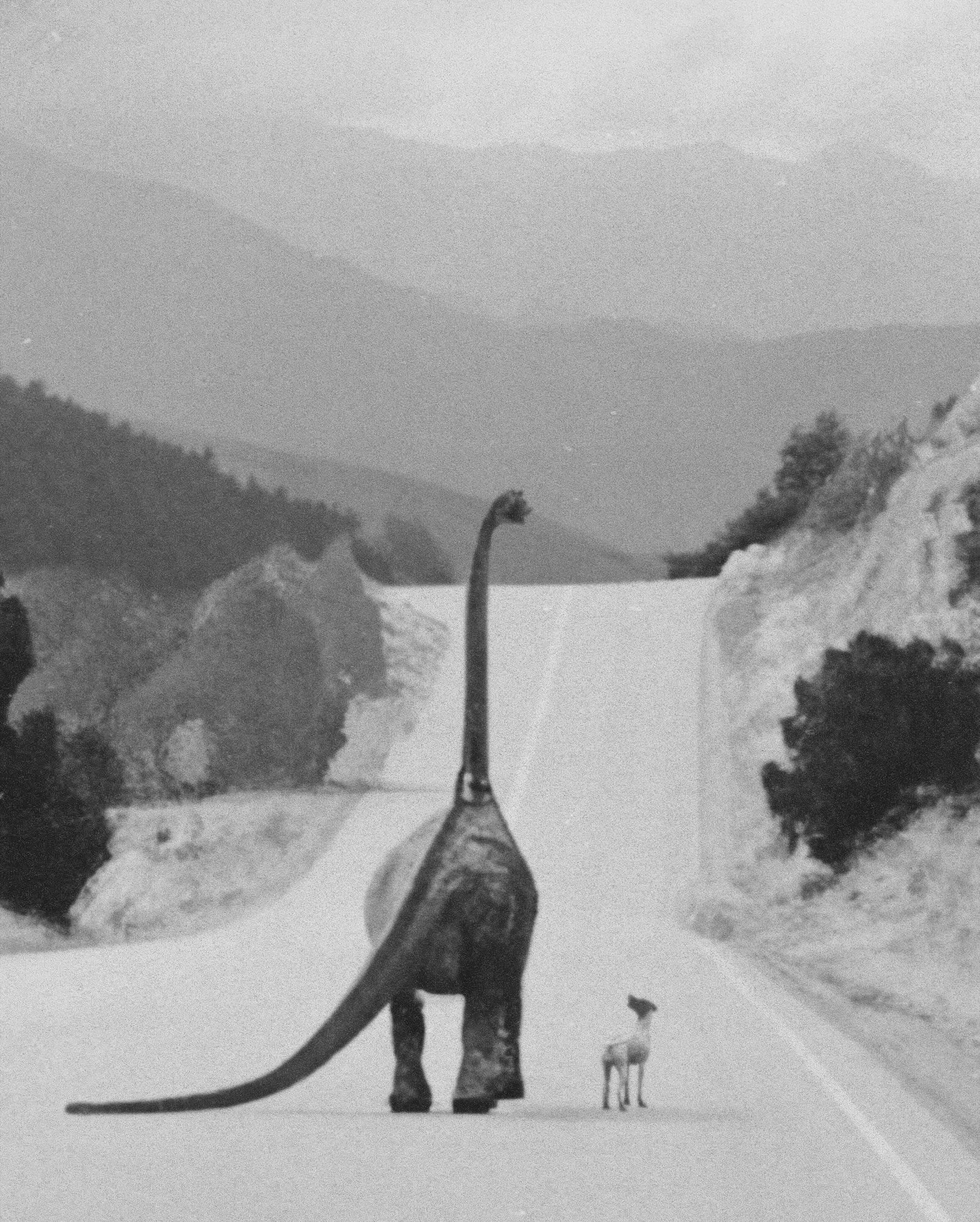 Reclamation
By Gray Winsler
Art by Caitlyn Grabenstein aka Cult.Class
Published Issue 109, January 2023
Of all the ways humanity imagined its own demise, few predicted it would be at the hands of a plant known colloquially as knockweed. If there were any humans still alive today, they'd frankly be embarrassed. Getting offed by a ruthless AI or an invisible disease is one thing — they'd prepared themselves for such eventualities. But a plant? Humiliating. You could, technically, say it was the toxin the plant emitted that killed them, but this gave the dying humans no amount of comfort.
While humanity perished, however, others thrived. Especially the herbaceous brachiosaurus. In a hilarious situation of art imitating life, humans used modern gene editing tools like CRISPR to bring back the dinosaurs via their best known descendent: the chicken. Whether or not these creatures in any way resembled the dinosaurs of yore is impossible to say, but they at least resembled the dinosaurs from all eleven Jurassic Park films.
Unfortunately for Dapperton — the aforementioned herbaceous brachiosaur, whose name was democratically selected by the children of Englewood High — the dinosaur deextinction program was only in its infancy when the knockweed began to sprawl uncontrollably across the earth. And as you can imagine, when faced with the threat of extinction themselves, humanity gave up its quest to cure its boredom by bringing back the dinosaurs. This was how Dapperton found himself deeply and profoundly alone. 
He'd spent years wandering from the ancient planes of Colorado his Jurassic ancestors once roamed, across the flatlands of the Midwest, through the knockweed swallowed skyscrapers of New York, all the while searching, surveying, scouring the land for any creature that resembled himself. But he came across none, and with each passing day his desolation grew. How many days could he pass mindlessly chewing vines of the Flatiron without any companion to share his journey through life with?
He was wandering through the North Woods of Central Park on the first bitterly cold day of the year when a crisp wind carried the cackle of coyotes to his ear. Curious, he followed the noise and stumbled on a pack encircling a small dog. They very plainly intended to eat him, but the dog did not seemed at all perturbed by this possibility. Death was not an entirely unwelcome event for the mutt. It was only a few weeks back that'd he woke to the smell of decomposition, his best friend taken at long last by the plant's toxin. He saw little reason to continue on.
Dapperton, meanwhile, reared up and brought his front hoofs down with a quake to the ground. The coyotes skittered away, terrified of being squished by fifty tonnes of meat. Dapperton bent down and sniffed the mutt, whose aroma was part decomposing corpse, part corn chip. His name tag read "Gus." He nodded to the creature in something of a "you're welcome" and then turned to carry on about his day. 
But Gus had not been shown such kindness by anyone but his best friend, and he was curious as to what type of creature this was. So he followed Dapperton through the park, watching him chew knockweed from suffocated trees. He noticed a sadness to his movements — slow, monotonous steps that showed no passion for moving forward, propelled only by habit. This was a feeling Gus knew well. 
Dappterton turned to see Gus following him and kicked his front legs as if to say, "Shoo!" He had little interest in a creature he could so easily step on. He yearned to find one of his own kind.
But Gus was undeterred. He knew nothing if not for loyalty to those who show you kindness. And so, whether out of desire or habit, he carried on following his new dinosaur friend. And that night, Dapperton woke to find Gus curled up into the nook of his neck, the warmth of his fur brushing against him with every breath. And he couldn't help but feel a twinge of comfort knowing he was not alone.
---
Gray Winsler is the first ginger to be published in Birdy Magazine, Issue 091. He loved living in Denver despite his allergy to the sun and is now based in Ithaca, NY. He spends his mornings with his dog Indy by his side, writing as much as possible before his 9-to-5. If you're curious about Normal, IL or why TacoBell is bomb, you can find more on his site.
---
Caitlyn Grabenstein, a.k.a. Cult Class, is a collage artist, sketch artist, and designer out of Philadelphia, Pennsylvania. She started doing art at a very young age and has pursued it in different forms throughout her life. While working in the music industry and running her own charitable business, BANDADE, she began creating websites, ultimately hosting more than 50 charitable shows with over 60 different artists including Imagine Dragons, Jason Isbell, Maren Morris, Ingrid Michaelson, the Goo Goo Dolls, Alabama Shakes, Florence Welch and more. During this time, Caitlyn started collaging out of necessity to create concert posters. She fell in love with the process and began collaging regularly. Caitlyn now runs her own design business, CLG Design Co.. Her work can be found in buildings around Philadelphia. Caitlyn's pieces have been commissioned by individuals, musicians, businesses, and real estate companies from Chile to Germany to Los Angeles. Check out more of her art on Instagram.
---
Check out Gray's December short story, The Mists of Galahind, and Caitlyn's, Star Highway, or head to our Explore section to see more work by these two creatives.