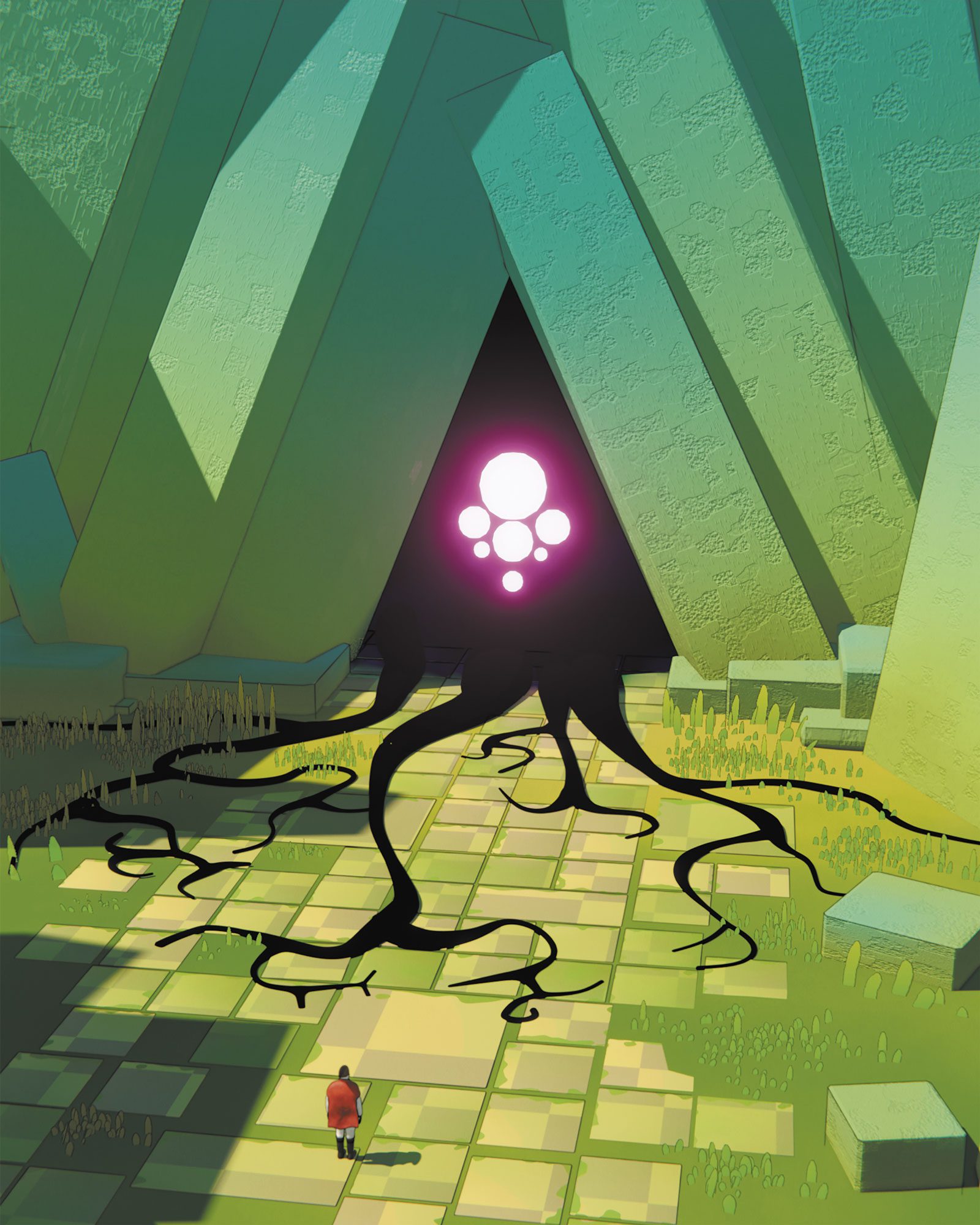 The Goblet of Beyadon
Published Issue 110, February 2023
When Rekkon saw the black tentacles spilling from the temple gateway, he stopped and sighed heavily, shoulders slumping. Every damn time.
He didn't think he'd encountered this particular denizen of the dark before, but it was hard to say. There were a lot of tentacled beasties out there, all with delusions of grandeur, and when you made a living retrieving misplaced weapons and other dangerous artifacts from the far corners of the galaxy, they tended to make a nuisance of themselves. 
He unwrapped a cough drop and popped it in his mouth while he considered his options. He could just toss a grenade into the triangular archway, but since he didn't know the material composition of the creature, it could backfire. Could be one of those that got stronger from heat, or split into a hundred smaller nastier beasties, or existed half in another dimension. He toyed with the idea of cutting off one of its limbs with his palm laser by way of a test, but he hated to piss the thing off without attempting a critical strike. Right now it didn't seem to be paying any attention to him at all, its arms aimlessly twisting over the flagstones of the green plaza. It was probably asleep. 
He himself had woken up that morning with a sore throat, which he'd wistfully hoped was just acid reflux or something, but which had now found a mate in a runny nose. He could simply return to the ship, but then Morlo and Tachyon would give him shit, make a fuss about him not doing his part. It was part of the problem with sharing commission. 
Face it, he just wasn't in the mood to fight.
"Excuse me," he called, but it came out in a croak. He cleared his throat and tried again. "Hello! Excuse me!"
An electrical humming rose through the plaza as seven enormous violet eyes flashed open at once, regarding him malevolently. Some robotic components involved then. The tentacles recoiled slightly, stopped their aimless spooling. 
HAVE YOU COME TO DIE?
The words were not spoken but telepathic, like a pair of low-priced earbuds turned all the way up. Rekkon winced. He'd already been staring down a headache, and this definitely wouldn't help. "No, no, not here to die. Actually I'm looking for … um … one second." He tapped at his smart watch. "It's a … a glowing blue goblet full of red flakes. I guess it's really dangerous — don't ask me why, I'm not an archeologist — and apparently it's in this building you're in. So if you're cool with it, I could just slip by, get the goblet, go home. What do you say?"
I SAY DIE.
The tentacles surged forward. Rekkon sighed, rose into the air, and tried the palm laser. It worked fine, more or less, and the severed limbs didn't turn into more monsters or anything. If anything, he thought, the attack seemed a bit half-hearted, the creature keeping most of its body inside the temple. "Are you even into this?" he called out. "Is this cup like, really special to you or something?"
The creature paused, blinked. IT IS THE GOBLET OF BEYADON.
"Okay…" 
IT HOLDS THE POWER TO FORCE WORLDS TO ONE'S WILL.
"Not as rare as you think."
A pause. IT IS QUITE A NICE CUP. 
"Okaaay …"
The humming lowered in tone. Rekkon got the distinct impression it was the alien equivalent of a sigh. A JOB'S A JOB.
"Ah. Someone put you up to it?"
HORVKA, THE ETERNAL DESPOT.
"Oh, I know that dude. Big, blue, scaly, size of a moon? Kind of an asshole?"
OH, TOTAL ASSHOLE. GUY BREATHES ASSHOLE. EATS ASSHOLE FOR BREAKFAST.
"I'm Rekkon."
MRK'HSS.
They had more in common than you'd expect for two creatures of profoundly different backgrounds and physiologies. Knew a lot of the same people, had similar(ish) work histories. "So why not leave, if you're not into it?"
HOW THEN WILL I FEED MY OFFSPRING? HOW WILL I FIND THE BODIES OF STARWHALES TO LAY MY EGGS? THOUGH HONESTLY I THINK I'M MOSTLY JUST AFRAID. I'M PRETTY OLD TO TRANSITION TO A NEW CAREER. WHAT ABOUT YOU?
"You know what? After talking to you, I think that's it. I quit. Let somebody else take care of the Goblet of whatever. It's not like it's even a bad job or anything, I'm just tired of everyone acting like the world's going to end if everything's not exactly like they expect. Like, the other day, we were retrieving this crystal pan flute thingy, and it got damaged, because of course there were explosions going off everywhere, and Tachyon was super pissed about it. Like, 'That flute held the memories of a thousand vanished people,' and shit. Which, fair enough, but I didn't stuff all those memories into a magical instrument, did I? So why am I fucking responsible for it?"
SOUNDS LIKE YOU REALLY ARE READY FOR A CHANGE.
"Hell yeah." He turned as if to go, then turned back. "Hey, why don't you come back to our ship? We got a pretty good synthesizer, I'm sure we could whip something up to take the edge off, if you know what I mean. If you decide it's something you want, we could even give you a ride somewhere."
Seven eyes narrowed. SO QUIT MY JOB AND COME WITH YOU, IS WHAT YOU'RE SAYING? 
"I mean, if you want."
AND STOP GUARDING THIS TEMPLE.
"Yeah. But you know, no pressure."
I'M GOOD.
The corners of Rekkon's lips turned down. "Goddamn it," he said, and pulled a grenade from his belt. Every. Damn. Time. 
---
Joel Tagert is a fiction writer and artist, the author of INFERENCE, and a longtime Zen practitioner living in Denver, Colorado. He is also currently the office manager for the Zen Center of Denver and the editorial proofreader for Westword.
---
Ali Hoff is UK-based freelance concept artist and 3D Modeller who creates strange otherly worlds, scapes, characters and more and the creator of Totem Earth. See more of his work on Instagram.
---
Check out Joel's January Birdy install, Hear No Evil, See No Evil, and Ali's Just Browsing, or head to our Explore section to see more from these creatives.