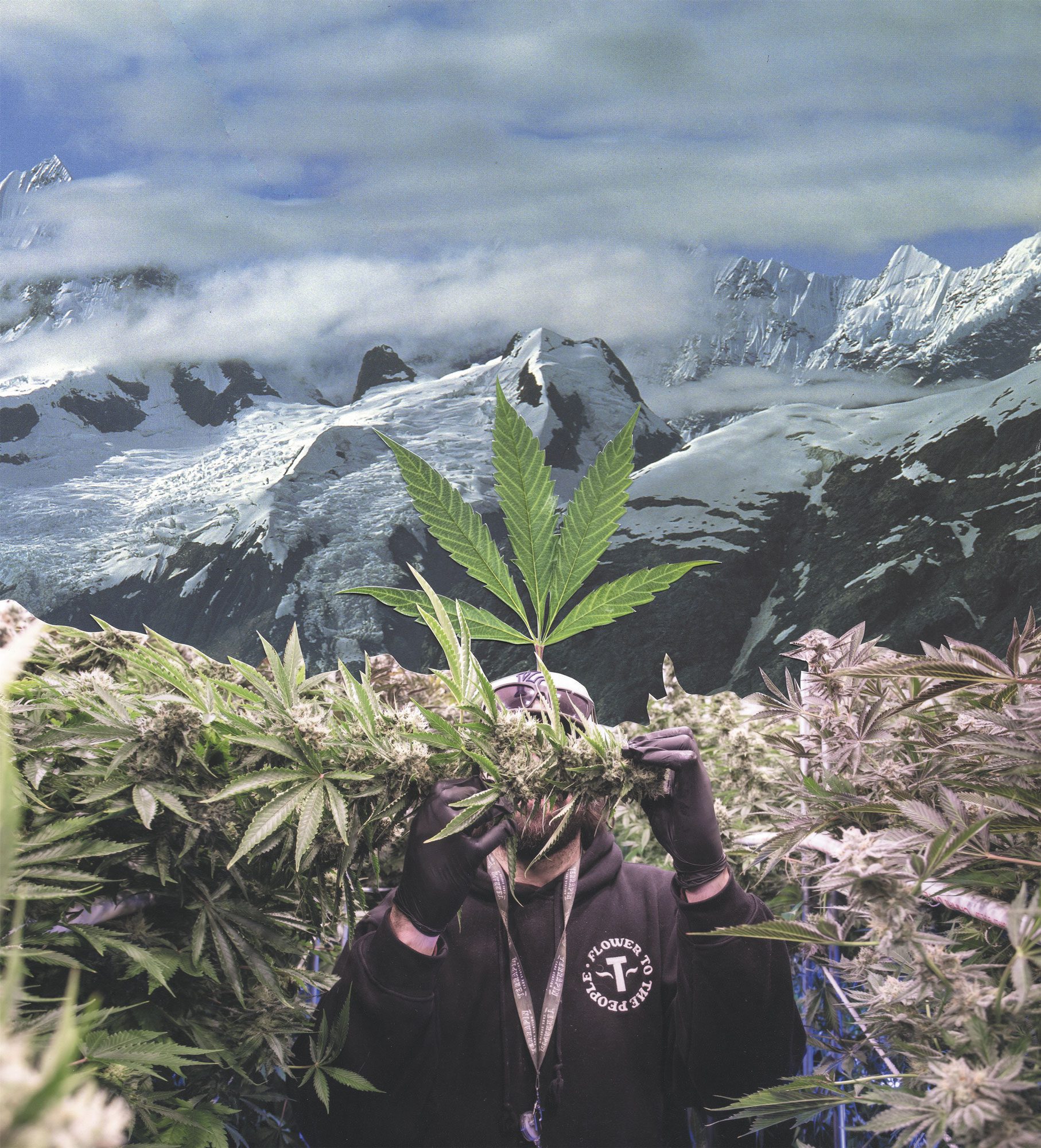 Tune In & Turn On: Terrapin Plants Local Roots In the Intersection Between Art & Cannabis


By Peter Marcus


Art by Curtis Bergesen aka Collage The World

Published Issue 112, April 2023
Over 14 years serving as a Colorado-born cannabis company, Terrapin Care Station has committed to supporting our local arts and cultural scene. We believe that contributions to the creative arts is essential to ensuring a joyful and thriving community. Our value of championing creativity is also rooted in the clear, historical intersection between cannabis and the arts. From music to visual mediums, cannabis and culture have always paired like well-cultivated flower and an expertly-crafted hand-blown glass pipe. For the month of 420, we felt Birdy Magazine was the perfect place to highlight some of our creative partnerships.
Terrapin regularly seeks local artists and creative organizations to partner with to lift up the local arts scene. In 2020, we partnered with Boulder-based Wana Brands to co-sponsor the nonprofit ARTivism festival, Street Wise Boulder. The annual fest highlights local mural artists who have produced 85 murals to date throughout Boulder for the community to view and interact with, as well as provides free artist programs, workshops, panels and events.
We wanted to keep that tradition of supporting local artists alive for this issue of Birdy with a commissioned piece by Denver-based analog collage artist Curtis Bergesen. Curtis, aka Collage The World, creates handmade paper art that frequently incorporates images of nature, wildlife and the beyond. You may recognize him from issues of Birdy present and past, and we thought it would be fun to ask him to incorporate our favorite natural thing — cannabis — which of course will take you to the beyond. The results were amazing!
When it comes to the history of modern music, there's no denying the role cannabis played in aiding in the creativity of musicians and helping them grow. First seen in popular music dating back to the 1920s, especially in jazz, cannabis revolutionized the music scene, leading to the cultivation and evolution of countless new genres, from Louis Armstrong to Bob Dylan to the modern music we know and love today. Heck, Dylan introduced The Beatles to cannabis in 1964 when he made John Lennon sit down for a sesh with him. The Beatles went on to spread cannabis far and wide, leading to the psychedelic music of 1967's Summer of Love and rock operas of the '70s that have evolved into modern rock today. Meanwhile, over in Jamaica, a little known artist named Bob Marley was turning dancehall into roots reggae. I think we all know the role cannabis played there. Fast forward to the '80s and '90s era of rap, one doesn't need to look too far to find the connection to cannabis. Dr. Dre would introduce the world to then-emerging rapper Snoop Dogg in Dre's 1992 album, The Chronic. Snoop would go on to become an international advocate for cannabis, finding an unlikely partnership in country icon Willie Nelson, as the two bonded over their love of cannabis. Both Willie and Snoop are involved with successful cannabis brands today.  
To show our love for this history of music, and to support its future, Terrapin partners with the Colorado Music Experience (CoME). The nonprofit chronicles the legacy of Colorado music by serving as a repository for information and archives of local music. CoME presents that history through engaging articles, interviews, podcasts, photos and more. Terrapin supports CoME through annual financial contributions and by sitting on its board of directors.
And if the name Terrapin Care Station didn't give it away, we thought you should know that we're all live music fanatics over here. When the pandemic hit, we wanted to make sure that our beloved local music venues, the Fox and Boulder theaters, were able to stay afloat. We donated $25,000 to support the now 87-year-old Boulder Theater and the 31-year-old Fox Theatre during a time when concerts shut down. We also hired many of their laid off security guards to work security for us at our Terrapin retail locations as a way to ease the burden from losing work as a result of the pandemic. 
Over the years, Terrapin has sponsored a wide range of live music events. We are the official cannabis sponsor for the Fox and Boulder theaters, supporting three to five shows per month. We even bring a team down from show to show to introduce ourselves to the local music-loving community and take feedback on different arts and cultural events we might want to get behind. Over in our Aurora-based cultivation facility, Terrapin has assisted bands like Lettuce, Brothers Osborne, and Giant Panda Guerilla Dub Squad with music videos and promotions. We continue to sponsor stages and events, having been a major supporter of Denver's annual Underground Music Showcase (UMS). We look forward to future music partnerships in the years to come. Stop by any of our six retail locations in Boulder, Longmont, Denver or Aurora to see what music partnerships we have going on for the month. We're sure something will get you excited.  
Whether it's losing yourself in the beauty of original music, or escaping reality through the wonder and awe of visual arts, local artists are always there for us when we need their genius. Terrapin gives back to our local arts community because without it we'd be lost in a sea of ordinary, complicated reality. Arts and culture make life worth living. Terrapin is honored to play a small role in helping our local artists with expanding their creative footprints.
---
About Terrapin Care Station:
A pioneer in the cannabis industry, Terrapin Care Station's Colorado legacy sprouted over 14 years of locally sourced expertise and ingredients to exceed your highest expectations. With six retail locations throughout the Front Range, Terrapin uses only the best natural cultivation practices to ensure the highest quality cannabis products at an affordable price. It's time to shop where the locals do — Terrapin: We Plant Local Roots. Find us in Boulder, Denver, Aurora and Longmont. For menus and locations, visit TerrapinCareStation.com.
---
Birdy is a proud partner of Terrapin Care Station. Check out their amazing designs each month in our issues dating back to October 2018.
---
In case you missed it, peek Peter's last Birdy piece from out February Issue about the first-of-its-kind Automated Cannabis Vending Machine in Colorado and Curtis' collage, Death Becomes Her, from January's issue.