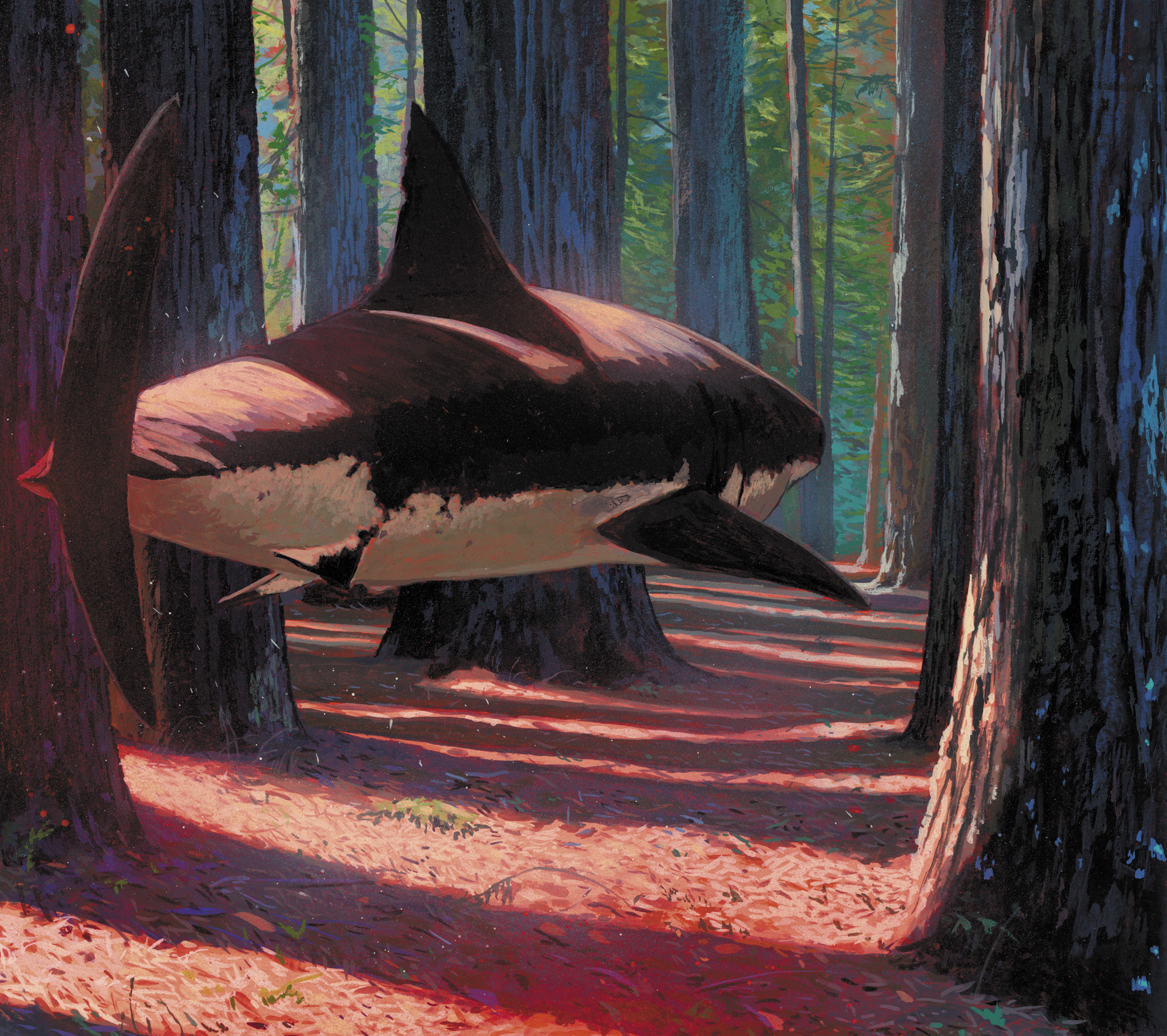 Canadian sculptor and painter Chris Austin has a deep reverence for nature. His prolific craft plays at alluring environmental surrealism and is at once breathtaking and daunting. One can get lost in the energy and emotion of his paintings as Chris masterfully captures the beauty of animals. His reoccurring great white shark weaves in and out of the landscapes she patrols as a steward — where human beings have fallen short. Here, in Chris Austin's world, nature is the protagonist in a story that is remarkable and at times a tragedy unfolding.
Tell us a bit about yourself and your journey to becoming an artist in Canada.
I was born in 1983 and was raised in Kitchener, Ontario Canada. My hobbies include taking care of my dogs mostly and of course drawing and painting wildlife and other weird things. I also am renovating an old '50s bungalow that takes up much of my spare time in Hamilton, Ontario.
Did you have a moment in time when you realized making art was your calling?
I realized art was my calling when I couldn't take working in a dead end job any longer and just had to follow my passion.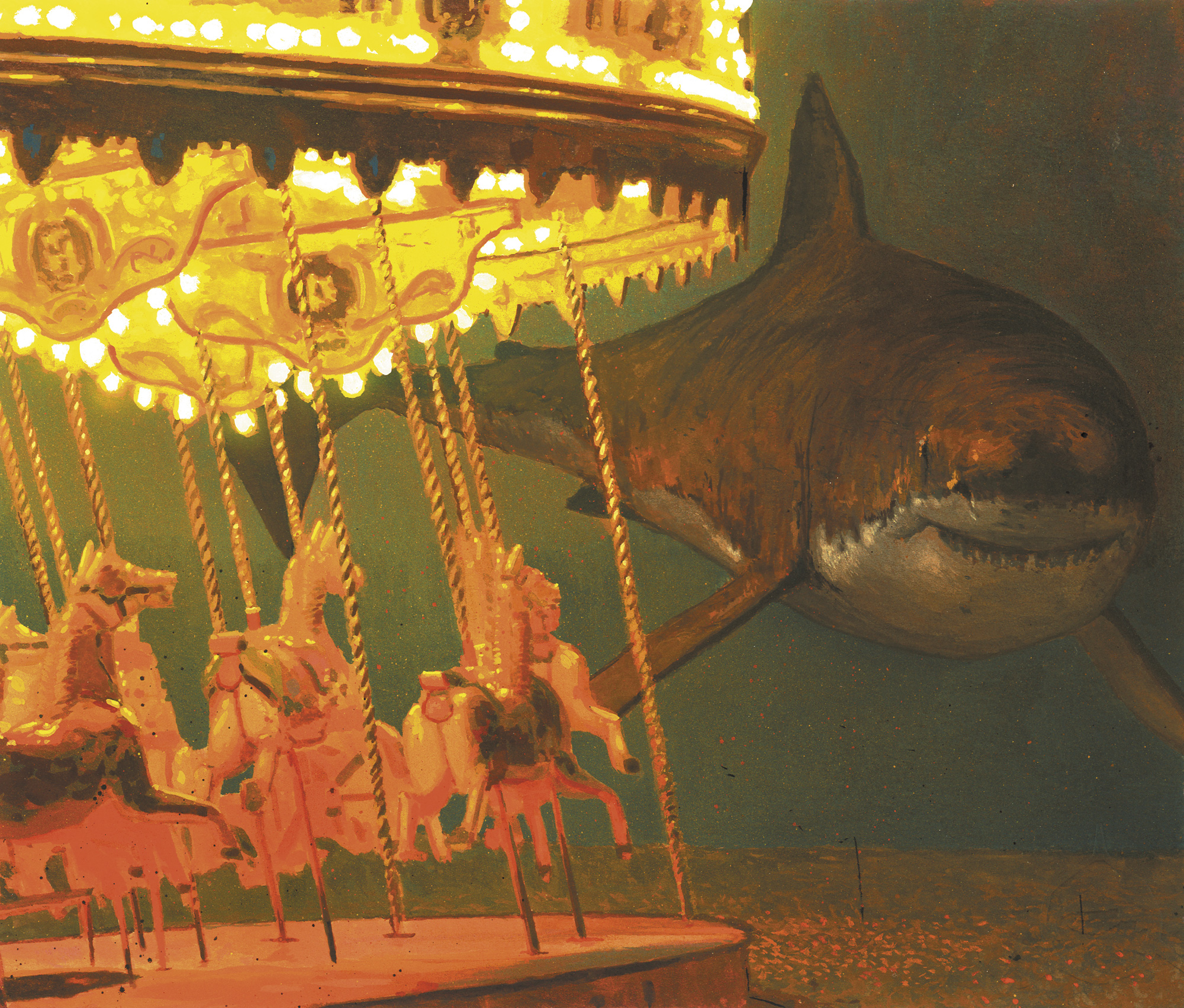 How did you come to find your preferred medium and method of painting?
I enjoy painting as it's instantly gratifying. My work is constantly evolving and I still have so much to learn as the process continues forward.
What does making art do for you on a personal level and how do you get into the flow of your creative process?
On a personal level, I find creating art to be very mentally therapeutic. It's a great escape for my mind. I start my day early in the studio as I find that is when my brain is most active and I usually put in a good five to six hours before lunch is calling my name.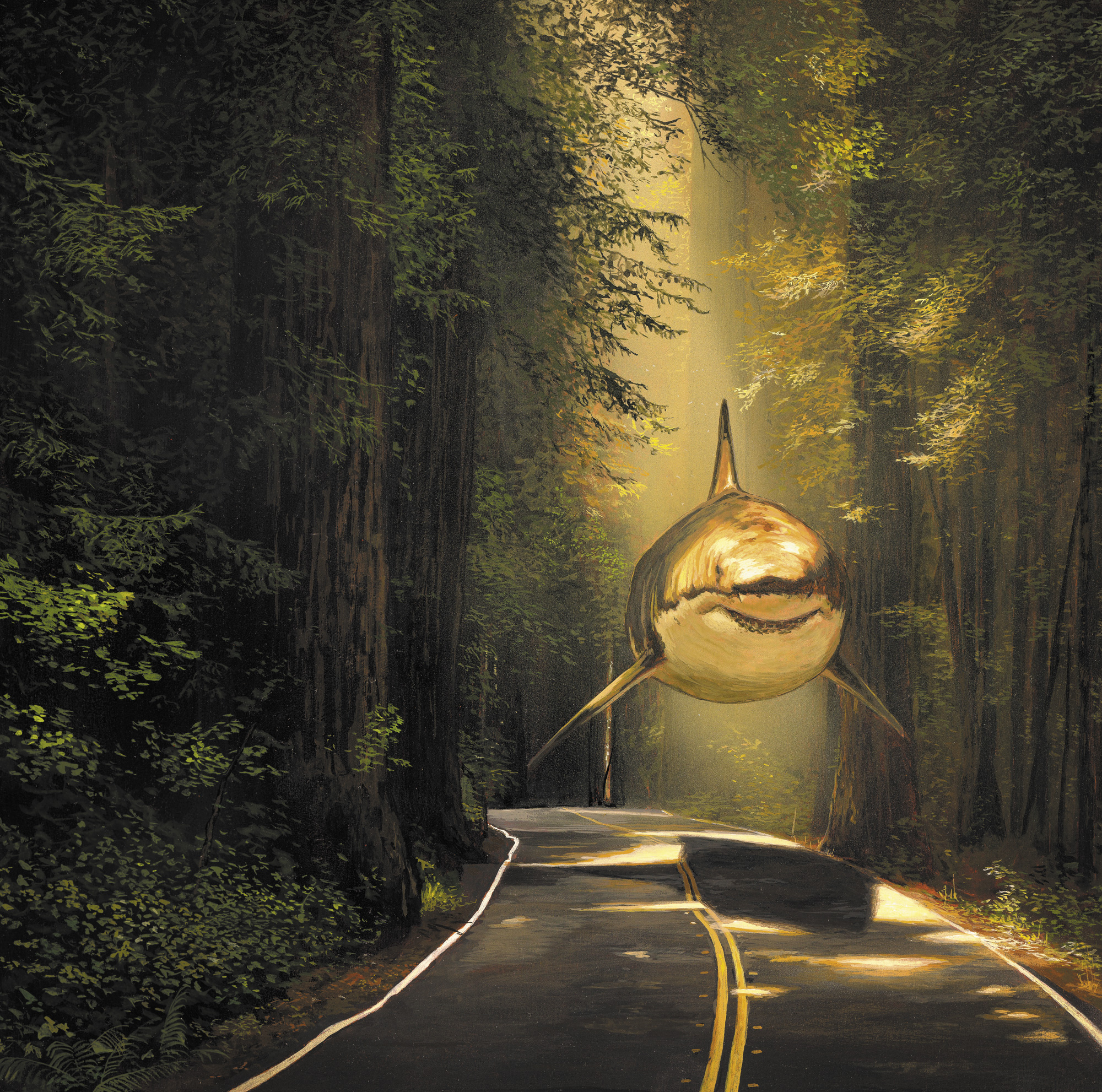 Much of your work features the great white shark. What draws you to this creature?
I do feature the white shark frequently in my work and the main underlying reason for that is there is something ominous about sharks that the majority of us immediately assume, and I've always related myself to that assumption. I guess I'm the quiet, scary-looking fellow even though I'm just a regular kind-hearted fella, and I think sharks are too.
The way you transport great whites and orcas into surrealist above water environments is an incredibly satisfying juxtaposition. How do you come up with these environments / scapes?
I enjoy creating things to be seen together with a contrasting effect, and images that question and entertain the discussion of connectivity. I like presenting wildlife in bizarre manners, placing them in scenes that oppose practicality, creating an environment in which nature becomes unnatural.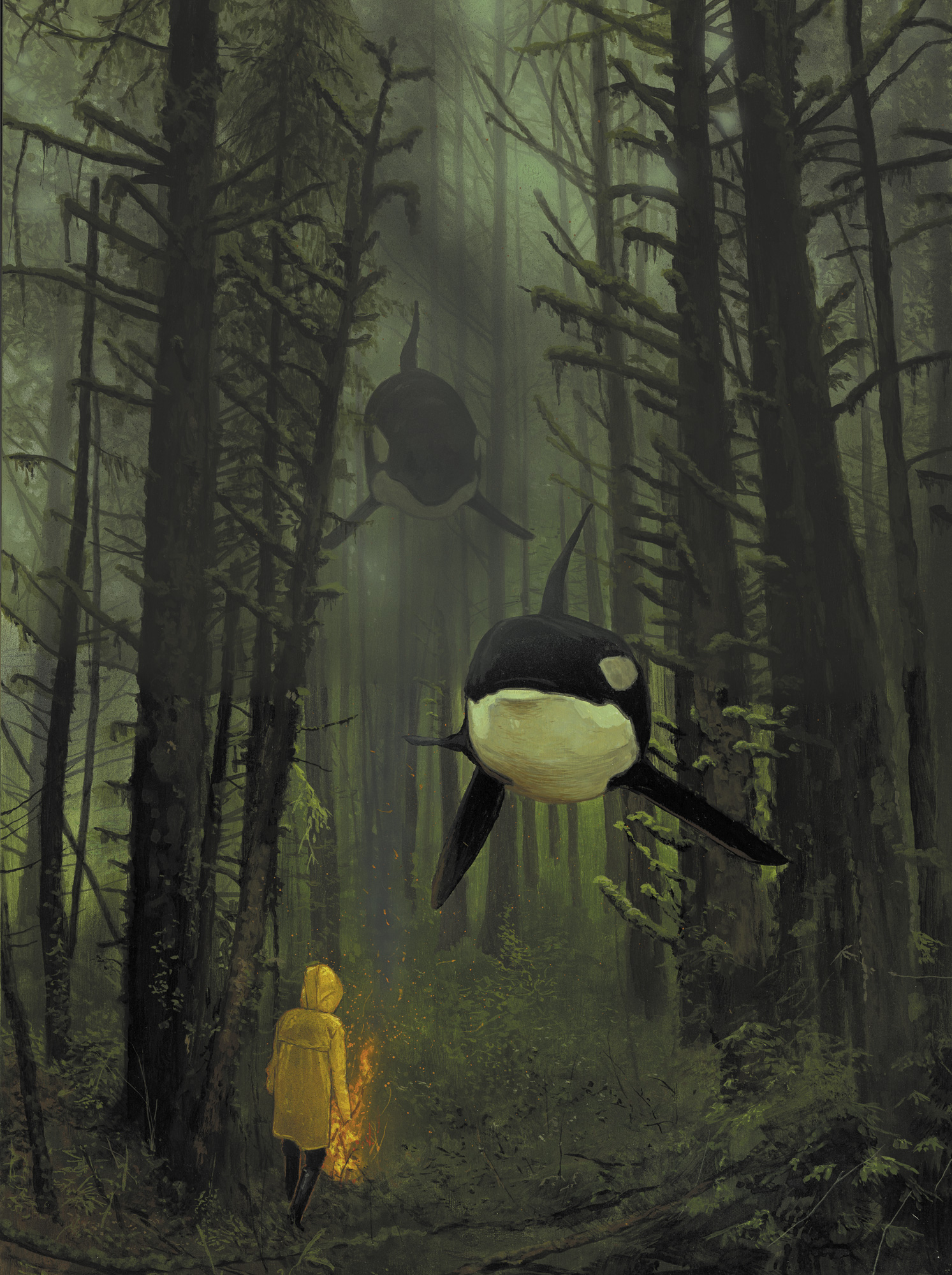 What is the significance of the recurring yellow rain suit character in your work?
The figure in the slicker is a depiction of me … I didn't want to paint a figure that looked like me, I wanted to leave it mysterious to the viewer. I want viewers to be able to depict themselves, getting lost in a fantasy world.
What are you trying to communicate with your art?
My work is sort of a depiction of my troubled upbringing … always gravitating towards the wrong crowd and always somehow finding my way out of it when things got to be too much … or led away by another. The marine life in my work depicts a higher conscious when I was a child.
What do you view are the benefits and drawbacks of the internet and social media for you as an artist, as well as what you've seen for fellow creatives.
I think social media is equally wonderful for artists to share and inspire and encourage each other to grow. It's been a beneficial tool throughout the years, but at times can be overwhelming.
Any goals or projects on your horizon?
Goals on the horizon for me is to slow down a bit and just enjoy living a slower-paced life.
Anything else?
Thanks for your interest. That's all I really care to talk about for now, my dogs are calling me.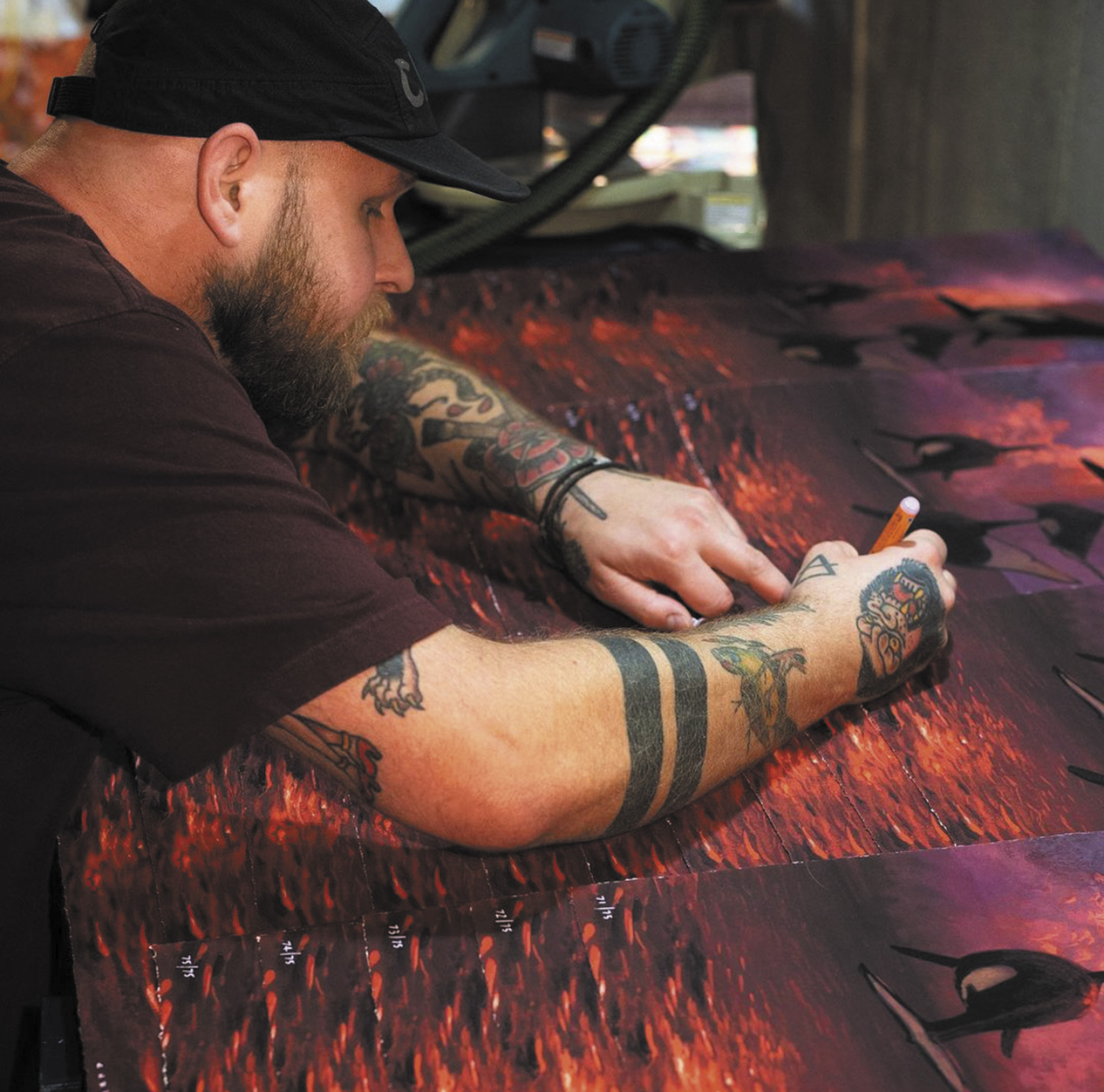 Check out more of Chris Austin's work on Instagram + Facebook and on his site.
---
His latest exhibition Wake From Your Sleep is on view September 4 -26 at Beinart Gallery in Melbourne, Australia. More info about Chris' show can be found here.
---
See Chris' last published piece in Birdy, She Hates It When The Lights Come On, here.
---
Jonny DeStefano is the co-owner and co-founder of Birdy Magazine. He is also the founder of the comedy activist space Deer Pile. His favorite color is red, he loves shark attacks, hockey and upright bass.