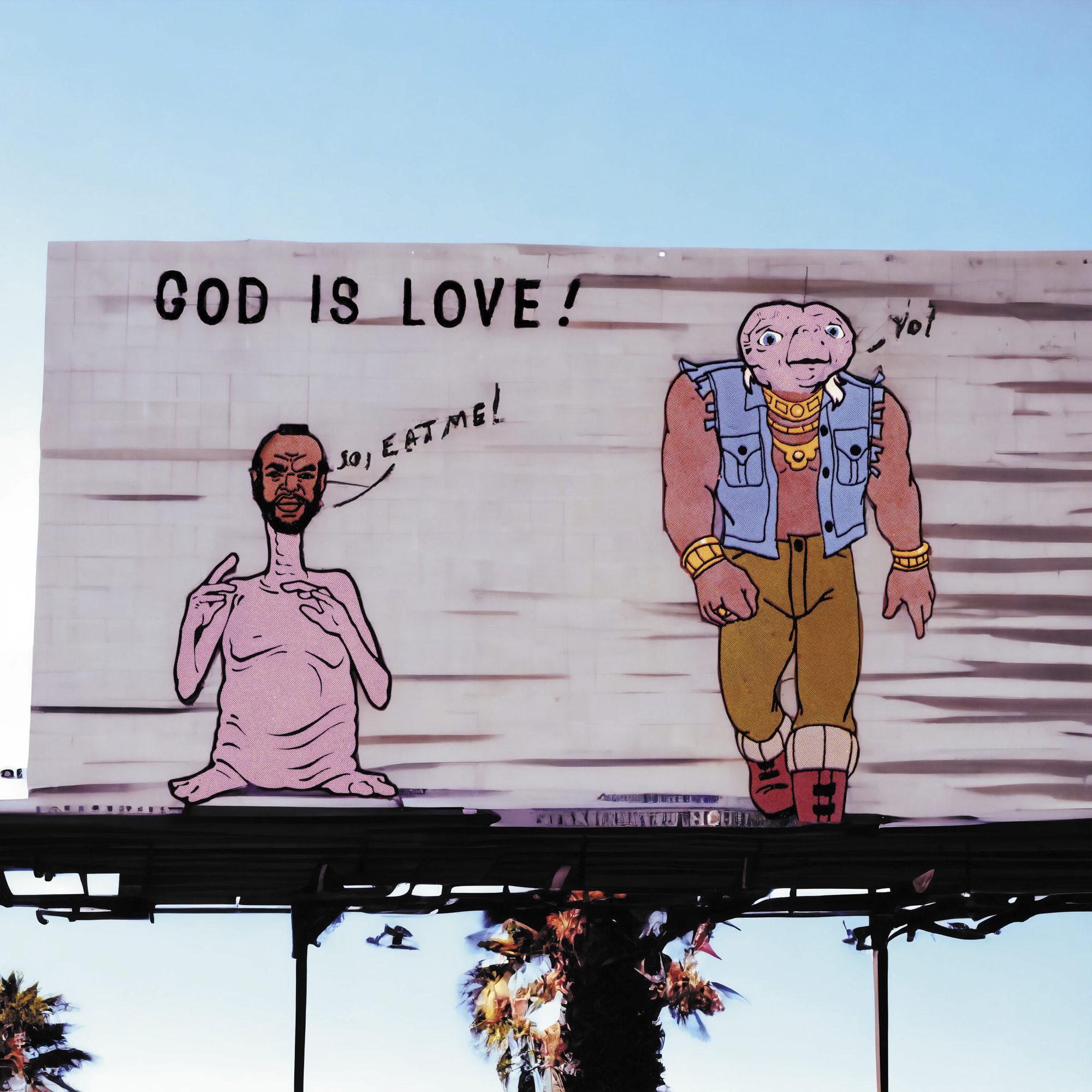 Cod Piece of Cake
By Zac Dunn
Art by Mark Mothersbaugh
Published Issue 114, June 2023
Hanging out behind the imaginary dumpsters Lurking while
side stepping at jerk neck Speeds seedy street walking
granny Manhandling antediluvian grooves
Chugging ecto cooler Gatorade 
Waiting on the corner to get paid 
By the guppy sad 
sack of shit tongue tied to The lamp post like a gabagool ghost 
Who Was known to show up with her purse 
Coming down the pike 
Riding a 68 Schwinn with a grin smacked 
On his pale Chevy chase 
Cool brew ice cubes cliched and clacked 
As she tapped her foot 
Slurping down the Bustello
Just waiting on the loot 
Do you have wallet she groaned 
And then he took out his phone and held it up Straight
before her thick rimmed glasses 
Blazing white light exploding her synapses 
It's all yours ma all for you okay
And she smiled and snickered and smacked her lips
Pushing his hand away from her face 
And Held out her hand and accepted 
Her tribute but took a deep breathe 
And slowly turned away and returned 
To her cat cave
Mrs. fish's hands reaching down into her belly 
---
Zac Dunn is a psycho-social mechanic, father, musician and dreamer. Check out his music and follow him on Twitter and Instagram.
---
Mark Mothersbaugh is one of this era's most unique and prolific composers. Deeply aware of the ability of precise, multi-faceted artistic expression to deliver vital social commentary, he has perpetually challenged and redefined musical and visual boundaries. Mothersbaugh co-founded influential rock group DEVO, and then parlayed his avant-garde musical background into a leading role in the world of scoring for filmed and animated entertainment, interactive media and commercials. As an award winning composer, his credits include Moonrise Kingdom, 21 Jump Street, Cloudy with a Chance of Meatballs, Enlightened, Rushmore, The Royal Tenenbaums, The Life Aquatic, Pee Wee's Playhouse, and the hugely successful Rugrats television, stage and film franchise. Through his multimedia company, Mutato Muzika, Mark has scored hundreds of commercials. Mothersbaugh received the BMI Richard Kirk Award for Outstanding Career Achievement at the organization's 2004 Film/TV Awards. He can currently be seen as the art teacher on the hit television series, Yo Gabba Gabba! See more of his work on Instagram and his site.
---
Check out Zac's May Birdy install, Baby Electric Vampire, and Mark's May Best of Birdy piece, Last Day At Abbey Road, or head to our Explore section to see more of their work.