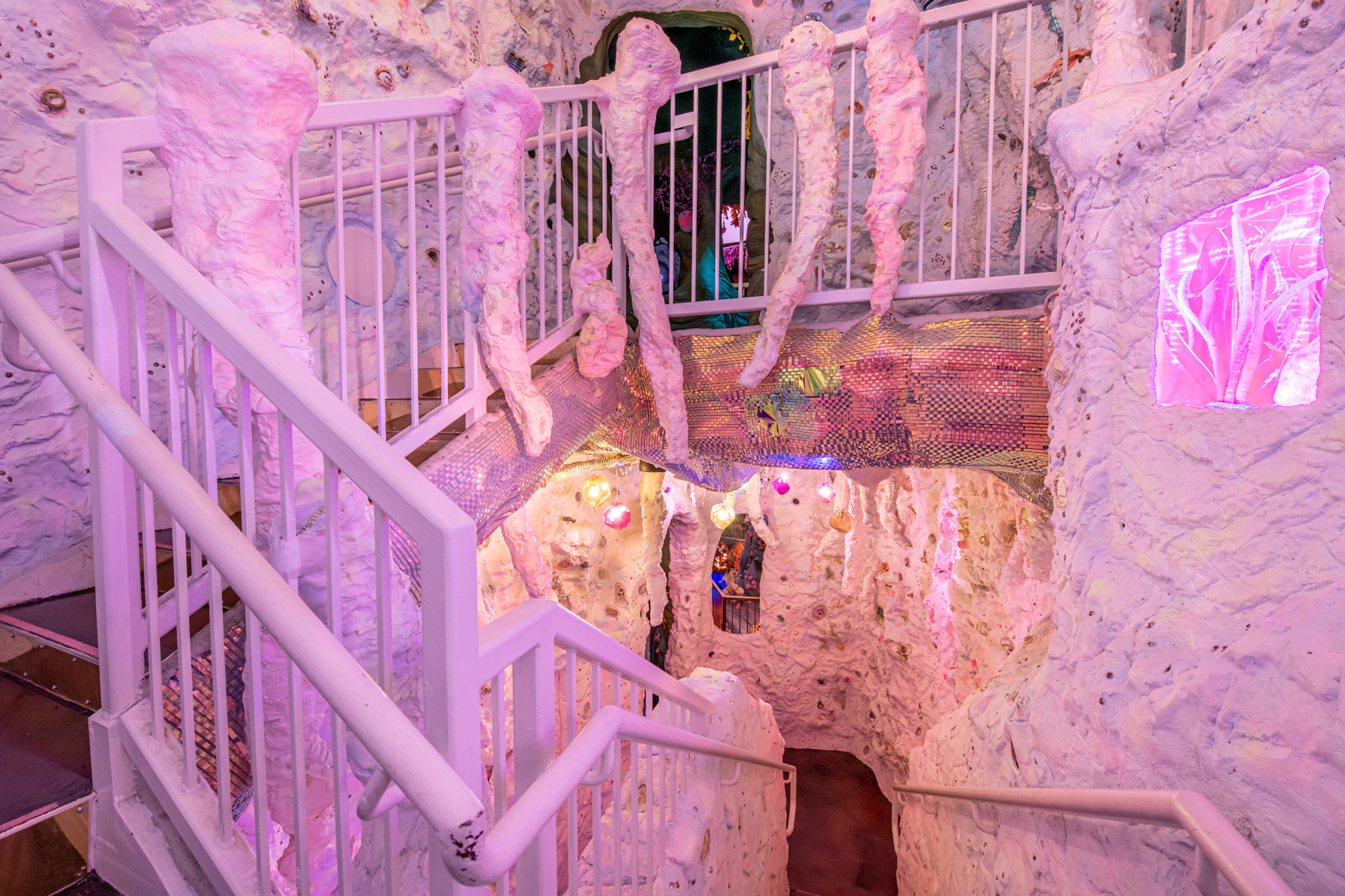 Explore the Newly Discovered Sparkle Cave of Denver
By Allyson Lupovich
Photos by Jess Bernstein
Contributing photos by Kate Russell and Shayna Cohn
Published Issue 098, February 2022
---
Local artist Shayna Cohn created "Sparkle Cave," a historical landmark frozen in time, a time when mother nature and her rocks decided to wear drag and throw a massive party.
---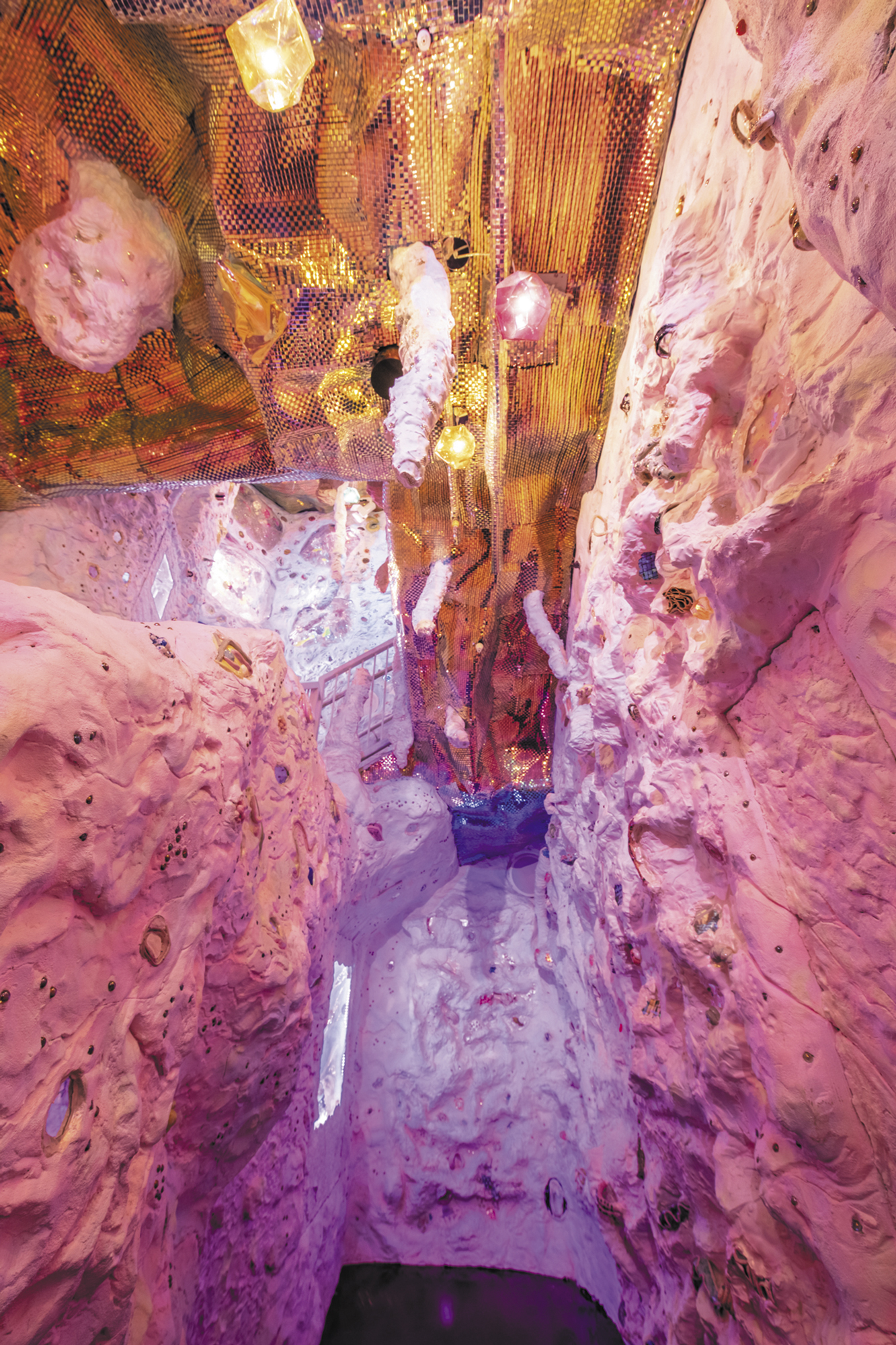 In order to navigate Numina, the 6th dimensional Swamp of Meow Wolf Denver's Convergence Station, there's a unique path often overlooked. It's a cavernous stairway embellished with party jewels, bright geodes and a plethora of glimmering surprises that will take you from the second level of Numina to its peak. This is Shayna Cohn's "Sparkle Cave."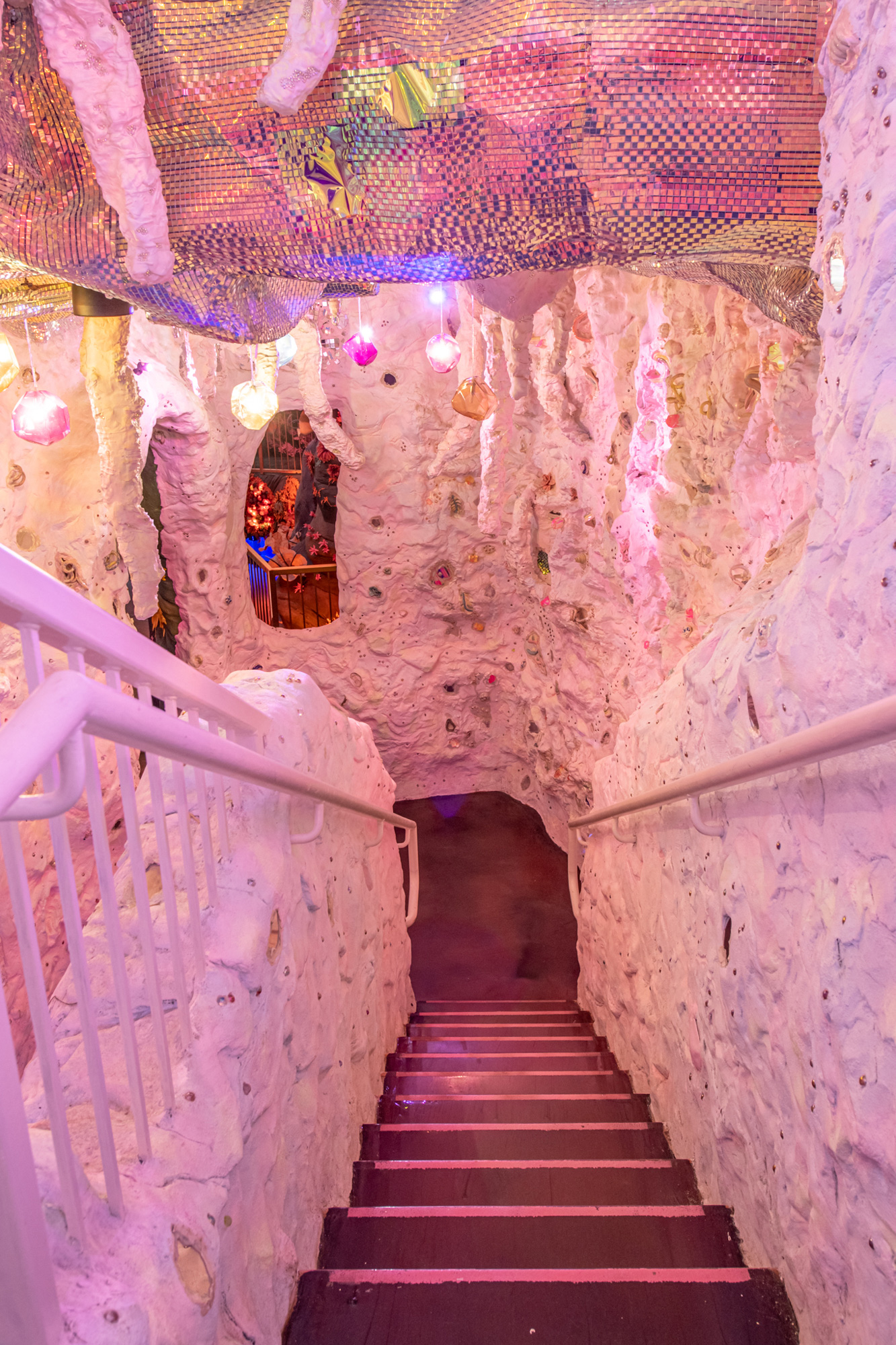 "Sparkle Cave" is like a historical landmark frozen in time, a time when mother nature and her rocks decided to wear drag and throw a massive party. Upon first entry, you notice a pinkish gold hue adorning its meringue-like rock walls, but when you zoom in to look at the details, you'll discover even more delights through gemstones and marbles, all created by Shayna, a 5th-generation Denver artist.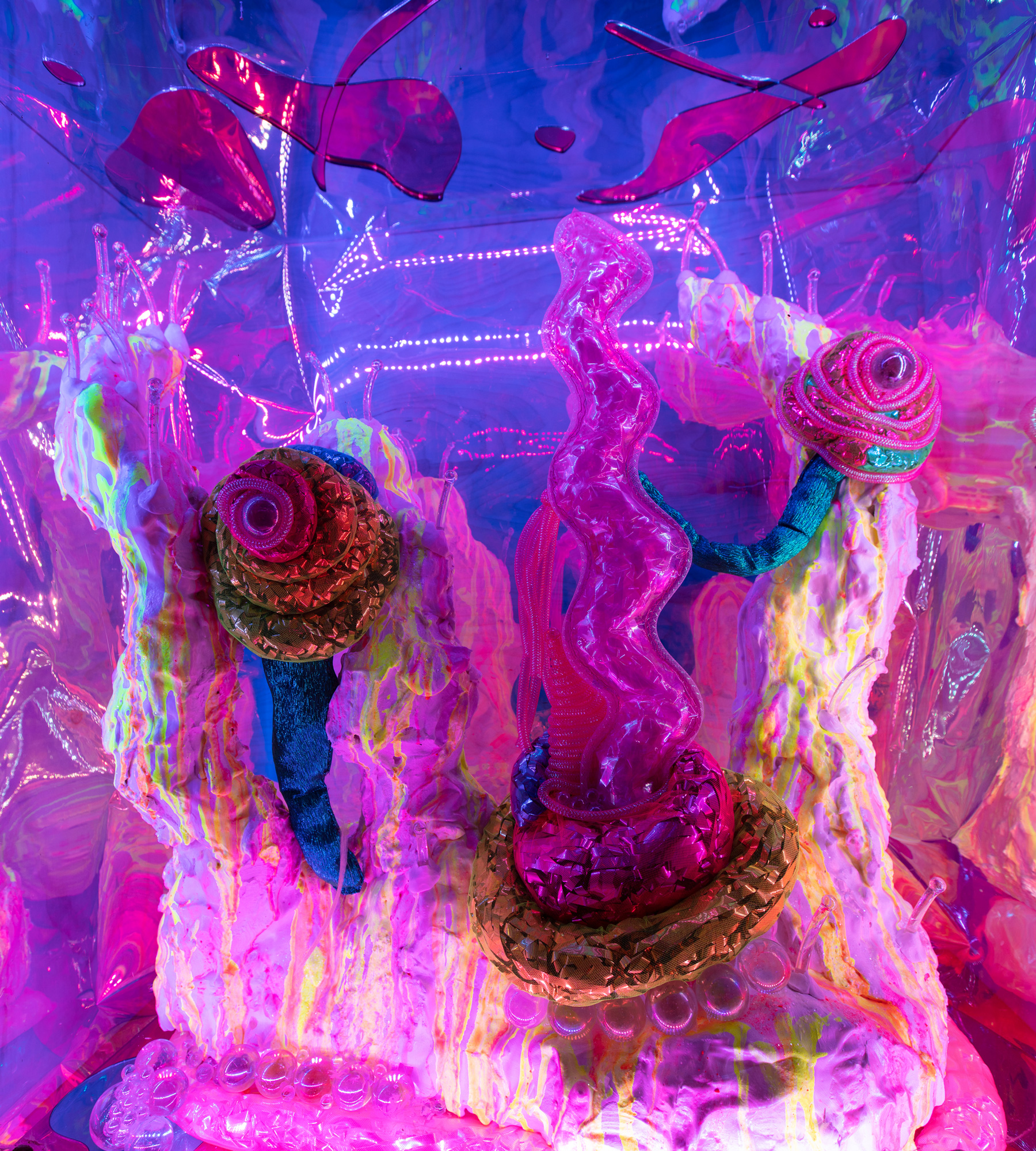 Although "Sparkle Cave" is the largest and most permanent piece Shayna has ever made in her career as an artist, some of her smaller works would fit right in with Meow Wolf's earlier pop-ups, like 2010's "GEODEcadent." "Sparkle Cave" is not only an explorable mythical wonderland, but also an ode to Meow Wolf's love for the beauty of immersive DIY spaces. 
"I wanted to make 'Sparkle Cave' really playful, and I wanted to evoke the natural world, but with a tinge of humor and a tinge of light playfulness," Shayna explains. "So, it's never going to be just a vista or a cave, truly. It's meant to be a caricature of one."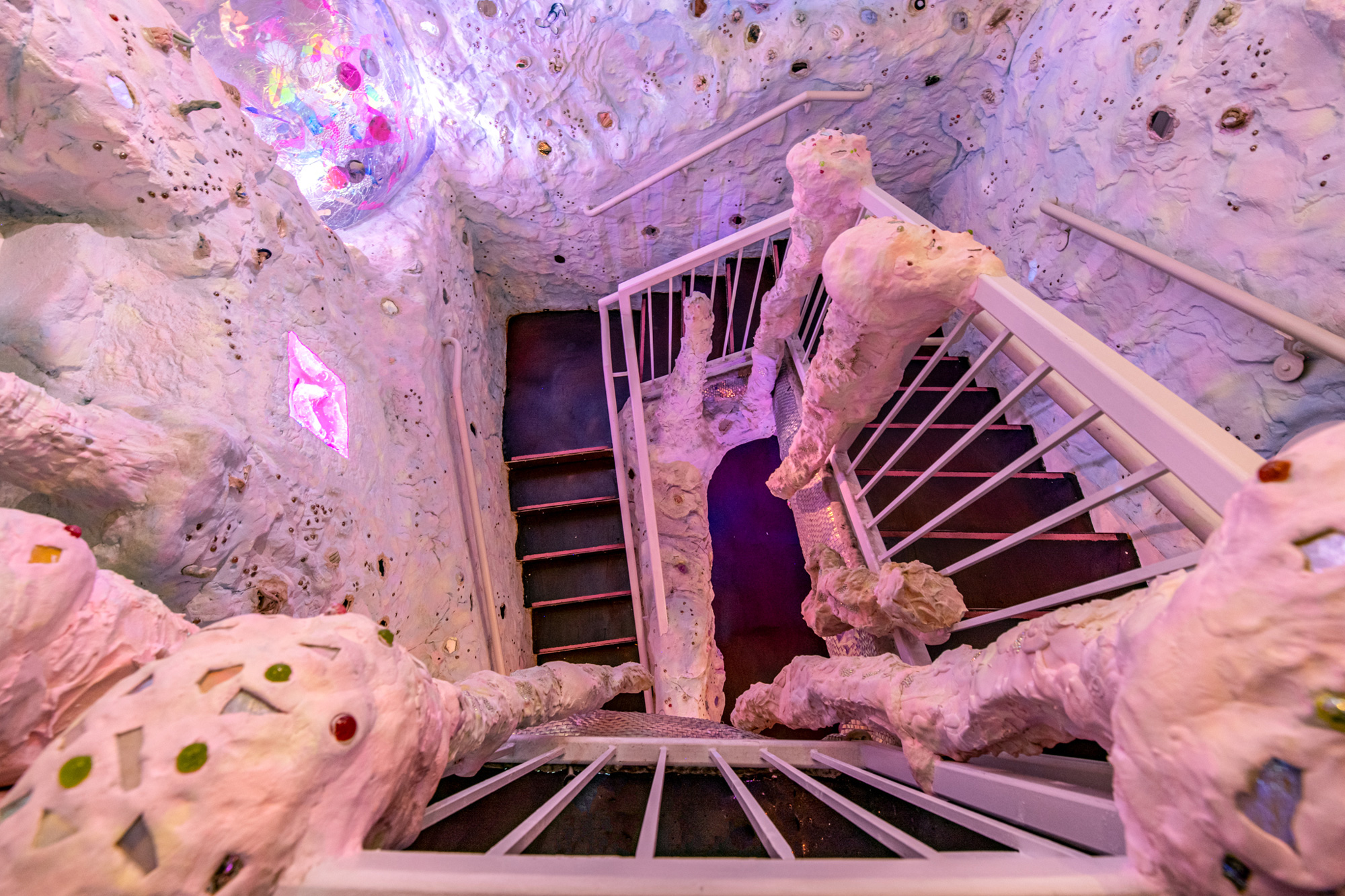 Shayna's work has transcended smaller sculptures like "Rock Lamp" and "Kitsch Emporium" to short term pop-up installations like "Inside/Out DiscoBall" at RedLine Contemporary Art Center in Denver, and finally to massive, permanent installations like "Sparkle Cave" in Convergence Station. Growing up in Denver, Colorado, Shayna has always been an artist. She remembers her earlier years as a child, always being motivated by her parents to create, but it wasn't until her college and post-grad studies where she began to bring her ideas to life.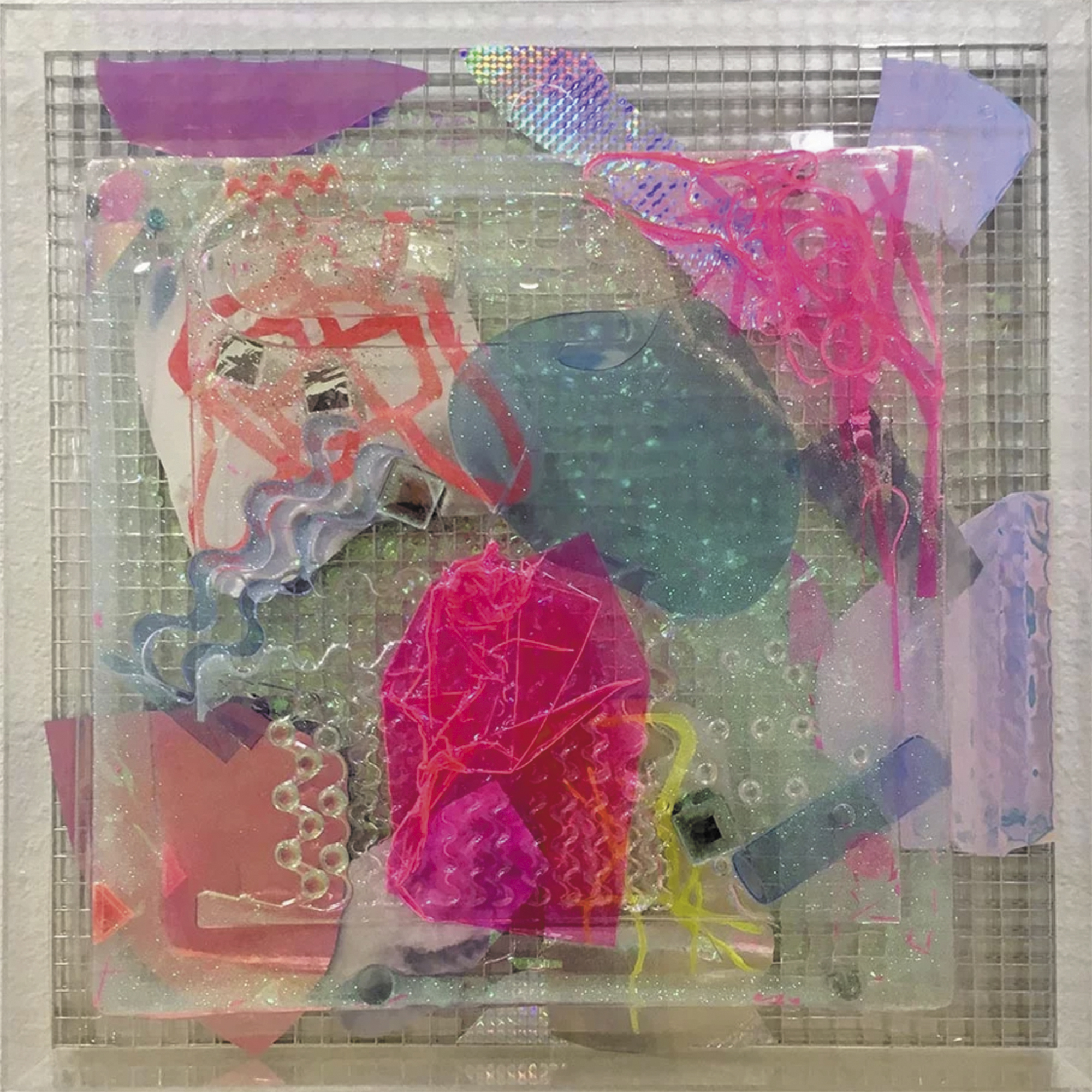 "The simple fact of working on something for two to three years and having the support to execute on a big, permanent project, really does wonders for one's work," Shayna says. "It gave me a lot of opportunities to explore new materials. My other projects were just installed very briefly. A month is a long time for an installation, but sometimes my past pieces would come up and down in a matter of a few days."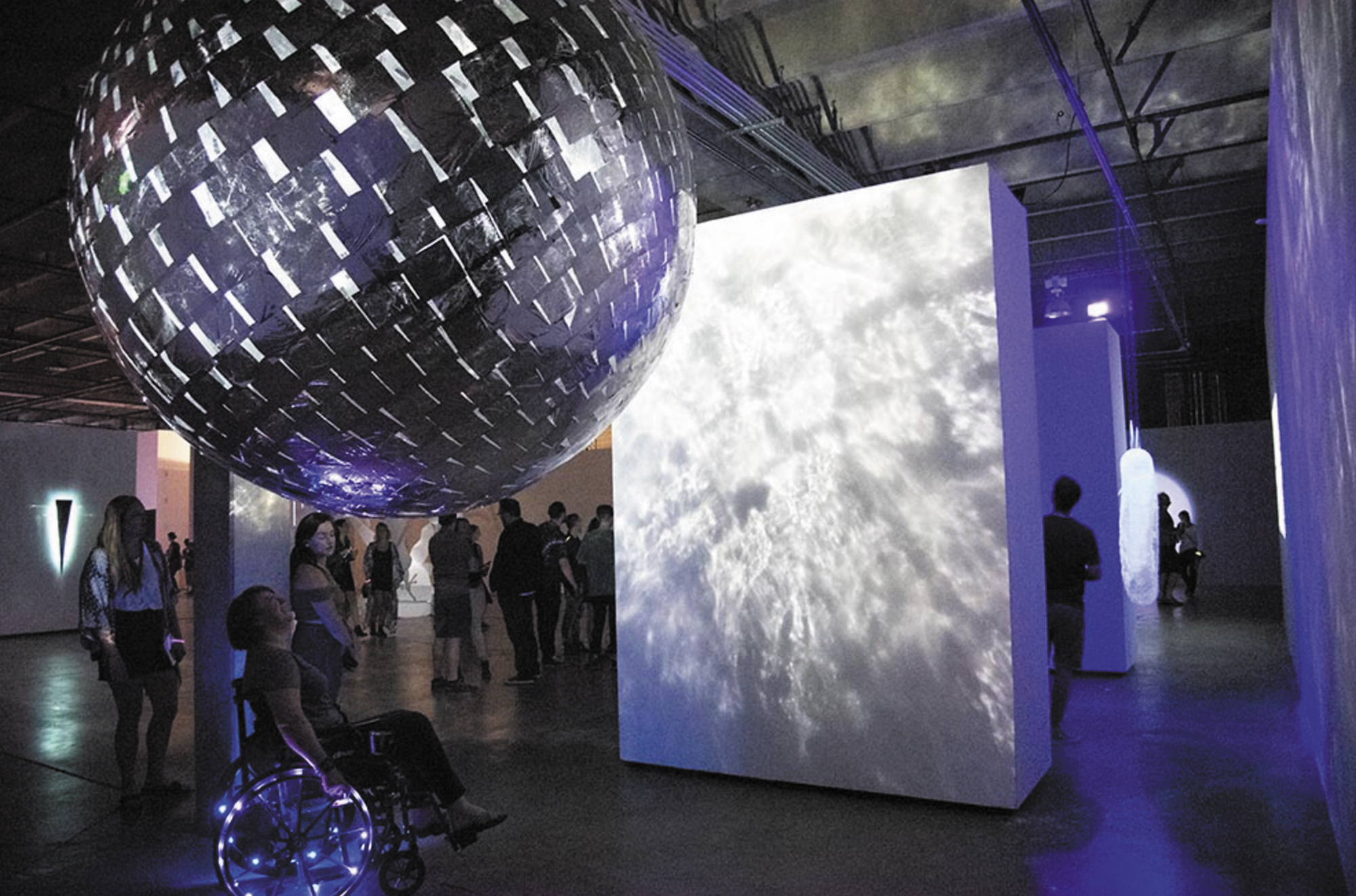 In terms of projects that really catalyzed her practice, Shayna says that her grad school thesis called '"womp womp" was one of her favorites. It was an installation featuring a huge rotating disco ball platform, party lights, soft sculptures and a seemingly contradictory soundtrack featuring disco music, a Mariah Carey song, and monks chanting (the abrasive sound of the motor of the moving platform would also shine through in between songs). It was a hilarious commentary on how we perceive failure in the form of a sparkly mound of banal party objects.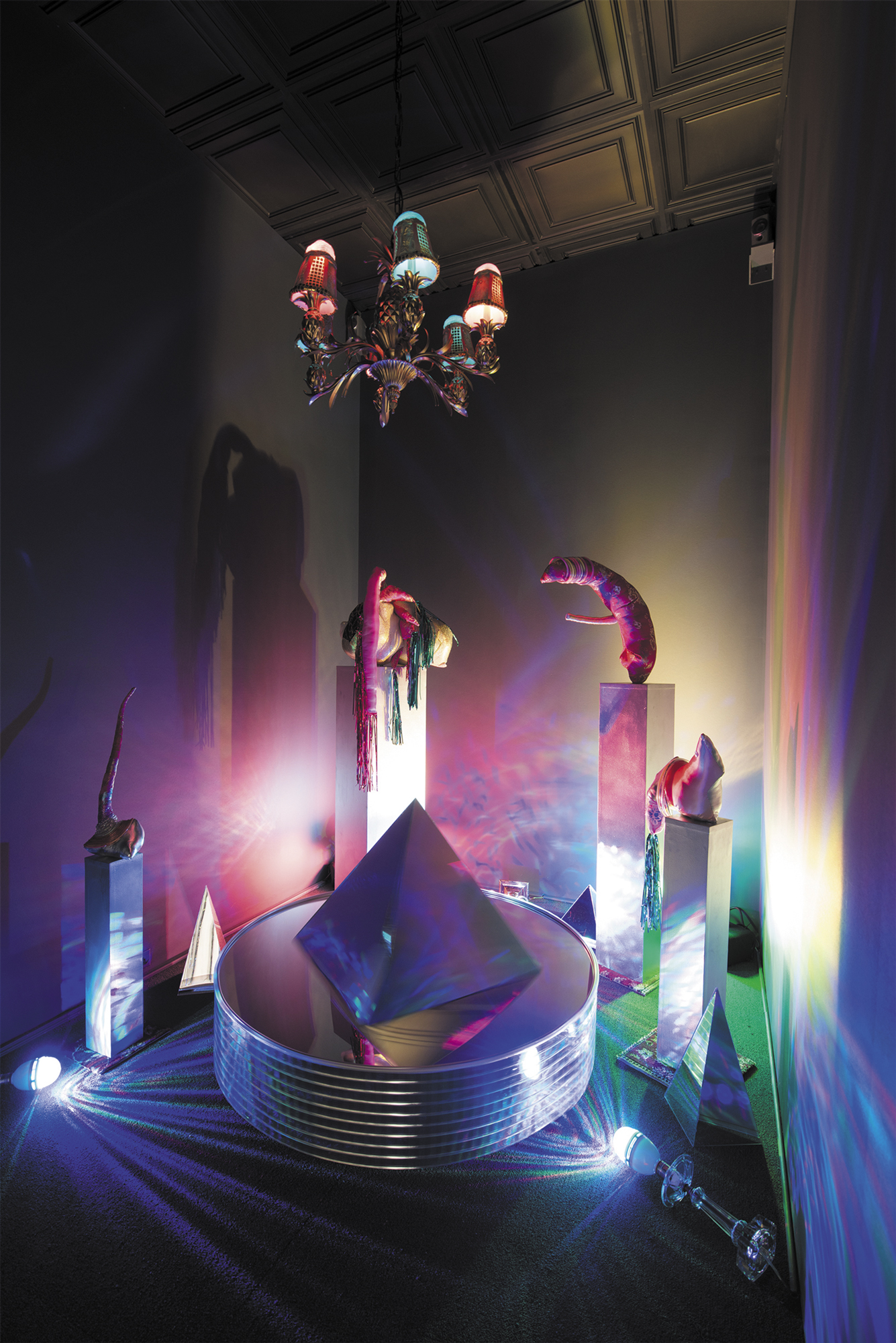 Shayna elaborates, "This was really a moment where I was like, 'I'm interested in immersive environments, but also kind of simultaneously showcasing their failure and the humor in that. And the juxtaposition, or the contrast, between our desire for a transcendent experience, but also our day-to-day reality of banality. That tension has fueled much of my work going forward."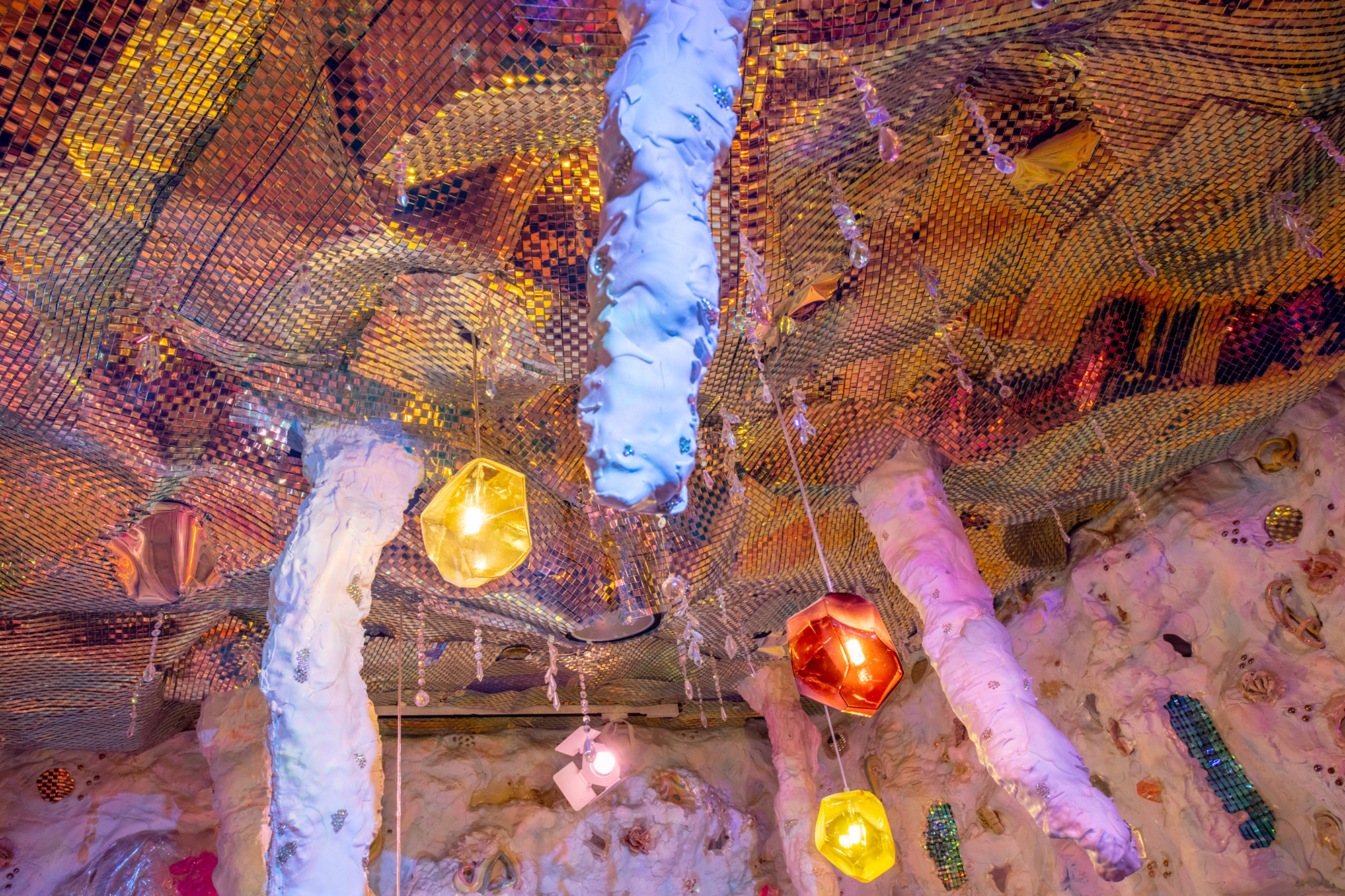 "Sparkle Cave" has been in the works for over three years, and now that it's complete it has allowed Shayna to think about her work on a larger scale. So what's next in the glittery world of Shayna Cohn? 
"My mind is open to a lot of possibilities. I think after executing something of this scale, I'm definitely intrigued by public work, and I'm definitely intrigued by large-scale installations. I'm excited to see what the next opportunity is."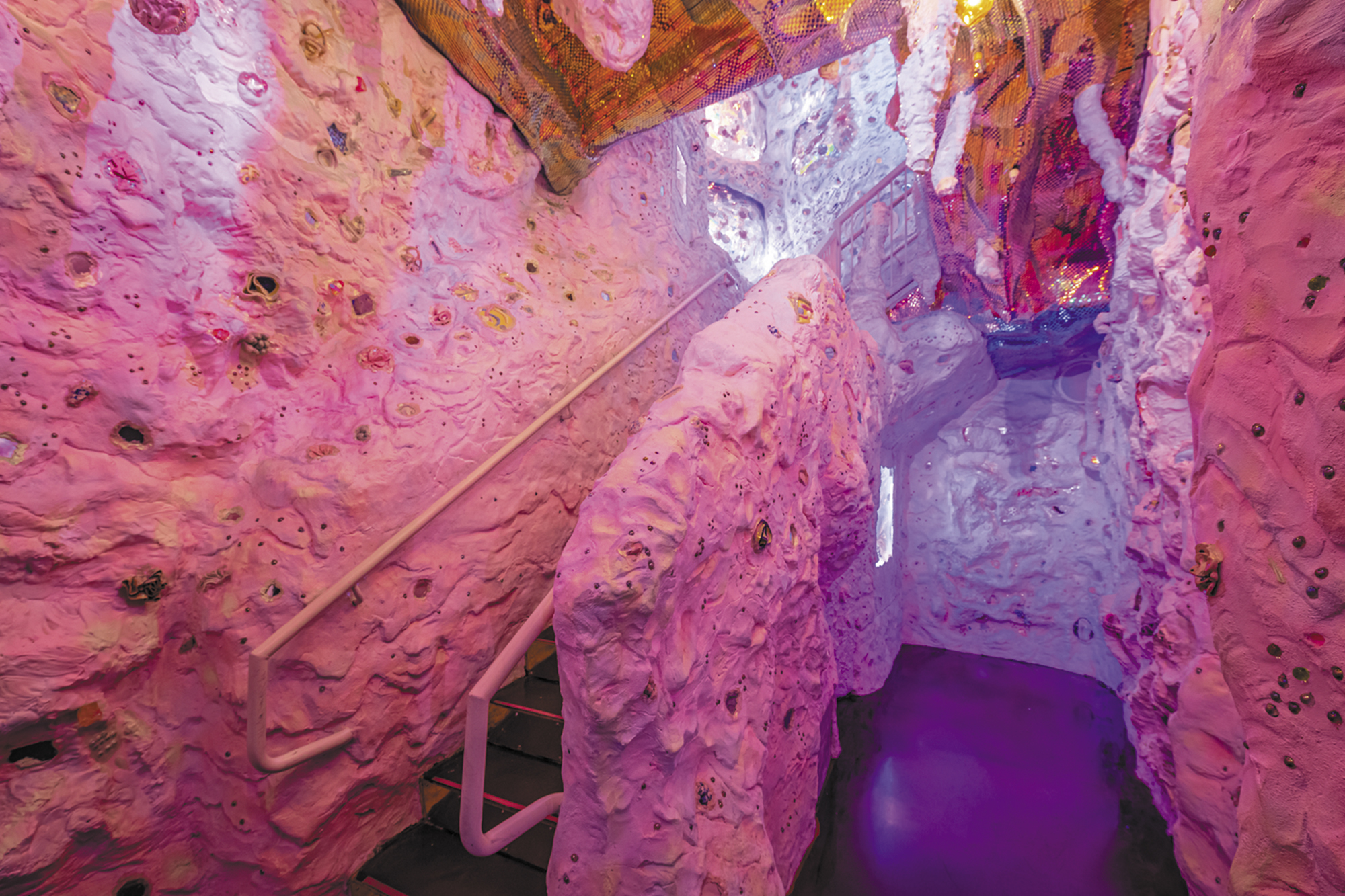 ---
Get tickets to Meow Wolf Denver's Convergence Station to see "Sparkle Cave" and more: tickets.meowwolf.com/denver.
---
Check out more of Shayna's work on her site: shayna.studio and on Instagram: @shayna_cohn_studio.
---
Allyson Lupovich is an experienced Social Media Manager with a history of working in the arts & entertainment industry as well as fashion industry. Skilled in Adobe creative suite, web production and marketing content, she is currently the Senior Social Media Manager of Meow Wolf.
---
Jess Bernstein is a freelance photographer, content curator and media team manager. A creative, highly-motivated, and reliable business woman, she has a wide variety of diverse experience in the music, marketing, architectural and start-up industries. As a fast learner with an arsenal of expertise in the business she has the ability to create unique, artistic content in an expedient manner while adapting to ever-changing, diverse surroundings. See more of her work on her site and on Instagram.
---
Kate Russell is a photographer and artist. Her only salaried job was when she worked for a circus, and then Meow Wolf happened. Growing up in a town of 2000, with only 2 paved roads, she prefers not to eat vegetables that start with the letter A, can be compensated with fresh raspberries, and loves a good handstand. She tried to re-name herself Ace at age 6, though it didn't stick. At one time, she was among the top 20 best female mogul skiers in the country, was a professional furniture maker, ran a marathon, without training for it, in under 4 hours, has jumped out of planes and off bridges, successfully, and can offer a good shoe shine, when needed. Follow her on Instagram.
---
Check out Meow Wolf's January Birdy install by Quinn Fati, Enter the Yarniverse with The Ladies Fancywork Society, and head to our Explore section for more of MW's monthly columns.