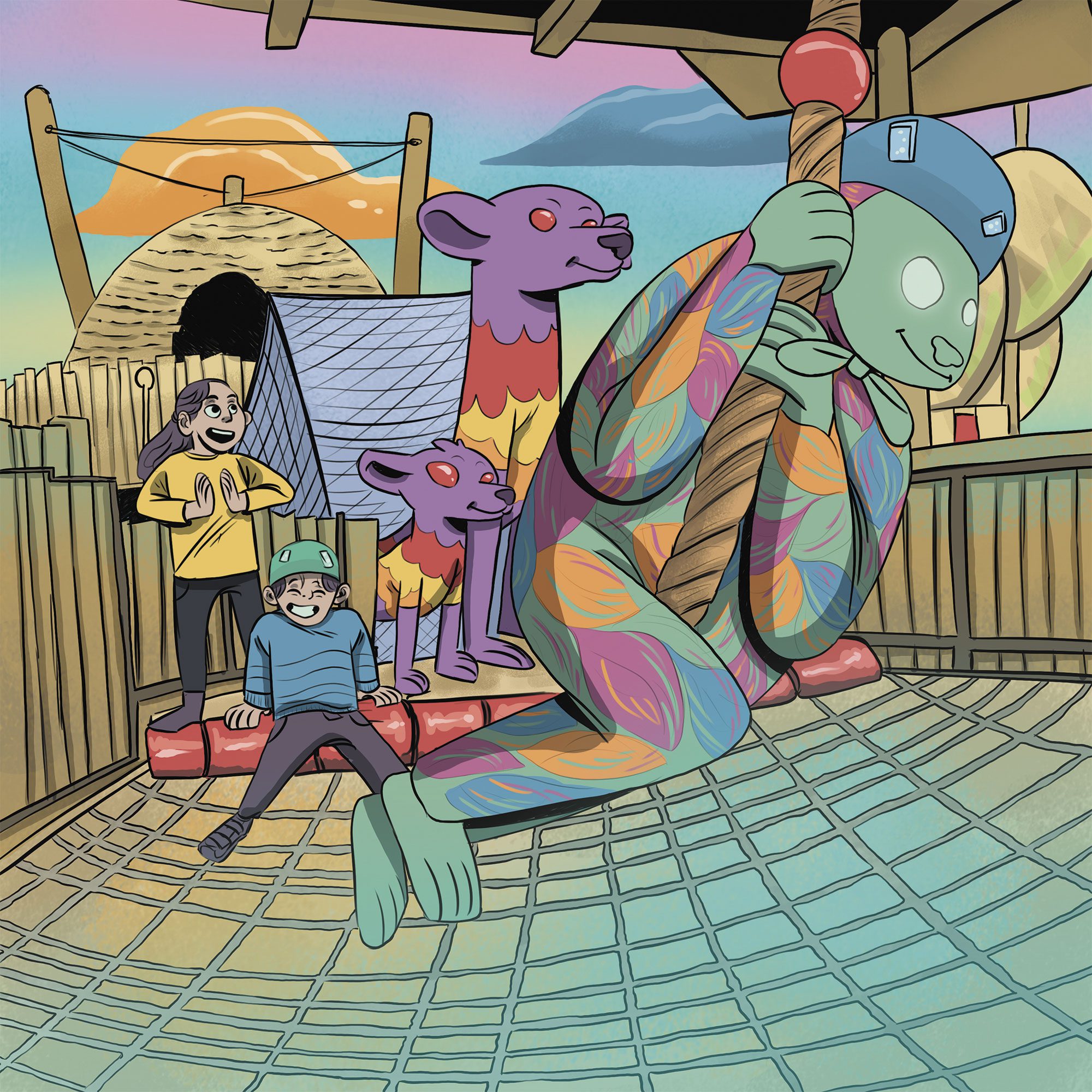 Meow Wolf's Family-Friendly Guide To Denver
By Elise Trivers
Art by Marcus Murray
Published in Issue 111, March 2023
Picture this: the sun is shining in Denver and you let out the contented sigh of a parent who was just told that their kids had, "Literally, like, the best day ever!" As a family, your eyeballs explored new art, your bodies moved through new spaces, and you made new mems together that you know will outlast whatever social media platform they end up on. This is the family trip that both you and your kids will be stoked that you shared together.
If you've been with Meow Wolf since the early days, you might now be of an age where your vacays look more like playgrounds and Shirley Temples than pool parties and shots of tequila. And hey, we love a wholesome adventure! But a family-friendly trip doesn't have to mean repeating the same tired formula year after year — where you spend more time fighting about what to do than actually doing it, where the flavor du jour is ketchup (again), where the midday meltdowns require every fiber of your being to not give up and pack it in. 
We promise we won't make you chug any margaritas (though we won't stop you if you're so inclined), but we WILL send you off with plenty of ideas to create the best family-friendly vacation in Denver. 
FUEL UP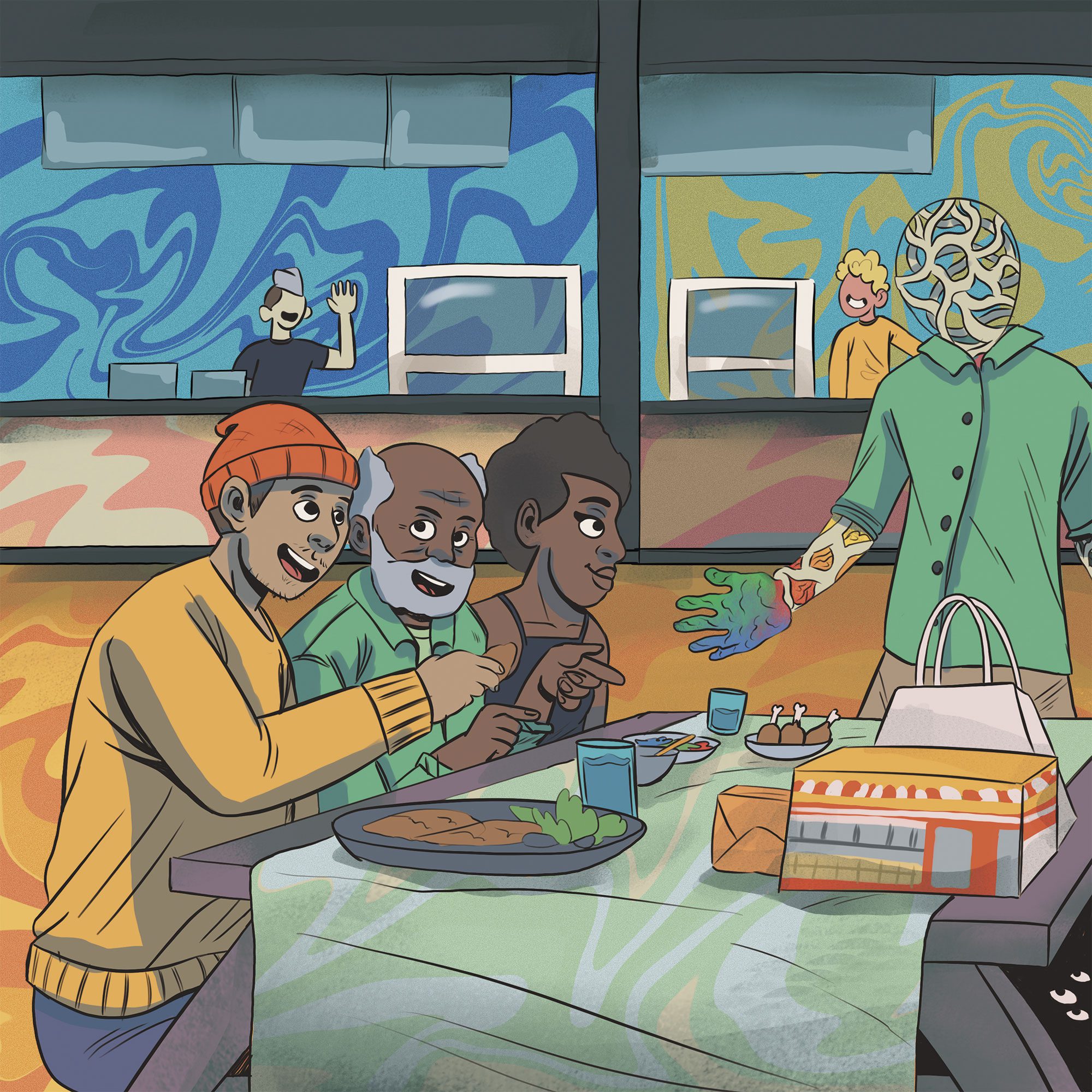 Modern food halls are springing up everywhere and offer a choose-your-own-adventure approach to dining that's perfect for keeping the peace between picky eaters and self-proclaimed foodies. Located just 15 minutes west of Union Station, the Edgewater Public Market is one of Denver's newer and bigger food halls. And unlike the centrally-located Avanti and Denver Central Market, Edgewater Market has a large parking lot where you should be able to easily find a spot so little legs don't have to walk too far from the car. The 52,000-square-foot space boasts 16 food vendors, two bars, plus some retail offerings. Our suggestion for how to approach this colossal cafeteria? Hand everyone in your group $20 and send them out on their own to decide which dish they'll bring back. All you have to do is grab a drink at the bar, find an empty table and relax until a mysterious smorgasbord is brought back to you. 
Meow Wolf recommendation: the "Root Vegetable Reuben" from Gladys or one of the combos at Konjo Ethiopian Food! 
For a more adventurous twist on a kid classic, hit up Biker Jim's Gourmet Dogs. With ostrich, rattlesnake and rabbit, and wild boar, they've got the kind of menu that'll have your kids squealing, "Wait, what?!" Bribe them to try the weirdest dog on the menu, or even better, don't tell anyone what you ordered and do a surprise tasting menu. 
If the kids need to burn off some energy before they'll sit down for their meal, try this spot with a babbling brook, rocks to hop between and real live trees growing between the outdoor tables. There are all kinds of treasures to discover in the nooks and crannies at Forest Room 5. It's popular with Denver's black-clad, bolo-wearing, whiskey-sipping hipsters, but if you go before the sun goes down, you're less likely to be on the receiving end of any kid/chaos-related glares. 
The Red Barber is a little more upscale, but as it's one of Denver's newest rooftops, you won't want to miss showing your family these views! With their life-sized yard games, hammocks, fire places and frozé, it's like you got an invite to the hip backyard party hosted by the neighbors down the street you've been dying to meet. 
ARTFUL ENTERTAINMENT

 
If you're reading this, we know you're already planning at least a few hours at Convergence Station! And if your family wants to keep the art party going, a few suggestions … 
For littles: Make a reservation to head over to the neighboring Children's Museum. It's a fantastic place that encourages creativity and hands-on exploration with features like indoor and outdoor climbing structures, a (faux) fire station, entire rooms dedicated to bubbles and water, and a cozy book nook. Make sure to spend time in the art studio where you can paint or sculpt a Convergence-inspired masterpiece! 
If your kids are old enough to want a little more independence with their art-making, but haven't grown out of conversing with their parents yet, bring them to Upstairs Circus where everyone can select their own DIY project and create them together. Project options include leather goods, jewelry and home decor. Plus, there's a bar for the 21+ participants to enjoy while crafting. 
For parents of teens, take them on a self-guided mural tour in RiNo, where brightly-painted walls might be enough to wrench their eyeballs off their phones just long enough to snap some selfies. 
Meow Wolf recommendation: Use this interactive map to plot your route — we recommend starting behind Denver Central Market and heading northeast from there.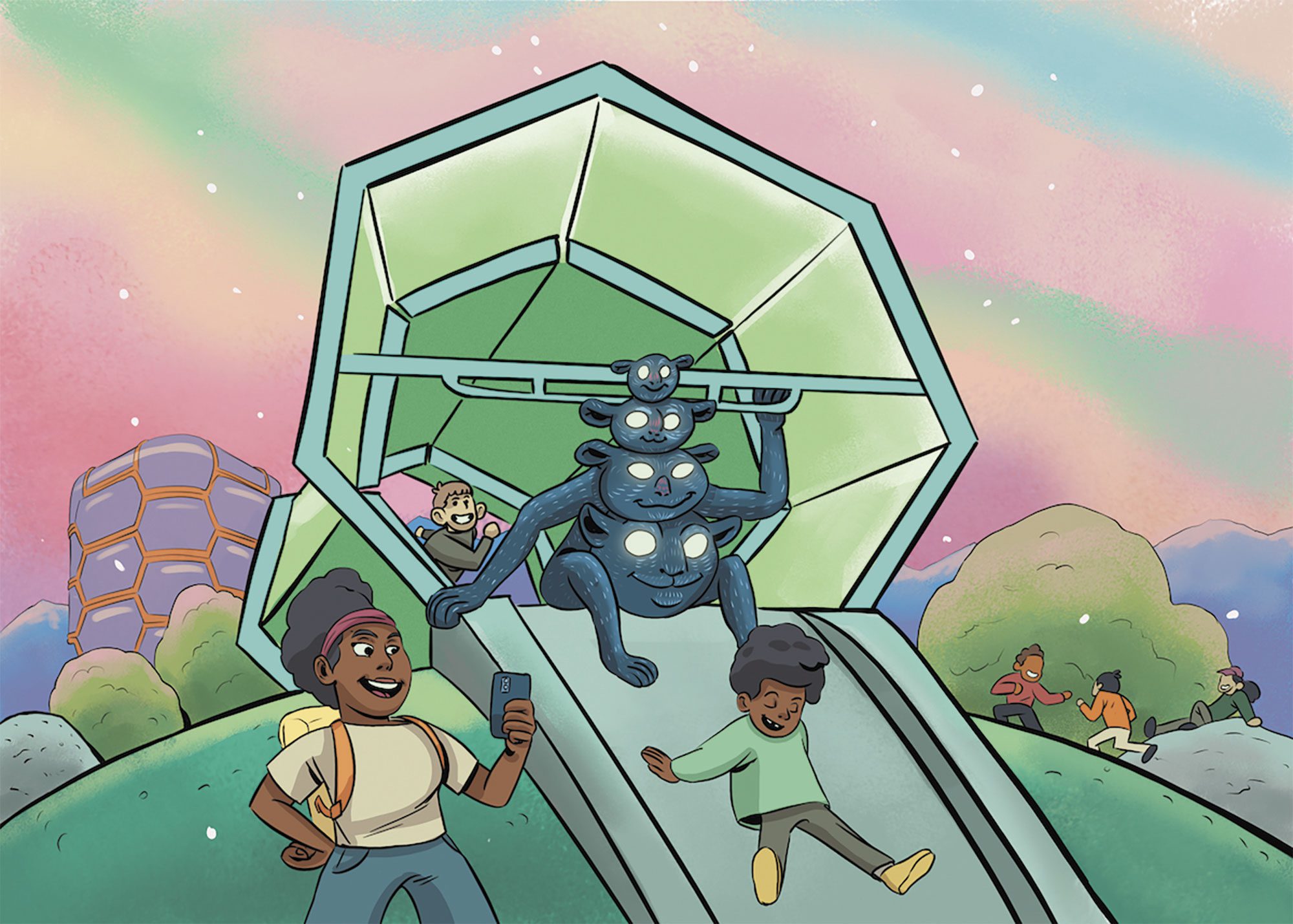 EXPLORE OUTDOORS

 
While we can't promise you 100 percent it'll be warm weather when you visit, Denver is known for its abundantly blue skies, so you might still be enticed into some body movement regardless of the temps. 
‍Wash Park, Cheesman Park and City Park are three of Denver's biggest and most popular parks. Any day of the week at these sprawling outdoor spaces, you can find joggers, dog parents, picnic-ers and groups of mixed-gender millennial bros playing some sort of game with a ball + mini trampoline + spiked seltzer. But our favorite Denver park for families is one you might not have heard of yet … 
Imagine a playground that looks as if Dr. Seuss designed a training facility for astronauts. It's centered around an orange and white honeycomb structure that juts up from an elevated platform with slidey and climby things spilling out of it to the ground. As far as playgrounds go, it's pretty damn sick. Named after the man who started the first Spanish-language radio station in Denver, Paco Sanchez Park sprawls for 30 acres in West Denver and is less than 15 minutes from downtown. 
Meow Wolf recommendation: Grab takeout from La Salvadoreña Papusas to make it a picnic! 
If you want something closer to downtown, the RiNo ArtPark is an art-focused public green space with an elevated promenade, murals and uniquely crafted seating spots, like swinging benches and lounge chairs. 
Meow Wolf recommendation: Support immigrant and refugee entrepreneurs when you pick up food at Comal Heritage Food Incubator to bring with you. 
On the off-chance that the weather turns on you, pack up the car and head 25 minutes northeast of downtown to Rocky Mountain Arsenal Wildlife Refuge. This is a hidden gem to even Denver locals and a fantastic place to view wildlife (bison, raptors, coyotes, prairie dogs and more), from the warmth and comfort of your own vehicle. 
Meow Wolf recommendation: While you're east of the city, swing by Constellation Ice Cream, the Central Park neighborhood outpost of Denver's beloved Little Man Ice Cream. We support getting ice cream no matter the weather!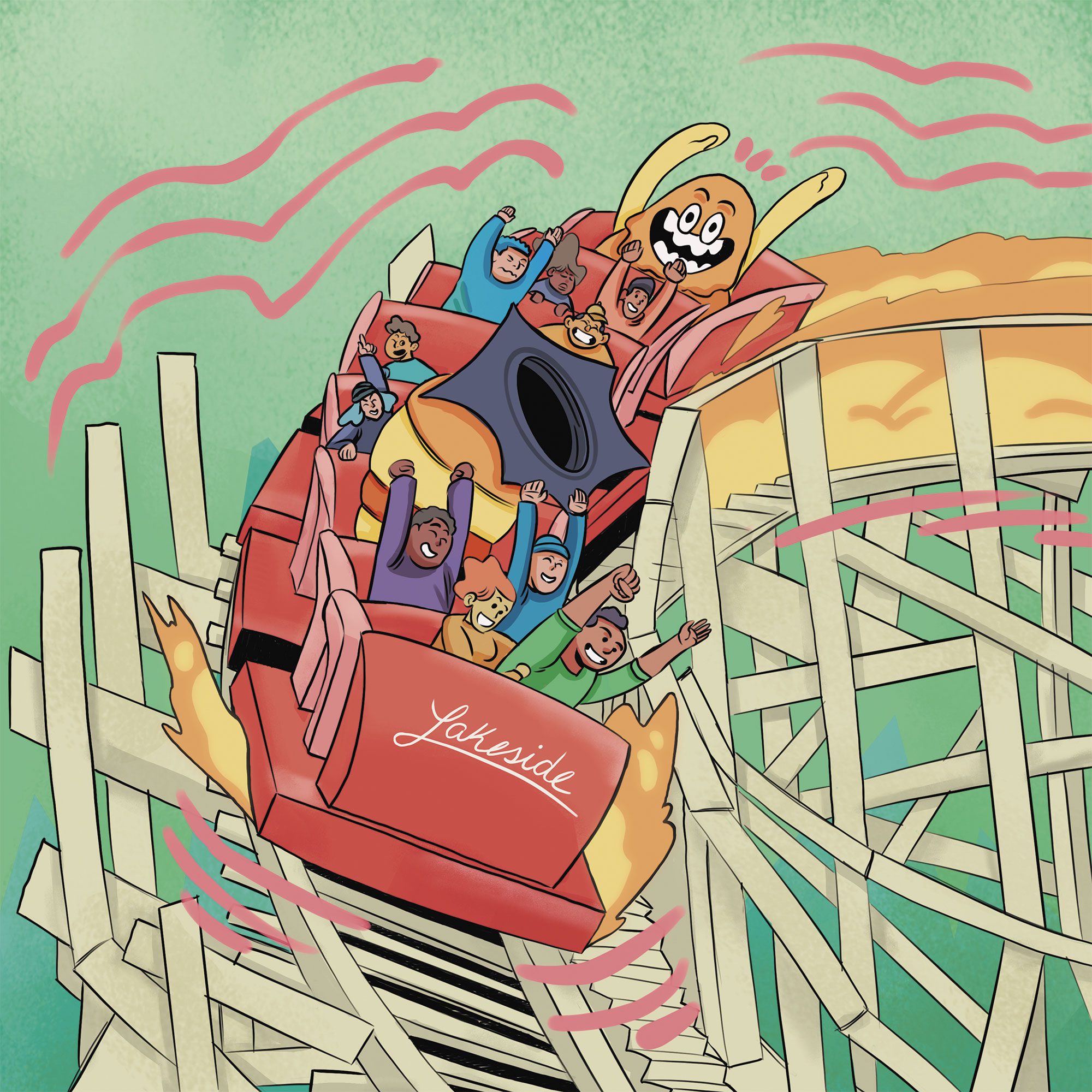 GRAB BAG

 
For one more hit of psychedelic art before the end of your trip, plan a stop at Elitch Gardens to ride Kaleidoscape, Meow Wolf's artist-driven dark ride that gently spins you through a neon fever dream of alien landscapes and laser tunnels. Located just a few minutes from Convergence Station, Elitch Gardens is a theme + water park brimming with roller coasters, kiddie rides and everything in between. It's been around for 130 years so if you're making family memories there, you're in good company. 
If you catch good weather and want to spend some time on the water, drive down to Bear Creek Lake Park and rent paddleboards from Rocky Mountain Paddleboard. 
Meow Wolf recommendation: Avoid the lines by renting them online ahead of time. 
We promise that "exploding whipped cream" is a totally PG vacay experience you can enjoy at The Inventing Room, a Willy Wonka-inspired candy shop run by a sugary mad scientist. 
Let your inner transportation geek nerd out at Forney Museum of Transportation's collection of more than 800 artifacts, including buggies, motorcycles, steam locomotives and more. 
Brave travelers should pay a visit to local landmark Lakeside Amusement Park. Indulge in churros after your insides have settled from riding "The Cyclone," the 1940s wooden roller coaster that is Lakeside's most popular ride. 
Whatever your day's adventure might be, wind down at the southern location of Denver Beer Co. They have a huge patio that's both dog and kid-friendly, plus an ice cream spot next door. 
SPECIAL MENTION:

 
We've recently been the subject of some friendly online ribbing with our friends over at Casa Bonita, the cotton candy pink behemoth of a building containing a puzzling wonderland that's like Disney's Pirates of the Caribbean ride had a baby with Chuck E. Cheese and they left that baby unattended in grandma's basement for 49 years with only sopapillas for sustenance. 
Casa Bonita gained national notoriety from a 2003 South Park episode and in a delicious twist of fate, South Park creators Matt Stone and Trey Parker used their FU money to rescue this treasured childhood memory maker after it closed down during the pandemic. They're nearing the end of a massive renovation and Casa Bonita fans around the world are eagerly awaiting its reopening, scheduled for May of 2023. 
---
This feature was produced in partnership with Meow Wolf.
---
Get tickets to Meow Wolf's House of Eternal Return in Santa Fe, NM, Convergence Station in Denver, CO and Omega Mart in Las Vegas, NV.
---
Check out Meow Wolf's February Birdy contribution, The Revolution of the Denver Tattoo Scene by Erin Barnes, or head to our Explore section for more of MW's past published works.