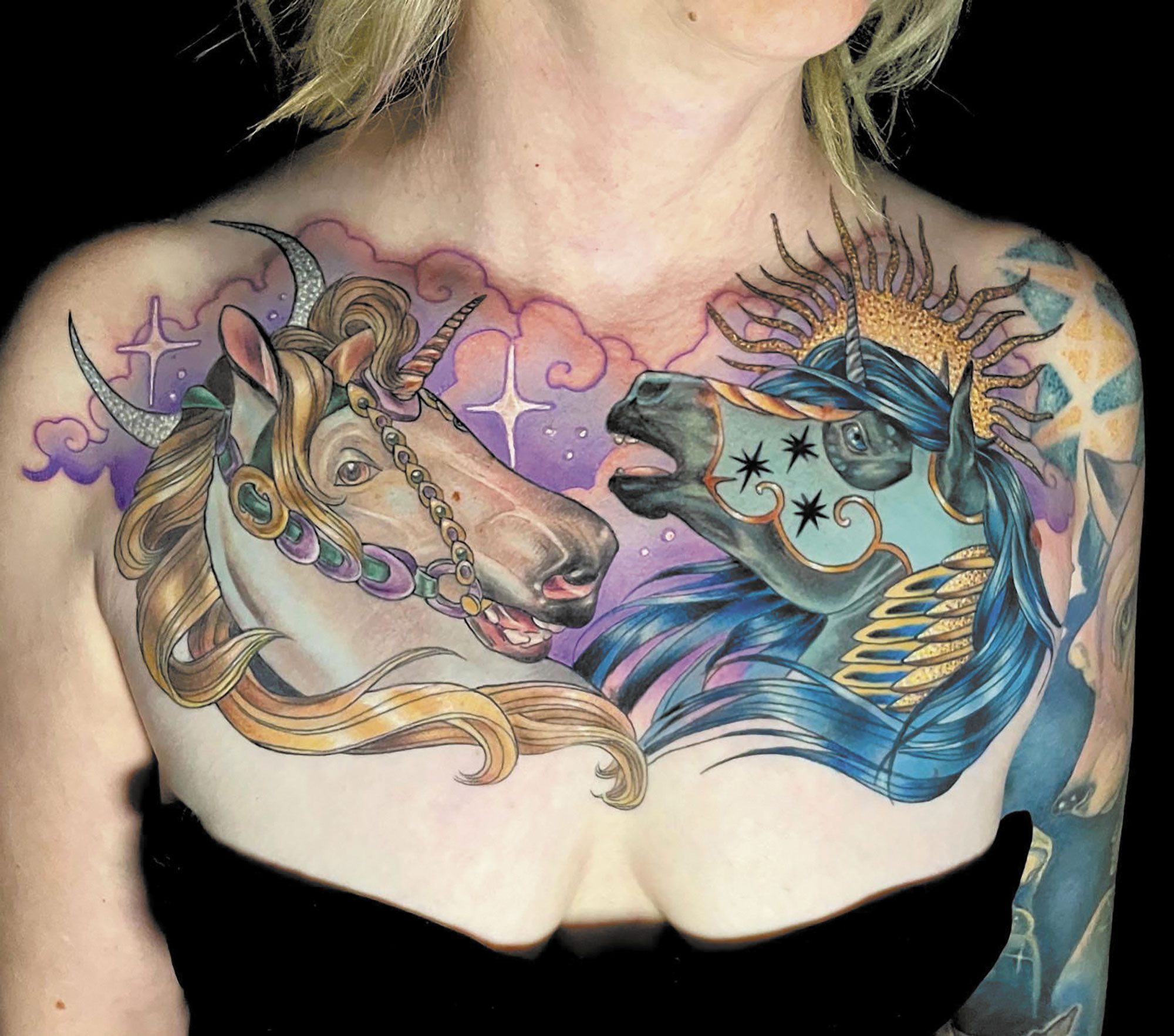 The Revolution of the Denver Tattoo Scene: How the competitive outlaw mentality shifted into a more inclusive space
By Erin Barnes
Published Issue 110, February 2023
"You're a Babs girl!" 
I was at a bar, and a girl was tapping me on the shoulder and declaring this phrase. My shoulder that she was tapping is adorned with a tattoo of flowers created with a special technique to appear glimmering, like gold sparkles. The girl tapping me on the shoulder started enthusiastically removing articles of clothing to show me that she was also covered in the same romantic flowers and gold sparkles by the same tattoo artist, Laura Babsie. It felt like we were members of the same club.
"Denver has one of the richest tattoo cultures that I have ever witnessed from a nationwide and worldwide perspective," Babs told me in a later interview. She would know; she came from Europe, where she picked up her signature style blending Art Nouveau, Baroque, Italian Renaissance Art and more. She's known for her gold sparkles, as well as her dark, goddess-y style: crying statues, languishing flowers and mythological creatures. She now owns a shop on Broadway called Three Fates. 
"In the past, the industry was ruled by bikers and outlaws. It was taken over by artists in the mid-2000s, and it's continuously evolving," she said.
The reason that the tattoo culture here is so rich, according to Babs, is because the market is booming; young people in the tech industry with disposable income and free lifestyles have moved to Denver in droves. 
"We have a vibrant scene, whether it's music or parties, and now we have this emerging art scene," says Babs. "All of those things tie in together."
The abundance of clientele means that artists don't have to fight over clients; there's no need to be competitive. In fact, in Babs' scene of mostly female tattoo artists, they arrange meetups and even travel together. The lack of competition has allowed tattoo artists' specific styles to flourish. Whereas tattoo clients might approach an artist with a design in mind, now clients follow tattooers for their unique voice, and are more flexible about what they receive, giving the artist more autonomy. 
"In Denver, I can post my own designs and fill my books that way without having the client dictate exactly what they want from me … people are heavy collectors here."
Babs recounts recognizing Denver tattoo artists' work on her clients right next to her work, and snapping photos, sending them messages that they're "tattoo neighbors." While competition still exists in some spaces, the scene is brimming with talent and mutual support.
When artists are supported, it creates diversity in the art. It's nearly an impossible task for us to choose, but if you've been waiting to get a tattoo but haven't felt comfortable doing so, here are four tattoo artists in Denver who are exciting to us right now.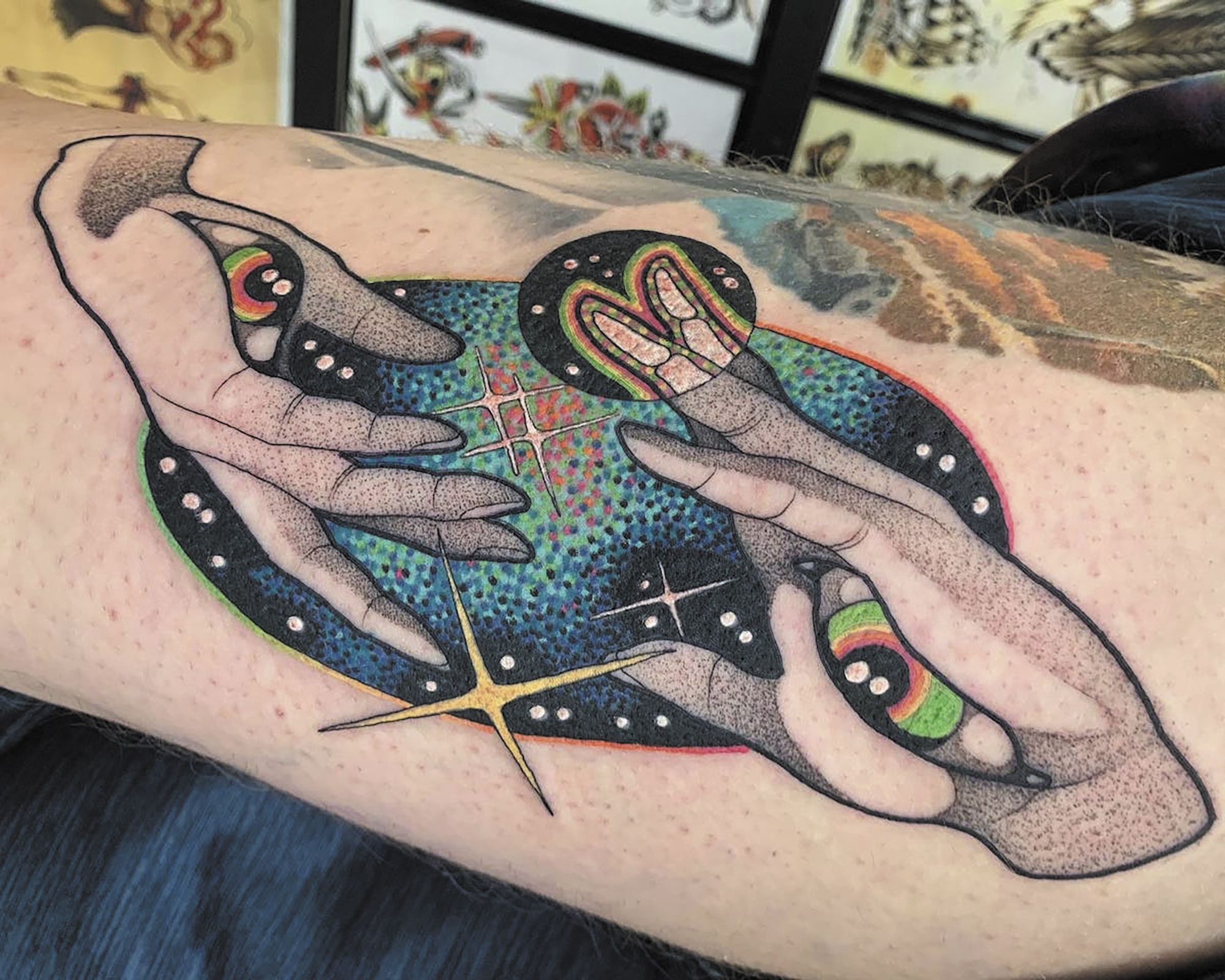 Carly Muñoz (artist at Glass Moon Tattoos) creates gorgeously psychedelic masterpieces. Whether they're cats being abducted by UFOs or a human face depicted in mind-bending M.C. Escher style, her designs are everything that we love about psychedelia — colorful, sparkly, trippy, rainbows in space and mushrooms on earth — but elevated to something worthy of a canvas.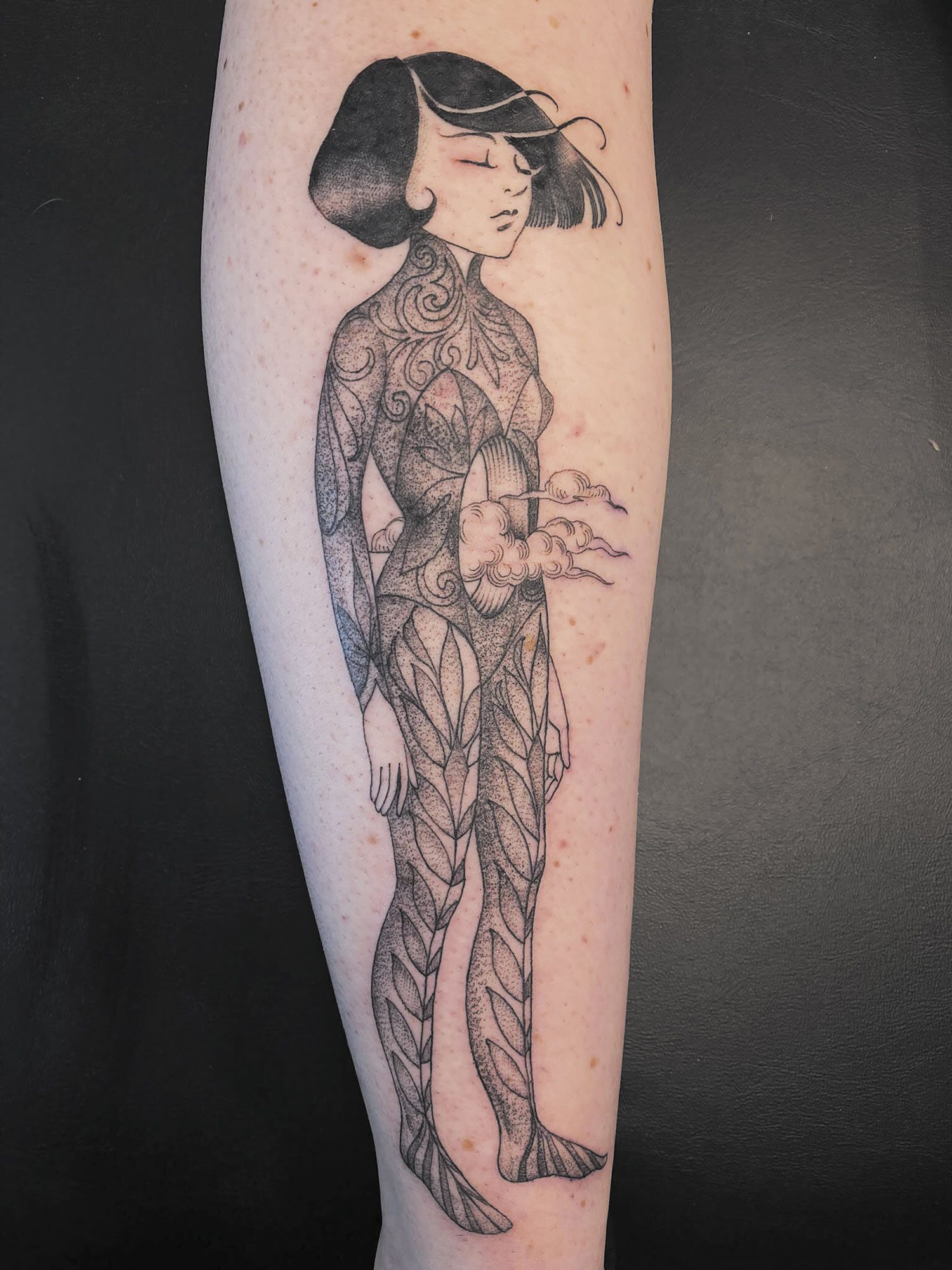 Sandi Calistro is a longtime artist in the Denver scene. Her dreamy designs look like expressions of the divine feminine: melancholy femmes with big eyes that are haunting and evocative, places in magical or whimsical environments. She started tattooing at the tender age of 19, and also developed a presence on buildings across Denver as a fiercely talented mural artist. During the pandemic, she even turned to painting canvases until it was safe to tattoo again. Now you can find her at Tattoo Dumond, and join a large and inclusive community of Denverites that proudly bare her masterworks; just know that you might have to wait a while to get onto her books.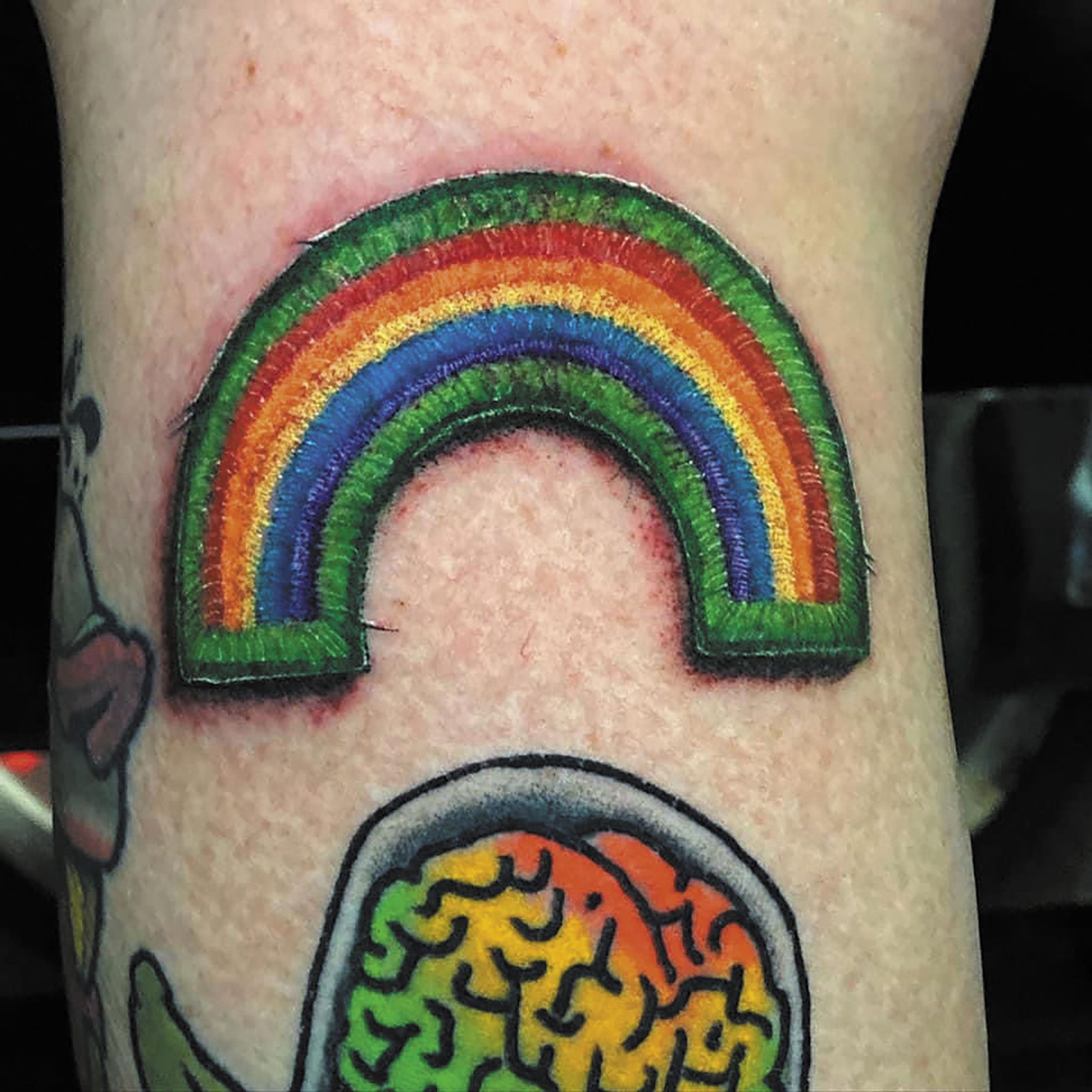 Flipshades wants to spread joy, if his all-caps Instagram bio is of any indication. His designs are exploding with joy, effervescence, pop culture and mind-boggling surprises. He specializes in patchwork, 3D, psychedelic and sticker tattoos. What that means is that his tattoos appear to burst off the skin into the third dimension. They might look like embroidery patchwork that is etched into the skin or a sticker of Linda from Bob's Burgers that is peeling off. They look so realistic that it's hard to tell they're even tattoos. His designs broadcast a sense of deranged whimsy, whether they feature a Shaq fever dream or a sad ice cream cone that is melting. Flipshades calls Denver home (as the co-owner of Long Live Tattoo Collective), but he travels often (a resident artist at Inked NYC Tattoos and Gallery), which gives him a unique perspective and brings more attention to our scene.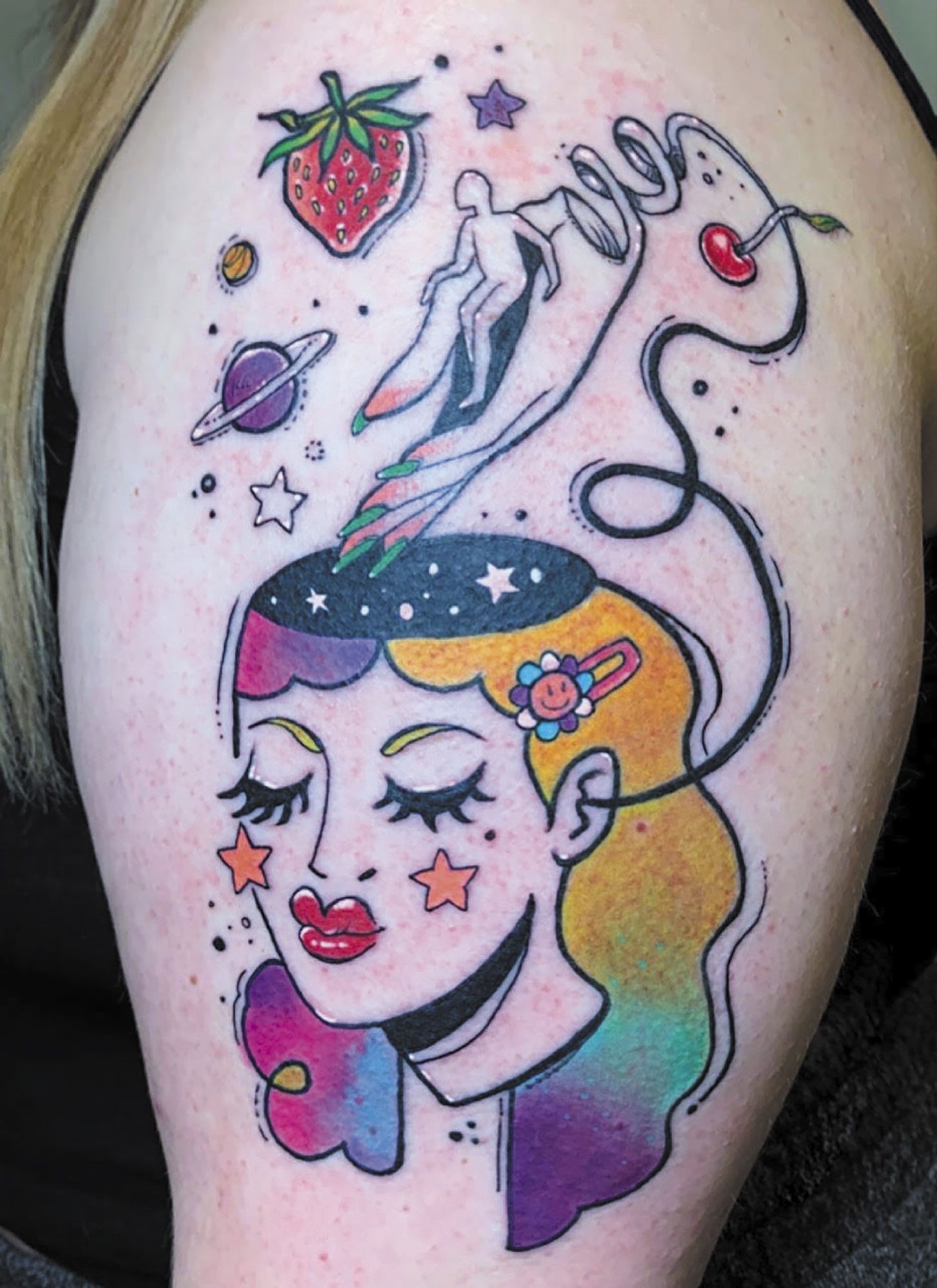 "Give me some of your skin to work on & I'll give you a piece of my heart & soul ❤️ ," says Kylie Jenkins' website bio. Her portfolio contains a dazzling multitude of magical creatures: aliens, fairies, frogs on lily pads, an adorable angel and devil femmes kissing. As a queer, Black/Mixed woman, her mission is to make LGBTQIA+ clients feel more welcome and comfortable in such an intimate and permanent experience.
"In a male dominated industry," the Denver Post wrote about Kylie's tattoo shop, "Sol Tribe and its crew of employees, customers and fans made space for women, non-binary people, the LGBTQ community, people of color, and anyone who felt a little different." The entire city of Denver was devastated In January 2022 when a gunman went on a rampage and killed five people and himself. Among the victims were Sol Tribe owner and tattoo scene matriarch Alicia Cardenas, and Alyssa Gun Maldonado, the jewelry manager there. 
The tragedy brought together the tattoo community, enriching the bonds even further. Thankfully, artists like Jenkins are carrying the torch and continuing Cardenas' legacy. 
---
This feature was produced in partnership with Meow Wolf.
---
Get tickets to Meow Wolf's House of Eternal Return in Santa Fe, NM, Convergence Station in Denver, CO and Omega Mart in Las Vegas, NV.
---
Erin Barnes is "A born writer… she's also a synesthete, whose mixed-up senses serve as a gateway to multiple creative mediums." – Westword. Check out more of her work on her site | Instagram | Facebook | Twitter.
---
Check out Meow Wolf's January Birdy contribution, The Pros & Cons of Visiting All 3 Meow Wolf Locations in 3 Days with interview by Quinn Fati, or head to our Explore section for more of MW's past published works.