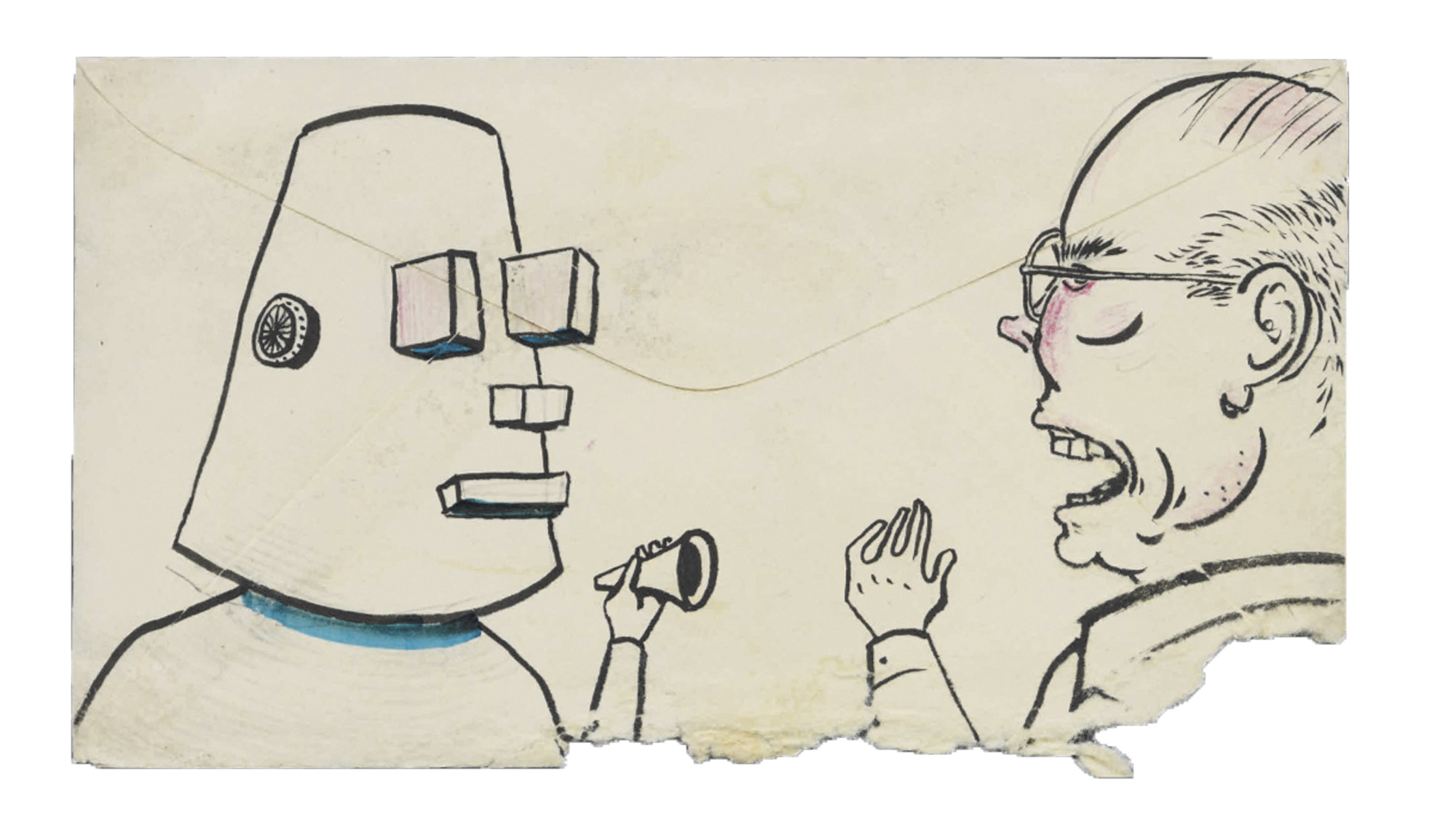 Down To Brass Tacks
By Brian Polk
Art contributions by Mark Mothersbaugh & S. Putnik
Published Issue 095, November 2021
We Should Take A Cue From The English And Call Our City Denver-Upon-Platte
Kingston-upon-Hull, Stratford-upon-Avon, Newcastle-upon-Tyne — the English sure know how to name their cities. It just sounds so dignified to be "upon" something. And once we rename Denver, we could export this excellent tradition to the rest of the country, submitting all kinds of names for approval to whatever board of elected or appointed representatives are in charge of keeping or changing city names. For example, Natchez-upon-Mississippi, Pierre-upon-Missouri, Boise-upon-Boise, Pittsburg-upon-Monongahela, and Long Beach-on-Pacific. I encourage other countries to do the same: Iquitos-upon-Amazon, Aswan-upon-Nile, Hoandedhdhoo-on-Indian, and Yaroslavl-upon-Volga. Since the British aren't exactly celebrated for what they exported historically — namely Marmite, pestilence, genocide — this could be the first step to making some sort of amends with the rest of the world. A sort of, "We can be quaint, and so can you" PR push where they discuss giving your cities antiquated names that aren't threatening to anyone (which might work as long as they don't mention Brexit or, you know, the past). 
The D.A.R.E. Program Bears A Whole Hell Of A Lot Of Responsibility For The Perpetuation Of Present-day Conspiracy Theories
This may be a wild theory on my part, so bear with me. But I think perhaps lying to middle school-aged kids about the fantastic, destructive nature of drugs was probably not the wisest move in the world. The whole "Just say no" abstinence approach to drug use, equating any and all experimentation of altered states of consciousness with mental weakness, and indoctrinating children to become judgmental, Puritanical anti-drug warriors clearly had a detrimental effect on just about every one of my friends. Here's the thing, once my friends and I tried pot for the first time, we thought, This is it? This is what all that hooplah was about? Clearly they were all lying. I wonder what else they're lying about. When supposed authority figures cherry-pick facts, exaggerate data, and straight up bullshit a bunch of kids, it kind of erodes trust in the system as a whole. And that's why all our New Age hippie friends are now anti-mask activists and Q supporters. 
I Do Not Like The Taste Of My Own Medicine, Thank You Very Much
When I called you "an unbearable idiot" for knocking down the display of books I had set up at work, I figured it was an apt criticism. Yes, I know that you were technically "hurt" by my comment (as you put it), especially since it was (again, in your words) "an accident." Well, not two hours later when I spilled all that glitter you were preparing for your school outreach craft, you referred to me as "an unbearable idiot," and I must say I really didn't like that, especially since it was an accident. Though I will say my accident was much harder to clean up, so you may be onto something there. Fucking glitter.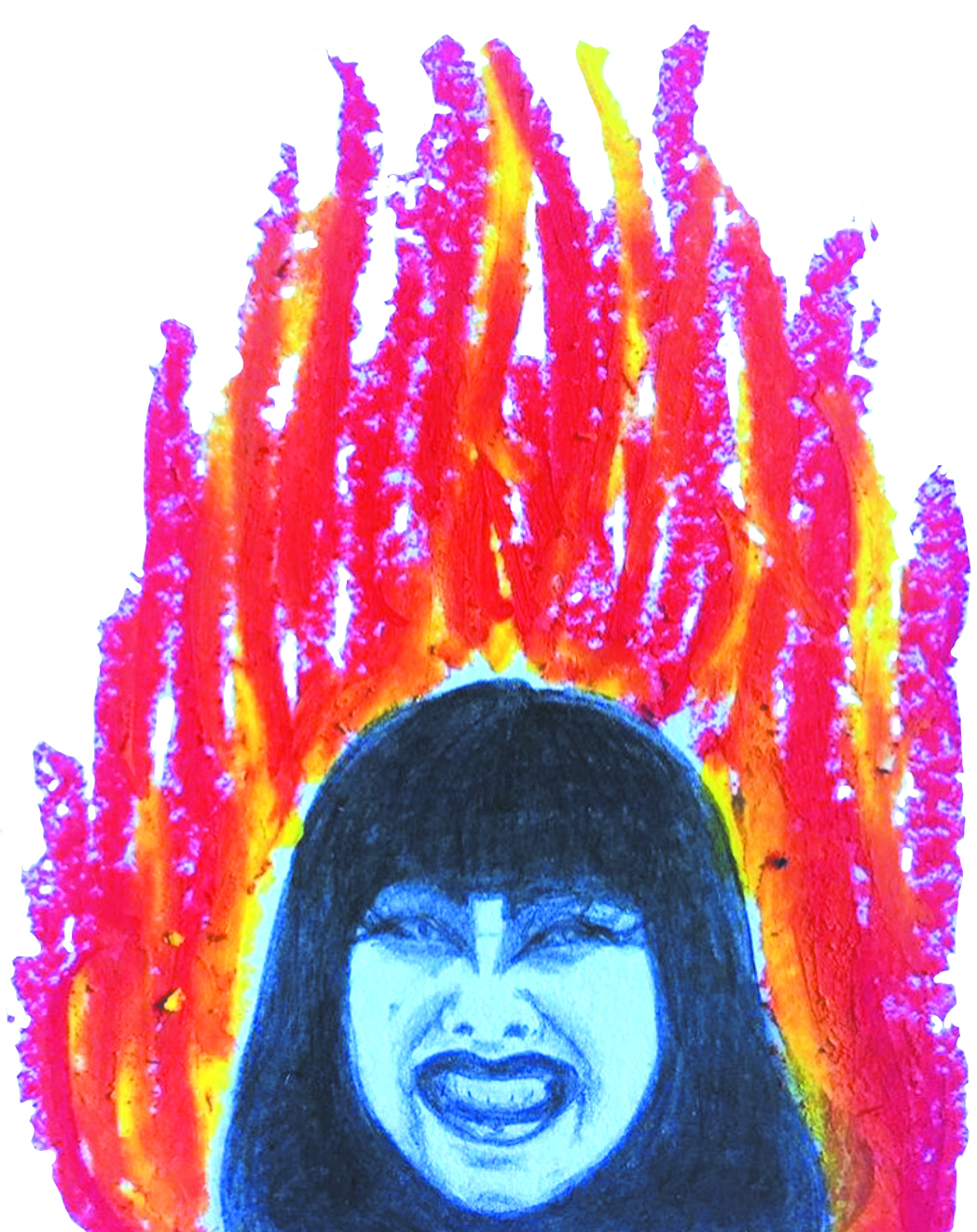 Apparently My Roommate, Who Refused To Share Even A Handful Of Her Potato Chips, Would Rather Let The Entire Bag Go Stale Than Give Me A Single Taste
My roommate and supposed friend Tanya, who refused to share her potato chips last Friday night, would rather let the entire bag go stale than to give me even the slightest of tastes. I know this because I found the aforementioned spoiled chips in the pantry this morning. Her denial to give me approximately 1/12th of that bag of chips wouldn't have been so bad if she didn't let the whole fucking thing go bad not half a week later. The next time she asks me to share my pot gummies, she best be prepared to hear all about this! 
I Am Open-minded Because I Like All Of The Punk Rock
You may think you have an open mind because you enjoy listening to a multitude of sub-generes of punk rock — from pop-punk and melodic hardcore to ska-punk and regular hardcore. But I have to say, I have you beat by my open-mindedness, because I look favorably upon all of the sub-genres of the genre. For example, how many of your punker friends really obsess over almost the entire Alternative Tentacles catalog — with an extreme emphasis on Nomeansno, Alice Donut and Victims Family — yet also love a good chunk of the Moon Records and Asian Man bands? I also enjoy a multitude of first wave punk and new wave bands like Television, X-Ray Spex, Devo and New Order. The first two B-52s records? Yes, please. What about Gang of Four? Love 'em! Now you may be thinking with all the bands and sub-genres I listed that I couldn't possibly like The Locust, Born Against or The Blood Brothers, but you'd be wrong (and I'm a bit taken aback by how judgy you are). I love all three of those bands! Citizen Fish and the Subhumans? Sure! Subhumans U.K. and Subhumans Canada? Yes (but come on Canadians, we all know the U.K. version of that band is way fucking better, so maybe set aside some regional pride and get real, eh?*). Also, I even enjoy a lot of '90s era Fat and Epitaph bands, though I don't listen to them very often. Did I mention I love Nomeansno? Oh, I did. Well then, there you have it. You'd be hard-pressed to find someone who is so open-minded about a single genre of music as me. (All that said, I still can't stand Sublime. You have to draw the line somewhere, amiright?**) 
---
*You know, the older I get, the more I realize how subjective musical tastes can be, so maybe I shouldn't even compare bands and criticize others for liking the one I deem inferior. Competition really has no place in the arts. Sorry, my Canadian brethren. Your Subhumans are just as good if you say they are.  
**While this question was meant to be rhetorical, I will answer it by saying that I am in fact wrong. Again, taste is subjective and if your favorite musical acts are Pat Boone and Sublime, then more power to you. (And yes, it is painful for me to admit this. Sometimes personal growth requires a bit of agony.***)
***Come to think of it, agony is a bit too strong of a word to use here. It's as though I'm martyring myself in public to create an image of a sensitive, empathetic person who's interested in self-growth above scoring a cheap joke. Most of the time, this is not who I am. All of my close friends will tell you that.****
****I've never footnoted a footnote before, and I am not sure how I feel about it. 
---
Brian Polk is a Denver-based writer, publisher of The Yellow Rake, and drummer for Joy Subtraction and Simulators. He's the author of Placement of Character and Turning Failure into Ideology. He likes writing, muck raking, yellow journalism, zines not blogs, cheap booze and punk rock.
Check out Brian's October Birdy install, Short Fiction For The Busy, The Easily Distracted, And The People Who Don't Ordinarily Read Fiction, here or head to our Explore section to see more of his work.
---
Mark Mothersbaugh is one of this era's most unique and prolific composers. Deeply aware of the ability of precise, multi-faceted artistic expression to deliver vital social commentary, he has perpetually challenged and redefined musical and visual boundaries. Mothersbaugh co-founded influential rock group DEVO, and then parlayed his avant-garde musical background into a leading role in the world of scoring for filmed and animated entertainment, interactive media and commercials.
As an award winning composer, his credits include Moonrise Kingdom, 21 Jump Street, Cloudy with a Chance of Meatballs, Enlightened, Rushmore, The Royal Tenenbaums, The Life Aquatic, Pee Wee's Playhouse, and the hugely successful Rugrats television, stage and film franchise.
Through his multimedia company, Mutato Muzika, Mark has scored hundreds of commercials. Mothersbaugh received the BMI Richard Kirk Award for Outstanding Career Achievement at the organization's 2004 Film/TV Awards. He can currently be seen as the art teacher on the hit television series, Yo Gabba Gabba!
Check out Mark's last Birdy piece or dig in our Explore section to see more of his work.
---
Siena Goldman aka S. Putnik lives in her birthplace, Los Angeles, where she has spent her lifetime so far experimenting with the visual and musical arts. She loves working with pencil, pastel, watercolor, crayon and collage to convey interesting textures, color palettes, and moods in her multi-media artwork. As a 25 year old, she has spent a lot of life in school, uncomfortably switching districts and trying to fit in. Now, she is just stepping out yet again, this time stuck in the squeeze of birth as a young artist.
View out S. Putnik's October Birdy install and check out our Explore section to see more of his work.