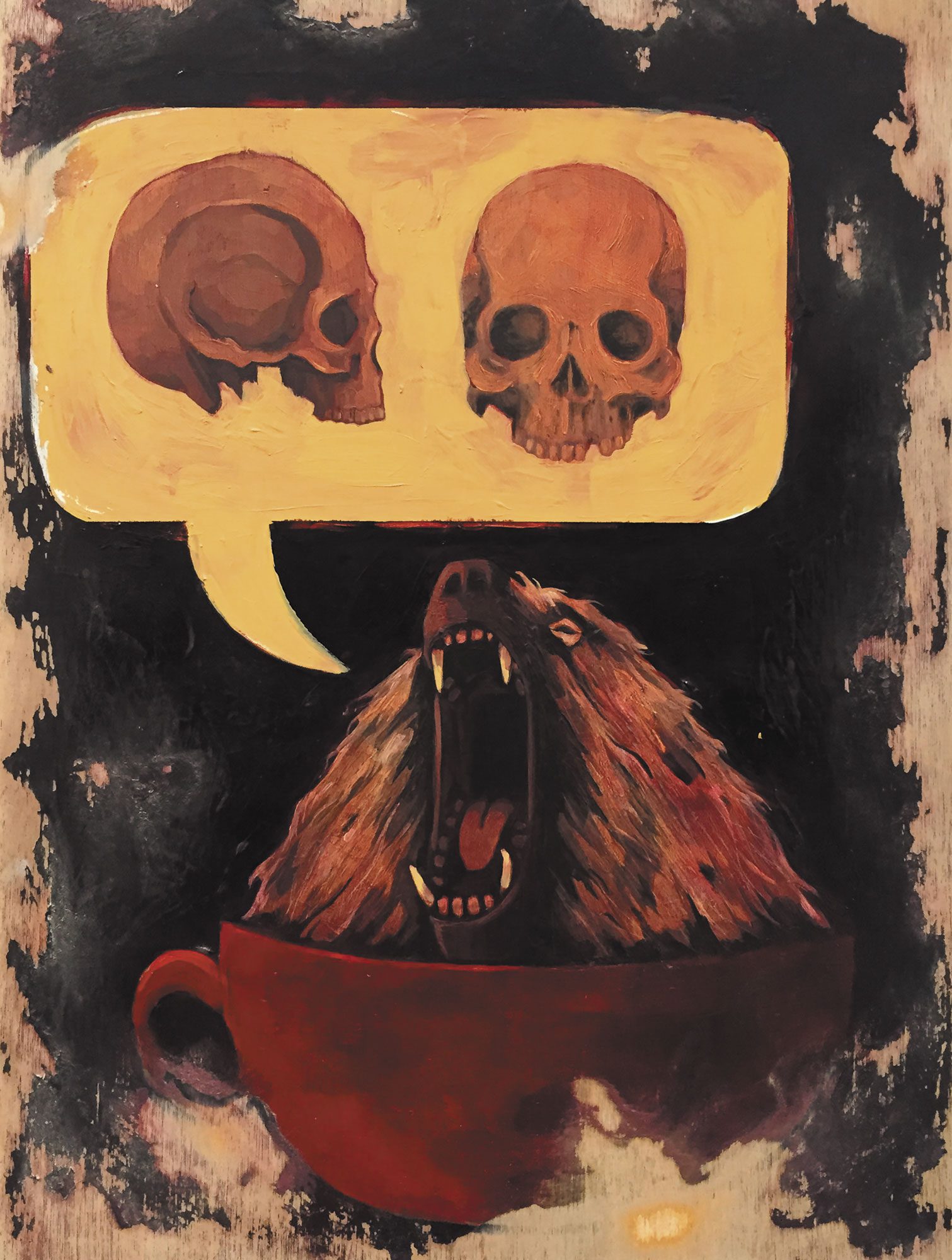 FOREIGN OBJECT
By Zac Dunn
Art by John Van Horn
Published Issue 117, September 2023
The trees did not speak as they passed through. The birds didn't circle as the bugs had all
risen from the boundless heather.
The fat red fish would be waiting
Pushing up stream with every delicious morsel
Of muscle and fat
To squirt their essence in the maelstrom.
The Cubs hadn't been getting along
The last deer they'd eaten turned into
A full-blown roe that resulted in some
Deep wounds and hurt feelings.
The path back to the den was the BEAR's favorite. Belly full of fish, ready to cuddle with his brood at last.
On they marched finally entering the majesty of the Delta. The Cubs made nice and pounced the writhing and wriggling COHO.
They'd smelled the LONER coming hours ago but it seemed they'd been persistent.
The BEAR motioned to the brood and they broke back to the trees and followed MUM.
The BEAR did not return to the deciduous canopy and rather turned up stream where he could feel the LONER approaching. The BEAR had grown up an orphan and his kin were all bagged by filthy odious mountain men. A perpetual game of cat and mouse unfolding over years. The flatiron faces that kept them all trapped there together.
They all knew each other in a way.
The BEAR had reached his limit. The time would never end when this toothless recluse would cull his kin and kind.
Making quick haste the BEAR lay in wait on the river's edge. A rat king of water moccasins curbed in the cure strait of the bend. The breaths the BEAR drew were low and slow. The snapping splashing was almost within reach. The BEAR swatted the LONER. The LONER stepped back, gasp blasting buckshot off left.
The BEAR went low, caught the pellets in the shoulder. The LONER took a breath and stepped back. The cottonmouth's lunged at his meaty, filthy thigh. Desperately the LONER retrieved his pistol only to receive four more brutal strikes from the understandably upset reptiles.
The LONER staggered back in the river and flopped backwards. Gasping for air cursing the BEAR. The BEAR observed from the bank. It was time to March back. The LONER twitched and continued cussing as the BEAR made haste snatching two more COHO in his maw.
The stars were all out and the Cubs were back in the den warming the womb.
The tiny needles clicked and clacked in an orchestra of bugs, birds, frogs and deer.
The great chorus of the wind spoke lonely and slow. 
---
Zac Dunn is a psycho-social mechanic, father, musician and dreamer. Check out his music and follow him on Twitter | Instagram | Tumblr.
---
John Van Horn is a CO-based artist. Follow him on Instagram for more art. Check out his store for prints, originals, merchandise and more.
---
Check out Zac's August Birdy install, FOREIGN OBJECT, and John Van Horn's Issue 068 Front Cover, or head to our Explore section to see more by these talented artists.