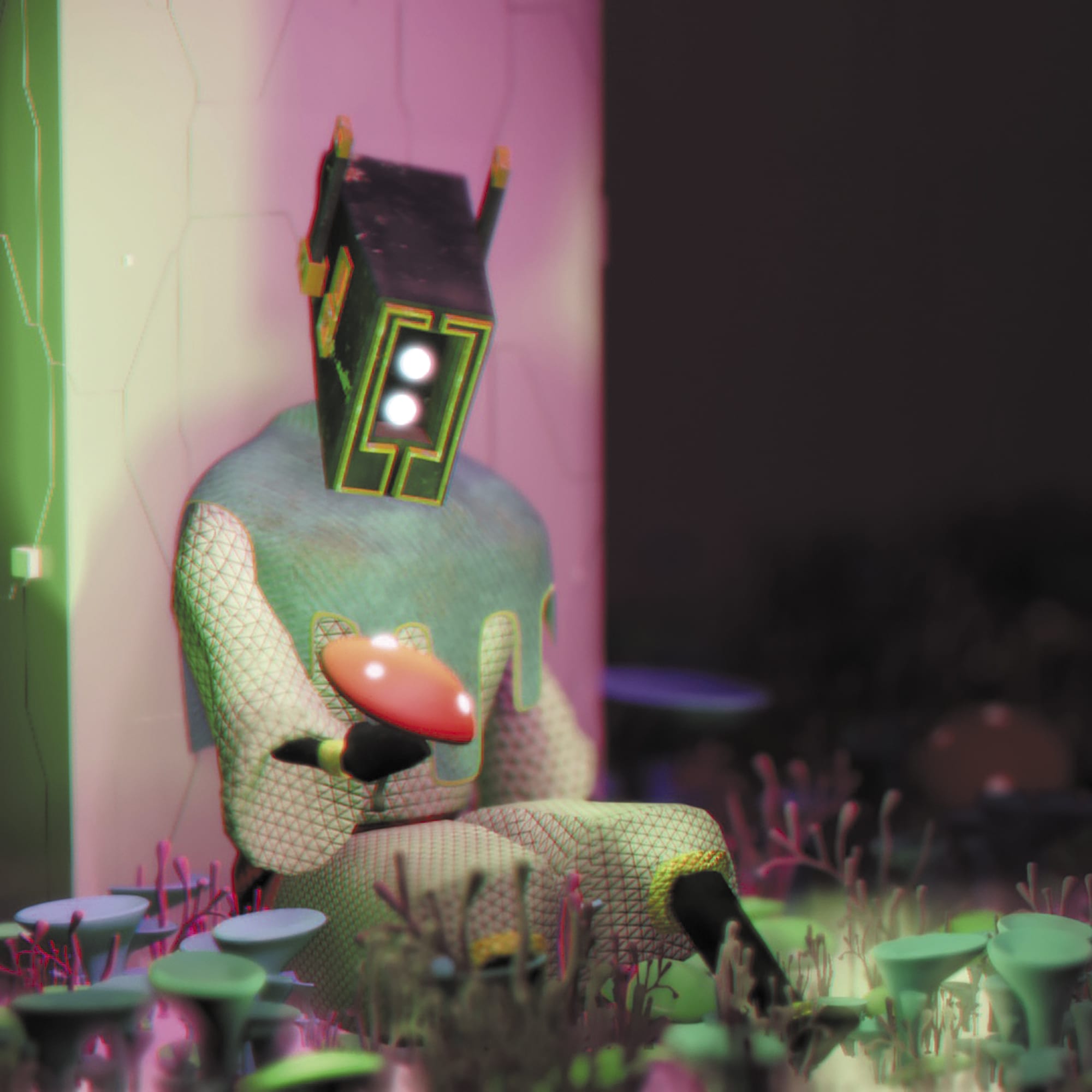 Why We Are Whispering
By Jason Heller
Art by Ali Hoff
Published Issue 085, January 2021
Best of Birdy | Originally Published in Issue 068, August 2019
Amy never meant to build an automaton. She didn't know how to make anything. Nevertheless in her basement one day she heaped laundry baskets and car batteries and garden hoses in such a fashion that they sparked and entered unto a congress and coughed up life.
"Awesome!" was the first word the creature said, parroting her Amy's reaction. So that's what Amy named her: Awesome. Awesome was lumpy and messy and beautiful, just like Amy's mom always told her she was.
Over time Awesome came to love Amy.
But after years together there was nothing she could do to save the woman from the disease she had been born with. No one could do anything. All humans had it.
Death, they named it.
# 
The sky was the color of pumpkins the day Awesome carried Amy to the basement and entombed the remnant of her flesh in the furnace. The woman had lived a long time, some forty-seven years.
Time was to Awesome what wind was to a fish.
Children ran down the sidewalk next to the house. They ran always, so long and fast they split their skins and angels flew from their brittle shed youth. Awesome stood there, too bereaved to move, and watched the children from the basement window.
Run, change, fade.
It wasn't fair, she told herself. So, as the sun dissolved into the horizon one dinnertime, she captured one of the children and caged her near the furnace in her basement.
The child refused to share her name, so Awesome called her Cage. She was the hungriest thing Awesome had ever seen.
#
Cage escaped many times over the course of that winter. Awesome invariably found the child on the couch upstairs, watching cartoons and eating dry Kool-Aid out of the package. On her tenth escape, the box fans and bed sheets comprising her prison had finally been rent beyond repair. 
"Your room is empty," said Awesome softly in Cage's ear.
"I was hungry," the girl shrugged.
"What did you eat?"
"Everything."
Awesome ran clanking and steaming to the window. There were no children outside, no sidewalk. Just the slick, gulping pulse of muscle.
Cage squished syllables into the silence; her breath smelled of plaster.
"Why are we whispering?"
"Because there's a ghost in the furnace," said Awesome, turning from the window, "and she swallows those who leave vacuums."
"A ghost! What's her name?"
Awesome's voice dropped even lower than a whisper, quieter than Cage could make out. 
Then the girl heard a crumpled flutter, like aluminum foil in a garbage disposal.
Before Cage could run, Awesome hollowed out a pocket in her torso and took her into it. Laundry-basket ribs and garden-hose arteries and car-battery atria slid back into place. Cage sat nested in Awesome's breast like the cartoons inside the TV set.
"It's okay, Cage," Awesome said, ambling toward the front door with the girl inside her, a bit off balance due to her new weight.
The girl's fists beat tenderly against her sternum in a steady rhythm, like a drummer's.
"Shush. The ghost is gone now."
---
Jason Heller is the author of STRANGE STARS, a book about science fiction's influence on '70s music (David Bowie, P-Funk, Hawkwind, Rush, Kraftwerk, Devo, and everything in between). It was published in hardcover and paperback by Melville House Publishing and is available everywhere books are sold. Jason is also the author of the alternate history novel TAFT 2012 (Quirk), the Goosebumps book SLAPPY'S REVENGE (Scholastic), the Pirates of the Caribbean book THE CAPTAIN JACK SPARROW HANDBOOK (Quirk), and numerous short stories in magazines and anthologies. He's the former nonfiction editor of CLARKESWORLD and won a Hugo Award in 2013 as part of that editing team, and he also penned a chapter of Ann and Jeff VanderMeer's THE TIME TRAVELER'S ALMANAC (Tor). He's written about pop culture for THE NEW YORKER, THE ATLANTIC, ROLLING STONE, PITCHFORK, NPR, ENTERTAINMENT WEEKLY, THE A.V. CLUB, and many others. His next two books will be published in 2021: REPEATER, an urban fantasy novel set in the '90s punk scene (Saga Press) and EXTRATERRESTRIAL SUMMER, a memoir about being a sci-fi-obsessed kid growing up in poverty in the '80s (Melville House). His most recent band was the post-punk outfit WEATHERED STATUES (Svart Records), and he lives in Denver with his wife. He is represented by Eddie Schneider, Vice President of JABberwocky Literary Agency.
---
Ali Hoff is UK-based freelance concept artist and 3D Modeller.