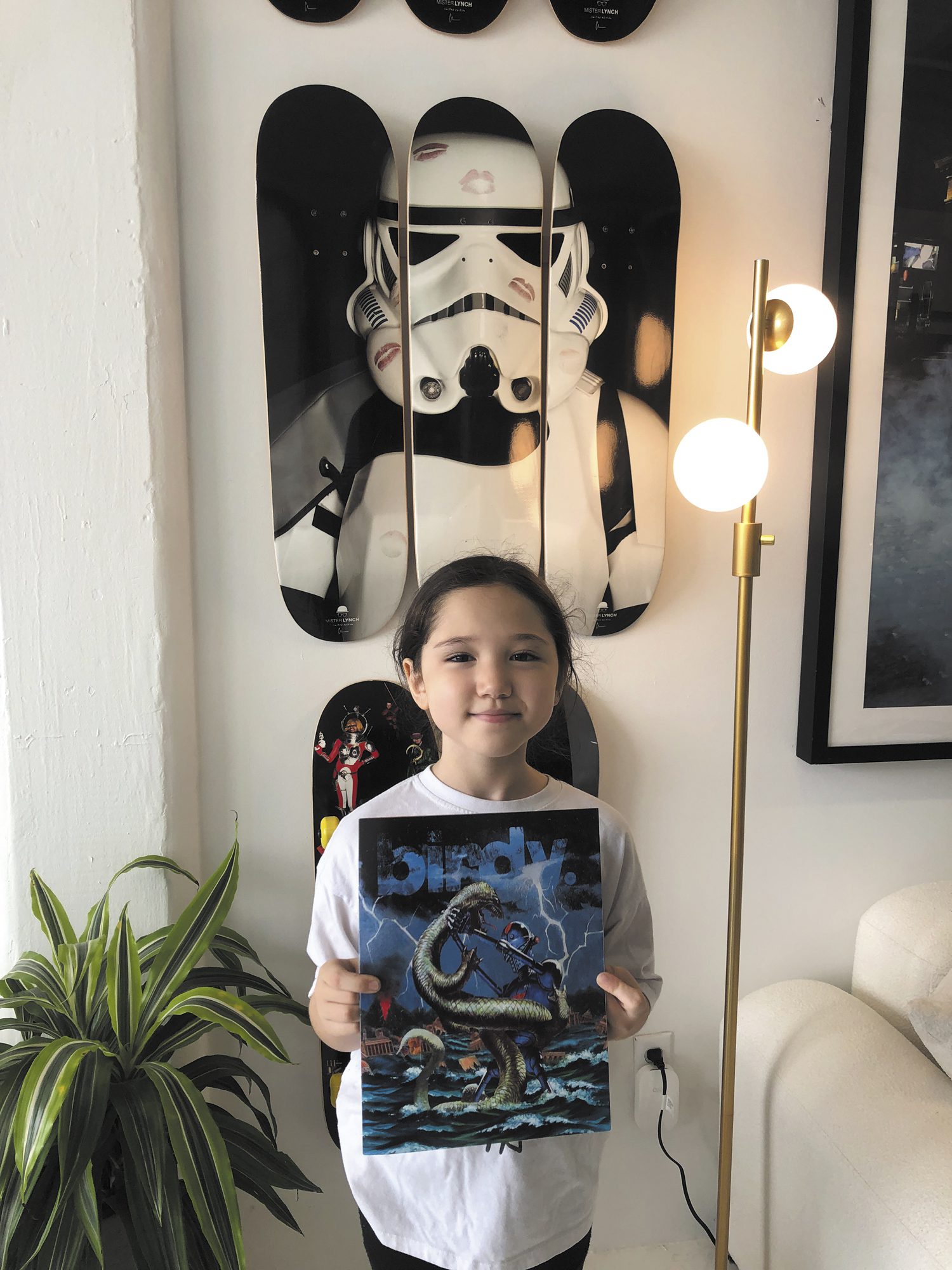 Hana Dunn in NY with May Birdy Issue 113
Published Issue 114, June 2023
New York's Hana Dunn holds a copy of our May Issue 113 showing off the Front Cover called Robot Cataclysm by CA-based college artist Moon_Patrol. She's standing in front of kissed-up Storm Trooper skate decks Chelsea, NY creative Mister Lynch. Photo by Zac Dunn.
---
Zac Dunn is a psycho-social mechanic, father, musician and dreamer. Check out his music and follow him on Twitter and Instagram.
---
Moon Patrol is a Northern California-based artist. Taking themes including '80s cartoons and video games, classic pulp illustrations, and comic book narratives, Moon Patrol remixes these many and varied cues using a collage technique he compares to "Kid Koala's turntable albums, and in part by William Burroughs' cut-up technique." See more of his work on Instagram and snag prints at Outré Gallery.
---
Mister Lynch is a New York based director and photographer who specializes in character driven narrative. His experience working at some of the top ad agencies in the world makes him a unique blend of an agency creative and strategic production partner.  He prides myself in the ability to create artful visuals by mixing the real and the surreal. He loves making an everyday situation into something that will stop the viewer, make them question ALL of their decisions in life, and inspire them to use your product. See more of his work on his site and on Instagram.
---
Check out Zac's May Birdy install, Baby Electric Vampire, and Moon_Patrol's May Front Cover, or head to our Explore section to see more of their work.