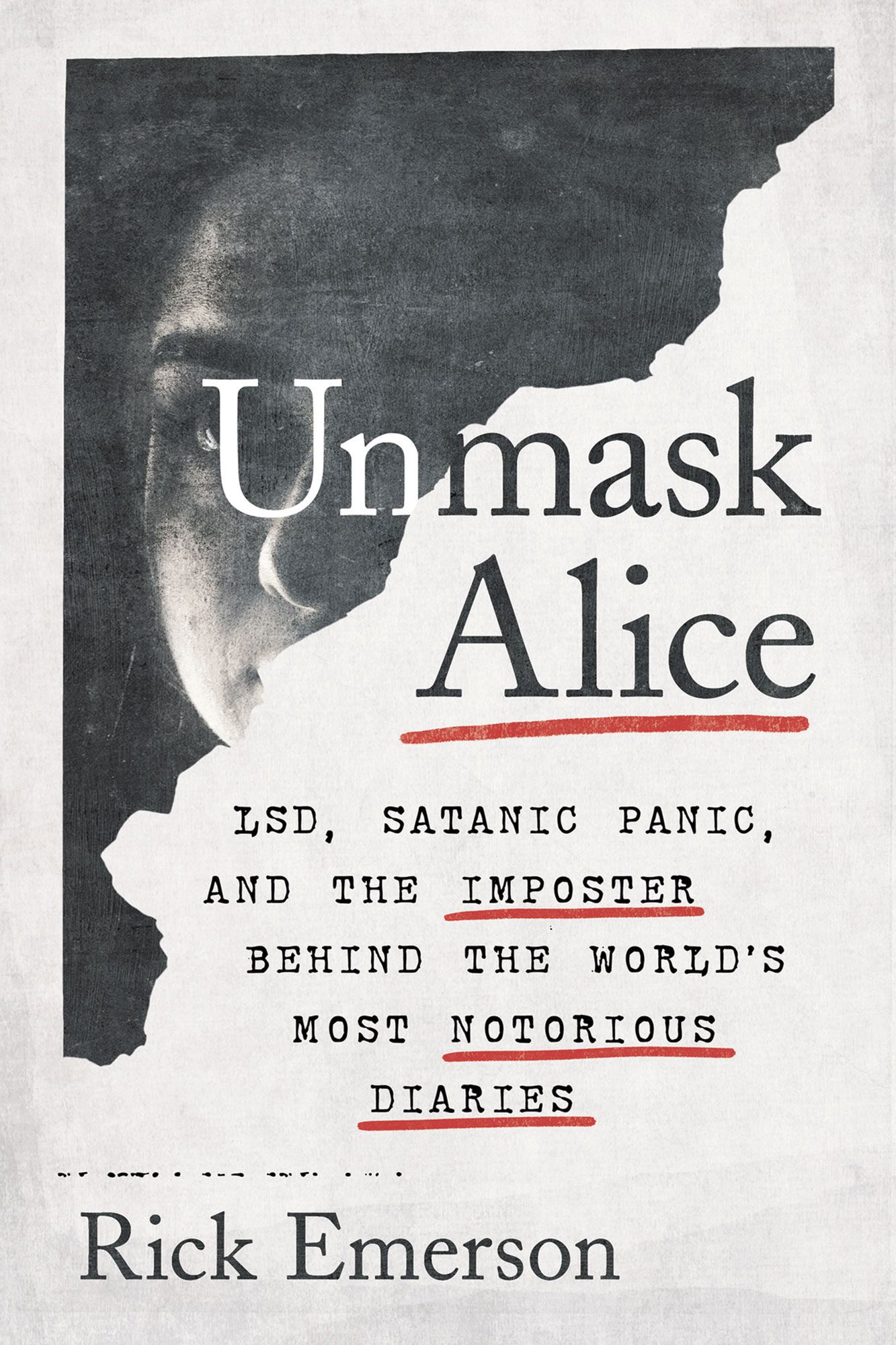 Book Club
By Hana Zittel
Published Issue 106, October 2022
Unmask Alice: LSD, Satanic Panic, and the Imposter Behind the World's Most Notorious Diaries by Rick Emerson (2022)
Marked with the iconic, half-shaded face on the cover and the selling a chance to enter a drug-filled underworld of the late '60s, 1971's Go Ask Alice has managed to maintain a hold on generations of readers purporting to be the real diary of an anonymous teenager. After unknowingly taking LSD once during a party, the diarist, "Alice" (though unnamed throughout), sinks further and further into a debaucherous life of sex and drugs to horrifying consequences. When I read Go Ask Alice, at a likely far too young age, I fell right into the clever and manipulative hands of its creator and marketers wondering, Is this really what drugs can do? 
In Unmask Alice, Rick Emerson seeks to find the truth about this notorious and extremely well sold tale by looking deeper into the "editor" of this diary, Beatrice Sparks. An unsuccessful writer in various formats, Sparks had, for a time, written content for Art Linkletter, the radio personality responsible for People Are Funny and producer of Kids Say the Darndest Things. When Linkletter's 20-year-old daughter commits suicide, the family attributes her death to a LSD flashback. Linkletter began speaking out against drug use and meets with Richard Nixon to push his agenda. Nixon's War on Drugs and the beginning of the Charles Manson trial left Sparks with the perfect amalgam of events to pitch her newest idea to Linkletter: the publication of a diary she was supposedly left by a sweet, all-American teenage girl sucked into the world of drug addiction, leading to her horrifying death.
The catch, for Sparks, was that publishers pushed for her name to be removed altogether from Go Ask Alice, not even as an editor on first editions, believing that the name of an adult would repel young readers. The soaring success of the book was almost immediate with the perfect storm of excellent reviews and attempted book bannings, driving curiosity, but few were asking necessary questions around the origins of this material. How had Sparks acquired it? Where did Sparks come from and what gave her authority on this topic? Despite her roaring financial success from Go Ask Alice, Sparks still did not have what she wanted: the life of a successful author. This all changed when she happened to acquire yet another diary, one that attempts to expose the hold of satanic practices on teenagers. Dubbed Jay's Journal, Sparks' manipulated release contributes to and exacerbates the Satanic Panic in the late '80s and '90s.
Emerson's investigation sleuths out the web of lies created by Sparks to gain notoriety. Everything from fabricated academic and professional degrees to these found dairies, Sparks was so seduced by the idea of fame she did not hesitate to harm anyone who got in her way, and those around her became so wrapped up by money and moral panic to take a second look. Unmask Alice unravels the implications of Go Ask Alice and Beatrice Sparks by providing fascinating macro and micro views of her impact on our cultural trajectory, weaving her publishing history into vital moments in the War on Drugs and the moral panics that followed its publication. Emerson's investigation has also been highlighted on the podcast You're Wrong About on an episode featuring an interview with Emerson from host Sarah Marshall and author Carmen Maria Machado.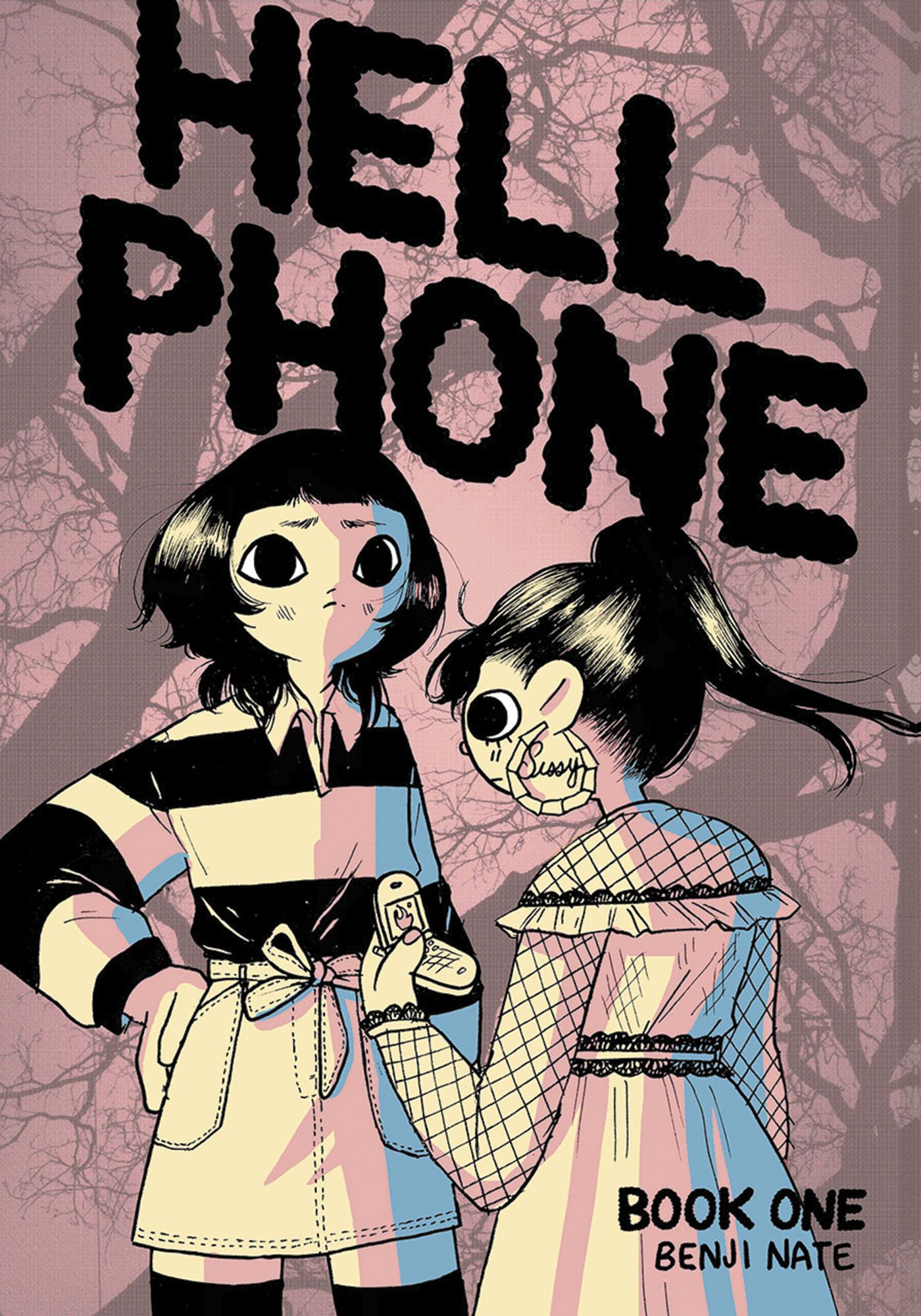 Hell Phone, Book One by Benji Nate (2022)
Sissy finds a discarded flip-phone in the bushes outside her house, catapulting her into a spiraling mystery to find the owner along with her best friend, Lola. In this classic feeling teen horror investigation, the phone's ominous caller only gives brief instructions leading them to an eerie house and a gory body. After quickly calling the police, the cops arrive to find no sign of a body or anything amiss. Even after attempts to discard the phone, it keeps coming back and continues to ring, leading them right back to the house with the body. When they begin to chase down the origins of this ghost body, the girls are led to clues pointing to a long-standing cult in their small town.
Though the story is simple, the artwork and character development in Hell Phone make it a pleasure to read. Drawn with bright, pop art manga style panels, Benji Nate has created a fun and light twist on the classic horror genre. Hell Phone leaves readers with a stark cliffhanger waiting for the friends to dive back into the mystery. Nate's characteristically cute and surreal artwork can be found in their other graphic novels released by Silver Sprocket Press including Catboy, Lorna, and Girl Juice.
---
Hana Zittel is a librarian at the Denver Public Library in addition to being a librarian at the Denver Zine Librarian. She grew up in Steamboat Springs, Colorado and pretty much just likes being outside with her pup when she has some free time, and reading, that might have been assumed though.
---
Check out Hana's September Book Club in case you missed it, or head to our Explore section to see more of her past reviews.